Will 2021 Be Any Better Than 2020?
Note that I am simply sharing items of interest for your information. That does not imply that I agree with everything presented here or with other material that may be on a source's other web pages.
"And ye shall hear of wars and rumours of wars ... nation shall rise against nation, and kingdom against kingdom: and there shall be famines, and pestilences, and earthquakes ..." (Matt 24:6-7)
Prophecy News - October - December 2020
Will 2021 Be Any Better?
Introduction
In the previous newsletter I explained what I thought might be coming in the future based on my understanding of prophecy. Not much as changed as far as my expectations, we are just three months closer to whatever is going to happen. Much of the world is even more shut down over Covid19 fears, the U.S. election is hotly contested and the rumors of war are getting louder. In light of all that, I don't hold out much hope for 2021 being any better than 2020.
But, as Christians, we can, of course, have hope; hope in a soon Second Coming of the Savior. While waiting for salvation from this old world we can cooperate with Him to save us in terms of our spiritual state and our relationship with Him. I personally believe that a big factor in our spiritual walk is to have a correct understanding of and thus be reflectors of the character of God so that we can shine as lights as the world gets darker and attract others to Him. Please visit my other website - https://characterofGod.org
---
World War 3: Warning of 'dire Iran counter-attacks' amid US tensions
WORLD WAR 3 fears surrounding Iran led to warnings of "dire counter-attacks" from Tehran as hostility with the US intensifies.
Charlie Bradley, Jan. 4, 2021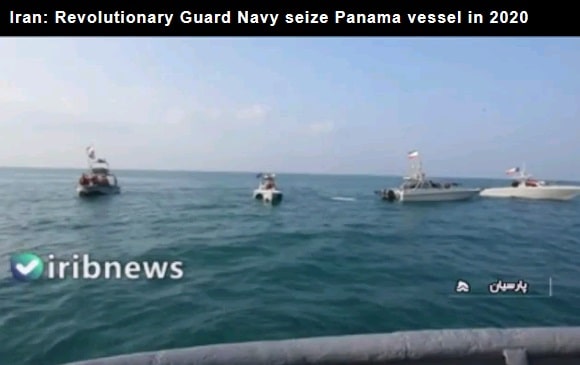 Iran's recent actions have sparked international concern as Tehran's military seizes a South Korean vessel amid its accelerating nuclear weapons programme. The Iranian Revolutionary Guard said it intercepted the South Korean vessel in the Strait of Hormuz for "polluting the Persian Gulf with chemicals". This has sparked fury in Seoul, as South Korea's foreign ministry demands the ship's release, and warned that the country's forces were stationed nearby. Outgoing US President Donald Trump has endured four years of hostility with Iran, and Washington will likely be furious with leaders in Tehran.
Iran is now enriching uranium to 20 percent purity (a process used to develop nuclear weapons) marking its most significant breach of the 2015 nuclear deal.
The deal was designed to prevent Iran from accelerating its weapons programme, but was abandoned in 2018 after President Trump criticised the agreement.
He also toughened economic sanctions on Iran, resulting in hostility culminating in military exchanges over the last 12 months.
Washington killed one of Iran's key military generals, Qassem Soleimani, in January 2020 with a drone strike in Baghdad, Iraq.
In the aftermath of the attack, many analysts warned that Iran could retaliate.
Click here to read it all
---
Iran Vows "Massive Response" If Israel Crosses 'Red Lines' With Sub Presence In Gulf
Tyler Durden, Dec. 28 2020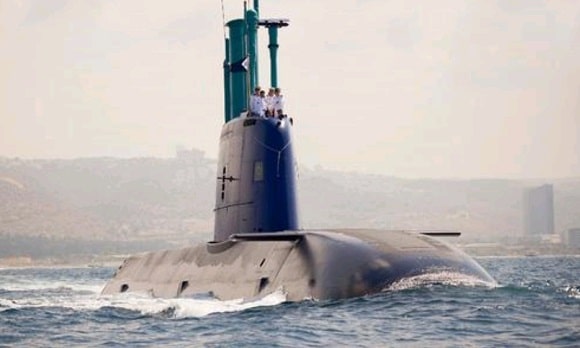 Just a little over three weeks to go until President-Elect Joe Biden's inauguration on Jan.20 and tensions in the Persian Gulf are at boiling point given not only the presence of a US nuclear submarine but allegedly a major Israeli presence as well. A week ago Israeli sources confirmed that an Israeli submarine had crossed the Suez Canal visibly above water en route to the Persian Gulf as a clear "message" to the Islamic Republic.
On Monday Iran's foreign ministry warned that Israel now risks crossing "red lines" should it enter deeply into the Gulf and thus Iran's own backyard, with ministry spokesman Saeed Khatibzadeh warning that Israel should be "aware of the risks of crossing Iran's red lines."
"Everybody knows what the Persian Gulf means to Iran, and what policy Iran pursues about its national interests and security," Khatibzadeh said according to Tasnim news agency. The build-up in Persian Gulf waters comes after the November assassination of Iran's top nuclear scientist Mohsen Fakhrizadeh near Tehran in a sophisticated operation widely blamed on Israeli intelligence.Khatibzadeh added that Iran has sent "messages to the US government and our friends in the region warning the current US regime not to embark on a new adventure in its final days at the White House."
Click here to read it all
---
US bomber flight over Persian Gulf aims to intimidate Iran in Trump's final days
Senior military officer says operation meant to warn Tehran against targeting US forces before Biden takes office, comes after Israeli sub said to have openly crossed Suez Canal
API and Times of Israel Staff, Dec, 30, 2020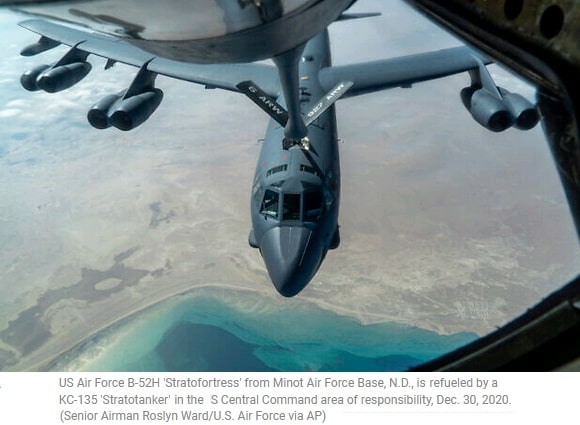 The United States flew strategic bombers over the Persian Gulf on Wednesday for the second time this month, a show of force meant to deter Iran from attacking American or allied targets in the Middle East.
One senior US military officer said the flight by two Air Force B-52 bombers was in response to signals that Iran may be planning attacks against US-allied targets in neighboring Iraq or elsewhere in the region in the coming days, even as President-elect Joe Biden prepares to take office. The officer was not authorized to publicly discuss internal assessments based on sensitive intelligence and spoke on condition of anonymity.
The B-52 bomber mission, flown round trip from an Air Force base in North Dakota, reflects growing concern in Washington, in the final weeks of President Donald Trump's administration, that Iran will order further military retaliation for the US killing last Jan. 3 of top Iranian military commander Gen. Qassem Soleimani. Iran's initial response, five days after the deadly US drone strike, was a ballistic missile attack on a military base in Iraq that caused brain concussion injuries to about 100 US troops.
Click here to read it all
---
20 Numbers From 2020 That Are Almost Too Crazy To Believe
Michael Snyder, Dec. 30, 2020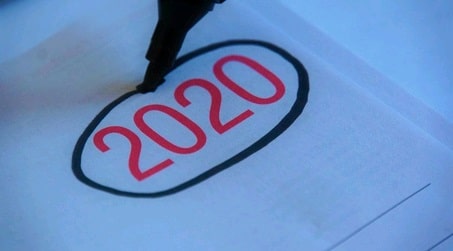 2020 has been a year that none of us will ever forget. We experienced the worst global pandemic in 100 years, we witnessed the worst economic downturn since the Great Depression of the 1930s, civil unrest erupted in major cities all over America, and we had one of the wildest presidential elections in our history. Other than that, it was a pretty quiet year. For a few moments, let's take one more look back at the past 12 months. The following are 20 numbers from 2020 that are almost too crazy to believe...
#1 When 2020 began, nobody had ever heard of "COVID-19" because that term had not even been invented yet. But by the end of the year, there had been more than 83 million confirmed cases around the globe and more than 1.8 million deaths. Here in the United States, there have been more than 20 million confirmed cases so far and more than 350,000 deaths according to the official numbers. Of course nobody is sure if we can trust the official numbers or not, because just recently a politician in Austria showed that a cup of Coca-Cola can test positive for COVID-19.
#2 All of the masks that we have been wearing and discarding during this pandemic have taken a heavy toll on the environment. According to one study, more than 1.5 billion (with a "b") masks will be dumped into the oceans of the world this year alone.
#12 When Barack Obama first entered the White House, the U.S. was 10.6 trillion dollars in debt. Now we are 27.5 trillion dollars in debt, and soon that total will hit the 30 trillion dollar mark. Needless to say, this is a recipe for national financial suicide.
#14 Americans have continued to get even bigger in 2020 as well. At this point, 73 percent of the entire U.S. population is either overweight or obese.
Click here to read all 20
---
If You Thought 2020 Was Bad, Watch What Happens In 2021
Brandon Smith, Dec. 9, 2020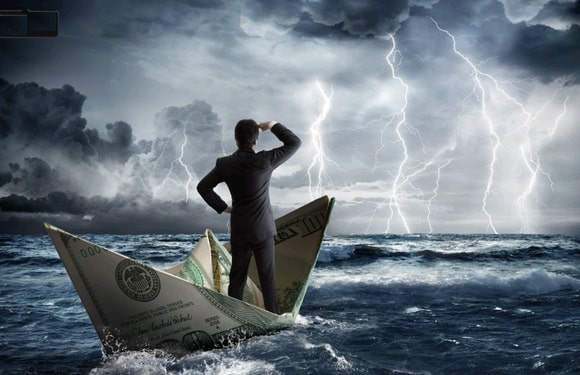 In terms of the economy and the American social situation, 2020 is definitely one of the ugliest years on record, there's really no way around it. That said, I get the impression that many in the public are operating under the assumption that we are about to cross over the peak of the mountain and it will be all downhill from here on. Unfortunately, this is not the case.
All eyes have been focused on the pandemic event, and the thinking is that once the pandemic is "over", the crisis will be over and everything will go back to normal. But, as the globalists have been telling us since the outbreak began, the world "will never go back to normal again". It's not because of the pandemic, mind you, it's because THEY won't allow things to go back to normal. The "great reset", as the World Economic Forum calls it, is meant to go on for many years. And, the globalists intend that every aspect of our lives be changed into something almost unrecognizable.
First I want to make it clear that I don't expect the reset agenda to be successful. In fact, I think it's going to fail miserably. The globalists have reached too far too fast and exposed themselves, and millions upon millions of people around the world and in America are not buying the pandemic narrative. But here is the problem; the pandemic is a distraction from a much greater threat, namely the economic collapse that is developing right now.
Click here to read it all
---
Ray's note: the above is a rather pessimistic outlook (which may turn out to be true). But God's people need to be looking forward to and advancing the principles of God's kingdom.
---
We're On A Highway To Hyperinflation
Michael Snyder, Dec. 21, 2020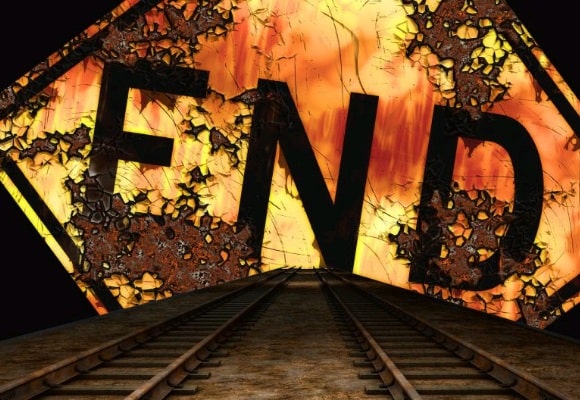 Well, here we go again. The U.S. House of Representatives just passed a $900 billion stimulus package, and we are being promised that it will provide a real "boost" to the economy. Of course we were told the exact same thing about all of the other "stimulus packages" that have been passed since the beginning of the pandemic. Most importantly to many Americans, $600 stimulus payments will soon be sent out directly to the American people. If you are married and have three kids, you will get a total of $3,000, because each member of your family is counted equally for this round of stimulus payments.
You see, the truth is that we don't have 900 billion dollars to spend on a stimulus package. Instead, the federal government will have to borrow 900 billion new dollars that the Federal Reserve creates out of thin air.
I would like to applaud the 53 members of the House that tried to stand up and do the right thing, because this bill should have never been passed. It is being reported that the bill was 5,593 pages long, and our representatives were only given a few hours to read it...
As for members of Congress, I doubt that any of them will ever end up reading the entire thing.
Our system of government is so broken, but most of the population doesn't seem to care.
In the short-term, $600 payments will help ease the economic suffering of tens of millions of Americans.
But in the long run, we are going down the exact same path that Venezuela, Zimbabwe and the Weimar Republic went down.
As I have explained to my regular readers repeatedly, just about everyone in Venezuela is a millionaire today, but just about everyone is also living in poverty because their money is almost absolutely worthless.
Click here to read it all
---
Fires, floods, hurricanes, and locusts: 2020 was an epic year for disasters
A record number of billion-dollar disasters struck the US in 2020 amid the Covid-19 pandemic.
Umar Irfan, Dec. 30, 2020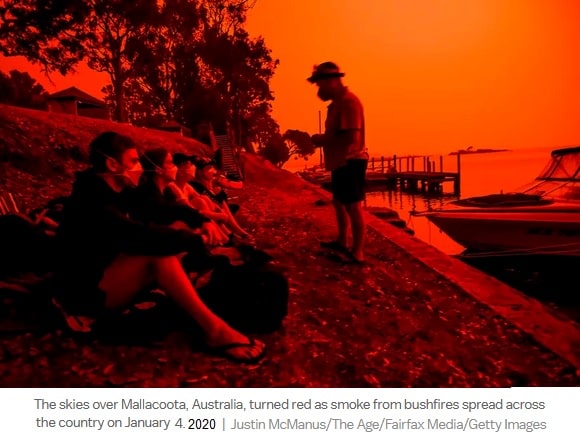 The Covid-19 pandemic was unfortunately not the only natural disaster of 2020. There were so many that it's easy to forget everything that happened this year. Here is a brief sampling of 2020's weather-related events:
The year began with a series of bushfires in Australia that forced thousands to flee, and killed at least 29 people and more than a billion animals. The fires that sent smoke around the world had ignited amid weeks of record-breaking heat and drought.
Swarms of locusts descended on East Africa, the Middle East, and South Asia, threatening food supplies for millions of people in the spring. The swarms were triggered in part by torrential rainfall in East Africa.
This summer, California experienced its worst fire season on record in terms of area burned, as well as its largest single wildfire on record. Colorado also had its largest wildfire in history, and blazes in Washington and Oregon created an unprecedented disaster.
A record number of wildfires this summer swept through the Pantanal, the world's largest tropical wetlands, spanning Bolivia, Brazil, and Paraguay. Many of these blazes were illegally ignited to clear land for agriculture, and spread because of hot and dry conditions in an area that's usually wet.
A powerful storm known as a derecho swept through South Dakota, Nebraska, Illinois, and Iowa in October and became the most costly thunderstorm in US history, causing an estimated $7.5 billion in damages.
These disasters were deadly and destructive, and several of them nudged records even higher. But while their origins are in nature, humanity's actions are what made these events truly devastating. From continuing to build in high-risk areas, to failing to evacuate people at risk, to changing the climate, disasters often end up with a far higher toll than they would otherwise. As populations increase in vulnerable areas and with climate change pushing weather toward greater extremes, the risks are poised to grow.
Click here to read it all
---
Ray's note: In the last paragraph in the article above it said of disasters that "their origins are in nature." This is true and man has not helped as it goes on to say. But watch, in the future, for a shift towards saying these disasters are judgments from God. While God allows man to have freewill and allows him to experience the results of His own actions, He is not responsible for inflicting death and destruction. A page on my other website explains where the blame belongs.
---
Apocalyptic footage shows huge swarm of locusts turning sky black - 'No tree survived'
A NEW generation of locust swarms is threatening to wipe out the livelihoods of farmers and herders across eastern Africa - deepening a food crisis in a region where 35 million people are already hungry, the United Nations warned on Wednesday.
Alessandra Scotto Di Santolo, Dec. 17, 2020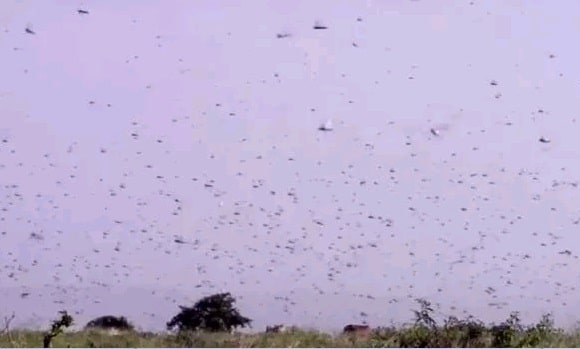 From January to August, massive desert locust swarms swept across Somalia, Ethiopia and Kenya, ravaging crops and decimating pasture in the worst outbreak in decades. Governments, supported by U.N. agencies and international charities, responded with large-scale aerial and ground spraying of pesticides to destroy the swarms, which scientists have linked to climate change.
But widespread rains in Ethiopia and flooding caused by a cyclone in Somalia last month have created favourable breeding conditions, allowing locust infestations to increase, said the U.N. Food and Agriculture Organisation (FAO).
"We have achieved much, but the battle against this relentless pest is not yet over," said FAO Director-General Qu Dongyu in a statement.
"We must not waver. Locusts keep growing day and night and risks are exacerbating food insecurity for vulnerable families across the affected region."
Locust swarms are already forming in Somalia and Ethiopia and threaten to re-invade northern Kenya, while breeding is also underway on both sides of the Red Sea, posing a new threat to Eritrea, Saudi Arabia, Sudan and Yemen, said the FAO.
Click here to read it all
---
Major Covid Vaccine Glitch Emerges: Most Europeans, Including Hospital Staff, Refuse To Take It
Tyler Durden, Dec. 27, 2020
All is not going according to plan in the biggest global rollout of what is arguably the most important vaccine in a century, and it is not just growing US mistrust in the covid injection effort that was rolled out in record time: an unexpected spike in allergic reactions to the Pfizer/BioNTech vaccine (and now, Moderna too) may prove catastrophic to widespread acceptance unless scientists can figure out what is causing it after the FDA's rushed approval, and is also why as we reported yesterday, scientists are scrambling to identify the potential culprit causing the allergic reactions.
Making matters worse, Europe rolled out a huge COVID-19 vaccination drive on Sunday to try to rein in the coronavirus pandemic but even more Europeans than American are sceptical about the speed at which the vaccines have been tested and approved and reluctant to have the shot.
While the European Union has secured contracts drugmakers including Pfizer, Moderna and AstraZeneca, for a total of more than two billion doses and has set a goal for all adults to be inoculated next year, this is looking increasingly like a pipe dream: according to recent surveys, the local population has expressed "high levels of hesitancy" towards inoculation in countries from France to Poland, with many used to vaccines taking decades to develop, not just months.
Click here to read it all
---
Ontario (Canada) Admits Labelling Deaths As COVID When They're Not A Result of COVID - Dec. 23
Arjun Walia, Dec. 23, 2020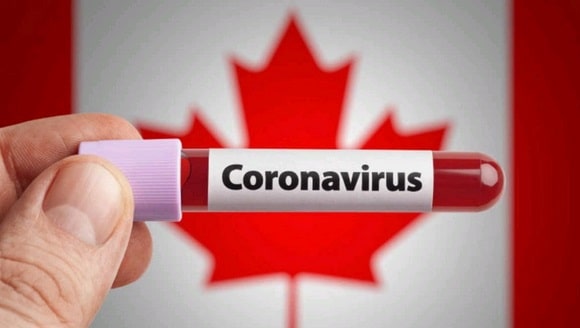 Ontario (Canada) Public Health has a page on their website titled "How Ontario is responding to COVID-19." On it, they clearly state that deaths are being marked as COVID deaths and are being included in the COVID death count regardless of whether or not COVID actually contributed to or caused the death. They state the following,
Any case marked as "Fatal" is included in the deaths data. Deaths are included whether or not COVID-19 was determined to be a contributing or underlying cause of death...
This statement from Ontario Public Health echoes statements made multiple times by Canadian public health agencies and personnel. According to Ontario Ministry Health Senior Communications Advisor Anna Miller,
As a result of how data is recorded by health units into public health information databases, the ministry is not able to accurately separate how many people died directly because of COVID versus those who died with a COVID infection.
It's not just in Canada where we've seen these types of statements being made, it's all over the world. There are multiple examples from the United States that we've written about before.
At the end of the summer the CDC put out data showing that 94% of deaths that have been marked as COVID deaths had at least two or there other causes listed. Out of all the deaths that have been labelled as a COVID-19 death in the United States up to the end of August, for 6% of them COVID-19 was the only cause mentioned and for 94% of the deaths there were other causes and conditions in addition to COVID-19. The CDC states that "for deaths with conditions or causes in addition to COVID-19, on average, there were 2.6 additional conditions or causes per death."
Click here to read it all
---
Another Vatican Insider: COVID Is Being Used By "Certain Forces" To Advance Their "Evil Agenda"
Arjun Walia, Dec. 28, 2020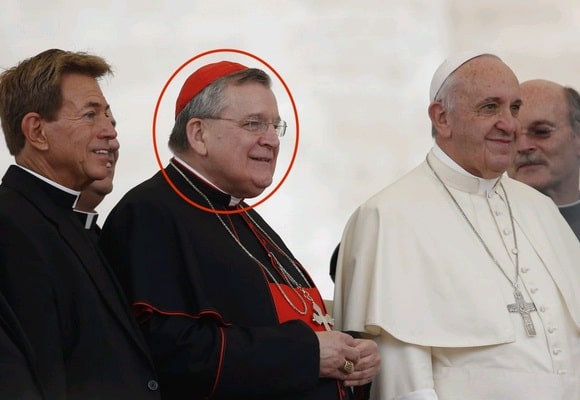 Cardinal Raymond Leo Burke, former head of the Vatican Supreme Court has shared his opinion that "evil" forces are using COVID to manipulate human consciousness and bring about a "Great Reset" that is not in the best interests of humanity.
It wasn't long ago when the former Apostolic Nuncio to the United States of America, Carlo Maria Vigano, wrote a letter to Donald Trump mentioning the "deep state" and the manipulation of human consciousness. Although the idea of a deep state that exercises great power over multiple governments has been heavily ridiculed by mainstream media, countless amounts of politicians, academics and journalists have described and exposed it for decades. Take Theodore Roosevelt for example, he told the world that "Behind the ostensible government sits enthroned an invisible government owing no allegiance and acknowledging no responsibility to the people. To destroy this invisible government, to befoul the unholy alliance between corrupt business and corrupt politics is the first task of the statesmanship of today."
Vigano's letter claimed that the COVID pandemic is a "colossal operation of social engineering." He also penned another letter months later claiming that "The Great Reset" will be used to "drastically limit human freedoms." This is something we are seeing with COVID right now, according to many, all under the guise of goodwill supposedly to protect us.
Many doctors, scientists, journalists and citizens have also expressed the same sentiment. NSA whistleblower Edward Snowden, for example, has raised concerns about the exact same thing, claiming that the pandemic is being used to take away more of our freedoms and to justify a heightened national security state and to "monitor us like never before." It's similar to what happened after 9/11, there are rights being taken away and laws being based that will remain in place, and have remained in place long after the event.
Click here to read it all
---
Baptists are Making the Call to Embrace Sunday as the Environmental Day of Rest - Dec. 29
Andy Roman, Dec. 29, 2020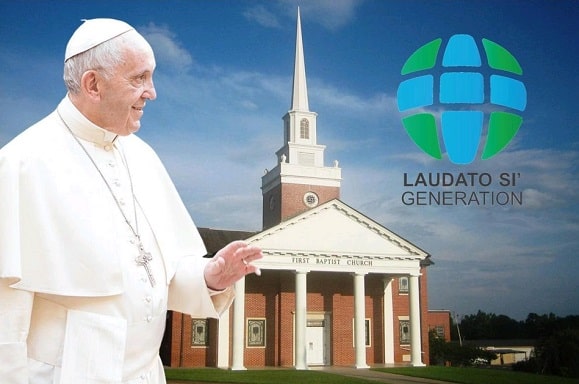 First it was Pope Francis and his radical environmentalists who were calling for Laudato Si' to be enforced by law. [1] Then it was conservative Catholics who called for a return to the old Blue Sunday laws. [2] Now Baptists, who are not supposed to be radical environmentalists, are saying that there is something good in an environmental day of rest for the earth.
The Baptist Message (BaptistMessage.com) is an online news source serving "the Southern Baptist family" and the general "public." [3] Earlier this year, they published an article questioning whether the Covid-19 shutdowns weren't so bad after all, considering the positive environmental impact they claim it brought. The article is entitled "A Radical Environmental Proposal: A Day of Rest" and states the following:
A weekly day of rest could help keep the balance in the environmental system that God established to sustain man's physical existence. Scientists have made multiple serendipitous discoveries about the impact of shutdowns around the world during the novel coronavirus pandemic:
NASA satellite images have documented a 30 percent decline in nitrous oxide in China
Carbon monoxide emissions are down 50 percent in New York City
The EPA has recorded the best air quality in Los Angeles than at anytime during the last 40 years [4]
Today, Baptists are arguing that Sunday may be the solution to our environmental problems. This is the same message found in Pope Francis' encyclical Laudato Si'.
Click here to read it all
---
Finally, some good news
Bible Purchases Increase Significantly amid COVID-19 Pandemic - Dec. 30
Milton Quitanilla, Dec. 30, 2020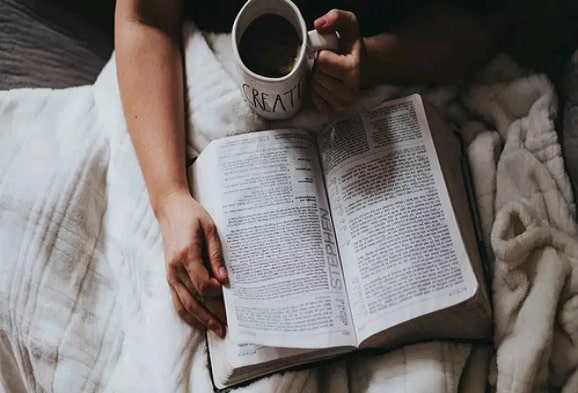 Despite the coronavirus outbreak, according to Lifeway Christian Resources, Bible sales increased across the globe this year.
Lifeway Christian Resources, a leading provider of Christian books and educational materials, noted in a new report that Bible sales between April and June increased significantly.
Lifeway CEO Ben Mandrell believes that the increase in Bibles can be attributed to people's desire to seek hope and healing during times of great difficulty, such as the pandemic.
"We believe this is no accident, as people often go to the Bible as a source of hope in times of crisis and uncertainty," Mandrell said.
He explained that people "draw hope from scripture because in it they see a God who is with us during our suffering. The Bible, as God's words to us, is a reminder that He doesn't leave us to walk through difficult times alone."
Click here to read it all
---
Summary
Will 2021 be any better than 2020? There is enough potential trouble lined up to make 2020 look like a walk in the park. However, there si still this verse:
"And after these things I saw four angels standing on the four corners of the earth, holding the four winds of the earth, that the wind should not blow on the earth, nor on the sea, nor on any tree." (Rev 7:1)
Let us all work while we can, in the time of relative peace that is left, to acquaint ourselves more with the Savior and prepare for that great day when He will appear in the clouds to rescue those that are waiting for Him.
"And when these things begin to come to pass, then look up, and lift up your heads; for your redemption draweth nigh." (Luke 21:28)
---
If prophecy of the end of the world is of interest to you and you would like to receive this quarterly newsletter containing articles of interest and relevance to prophetic events, please respond using the form below: