CoVid19, Locusts and More
Introduction
The big news these days is the CoVid19 crisis but there are other things going on as well and there are things happening behind the scenes while everyone is distracted. Look for the possibility of food shortages in parts of the world as supply chains are disrupted and food producers have problems growing and shipping their products. It might be a good idea to consider growing some of your own food. Two reports here cover the devastating effect of the locust plage in southern Asia and eastern Africa. It is starting to be more and more like an end-time scenario.

Note that I am simply sharing items of interest for your information. That does not imply that I agree with everything presented here or with other material that may be on a source's other web pages.
---
"And ye shall hear of wars and rumours of wars ... nation shall rise against nation, and kingdom against kingdom: and there shall be famines, and pestilences, and earthquakes ..." (Matt 24:6-7)
Prophecy News - January - March 2020
CoVid 19 and Locust Plagues
---
COVID-19 Outbreak Is The Trojan Horse To Increase Smartphone Surveillance
Aaron Kesel, Mar. 25, 2020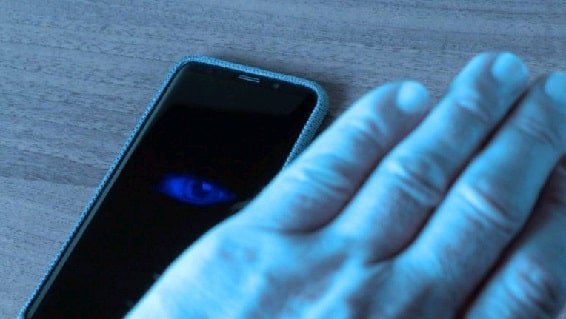 The coronavirus outbreak is proving to be the Trojan horse that justifies increased digital surveillance via our smartphones.
All over the world, starting with China - the suspected origin of the COVID-19 outbreak - governments are increasing surveillance of citizens using their smartphones. The trend is taking off like wildfire; in China citizens now require a smartphone application's permission to travel around the country and internationally.
The application is AliPay by Ant Financial, the finance affiliate controlled by Alibaba Group Holding Ltd. co-founder Jack Ma, and Tencent Holdings Ltd.'s WeChat. Citizens now require a green health code to travel, Yahoo News reported.
China isn't the only country looking towards smartphones to monitor their citizens; Israel and Poland have also implemented their own spying to monitor those suspected or confirmed to be infected with the COVID-19 virus. Israel has gone the more extreme route, and has now given itself authority to surveil any citizen without a court warrant. Poland on the other hand is requiring those diagnosed with COVID-19 ordered to self-isolate to send authorities a selfie using an app. Which, if Poles don't respond back in 20 minutes with a smiling face, they risk a visit from police, Dailymail reported.
Singapore has asked citizens to download an app which uses Bluetooth to track whether they've been near anyone diagnosed with the virus; and Taiwan, although not using a smartphone, has introduced "electronic fences" which alert police if suspected patients leave their homes.
Meanwhile, here in the U.S. as reported by the Washington Post, smartphones are being used by a variety of companies to "anonymously" collect user data and track if social distancing orders are being adhered to. Beyond that, the mobile phone industry is discussing how to monitor the spread of COVID-19. If that's not enough, as this author reported for The Mind Unleashed, the government wants to work with big social tech giants like Google, Facebook, and others, to track the spread of COVID-19.
Click here to read it all
---
Former UK Prime Minister Calls For Global Government to Fight Coronavirus
Gordon Brown wants new powers for international bodies to deal with outbreak.
Paul Joseph Watson, Mar. 26, 2020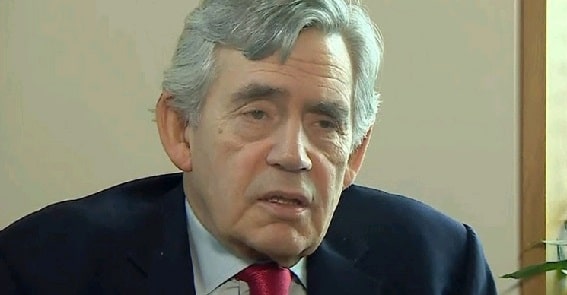 Former Prime Minister of the UK Gordon Brown has called on world leaders to create "a temporary form of global government" to fight the coronavirus outbreak.
Brown wants international organizations like the WHO and the UN to be given executive powers that would supersede national sovereignty as part of a new system overseen by world leaders and health experts.
"This is not something that can be dealt with in one country," he said. "There has to be a coordinated global response."
An international task force would "make sure the efforts of central banks were coordinated," help find a vaccine and prevent profiteering according to Brown, who wants more money and power given to the World Bank and the International Monetary Fund.
"We need some sort of working executive," Brown said. "If I were doing it again, I would make the G20 a broader organization because in the current circumstances you need to listen to the countries that are most affected, the countries that are making a difference and countries where there is the potential for a massive number of people to be affected - such as those in Africa."
As we have exhaustively documented, it was globalism that helped spread the pandemic in the first place.
Even as the virus was raging through China, the World Health Organization repeatedly insisted that countries should not impose any border controls.
When many western countries finally did close their borders weeks later it was too little too late.
Click here to read it all
---
Nightmare Scenario: Iraq Detects Suspected Covid-19 Cases In Overcrowded Refugee Camp
Tyler Durden, Mar. 12, 2020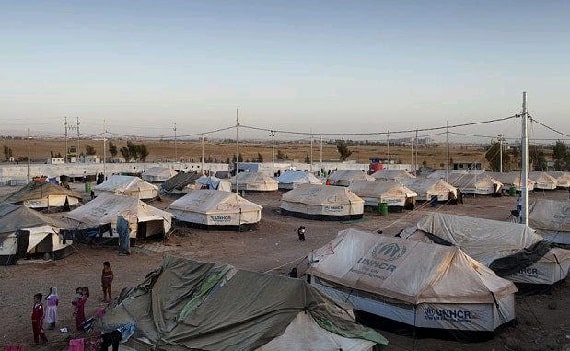 Refugee camp in northern Iraq, file image via The Telegraph.
And now a nightmare scenario is unfolding in Iraq as the United Nations has recorded the first suspected coronavirus cases inside an Internally Displaced Persons (IDP) camp.
The UN Office for the Coordination of Humanitarian Affairs (OCHA) issued an alert in its latest humanitarian report this week, noting also the World Health Organization (WHO) has dispatched additional supplies and medical devices to Iraq amid broader closures of public spaces after at least 71 confirmed cases nationwide.
But with millions of refugees in the region, especially along the Turkish-Syrian border, and after Erdogan has effectively 'opened the gates' on waves of migrants headed to Europe, the spark that could erupt an explosion of outbreaks in camps across the Middle East may have started.
The first suspected cases of COVID-19 were documented in an IDP camp in Ninewa; the affected persons were transported to hospital, and a makeshift isolation unit was put in place. Sterilization activities are under way.
Crucially, this region lies along the Syrian border in Iraq's northwest, and is near Turkey in a broader border area which has over the past years witnessed entire 'refugee cities' erected.
Surrounding countries like Kuwait have taken proactive measures for heightened testing along their borders and points of entry, but other regional governments have lagged behind:
The WHO previously said it's especially concerned of an outbreak among refugee populations in war-torn regions of Iraq and Syria.
"Refugees and internally displaced populations across Iraq and Syria have been identified as the most vulnerable groups in the region, should the spread of the virus become a pandemic," The Guardian reported of recent statements.
"Health officials in both countries remain under-equipped to deal with such a a reality that seems more possible with each passing day," the report added.
And as Turkey continues to allow and even actively facilitate the passage of refugees and migrants into Greece and other EU states, the Covid-19 crisis currently shutting down entire countries in Europe is set to explode further.
Click here to read it all
---
Iran Lands Troops on Iraq Oil-Producing Island; Cuts Comm. lines!
Hal Turner, Jan. 16, 2020
At about 1:00 AM eastern US time Thursday, the Iranian military made an attack into neighboring Iraq, seizing the vital, oil-producing, Majnoon Island near Basra, Iraq.
Iranian military helicopters brought troops to the island by force. Once on the island, the Iranians cut all communications in the seized land. This action also cut communications between Amarah and Basra.
The map below shows the affected island area near Basra, Iraq:
---
7 Major Earth Changes That Are Happening Right Now That Everyone Needs To Know About
Michael Snyder, Jan. 14, 2020
There has never been a time in modern human history when our planet has been changing as rapidly as it is changing right now. The sun is behaving very strangely, freakishly cold weather is breaking out all over the world, ocean temperatures continue to rise, volcanoes all over the globe are shooting ash miles into the air, Australia is experiencing the worst wildfires that they have ever seen, and the north magnetic pole has been moving at a pace that is deeply alarming scientists. Could it be possible that all of this bizarre activity is leading up to some sort of a crescendo?
Sadly, most people don't even realize what is happening, and that is because the mainstream media only emphasizes stories that fit with the particular narratives that they are currently pushing.
But it has gotten to the point where nobody can deny that really weird things are happening. The following are 7 major earth changes that are happening right now that everyone needs to know about...
#1 According to NASA, solar activity has dropped to the lowest level in 200 years. The following comes from the official NASA website...
The forecast for the next solar cycle says it will be the weakest of the last 200 years. The maximum of this next cycle - measured in terms of sunspot number, a standard measure of solar activity level - could be 30 to 50% lower than the most recent one. The results show that the next cycle will start in 2020 and reach its maximum in 2025.
Of course NASA insists that everything will be just fine, but others are wondering if this lack of solar activity could potentially spawn another "Little Ice Age"...
Click here to read it all
---
Supreme Court Poised to Overturn 38 State Constitutional Amendments on Church-State Separation
Jay Michaleson The Daily Beast Jan. 22, 2020
Religious conservatives asked the Supreme Court Wednesday to overturn 38 state constitutional amendments and require taxpayers to fund religious schools.
You read that right. The case, Espinoza v. Montana Dept. of Revenue isn't about whether a state may fund religious schools through a school choice, voucher, or similar program. It's about whether it must.
And the conservatives might just win.
At issue in the case, probably the most significant church-state case on the 2019-20 docket, is Montana's "no-aid" amendment to its state constitution, which was revised and passed in 1972. Like similar amendments in 37 other states, it prohibits "direct or indirect funding" for any "sectarian purpose."
In 2015, the state legislature passed a law that gave a tax credit of up to $150 for donations to a school scholarship program. But in 2018, the Montana Supreme Court struck down the program, saying it violated the 1972 constitutional provision.[JM1]
That's when a group of religious organizations upped the ante. They went to the Supreme Court, seeking not just to reinstate the program but to toss out the "no-aid" amendment entirely - and, as a consequence, invalidate 37 similar amendments across the country.
That would open the floodgates to the funding of religious schools, especially since the plaintiffs argue that not funding them - previously the constitutional norm - is actually a form of discrimination.
Click here to read it all
---
The Huge Magnitude 6.5 Earthquake That Just Hit Idaho Continues Alarming Trend Of Western Quakes
Mar. 31, Michael Snyder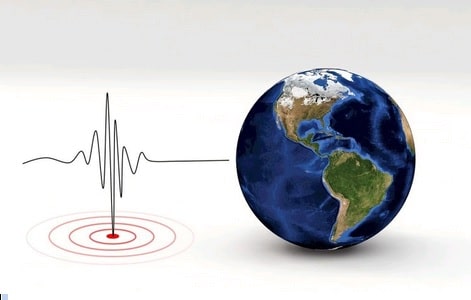 Why has the western United States suddenly been shaking so violently over the past several weeks? On Tuesday, the constant barrage of headlines about the coronavirus pandemic was interrupted by an enormous earthquake that hit central Idaho. Of course Idaho is not exactly known for earthquakes, and so this was quite a surprise. In fact, the largest quake in Idaho history was the magnitude 6.9 Borah Peak earthquake in 1983. So when a magnitude 6.5 earthquake stuck not too far from Boise on Tuesday, it really stunned a whole lot of people. And according to the Spokesman-Review, this quake could be felt as far away as Calgary...
An earthquake hit southern Idaho on Tuesday afternoon, with shakes felt as far as Calgary, Canada, Boise and Spokane.
The United States Geological Survey measured a 6.5-magnitude earthquake at a depth of 10 miles just before 5 p.m. The center of the quake took place about 45 miles west of Challis, Idaho.
This is an event that those living up in the Northwest will remember for a long time to come. There was a tremendous amount of shaking all over the region, and according to at least one report some people actually "ran outside yelling"...
Click here to read it all
---
Like a thief in the night! Locust Plague Timeline: The Biblical plague started ironically at the holiest site in Islam in 2019: It now stretches from the Chinese border to South Africa: New swarms in China, Botswana and South Sudan
Feb. 19, 2020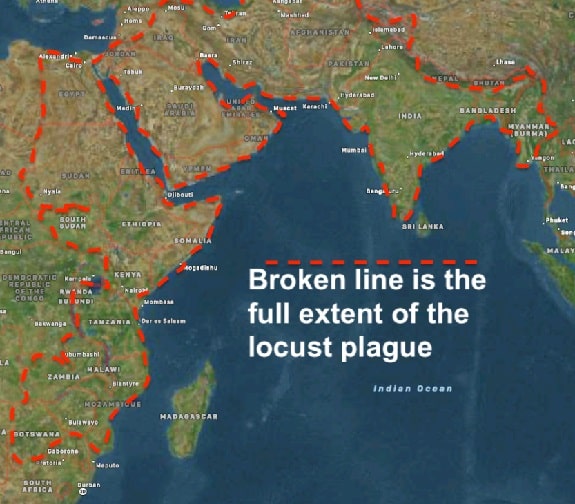 The worst locust outbreak in nearly a hundred years is spreading fast, the FAO yesterday announced South Sudan and Botswana, the first southern African nation has been invaded by migratory locusts and in a separate, unconfirmed report the locust plague has reached the Western borders of coronavirus-hit China, the area of the plagues are vast and the numbers of countries now affected enormous, see map above. A small plague was reported on TBW back in Jan 2019 ironically at the holiest site in Islam. The locusts were filmed swarming around the Great Mosque in Mecca, since then the plague has stretched from the Chinese border to South Africa. See Timeline Below
The worst locust outbreak that parts of East Africa have seen in 70 years has reached South Sudan, a country where roughly half the population already faces hunger after years of civil war, officials announced Tuesday. Around 2,000 locusts were spotted inside the country, Agriculture Minister Onyoti Adigo told reporters. Authorities will try to control the outbreak, he added. The locusts have been seen in Eastern Equatorial state near the borders with Ethiopia, Kenya and Uganda.
All have been affected by the outbreak that has been influenced by the changing climate in the region. The situation in those three countries "remains extremely alarming," the U.N. Food and Agriculture Organization said in its latest Locust Watch update Monday. Locusts also have reached Sudan, Eritrea, Tanzania and more recently Uganda.
The soil in South Sudan's Eastern Equatorial has a sandy nature that allows the locusts to lay eggs easily, said Meshack Malo, a country representative with the FAO. At this stage "if we are not able to deal with them ... it will be a problem," he said. South Sudan is even less prepared than other countries in the region for a locust outbreak, and its people are arguably more vulnerable. More than 5 million people are severely food insecure, the U.N. humanitarian office says in its latest assessment, and some 860,000 children are malnourished. Five years of civil war shattered South Sudan's economy, and lingering insecurity since a 2018 peace deal continues to endanger humanitarians trying to distribute aid. Another local aid worker was shot and killed last week, the U.N. said Tuesday. The locusts have travelled across the region in swarms the size of major cities.
Click here to read it all
---
Running out of time: East Africa faces new locust threat
Feb. 27, 2020 Omar Mohammed, Dawit Endeshaw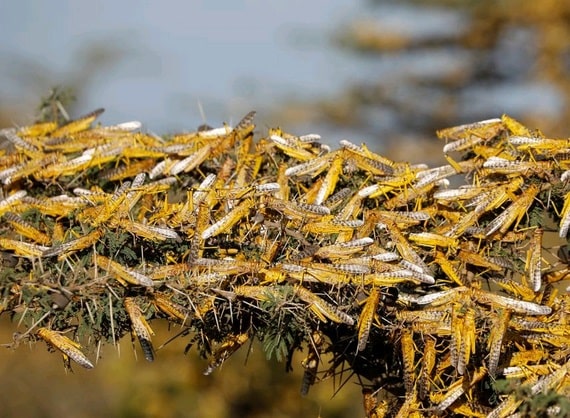 NAIROBI/ADDIS ABABA (Reuters) - Countries in East Africa are racing against time to prevent new swarms of locusts wreaking havoc with crops and livelihoods after the worst infestation in generations.
A lack of expertise in controlling the pests is not their only problem: Kenya temporarily ran out of pesticides, Ethiopia needs more planes and Somalia and Yemen, torn by civil war, can't guarantee exterminators' safety.
Locust swarms have been recorded in the region since biblical times, but unusual weather patterns exacerbated by climate change have created ideal conditions for insect numbers to surge, scientists say.
Warmer seas are creating more rain, wakening dormant eggs, and cyclones that disperse the swarms are getting stronger and more frequent.
In Ethiopia the locusts have reached the fertile Rift Valley farmland and stripped grazing grounds in Kenya and Somalia. Swarms can travel up to 150 km (93 miles) a day and contain between 40-80 million locusts per square kilometer.
[Ray's note: That is about 60/square meter or 6/square foot - sounds like Biblical proportions!]
If left unchecked, the number of locusts in East Africa could explode 400-fold by June. That would devastate harvests in a region with more than 19 million hungry people, the U.N. Food and Agriculture Organization (FAO) has warned.
Uganda has deployed the military. Kenya has trained hundreds of youth cadets to spray. Lacking pesticides, some security forces in Somalia have shot anti-aircraft guns at swarms darkening the skies.
Everyone is racing the rains expected in March: the next generation of larvae is already wriggling from the ground, just as farmers plant their seeds.
"The second wave is coming," said Cyril Ferrand, FAO's head of resilience for Eastern Africa. "As crops are planted, locusts will eat everything."
Click here to read it all
---
Supplies Are Starting To Get Really Tight Nationwide As Food Distribution Systems Break Down
Mar. 30, 2020, Michael Snyder
All across America, store shelves are emptying and people are becoming increasingly frustrated because they can't get their hands on needed supplies. Most Americans are blaming "hoarders" for the current mess, but it is actually much more complicated than that. Normally, Americans get a lot of their food from restaurants. In fact, during normal times 36 percent of all Americans eat at a fast food restaurant on any given day. But now that approximately 75 percent of the U.S. is under some sort of a "shelter-in-place" order and most of our restaurants have shut down, things have completely changed. Suddenly our grocery stores are being flooded with unexpected traffic, and many people are buying far more than usual in anticipation of a long pandemic. Unfortunately, our food distribution systems were not designed to handle this sort of a surge, and things are really starting to get crazy out there.
I would like to share with you an excerpt from an email that I was sent recently. It describes the chaos that grocery stores in Utah and Idaho have been experiencing...
When this virus became a problem that we as a nation could see as an imminent threat, Utah, because of its culture of food storage and preparing for disaster events seemed to "get the memo" first. The week of March 8th grocery sales more than doubled in Utah, up 218%. Many states stayed the same with increases in some. Idaho seemed to "get the memo" about four days later. We were out of water and TP four days after Utah. Then we were out of food staples about four days later. Next was produce following a pattern set by Utah four days earlier.
The problem for us in Idaho was this. The stores in Utah were emptied out then refilled twice by the warehouses before it hit Idaho. Many of these Utah stores have trucks delivering daily. So when it did hit Idaho the warehouses had been severely taxed. We had a hard time filling our store back up even one time. We missed three scheduled trucks that week alone. Then orders finally came they were first 50% of the order and have dropped to 20%. In normal circumstances we receive 98% of our orders and no canceled trucks. Now three weeks later, the warehouses in the Western United States have all been taxed. In turn, those warehouses have been taxing the food manufacturers. These food companies have emptied their facilities to fill the warehouses of the Western United States. The East Coast hasn't seemed to "get the memo" yet. When they do what food will be left to fill their warehouses and grocery stores?
Food distribution and resources for the Eastern United States will be at great peril even if no hoarding there takes place. But of course it will.
Click here to read it all
---
What happens to our food supply if American farmers can't farm?
Danielle Wiener-Bronner, CNN Business Mar. 31, 2020
American farmers are concerned.

The coronavirus pandemic is posing a threat to their livelihoods, as it is for many others across the globe. But unlike some shelf-stable goods producers, farmers have very little flexibility. They're on a strict planting and harvesting schedule and cannot ramp up or decrease production at will.

"A peach [that] is good today is not good tomorrow. That's how quick things ripen," Chalmers Carr told CNN Business. Carr owns and operates Titan Farms in Ridge Spring, South Carolina, where he grows peaches on around 6,200 acres, in addition to bell peppers and broccoli.

For blueberries and strawberries, he said, "if you leave them on the bush or the vine one extra day, they're virtually worthless." Even more forgiving crops, like bell peppers, have a short harvesting window of two to five days, Carr said.

April and May are critical planting and harvesting times for many US farmers. They need skilled laborers to work their fields, and a reliable supply chain to deliver their goods. And they don't have any time to waste.

If farmers can't find enough workers or if their farming practices are disrupted because of the pandemic, Americans could have less or pricier food this summer. And because international farmers and their supply chains face similar problems, we could receive fewer food imports, potentially limiting supply and driving up prices.

In recent weeks, many Americans got a scare when they walked into grocery stores and found empty shelves. Those shortages are caused by bottlenecks in the supply chain, not a lack of food, so grocery stores have been able to replenish their shelves fairly quickly.

What happens over the next several months will determine whether those disruptions become more serious.

Click here to read it all
---
Summary Covid 19 and locust plagues today; what will it be next month or next year? We should be making peace with God as the saying goes. What most people don't realize is that God dearly desires peace with us. He regards us as His children, totally loves us and freely forgives us. Actually, just today, a booklet I wrote was released: Biblical Forgiveness: Are There Two Types? This booklet shows, from scripture and the original Greek, that forgiveness is a two-part process - it is both given and received. The good news is that our "ever-merciful" God always gives it without condition. The challenge for us is to believe that, accept it and discard that load of guilt and shame we have been carrying. The booklet describing how all that works is freely available from my other website at: https://characterofgod.org/resources/ https://characterofgod.org/resources/
"And when these things begin to come to pass, then look up, and lift up your heads; for your redemption draweth nigh." (Luke 21:28)
---
If prophecy of the end of the world is of interest to you and you would like to receive this quarterly newsletter containing articles of interest and relevance to prophetic events, please respond using the form below: