God's Character - Do We Understand It Correctly?
Here is Light on the Dark Side of God
God's character is an area that I especially want to provide more information about. For now, here is the description from the back cover of the book Light on the Dark Side of God: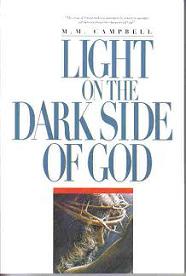 Why would a loving God burn humans eternally for the sins of one short lifetime?

How did the gentle Jesus perfectly reflect the "fire-breathing" Old Testament God who, according to Scripture, He came to reveal?

How can a "killing" God tell humans "Thou shalt not kill" and yet to pattern their character after His own?

Why didn't God destroy human rebellion early-on, before it became full blown?

Do humans really have free will, with God planning to execute those whose choices He does not like?

How does "the wrath of God" apply to our generation?
Follow the trail of Biblical clues in Light on the Dark Side of God to an amazing and wonderful new picture of God.

---
Now you may download a pdf file of the complete book directly to read from your own computer. Click on the following link:
Light on the Dark Side of God e-book, 589kb instant download
You will need Adobe Reader (the latest version is recommended) installed on your computer in order to open and read this ebook. You can get Adobe Reader here (a new window will open so you can download it without leaving this page).
---
The author of Light on the Dark Side of God does a very good job, I believe, in explaining the apparent discrepancies that could be mentioned on this topic. M. M. Campbell uses the cross of Christ to measure theories about the character of God. This is extremely good information. We are told that to love God is the most important commandment:
"And thou shalt love the Lord thy God with all thy heart, and with all thy soul, and with all thy mind, and with all thy strength: this is the first commandment." (Mark 12:30)
We can only love God through an appreciation of His character and what He has done for us. God never looked better to me before I read this book and I just want others to be able to read it also and come to a better appreciation of His wonderful character.
If you are skeptical about the idea that God is love and that He does not in fact hurt or destroy even His enemies, you need to go to the Does God Destroy? page.
---
What is your most pressing question about the character of God?
Have you ever wondered "if God is so good, why is there so much suffering and sin in this world?" Or perhaps you have other questions about God. Maybe you have asked "Why would God do ...?" or "Why would God say ...?" Go ahead and ask them here. I will attempt, going from what He says in His word, to answer.
What Other Visitors Have Said
Click below to see contributions from other visitors to this page...

Return from God's Character to Jesus' Resurrection Home Page