The US Debt Crisis - Disaster Postponed
The US debt crisis has come and gone - for now. While default was averted by a last-minute agreement, with the sorry state of the US economy and the unbridled spending, the inevitable is only postponed. This month's Prophecy Newsletter starts and end on economic notes. In between is an item about Sunday laws, several about the Iranian situation and then a summary of the natural disasters the world has seen so far this year.
---
"And ye shall hear of wars and rumours of wars ... nation shall rise against nation, and kingdom against kingdom: and there shall be famines, and pestilences, and earthquakes ..." (Matt 24:6-7)
Prophecy News - 2011 July
The US Debt Crisis - Disaster Postponed
---
Global 'Train Wreck' Coming
By: Peter Martin / The Sydney Morning Herald.com/ July 1, 2011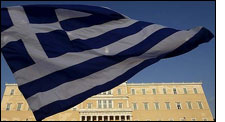 "The global economy is facing 'a slow-motion train wreck' with Greece only the first nation to be hit, Reserve Bank director Warwick McKibbin has told a Melbourne conference.
Referring to the most recent global economic crisis as a mere 'blip', he said the coming crisis could undo the mining boom and bring on inflation of the kind not seen since the 1970s.
"Professor McKibbin told the Melbourne Institute conference dozens of European countries now had gross government debts on track to exceed 60 per cent of GDP. 'Japan is forecast to be 200 per cent of GDP, the US is forecast to be over 100 per cent of GDP,' he said."
Click here to read it all
---

European Sunday Alliance Launched In Brussels on June 20, 2011
European Sunday Alliance.eu.com/ June 20, 2011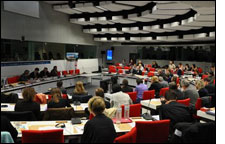 "On 20 June, some 65 civil society organisations, trade unions and Churches launched the European Sunday Alliance at an event held in the European Economic and Social Committee (EESC) in Brussels.
In their Founding Statement 'Together for decent working hours' the signatories commit to safeguard and promote work-free Sundays and decent working hours throughout Europe. The launch was part of an expert conference on the impact of Sunday work on the health, safety and social integration of workers."
Click here to read it all
---
Iran Conducting Secret Nuclear Missile Tests, UK Secretary Says
Fox News.com / June 29, 2011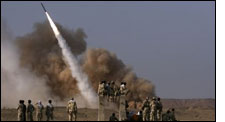 "Iran has conducted covert tests of ballistic missiles capable of carrying nuclear warheads in addition to a 10-program of public military maneuvers, Britain alleged on Wednesday.
"Foreign Secretary William Hague told the House of Commons that there had been secret experiments with nuclear-capable missiles . . .
"Iran has 'been carrying out covert ballistic missiles tests and rocket launches, including testing missiles capable of delivering a nuclear payload,' Hague said.
"A U.N. Panel of Experts report leaked to the media last month reported that Iran conducted secret ballistic missile tests in October and February.
"During the tests, the report said, Iran launched a liquid-fueled Shahab 3 missile, with a range of 560 miles (900 kilometers), and one or two solid-fueled Sejil 2 missiles, with a range of 1,240 miles (2,000 kilometers).
"Both missiles are believed to be capable of carrying a nuclear warhead, the U.N. experts said. They did not say if the tests were successful, or provide other details."
Click here to read it all
---
Iran Unveils Underground Missile Silos
CBS News.com / June 27, 2011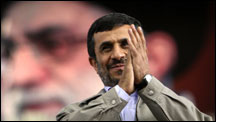 TEHRAN, Iran -- Iran on Monday unveiled underground silos that can carry missiles capable of hitting Israel and U.S. bases in the Gulf as it kicked off 10 days of war games, the country's latest show of military force amid a standoff with the West over its disputed nuclear program.
"State TV broadcast footage of deep underground silos, claiming that medium- and long-range missiles stored in them are ready to launch in case of an attack on Iran. The silos are widely viewed as a strategic asset for Iran in the event of a U.S. or Israeli attack on its nuclear facilities.
"Col. Asghar Qelichkhani, a spokesman for the war games, said the silos 'function as a swift-reaction unit.'
"'Missiles, which are permanently in the vertical position, are ready to hit the pre-determined targets,' he was quoted as saying by state TV."
Click here to read it all
---
Editorial: White House Admits War With Iran
The Washington Times.com / July 14, 2011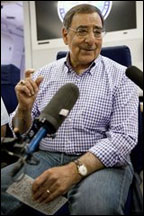 Defense Secretary
Leon E. Panetta
conducts a press
briefing aboard his
military aircraft on
Saturday, July 9,
2011, en route to
Kabul, Afghanistan.
"The United States is engaged in a deadly but seldom mentioned proxy war with Iran. In a rare act of candor, two senior Obama administration defense officials have addressed the open secret of Iran's active support for insurgent groups fighting U.S. troops overseas.
"Earlier this week, during a visit to Iraq, newly confirmed Secretary of Defense Leon Panetta strongly denounced Iranian support for increasingly violent Shiite militia groups in that country. 'We are very concerned about Iran and the weapons they are providing to extremists here in Iraq,' he said. 'We're seeing more of those weapons going in from Iran, and they've really hurt us.' Mr. Panetta pledged that America would take action against Iran's provocations.
"Mr. Panetta said, it's about time the United States takes this issue head-on."
Click here to read it all
---
2012: Iran's Atomic Daydreams
By: Gavriel Queenann / Arutz Sheva.com / July 12, 2011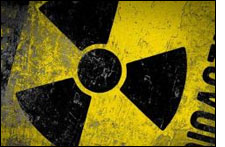 "Iran's supreme leader Ayatollah Khameni has ordered the revolutionary guards to 'immediately' proceed with the completion of an atomic bomb with hopes of a test in 2012, Iran Press News reports.
"The order includes testing and arming of missiles capable of delivering a nuclear payload, according to sources inside the Revolutionary Guards, the report says.
"According to the report Khameini's order stems from the belief that Israel and the United States lack the courage to strike Iran's nuclear facilities and that they are 'frozen in place and confused as to what action to take.'"
Click here to read it all
---
CVN 77 G.H.W. Bush Enters Persian Gulf As CIA Veteran Robert Baer Predicts September Israel-Iran War
By: Tyler Durden / Zero Hedge.com / July 17, 2011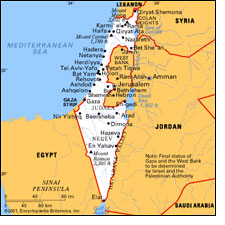 "One look at the most recent naval update maps shows that in addition to global insolvency (courtesy of the broke European dominoes and a potentially technically broke US), a UK on the verge of a parliamentary scandal courtesy of a media baron whose empire is crumbling, and not to mention yet another downward inflection point in the global economic slowdown courtesy of the end of QE2 and no replacement yet, market watchers may have to start factoring in geopolitical risk yet again.
"As the most recently updated naval map from Stratfor demonstrates, the CVN 77 G.H.W. Bush has just entered the Persian Gulf, the first time a US aircraft carrier has passed through the Straits of Hormuz in months. What is also notable is that the LHD 5 Bataan amphibious warfare ship has just weighed anchor right next to Libya: this is odd since the coast of Tripoli had been left unattended for many weeks by US attack ships. And topping it all off is that a third aircraft carrier, the CVN 73, is sailing west from the South China seas, potentially with a target next to CVN 76 Ronald Reagan which is the second carrier in the Straits of Hormuz area. Three carriers in proximity to Iran would be extremely troubling, yet fit perfectly with the story of CIA veteran Robert Baer, the man played by George Clooney in Syriana.
". . . there is a warning order inside the Pentagon to prepare for war. The punchline: There is almost 'near certainty' that Netanyahu is 'planning an attack [on Iran] ... and it will probably be in September before the vote on a Palestinian state. And he's also hoping to draw the United States into the conflict.'"
Click here to read it all
---
Iran Says To Close Hormuz Strait If Threatened
News.Xinhuanet.com / July 04, 2011
TEHRAN July 4 (Xinhua) -- Iran's Islamic Revolution Guard Corps (IRGC) Commander Mohammad Ali Jafari said that Iran will not restrict itself to closing the Strait of Hormuz if it is threatened, the semi-official Mehr news agency reported on Monday.
"'Currently, we are seeking to utilize our defensive capabilities in open seas. And it means that if enemy plans to pose a threat to the Islamic Republic of Iran from outside the Strait of Hormuz, we are capable of taking retaliatory measures, and this strategy is currently on our agenda,' he was quoted as saying.
"The Strait of Hormuz is a narrow, strategically important waterway between the Gulf of Oman and the Persian Gulf.
"The strait is the only sea passage to the open ocean for large areas of the petroleum-exporting Persian Gulf. About 15 tankers carrying 16.5 million to 17 million barrels of crude oil pass through the strait on average every day, making it one of the world's most strategically important choke points. This represents 40 percent of the world's seaborne oil shipments, and 20 percent of all world oil shipments."
---
Iceland Going For Trifecta As "Gateway To Hell" Volcano Prepares To Blow
By: Tyler Durden / ZeroHedge.com / July 06, 2011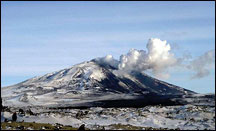 "Last year's Eyjafjoell and the recent Grimsvotn eruptions will have been a walk in the pyroclastic park if, as AFP reports, the most feared of all Iceland volcanoes, Hekla, is indeed about to blow. 'Experts say one of Iceland's most feared volcanoes looks ready to erupt, with measurements indicating magma movement, raising fears of a new ash cloud halting flights over Europe.'
"The Iceland Civil Protection Authority says it is closely monitoring the situation. 'The movements around Hekla have been unusual in the last two to three days,' University of Iceland geophysicist Pall Einarsson said. 'Hekla's eruption would certainly have far more dire consequences on European airspace than Grimsvotn,' which merely succeeded in getting Obama to vacate Ireland sooner than expected."
Click here to read it all
---
And, finally, a last-minute deal averted an economic disaster over the US debt crisis which would have adversely affected the whole world economy. Unfortunately, the inevitable has just been postponed and this just means that the national debt will go even higher and the final US debt crisis will be that much worse. This situation is resulting from a government irresponsibly borrowing way beyond its means to pay. The debt is now somewhere in the region of 14 trillion dollars. The good news is that you have, possibly, a few more months to prepare (assuming no other major crisis such as a war - which could easily happen) before the next global debt crisis appears.
---
Noah?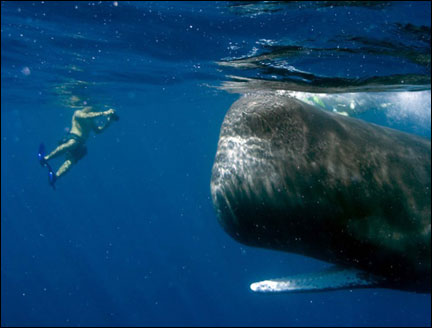 "And when these things begin to come to pass, then look up, and lift up your heads; for your redemption draweth nigh." (Luke 21:28)
If prophecy of the end of the world is of interest to you and you would like to receive this monthly newsletter containing articles of interest and relevance to prophetic events, please respond using the form below: