End Time Insights
Introduction
End Time Insights for 2017 - here are some news articles illustrating the general trends that show the direction the world is headed. These are illustrative of general trends that this site has been bringing to you for the last eight years. Note that, following this month's newsletter, new issues will only be written quarterly but will contain more in-depth analysis of how the trends fit into Bible prophecy.
Note that I am simply sharing items of interest for your information. That does not imply that I agree with everything presented here or with other material that may be on a source's other web pages.
---
"And ye shall hear of wars and rumours of wars ... nation shall rise against nation, and kingdom against kingdom: and there shall be famines, and pestilences, and earthquakes ..." (Matt 24:6-7)
Prophecy News - December 2016
End Time Insights
---
Moving US embassy to Jerusalem could provoke violent 'chaos', experts warn
David Friedman opposes two-state solution, backs undivided Jerusalem as capital and has acted for Trump's failing hotels
Guardian, Peter Beaumont, Dec. 21, 2016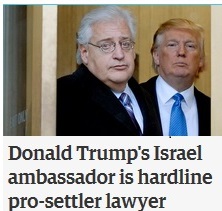 Donald Trump's plan to move the Israeli embassy from Tel Aviv to Jerusalem would be a "game changer", according to diplomats, as senior Palestinian officials warn that the move could provoke regional violence.
Criticized by international legal experts, analysts and former senior US officials, the proposal has heightened concern over what the president-elect's policies would mean for an already moribund Israel-Palestine peace process and the future of a two-state solution.
In recent days, potential officials with the incoming administration have repeatedly made clear Trump's desire to relocate the embassy early in his presidency.
Click here to read it all
---
Ray's note: that's for sure - that this move could provoke violence. This site has been fought over for centuries and is highly valued by the world's three major monotheistic religions. It also seems (see last month's newsletter) that both Donald Trump and Vladamir Putin favor the building of a third Jewish Temple so that may happen soon as well - more potential for trouble.
---
ISIS Aftermath: Inside the Destroyed City of Sinjar
CBN News, Chris Mitchell, Nov. 11, 2016
SINJAR, Northern Iraq - Parts of Sinjar today look like ruins from ancient times or a destroyed city from a world war. ISIS did much of this destruction while street fighting and allied airstrikes did the rest.
Before ISIS left Sinjar, they took terrorism to a whole new level. Churches were destroyed. Land mines and booby traps destroyed homes and businesses.
Click here to read it all
---
FBI Issues Warning After ISIS Threatens To Target Churches
Vishakha Sonawane, Dec. 4, 2016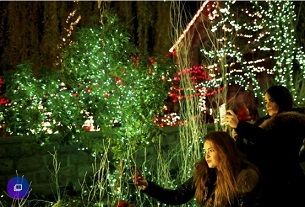 Federal officials warned law enforcement authorities across the U.S. on Friday that supporters of the Islamic State group, also known as ISIS, "continue aspirational calls for attacks on holiday gatherings, including targeting churches."
Authorities have advised people to exercise caution and report any suspicious activity, FBI spokesman Andrew Ames said, according to the Associated Press. FBI will work closely with federal, state and local law enforcement in case of any likelihood of such attacks.
"The FBI is aware of the recent link published online that urges attacks against U.S. churches," Ames said. "As with similar threats, the FBI is tracking this matter while we investigate its credibility."
The warning follows postings on ISIS channels on Telegram app calling on the militant group's supporters to carry out attacks across churches in all states in the U.S. during the holiday season. The posts listing addresses of churches were reportedly uploaded by a user named "Abu Marya al-Iraqi."
The Telegram post was in Arabic and called on "for bloody celebrations in the Christian New Year." It also said it planned to use the militant group's network of lone-wolf attackers to "turn the Christian New Year into a bloody horror movie."
Another post reportedly urged ISIS sympathizers to attack churches, popular hotels, crowded coffee shops, streets, markets and public places, and published a list of addresses for these places in the U.S., Canada, France and the Netherlands.
Click here to read it all
---
Kid jihad: Is Europe threatened by child terrorists?
RT, Dec. 22, 2016
The Christmas market truck attack in Berlin overshadowed another case in Germany - the thwarted nail bomb plot in Ludwigshafen. Yet it marks the alarming trend of an increasingly young face of terrorism in Europe.
The 12-year-old boy behind the plot in western Germany unveiled last week intended to detonate a home-made explosive device filled with nails at a Christmas market, according to German media. He was described as being of Iraqi origin, radicalized and planning to join the terrorist group Islamic State (IS, formerly ISIS/ISIL) sometime in the future.
The alleged failed bomb blast in Ludwigshafen is believed to be the youngest person in Europe detained on suspicion of terrorism since IS rose to prominence in the Middle East. The case however is far from being isolated.
Earlier in December, two teenagers aged 15 and 17 were arrested in the southern German state of Baden-Wurttemberg. They reportedly planned Islamism-motivated gun attacks in several locations near Frankfurt and were in the process of procuring firearms for them.
The issue of youth radicalization is serious in Germany. A September report by the Interior Ministry to the Parliament said German law enforcement identified over 340 cases of radical preachers making contacts with refugees in Germany. The ministry said unaccompanied children were especially susceptible to the radical messages.
Click here to read it all
---
Iran Opens Amusement Park For Kids To Practice Attacks On Israel
PNW, Dec. 13, 2016
Children in Iran now have the opportunity to train for jihad in a new educational theme park that both indoctrinates them on the evils of Israel and the United States as well as letting them practice shooting at Western targets.
The Middle East Media Research Institute, also known as MEMRI, has obtained an interview given to a media source close to the Iranian Republican Guard as it reported on the educational theme park called City of Games for Revolutionary Children Park.
In Mashad, Iran's second largest city, the park was open free of charge for children between the ages of 8 and 13. The attraction ran for several weeks with the option to run for longer if interest was high. According to the interview, the park was in "high demand" and could be expanded soon.
Click here to read it all
---
Germany Submits to Sharia Law
"A parallel justice system has established itself in Germany"
Soeren Kern, Dec. 1, 2016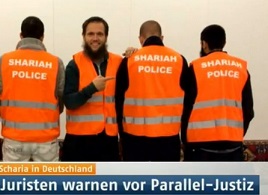 A German court has ruled that seven Islamists who formed a vigilante patrol to enforce Sharia law on the streets of Wuppertal did not break German law and were simply exercising their right to free speech. The "politically correct" decision, which may be appealed, effectively authorizes the Sharia Police to continue enforcing Islamic law in Wuppertal.
The self-appointed "Sharia Police" distributed leaflets which established a "Sharia-controlled zone" in Wuppertal. The men urged both Muslim and non-Muslim passersby to attend mosques and to refrain from alcohol, cigarettes, drugs, gambling, music, pornography and prostitution.
Critics say the cases - especially those in which German law has taken a back seat to Sharia law - reflect a dangerous encroachment of Islamic law into the German legal system.
In June 2013, a court in Hamm ruled that anyone who contracts marriage according to Islamic law in a Muslim country and later seeks a divorce in Germany must abide by the original terms established by Sharia law. The landmark ruling effectively legalized the Sharia practice of "triple-talaq," obtaining a divorce by reciting the phrase "I divorce you" three times.
A growing number of Muslims in Germany are consciously bypassing German courts altogether and instead are adjudicating their disputes in informal Sharia courts, which are proliferating across the country.
Click here to read it all
---
France: Decomposing in Front of Our Eyes
Yves Mamou, Dec. 7, 2016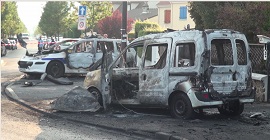 Four officers were injured (two badly burned) when around 15 "youths" (Muslim gang-members) swarmed their cars and hurled rocks and firebombs at them. Police were aggrieved when the minister of interior called the attackers "little wild ones." Police and opposition politicians replied that the attackers were not "little wild ones but criminals who attacked police to kill."
Two students at a vocational training school in Calais attacked a teacher, and one fractured the teacher's jaw and several teeth -- because the teacher had asked one of the students to get back to work.
"This is a warning. These young people did not attack the school by chance; they wanted to attack the institution, to attack the State." - Yacine, 21, a student at the University of Paris II.
The riot, which lasted for four nights, broke out after the arrest of a driver who did not stop when asked to by a policeman.
This revolt of one pillar of French society, the police, was the biggest that ever happened in modern France. Yet, virtually no one in France's mainstream media covered the event.
"Everything that represents state institutions (...) is now subjected to violence based on essentially sectarian and sometimes ethnic excesses, fueled by an incredible hatred of our country. We must be blind or unconscious not to feel concern for national cohesion". - Thibaud de Montbrial, lawyer and expert on terrorism.
France will elect a new president in May 2017. Politicians are already campaigning and debating about deficits, welfare recipients, GDP growth, and so on, but they look like puppets disconnected from the real country.
What is reality in France today?
Violence. It is spreading. Not just terrorist attacks; pure gang violence. It instills a growing feeling of insecurity in hospitals, at schools, in the streets -- even in the police. The media does not dare to say that this violence is coming mainly from Muslim gangs -- "youths," as they call the in the French media, to avoid naming who they are. A climate of civil war, however, is spreading visibly in the police, schools, hospitals and politics.
Click here to read it all
---
Fukushima Nuclear Radiation Detected In US Food Chain
Baxter Dmitry, Dec. 9, 2016

The devastating fallout from the Fukushima nuclear disaster continues to creep around the world, with radioactive samples discovered in the United States food chain for the first time.
Despite assurances the radioactive fallout would be contained, the entire Pacific Ocean is now contaminated. Cesium-134, the so-called fingerprint of Fukushima, was measured in seawater samples taken from Tillamook Bay and Gold Beach in Oregon, researchers from the Woods Hole Oceanographic Institution are reporting.
Because of its short half-life, cesium-134 can only have come from Fukushima, the site of the worst nuclear disaster since Chernobyl.
Also for the first time, cesium-134 has been detected in a Canadian salmon, the Fukushima InFORM project, led by University of Victoria chemical oceanographer Jay Cullen, is reporting.
Click here to read it all
---
Ray's note: I saw many fish with strange growths when I worked for fisheries off the British Columbia coast mostly in the 1980s but those were not radiation-caused. I feel for our marine life. The world's environment is suffering terribly and, unfortunately, it is going to get much worse.
---
Arctic heatwave could break records
Victoria Gill Science reporter, BBC News, Dec. 24, 2016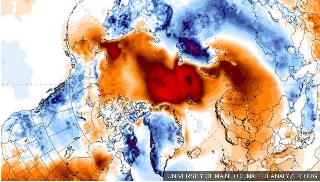 Temperatures at the North Pole could be up to 20 degrees higher than average this Christmas Eve, in what scientists say is a record-breaking heatwave.
Climate scientists say these unseasonably warm weather patterns in the Arctic region are directly linked to man-made climate change.
Temperatures throughout November and December were 5C higher than average.
It follows a summer during which Arctic sea ice reached the second-lowest extent ever recorded by satellites.
Dr. Friederike Otto, a senior researcher at Oxford's Environmental Change Institute told BBC News that in pre-industrial times "a heatwave like this would have been extremely rare - we would expect it to occur about every 1,000 years".
Dr Otto added that scientists are "very confident" that the weather patterns were linked to anthropogenic climate change.
"We have used several different climate modelling approaches and observations," she told BBC News.
"And in all our methods, we find the same thing; we cannot model a heatwave like this without the anthropogenic signal."
Temperatures are forecast to peak on Christmas Eve around the North Pole - at near-freezing.
Click here to read it all
---
The End of "He" and "She" As Ze Training Spreads Through Schools, Military
PNW, Dec. 29, 2016
Reminiscent of the 'droid-speak' of Star Wars, those trying to undermine the traditional ideas of gender roles are trying, once again, to replace the pronouns 'he' and 'she' with wild fabrications they deem to be gender neutral words.
"No longer an abstract academic exercise for linguists, policies mandating the use of the pronouns 'ze' and 'hir' (which rhymes with here) are being adopted in schools, workplaces and the military, often with consequences for those who refuse to comply with the changes.
"Linguists label these alien dialogue words as open-class or closed-class, and the distinction is key here. Nouns, adjectives and verbs are all open-class words.
"A hundred years ago, we didn't have the noun 'blog', the verb 'google' or use the adjective 'cool' in the same sense we do now. But English allows new open-class words to be added, subtracted or replaced as needed.
"We adapt to the changes just like changing light bulbs in a house. If started early enough, removing gendered nouns such as 'boys' or 'girls' from common usage can impact how we see the world, as gender activists are well-aware in Britain.
"A new guidebook for teachers, accompanied by a training manual teaches children as young as seven that not only are gendered pronouns a form of discrimination but also the words boy, girl, ladies, gentlemen and other completely normal nouns, as well.
"It is at this fundamental level that gender activists now seek to impose such a change of belief on the rest of society through language.
"In the United States, the District of Columbia Human Resources office has issued recent guidelines that make it a fineable offense to use pronouns not 'aligned with a person's gender identity' and it goes on to advise the use of ze and hir as 'best practice' in the workplace.
"The continued instance on he and she, those nasty gendered pronouns, can even result in criminal charges for creating a 'hostile work environment', according to the regulations. The included chart even contains example phrases such as 'Ze smiled' and 'I met hir'.
"Bear in mind, the objective is not so much that workers should understand how the government wants them to speak, but how they must think. No word yet on whether the government will open re-education camps for those who have trouble complying.
"Not to be left behind or outdone in this race to moral insanity, the New York City Commission on Human Rights, has mandated that landlords and employers who refuse to adopt the preferred pronouns of their employees or tenants, including the use of ze/hir, will be subject to fines of up to $250,000."
Click here to read it all
---
Ray's note: In my opinion this will lead to more confusion in an already confused society. People are quite within their rights (of free speech) to use different pronouns if they wish but don't be forcing that on the rest of us. A $250,000 fine! How does that square with freedom of speech? You could call someone every curse word in the book and not be subjected to a fine like that. The penalty (how about something like $25?) is totally inappropriate. How is the damage that would cause to a person's life anywhere near the damage that would be inflicted on a person hearing themselves be referred to by a pronoun they don't like?
---
Earth woefully unprepared for surprise comet or asteroid, NASA scientist warns
Scientist recommended Nasa build an interceptor rocket, with periodic testing, alongside an observer spacecraft to stop catastrophic fireballs from hitting us
Alan Yuhas Dec. 13, 2016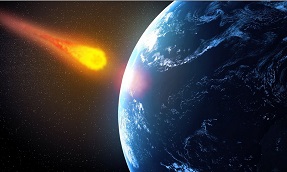 Humans are woefully unprepared for a surprise asteroid or comet, a NASA scientist warned on Monday, at a presentation with nuclear scientists into how humans might deflect cosmic dangers hurtling toward Earth.
"The biggest problem, basically, is there's not a hell of a lot we can do about it at the moment," said Dr Joseph Nuth, a researcher with NASA's Goddard Space Flight Center.
Speaking at the annual meeting of American Geophysical Union, Nuth noted that large and potentially dangerous asteroids and comets are extremely rare, compared to the small objects that occasionally explode in Earth's sky or strike its surface. "But on the other hand they are the extinction-level events, things like dinosaur killers, they're 50 to 60 million years apart, essentially. You could say, of course, we're due, but it's a random course at that point."
Click here to read it all
---
A World Where You Own Nothing And Have No Privacy
Clifford Cunningham, Dec. 8, 2016
"Welcome to 2030. I own nothing, have no privacy, and life has never been better," wrote Ida Auken, a member of the Danish Parliament (Folketing) from the left-wing Danish Social Liberal Party, for the World Economic Forum.
The World Economic Forum, a non-profit based in Cologny, Switzerland, is well known for holding an annual meeting of the global elite at Davos, Switzerland. Many of those same people also attend the secretive Bilderberg conference.
The global elite have made no secret of their hope to transform our society into a neo-feudalistic world where citizens have no privacy and own nothing; the framework to implement that goal is outlined in both United Nations Agenda 21 and, more recently, Agenda 2030.
In their dystopian plan for society, citizens will own nothing, with everything becoming a "service" rather than a possession. The concept of private ownership of items, property, etc will disappear and be replaced by the Socialist-inspired idea of collective ownership.
Click here to read it all
---
Unlocking Evil: "Microchipping Law" About to Push the Future Beyond Its Comfort Zone
The House Passes A Microchipping Law That Is Intended To Help Local Authorities Microchip Disabled People
Michael Snyder, Dec. 16, 2016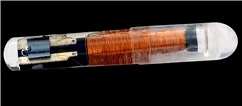 The U.S. House of Representatives has passed a bill that would get the federal government heavily involved in microchipping disabled people for tracking purposes. If you would like to read it for yourself, you can find H.R. 4919 right here. The bill is also known as Kevin and Avonte's Law, and the idea behind it is that if disabled people are microchipped it won't be so easy for them to get lost. Of course we have been microchipping pets in this country for years, and this is yet another giant step down the road toward universal microchipping of everyone. We are being told that implanted microchips will make those with developmental disabilities "safer", but where does this stop? Pretty soon there will be a huge push to microchip all children "for their safety", and once that is accomplished it won't be too long before they will want to microchip the entire population.
Unfortunately, most Americans did not even realize that this bill was being discussed. The following is what the Daily Caller had to say about the goals of this bill ...
H.R. 4919, which passed 346 to 66 in the lower chamber, also known as Kevin and Avonte's Law, mandates the U.S. attorney general award grants to law enforcement officials so that those agencies can create, establish and operate "locative tracking technology programs."
The programs mission would to find "individuals with forms of dementia, such as Alzheimer's Disease, or children with developmental disabilities, such as autism, who have wandered from safe environments."
Additionally, the bill would also require the attorney general to consult with the secretary of health and human services and other health organizations to come up with best practices for the tracking devices.
The fact that this bill was approved by a margin of almost 300 votes means that it had tremendous support from representatives in both parties. Now we will see what the Senate will do, and then it will be up to whoever the president is at the time to either veto it or not.
We are being told this is a wonderful thing for the safety of those with developmental disabilities, but fortunately there were at least a few members of Congress that understood the dangers of this bill ...
Click here to read it all
---
There's a Hidden Wire Stretched Above American Cities -- and Few People Know What It's For
Jenner Deal, Oct. 16, 2015
Unbeknown to most, there are transparent wires that wrap around over 200 cities in North America - including Manhattan - to mark a religious boundary.
And every week, there is a "secret operation" to check and repair the wire in time for the weekend. We tagged along to see what it's all about.
Click here to read it all
---
Here is a short description of the concept of the Jewish concept of Eruv (referred to in the above item) from Wikipedia:
"There are 39 categories of activity prohibited on Shabbat. On Shabbat (Jewish Sabbath), the traditional interpretations of Jewish law forbid moving an object from one domain to another, no matter its weight or purpose.
While there is no explicitly written Biblical prohibition in the Five Books of Moses for carrying objects between domains on the Sabbath, the Oral Torah cites two sources which refer to this prohibition. "Let no man go out of his place on the seventh day" (Ex. 16:29). This verse is in the context of collecting the Manna bread. The Rabbis said, "Let no man go out of his place with a receptacle in his hand." According to this, the Manna cannot be collected on Sabbath because it cannot be carried into the Israelites' homes.
Second, "So the people were restrained from bringing" (Ex. 36:6). This verse explains that the Israelites refrained from bringing further materials for the construction of the Tabernacle. The Rabbis believe that this event occurred on Sabbath, not just because no more supplies were needed, but also because the people were not allowed to carry those supplies to the Levite camp. The Rabbis derive the prohibited actions of Sabbath from the actions that were performed to construct the Tabernacle. Based on this, one explanation is that since this verse is written in the context of the Tabernacle, it is appropriate to derive further that the people ceased to carry on Sabbath.
---
Ray's note: the article above and this whole concept of Eruv illustrates a fundamental misunderstanding in God's law. His law can be seen as either a system of imposed laws with arbitrary penalties or they can be understood as laws designed totally for our good; laws with natural consequences from which God is trying to protect us. Is God a God primarily of justice or primarily of love? I said "primarily" because the two are not entirely mutually exclusive; the question is: which takes priority?" Something worth looking into for sure.
---
Donald Trump, the Church, the State, and the Image to the Beast (41 min)
Trump and his relations to Christianity. You will have to come to our own conclusions but very revealing.
---
Watch the following 21-minute video of some of the signs of the last days that happened around the world recently.
---
Summary
So there is another monthly installment of end time insights. The new year, 2017, will likely see events accelerate as the end draws near. Watch for significant events in the Middle East but especially spend some quality time in the Word of God. That is the information that we most need; that will most help us to get through the turbulent times ahead.
"And when these things begin to come to pass, then look up, and lift up your heads; for your redemption draweth nigh." (Luke 21:28)
---
If prophecy of the end of the world is of interest to you and you would like to receive this monthly newsletter containing articles of interest and relevance to prophetic events, please respond using the form below: