"The Wisconsin Project on Nuclear Arms Control, American's scientific watchdog on world nuclear weapons production, estimates that by Dec. 2008, Iran had accumulated enough U-235 to fuel one nuclear bomb; by 2009, enough for a second, by August 2010 material for a third bomb and by April 2011, enough enriched uranium for a fourth bomb.
"These estimates presuppose an Iranian decision to further process low-enriched material to weapons grade -- a process taking no more than a couple of months.
"Iran, says the Wisconsin Project, is consolidating its status as a 'virtual' nuclear weapon state -- meaning it can set about building a bomb whenever its rulers so decide."
"Senior RAND Corporation defense policy analyst Gregory S. Jones says that Iran is very close to building a nuclear bomb.
In a report published this week, Jones makes clear that the Iranians could produce enough highly enriched uranium for a nuclear weapon within eight weeks.
"Reviewing data from an International Atomic Agency report published two weeks ago, Jones analyzes Iran's uranium enrichment program ounce by ounce and concludes, not only is a bomb likely, it's unstoppable short of military occupation."

VIENNA -- The procession of cars carrying Fereidoun Abbasi Davani sped down Vienna's Wagramer Strasse this Monday and into the underground car park of the International Atomic Energy Agency. Outside the building, on the bank of the Danube River, some 30 protesters from the Stop the Bomb movement demonstrated, waving signs denouncing the Iranian nuclear scientist. But Iranian security officers seemed more concerned about the prospect of someone trying to exploit Abbasi Davani's controversial visit to finish the job.
"On November 29, 2010, anonymous assailants tried to assassinate Abbasi Davani as he emerged from his home in Tehran. He and his wife, seated next to him in the car, were hit by gunfire, but survived the assassination attempt. Iran blamed the Mossad for the failed operation.
"The assassins were more successful in a different attack launched that same day, which killed another nuclear scientist -- Majid Shahriari."
---
Iran Woos Leaders of U.S. Allies as Troops Withdraw From Region
Published June 27, 2011| The Wall Street Journal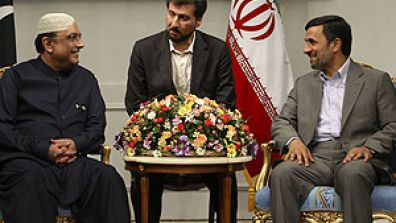 Iranian President Mahmoud Ahmadinejad, right, and his
Pakistani counterpart Asif Ali Zardari (and interpreter)
meet in Tehran, Iran.
Washington - Iran is moving to cement ties with the leaders of three key American allies -- Afghanistan, Pakistan and Iraq -- highlighting Tehran's efforts to take a greater role in the region as the U.S. military pulls out troops, The Wall Street Journal reported Monday.
The Afghan and Pakistani presidents, visiting Tehran, discussed with Iranian President Mahmoud Ahmadinejad "many issues ... that might come up after the NATO military force goes out of Afghanistan," Iranian Foreign Minister Ali Akbar Salehi said.
"The three presidents were very forthcoming in carrying out the cooperation and contacts so as to make sure things will go as smoothly as it could," he said.
That comment was seen as a jab at Washington, which is increasingly in competition with Tehran for influence in the region, particularly as popular rebellions have surged across the Middle East and North Africa since January.
The overtures by U.S. nemesis Iran come amid tensions between Washington and three governments that have each received billions of dollars in U.S. aid. Afghan President Hamid Karzai, before traveling to Tehran, welcomed President Barack Obama's announcement on Wednesday that the U.S. would withdraw 33,000 U.S. troops from Afghanistan over 15 months.
---
North Korea Tests 'Super-EMP' Nuke
Thursday, 16 Jun 2011 09:05 AM By Ken Timmerman
Gary Samore, a top Obama administration national security official, warned of new sanctions if North Korea conducted a third round of nuclear tests on Monday, as reports surfaced that North Korea has miniaturized its nuclear warheads so they can be delivered by ballistic missile.
North Korea's last round of tests, conducted in May 2009, appear to have included a "super-EMP" weapon, capable of emitting enough gamma rays to disable the electric power grid across most of the lower 48 states, says Dr. Peter Vincent Pry, a former CIA nuclear weapons analyst and president of EMPact America, a citizens lobbying group.
Samore, who handles arms control and non-proliferation issues, warned that "additional strong sanctions will be imposed on the North with the support of Russia and China."
North Korea's nuclear tests have been dismissed as failures by some analysts because of their low explosive yield. But Dr. Pry believes they bore the "signature" of the Russian-designed "super-EMP" weapon, capable of emitting more gamma radiation than a 25-megaton nuclear weapon.
Pry believes the U.S. intelligence community was expecting North Korea to test a first generation implosion device with an explosive yield of 10 to 20 kilotons, similar to the bomb the U.S. exploded over Nagasaki in 1945. He said, "So when they saw one that put off just three kilotons, they said it failed. That is so implausible."
The technology for producing a first generation implosion weapon has been around since 1945, and is thoroughly described in open source literature.
South Korean defense minister, Kim Kwan-jin, told his country's parliament on Monday that North Korea had succeeded in miniaturizing its nuclear weapons design, allowing them to place a nuclear warhead on a ballistic missile.
Read more on Newsmax.com: North Korea Tests 'Super-EMP' Nuke
Click here to read it all
---
Scientists Say California Mega-Quake Imminent
By: Becky Kellogg / Weather.com/ June 27, 2011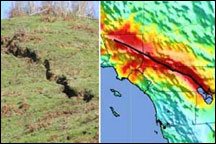 The San Andreas fault (red)
strikes through the heart
of Southern California.
"Like a steaming kettle with the top on, pressure is building beneath the surface of California that could unleash a monster earthquake at any time. That's according to a new study from the Scripps Institute of Oceanography.
"Geologists say Southern California is long overdue for a huge earthquake that could unleash widespread damage.
"They fear the pressure is building and the area could be as many as 100 years overdue for a mega-quake quake, measuring 7.5 or larger."
---
The Sky Is Falling, It Is Time To Panic And The U.S. Economy Has Fallen And It Can't Get Up
The Economic Collapse Blog.com/ June 5, 2011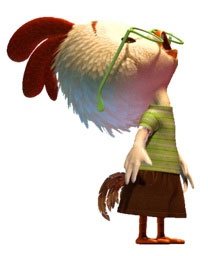 "So many economists and financial pundits seem absolutely shocked that the U.S. economy is slowing down again. It is as if this latest wave of bad economic data has caught them completely by surprise. Now, in the mainstream media we are seeing all kinds of headlines declaring that the U.S. economy is headed for disaster. But anyone with half a brain could have seen this coming.
"This year alone, we have seen the worst tsunami in Japanese history, the worst U.S. tornado season in recent memory and the worst Mississippi River flooding in decades. In addition, chaos in the Middle East has pushed the price of oil up to very high levels. Of course all of those things were going to have an effect on the economy. In addition, all of the long-term trends that have been destroying the U.S. economy for decades have not been taken a breather. In fact, the truth is that all of our long-term economic problems have been accelerating. So yes, the sky is falling, it is time to panic and the U.S. economy really has fallen and it really can't get up. It is just that everyone in the mainstream media seems to have believed that Ben Bernanke and Barack Obama would just sprinkle a bunch of fairy dust on the economy and everything would just magically get better. Well, in the real world things simply do not work that way."
Click here to read it all
---
Van Impe Ministry Abandons TBN In Clash Over Islam
Network turned back episode that challenged leaders over 'apostasy'
By: Bob Unruh / WorldNetDaily.com / June 16, 2011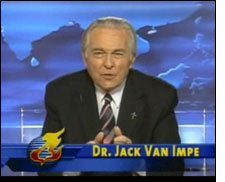 Jack Van Impe
A Christian ministry's decision to expose as "false teachers" several celebrity ministers it believes are corrupting biblical teachings has prompted a rift, with Jack Van Impe Ministries dropping plans to work in the future with Trinity Broadcasting Network, where it has broadcast for more than two decades. ...
The dispute arose over the issue of advocating for "Chrislam" and other efforts that are designed to find "common ground" between Christians and Muslims. TBN declined to air one of Van Impe's programs that contained sharp criticisms of leaders such as Rick Warren of "The Purpose Driven Life" fame and Robert Schuller. ...
"Even more chilling is the fact that over 300 prominent Christian leaders signed a letter issued by the Yale Center for Faith and Culture claiming that world peace is dependent on Muslims and Christians recognizing 'Allah' and 'Yahweh' as the same God."
Click here to read it all
---
"And when these things begin to come to pass, then look up, and lift up your heads; for your redemption draweth nigh." (Luke 21:28)
---
If prophecy of the end of the world is of interest to you and you would like to receive this monthly newsletter containing articles of interest and relevance to prophetic events, please respond using the form below: