The Doomsday Clock to Advance January 2015
Introduction
The Doomsday Clock originated in 1947 and has served to represent a countdown to global catastrophe whether from a nuclear exchange or catastrophic climate change. The most recent change to the time setting of the clock was just a few days ago (on January 22, 2015). It was made in reaction to both accelerating climate change and the recent tensions between the United States and Russia over the Ukrainian situation.
Here is a graph showing changes in the setting of the doomsday clock since it was started in 1947.

Note that I am simply sharing items of interest. That does not imply that I agree with everything presented.
In this newsletter, we'll look at some current stories that might justify the lateness of the hour as indicated on the Doomsday Clock.
---
"And ye shall hear of wars and rumours of wars ... nation shall rise against nation, and kingdom against kingdom: and there shall be famines, and pestilences, and earthquakes ..." (Matt 24:6-7)
Prophecy News - January 2015
The Doomsday Clock
---
Doomsday Clock moved closer to midnight
By Todd Leopold, CNN
That's the message from the Bulletin of Atomic Scientists, which moved its iconic Doomsday Clock up two minutes on Thursday. The clock now stands at three minutes to midnight, the "latest" it's been since 1984, when the Cold War between the U.S. and Soviet Union was a major issue.
"Today, unchecked climate change and a nuclear arms race resulting from modernization of huge arsenals pose extraordinary and undeniable threats to the continued existence of humanity. And world leaders have failed to act with the speed or on the scale required to protect citizens from potential catastrophe," said Kennette Benedict, executive director of the Bulletin of the Atomic Scientists, in a news release. "These failures of leadership endanger every person on Earth."
The Bulletin's Science and Security Board looks at global issues on a regular basis and decides whether to move the minute hand of the clock, with particular stress on the status of nuclear arms and reaction to climate issues.
In recent years, the doomsday clock has moved the wrong direction for humanity. After standing at 17 minutes to midnight in 1991 -- the furthest it's ever been from the end of the world -- it's gotten closer each time it's been changed since, with the exception of 2010, when it was pushed back by one minute to 11:54 p.m.
The last time the clock was moved was in 2012, when it was moved up one minute to 11:55.
The scientists expressed disappointment at the latest developments.
Click here to read it all
---
Islamic State Has Tripled Its Territory In Syria Since U.S. Started Airstrikes
Posted on January 18, 2015 by WashingtonsBlog
The following Wall Street Journal graphic shows that ISIS has more than tripled the amount of territory it holds in Syria since the U.S. started bombing: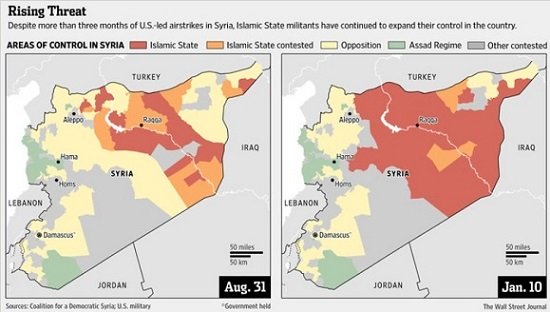 ---
Ray's note: This advance by the Islamic State points to greater instability and threat in an already-volatile part of the world which has helped move the Doomsday clock closer to midnight.
---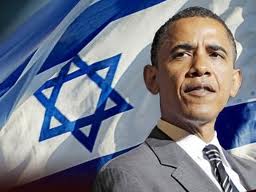 Reports: Obama Mulling Sanctions On Israel
December 05, 2014 Adam Kredo
The Obama administration is refusing to discuss reports that emerged early Thursday claiming that the White House is considering imposing sanctions on Israel for continuing construction on Jewish homes in Jerusalem. The possibility of sanctioning Israel for its ongoing construction sends a signal that the Obama administration is willing to go further in its denunciations of Israel then any previous White House. At the same time, the White House is vigorously pushing Congress against passing new sanctions on Iran
---
Ray's note: Whose side is the U.S. on anyway? For those who see the Middle East as the real potential flashpoint as far as world stability is concerned, this would surely be a factor in advancing the doomsday clock.
---
Region Prepares For Israel/Hezbollah Conflict After Israel Airstrike Kills Hezbollah Commander
January 20, 2015 F. MICHAEL MALOOF
Lebanon is bracing for an attack from Israel if the Iranian-backed Hezbollah retaliates for an Israeli military helicopter strike last week on the Syrian side of the Golan Heights.
The attack killed five Hezbollah fighters, including Jihad Imad Muganiyeh, 25, the son of Imad Muganiyeh, a top Hezbollah commander who was killed reportedly by Israelis in Syria in 2008.
There's "lots of security and uniformed guys talking into their radios," one resident in south Beirut - the Hezbollah stronghold - told WND.
He said that one family he knows is "expecting the worst" and has moved his family to the mountains.
"People seem understandably nervous and some fear a repeat of July 2006, or worse," he said.
The source added that if "things get crazy, I'm heading to the American University of Beirut," which is far from the Hezbollah area of the city, near the U.S. Embassy.
In July 2006, Hezbollah and Israel waged a 34-day war that resulted in Israeli forces finally withdrawing from Lebanon but not before considerable damage had been caused the country.
Since then, Iran has virtually rebuilt southern Lebanon as well as the Hezbollah stronghold in south Beirut.
Hezbollah Secretary-General Sayyed Hasan Nasrallah already has indicated that his resistance group will retaliate for the death of Mughniyeh, 25, and the five Hezbollah fighters.
---
Dozens of Churches Burned in Charlie Hebdo Protests
CBNNews
Christians in the West African country of Niger are asking for prayer after Muslim rioters burned dozens of churches in violent protests over a cartoon of the Prophet Muhammed in a new issue of the French satirical magazine Charlie Hebdo.
CBN News has contacts on the ground who say the violence is spreading and the government has not provided any protection for them after Muslim protestors burned a Christian clinic and about 40 churches.
The protests also killed four people and injured dozens of others.
The latest round of protests began after midday prayers on Friday, which is Islam's holy day.
Demonstrations also took place in several Pakistani cities.
The new issue of Charlie Hebdo has a drawing of Muhammed with a tear rolling down his cheek and the words "Je Suis Charlie." The saying, in support of free speech, swept through France earlier this month after Muslim terrorists targeted the magazine's publication offices for printing cartoons that mock Mohammad.
Twelve people died in the attack on Jan. 7.
---
19 Signs That You Live In A Country That Has Gone Completely Insane
By Michael Snyder, on December 4th, 2014
Do you ever feel like you are living in a "Bizarro World"? That is how I feel much of the time. I look around and it seems as though some form of mass psychosis has descended on most of the population. Things that would have had Americans angrily marching in the streets a generation or two ago are now just accepted as "normal" by the "sheeple" that populate this nation. If the talking heads that endlessly spew nonsense at us through our televisions tell us to believe something, no matter how absurd it is, most people just go along with it. Before we had televisions and radios and computers and movies and the Internet, people actually had to do the hard work of thinking for themselves. But now we are all plugged into this giant "matrix" that tells us what to think, what to believe and how to feel about things. And unfortunately, the people that are telling us what to think and believe are delusional themselves. The blind are leading the blind, and as a result our nation is coming apart at the seams all around us. The following are 19 signs that you live in a country that has gone completely insane ...
Click here to read it all
---
Mass animal deaths on the rise worldwide
Amanda SchupakCBS News January 16, 2015
Thousands of birds fall from the sky. Millions of fish wash up on the shore. Honey bee populations decimated. Bats overtaken by a deadly fungus. Piglets die in droves from a mysterious disease.
It was tragic stories such as these that prompted a group of researchers from the University of San Diego, UC Berkeley and Yale to embark on a broad review of all the reports of large animal die-offs in the scientific literature since the middle of the last century. They turned up 727 such papers documenting "mass mortality events" (MME) of 2,407 global populations of mammals, birds, fish, reptiles, amphibians and marine invertebrates -- like the thousands of starfish that perished in North America in 2014.
Their analyses, published this week in the Proceedings of the National Academy of Sciences, revealed that not only are these events becoming more frequent, they're also increasing in magnitude, with the number of fatalities higher for birds, fish and marine invertebrates. Thirty-five events completely or nearly wiped out an entire population.
Over the last 70-plus years -- between 1940 and 2012, when the researchers ended their data collection -- there has been about one more MME per year.
"Going from one event to 70 each year is a substantial increase, especially given the increased magnitudes of MMEs for some of these organisms," said Adam Siepielski, University of San Diego assistant professor of biology and the study's co-lead author.
The cumulative death toll reaches into the billions.
Click here to read it all
---
Ray's note: Mass animal deaths indicate serious problems with the world's environment even if those problems are not obvious to us. The doomsday clock may be speeding up more than we realize.
---
Big Government Goes After Heirloom Seeds
Written by: Daniel Jennings Current Events January 6, 2015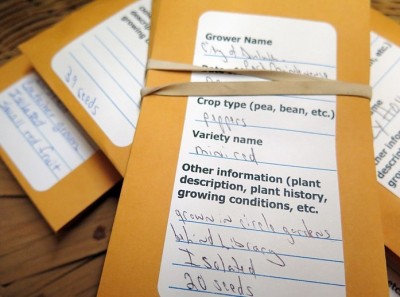 Trading heirloom or open-pollinated seeds with your friends and neighbors could be in violation of state law.
That's because from coast to coast, states are targeting "seed libraries."
Librarians in Duluth, Minnesota, learned the hard way about the law when an inspector from the state Department of Agriculture shut down their seed library because, he said, they were in violation of a law that regulates the selling of seeds without a license, Minnesota Public Radio reported. The seed library, which operated out of a closet at the public library, gave gardeners a place they could exchange vegetable seeds. The seeds were not sold.
"We didn't consider ourselves to be selling seeds," Duluth Library Manager Carla Powers told MPR. The library didn't charge the 200 members of the seed library for the 800 packets of seeds they borrowed. "However, selling, in [the] Minnesota seed law, also includes free distribution or even exchange."
Click here to read it all
---
Ray's note: With the Doomsday clock ticking and all the predictions of all sorts of problems to come, it makes sense to save your own seeds and grow some of your own food and now efforts are being made to even make that harder. I encourage people to learn how to garden and become more self-sufficient. Then you are part of the solution and not part of the problem.
---
It's Official: If You Question Authority, You Are Mentally Ill
January 19, 2015 Author Pater Tenebrarum
Only the Sheeple Are Sane
This post is about an issue that is by now a bit dated (though the topic as such certainly isn't), but we have only just become aware of it and it seemed to us worth rescuing it from the memory hole. In late 2013, the then newest issue of the American Diagnostic and Statistical Manual of Mental Disorders (DSM for short) defined a new mental illness, the so-called "oppositional defiant disorder" or ODD.
As TheMindUnleashed.org informs us, the definition of this new mental illness essentially amounts to declaring any non-conformity and questioning of authority as a form of insanity. According to the manual, ODD is defined as:
[…] an "ongoing pattern of disobedient, hostile and defiant behavior," symptoms include questioning authority, negativity, defiance, argumentativeness, and being easily annoyed.
In short, as Natural News put it: According to US psychiatrists, only the sheeple are sane.
Every time a new issue of the DSM appears, the number of mental disorders grows – and this growth is exponential. A century ago there were essentially 7 disorders, 80 years ago there were 59, 50 years ago there were 130, and by 2010 there were 374 (77 of which were "found" in just seven years). A prominent critic of this over-diagnosing (and the associated over-medication trend) is psychologist Dr. Paula Caplan.
Watch an interview with her and read more
---
Call to action for 'Global Covenant of World Religions'
Vatican Radio
Faced with the urgent crisis provoked by Islamic state extremists, faith leaders must work harder to prevent religiously motivated violence. That's the view of Jerry White, deputy assistant Secretary of State in the U.S. government's Bureau of Conflict and Stabilization Operations. White, who survived a landmine explosion in the Holy Land before starting to work in peace and victim support programmes, was in Rome recently to promote a call to action for a 'Global Covenant of World Religions'.
While noting that governments and civil society organizations are an important part of any peace strategy, White believes faith leaders have a crucial role to play in combatting the alarming increase in religiously-motivated violence ...
Why Rome is so important is it's become an address by which people are projecting perhaps on to Pope Francis, the Catholic Church, but again the archetype of Saint Francis, who stood for peace, and was courageous enough to go, in the 13th century during the crusades, to reach out to a sultan - that archetype is actually interestingly been invoked ...
---
I would greatly encourage you to watch the following 15-minute video of some of the signs of the last days that happened around the world within the last month.
---
Ray's note: Why all this scary stuff?
Over the years I have shared many of scary news stories about trends in the world pointing to the fulfilment of prophecy regarding the last days. It seems that there could be a lot of fear generated by events that are happening or seem to be developing. It is certainly not my intent to generate fear. Rather, I want people to be aware that prophecy is being fulfilled and especially to be driven to their Bibles to study for themselves.
I did, just today, come across a video that had an interesting thought that I think deserves more consideration. It suggests (and I believe there may be some validity to the idea) that, in fact, so much information is allowed to be put out in order to generate a climate of fear - fear and desperation to find a solution. Then, when things get bad enough, a much-talked about New World Order (whatever exactly that means) will be introduced as the solution. And it could be done in such as way as to make it hard to not accept and support - for the common good of the world. The problem will be - as serious Bible students will know - that there will be things associated with it that will jeopardize people's spiritual well-being.
The Word tells us:
"For God hath not given us the spirit of fear; but of power, and of love, and of a sound mind." (2 Timothy 1:7)
We should not be paralyzed with fear of what is coming on the earth. We should be energized by overcoming power and motivated by love for what our Savior has done and is doing for us.
So, even though the doomsday clock is ticking, keep your confidence in Him and keep looking up for your soon-coming redemption.
I pray that you will be blessed during this new year, will continue reading and sharing these newsletters and will get into studying the Word for yourself. As you learn to trust more in Him the spirit of fear will diminish and you will look forward with eagerness for His New World Order.
"Nevertheless we, according to his promise, look for new heavens and a new earth, wherein dwelleth righteousness." (2 Peter 3:13)
Below is that video I just mentioned (15 min):
---
"And when these things begin to come to pass, then look up, and lift up your heads; for your redemption draweth nigh." (Luke 21:28)
---
If prophecy of the end of the world is of interest to you and you would like to receive this monthly newsletter containing articles of interest and relevance to prophetic events, please respond using the form below: