WW3 Predictions
Introduction
WW3 predictions? Could we be getting close to that? The Middle East situation, especially with the increased involvement of other countries from outside the region, is making the world a potentially more-dangerous place. Fortunately, angels are still holding the winds of strife (Rev 7:1). While we may have some years left before the earth descends into chaos (whatever form that takes) it looks like we are headed that direction. There are continuing problems with war and instability in the Middle East and now add North Korea into the mix. There are earthquakes in abundance, some apparently manmade, as well as volcanoes and serious new radiation sources. Take a look at the stories here and you will have to conclude that the situation is serious. Despite lots of bad news, for those eagerly waiting for the Savior to return, it can also be good news.
Note that I am simply sharing items of interest. That does not imply that I agree with everything presented or with other material that may be on a source's other web pages.
---
"And ye shall hear of wars and rumours of wars ... nation shall rise against nation, and kingdom against kingdom: and there shall be famines, and pestilences, and earthquakes ..." (Matt 24:6-7)
Prophecy News - February 2016
WW3 Predictions
---
World War III Approaches: Saudi Arabia And Turkey Drop Hints That An Invasion Of Syria Is Imminent
Michael Snyder, Feb. 15, 2016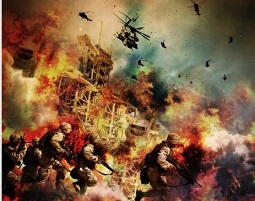 As you read this article, Turkish forces are massing along the border with Syria, and the largest "military exercises" in the history of the Middle East are being held in northern Saudi Arabia. The Saudis are publicly warning that Syrian President Bashar al-Assad "will be removed by force" if a political solution cannot be found, and Turkey is claiming that it may have to establish a "safe zone" in northern Syria "for humanitarian purposes". Saudi Arabia, Turkey and their Sunni allies have poured massive amounts of money and arms into the conflict in Syria, and now that their Sunni insurgents are on the verge of total defeat, they are trying to come up with a way to justify going in there and doing the job themselves.
For the Saudis, their focus is on trying to convince everyone that Syrian President Bashar al-Assad is an extremely dangerous dictator that must be removed at all costs. The following comes from the London Independent...
Syrian President Bashar al-Assad will be removed by force if the peace process fails, Saudi Arabia's Foreign Minister has said.
"Bashar al-Assad will leave - have no doubt about it," Saudi Arabia's Foreign Minister Adel al-Jubeir told CNN. "He will either leave by a political process or he will be removed by force."
Saudi Arabia has sent troops and fighter jets to a Turkish military base ahead of a possible ground invasion of Syria.
So precisely who will be doing the "removing" if force is necessary?
Are the Saudis ready to send in ground troops?
Apparently they are. Just consider what Saudi Arabia's Foreign Minister Adel al-Jubeir told CNN ...
Saudi Foreign Minister Jubeir made clear that his country's troops would not go it alone.
"I can tell you that there is some serious discussion going on with regards to looking at a ground component in Syria, because there has to be a possibility of taking and holding ground, that one cannot do from the air."
"We are saying we will participate within the U.S.-led coalition, should this coalition decide to send ground troops into Syria, that we are prepared to send special forces with those troops."
But if the Saudis try to take Damascus and remove Assad by force, the Syrians and their allies will certainly fight back. That means that the Saudis will be fighting Hezbollah, the Iranians and the Russians.
Needless to say, Saudi Arabia is going to need a lot of help to do that.
So that may explain why Saudi Arabia has organized the largest "military exercise" in the history of the Middle East. CNN finally reported on this gigantic gathering of military forces in northern Saudi Arabia earlier today ...
Saudi Arabia launched a massive military exercise that will include troops from 20 nations, state media reported Monday.
The drill, dubbed North Thunder, involves Arab and Muslim countries, according to the Saudi Press Agency. It's taking place in King Khalid Military City in northeastern Saudi Arabia.
The news agency did not provide much information on what the exercise entails but called it "the largest in the region's history." The agency said it will involve air, sea and land forces.
This is the list of nations that are reportedly participating in these "exercises" so far ...
Saudi Arabia
Jordan
Bahrain
Senegal
Oman
Qatar
United Arab Emirates
Sudan
Kuwait
the Maldives
Morocco
Pakistan
Chad
Tunisia
Comoro Islands
Djibouti
Malaysia
Egypt
Mauritania
Mauritius
As I discussed yesterday, 350,000 soldiers, 20,000 tanks, 2,450 warplanes and 460 military helicopters are reportedly gathering for these "military exercises".
To me, that seems to be a great deal of overkill if the goal is just "training".
Click here to read it all
---
Ray's note: Could things be getting set up for WW3? Predictions are that if the Syrian conflict is not resolved soon major world powers could be drawn into the conflict. Indeed they are already. Even the next few days (today is Feb. 25, 2016) are important as a proposed ceasefire is implimented - will it hold or not?
---
Kerry warns of escalation, and of US action, if Syria talks fail
Michael Wilner, Feb. 23, 2016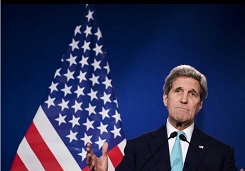 WASHINGTON -- The United States is planning for diplomatic failure in its efforts to end Syria's civil war, Secretary of State John Kerry said on Tuesday, declining to detail specifics but warning of permanent conflict and a divided Syrian state.
The war, entering its fifth year next month, has displaced half of the country's population and claimed the lives of an estimated 370,000 people. But a cease-fire planned for Friday, negotiated by the US and Russia, may provide world powers with their best opportunity yet to discuss the viability of a diplomatic solution to the conflict.
That is the hope of Kerry, US President Barack Obama and Russian President Vladimir Putin, who all called for "genuine," "galvanized" peace talks should the cease-fire take hold.
The International Syria Support Group - comprised of nearly 20 nations with vested interests in the war - seeks a negotiated political transition to a national unity government and, ultimately, nationwide elections, in which the diaspora of Syrian refugees dispersed throughout the Levant and Europe will be allowed to cast votes.
But achieving and holding a cease-fire will be a significant achievement in and of itself, with over one hundred rebel groups individually deciding whether or not to accede to the terms of the "cessation of hostilities"- a pause in the fighting shy of the legal prerogatives of a formal truce- by Friday at noon.
Click here to read it all
---
N. Korea pledges attack on US mainland if 'high-density strike' military drills go ahead
RT Feb. 23, 2016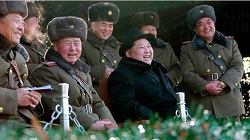 North Korea has threatened to attack South Korea and the United States if the two allies conduct joint drills in March. Pyongyang says the exercises are preparations for war and says it will retaliate.
"All the powerful strategic and tactical strike means of our revolutionary armed forces will go into preemptive and just operation to beat back the enemy forces to the last man if there is a slight sign of their special operation forces and equipment moving to carry out the so-called 'beheading operation' and 'high-density strike,'" the Supreme Command of the Korean People's Army said in a statement carried by state media, according to Reuters.
Pyongyang says its first targets would be South Korea's presidential Blue House, while secondary targets would include US military bases in Asia and on the US mainland. There are approximately 28,500 US troops stationed in South Korea.
The South Korean presidential office said Tuesday that Seoul has a duty to protect the lives of its citizens from threats posed by North Korea.
The government "would firmly respond to North Korea's reckless provocations" with an unwavering principle, Cheong Wa Dae, from South Korea's presidential office said, as cited by the Yonhap news agency.
On Monday, South Korea announced that it would take part in a "preemptive strike" on simulated North Korean weapons silos, following Pyongyang's rocket launch and a nuclear test earlier this year.
The exercise, to be conducted with the US, would see more than 90,000 South Koreans and 15,000 Americans taking part.
Click here to read it all
---
Super-EMP Missile Launch Window Approaches: "A Mortal Nuclear Threat To The United States - Right Now"
Jeremiah Johnson, Feb. 4, 2016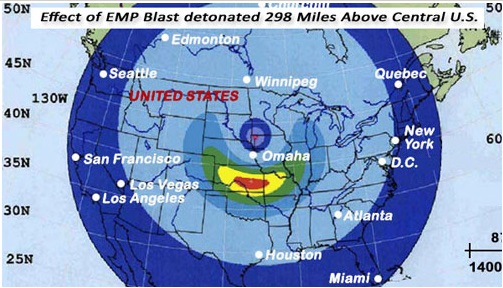 As of this writing, North Korea intends to launch another Unha-3 rocket, or a larger and more efficient version in a launch window falling between 8 - 25 February. This launch follows on the heels of a nuclear test conducted by North Korea on January 6, 2016, and the claim by Kim Jung-Un that the bomb was a hydrogen bomb. The MSM pundits and their positivist quacking "experts" all state the bomb was not a hydrogen bomb; however, experts such as Peter V. Pry disagree.
What was discussed by Dr. Pry was the intentionally low-yield weapon test that would have been optimal for a miniaturized EMP (Electromagnetic Pulse) device, that range being 5-10 kilotons. I have cited Dr. Pry's work in previous articles and am thoroughly convinced of both his professionalism and his expertise. While the North Koreans claim this launch to be for the purpose of emplacing an earth observation satellite, there are differences in the rocket that satellite images have picked up. The images revealed a gantry that differs in size and design from previous Unha-3 launches. The latest attribution is that the rocket may be a Unha-9, the newest North Korean design that may include an 80-ton rocket booster.
Click here to read it all
---
Ray's note: It is looking more like, if we are soon into WW3 as some predictions call for that it will be religious war as so many wars are. Again, related to what could be called a family fued between the sons of Abraham that started many generations ago.
---
ISIS Plot To Shoot Up A Detroit Megachurch Revealed As 'Christianophobia' Spreads Across America
Michael Snyder, Feb. 7, 2016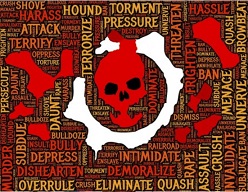 If you are a Christian, you better brace yourself for great persecution. It has gotten very little attention from the mainstream media, but federal authorities have uncovered an ISIS plot to "shoot up" a Detroit megachurch. 21-year-old Khalil Abu-Rayyan of Dearborn Heights, Michigan told authorities that he actually intended to take a gun into a very large church in Detroit that can seat up to 6,000 people and start killing Christians. He has been charged with supporting the Islamic States and with "illegally having a firearm while using a controlled substance". Abu-Rayyan actually admitted that since he can't be part of the jihad in the Middle East, that he would "do my jihad over here". As I have warned so many times before, ISIS terrorists are already here, and what we have seen so far is just the beginning.
I can't understand why this story is not headlines news all over America. If Khalil Abu-Rayyan had succeeded in conducting the megachurch attack that he was planning, hundreds of Christians could have potentially been killed. The people that go to that church might not ever know just how close they actually came to being slaughtered ...
Click here to read it all
---
Pope suggests Trump 'is not Christian'
Daniel Burke, CNN Religion Feb., 19, 2016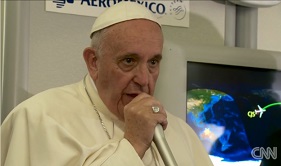 Thrusting himself into the combative 2016 presidential campaign, Pope Francis said Thursday that GOP front-runner Donald Trump "is not Christian" if he calls for the deportation of undocumented immigrants and pledges to build a wall between the United States and Mexico.
The Pope, who was traveling back to Rome from Mexico, where he urged the United States to address the "humanitarian crisis" on its southern border, did not tell American Catholics not to vote for Trump.
But Francis left little doubt where he stood on the polarizing issue of immigration reform.
"A person who thinks only about building walls, wherever they may be, and not building bridges, is not Christian. This is not the gospel," the Pope told journalists who asked his opinion on Trump's proposals to halt illegal immigration.
Trump immediately fired back, calling Francis' comments "disgraceful."
Click here to read it all
---
Bring On the Cashless Future
Bloomberg View Jan. 31, 2016
Cash had a pretty good run for 4,000 years or so. These days, though, notes and coins increasingly seem declasse: They're dirty and dangerous, unwieldy and expensive, antiquated and so very analog.
Sensing this dissatisfaction, entrepreneurs have introduced hundreds of digital currencies in the past few years, of which bitcoin is only the most famous. Now governments want in: The People's Bank of China says it intends to issue a digital currency of its own. Central banks in Ecuador, the Philippines, the U.K. and Canada are mulling similar ideas. At least one company has sprung up to help them along.
Much depends on the details, of course. But this is a welcome trend. In theory, digital legal tender could combine the inventiveness of private virtual currencies with the stability of a government mint.
Most obviously, such a system would make moving money easier. Properly designed, a digital fiat currency could move seamlessly across otherwise incompatible payment networks, making transactions faster and cheaper. It would be of particular use to the poor, who could pay bills or accept payments online without need of a bank account, or make remittances without getting gouged.
Click here to read it all
---
Radiation Alert: L.A. Gas Well Spewing LETHAL LEVELS Of Breathable Nuclear Material: "Fukushima Class Disaster"
Mac Slavo, Feb. 4, 2016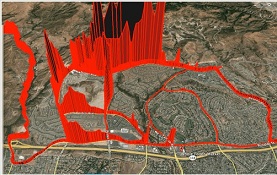 In a breaking development that has been completely ignored by mainstream news sources, the leaking natural gas well near Los Angeles, California is now reportedly spewing lethal levels of radioactive material, according to a report from Steve Quayle and a group with expertise in nuclear material.
A leaking natural gas well outside Los Angeles is spewing so much naturally-occurring Uranium and Radon, that "breathable" radiation levels have hit "lethal levels" according to a Nuclear Expert group.
Hal Turner of Super Station 95 reports that the well is releasing 1.91 Curies (Ci) of radiation per hour.
This rogue well is spewing huge amounts of natural gas and about 1.91 curies an hour of natural radioactive material in the natural gas... 1.91 curies an hour is about 45.9 curies per day ... It's a really, really big leak.
A curie is a unit of measure in the U.S. to describe very large radioactive releases.
The French utilize a unit of measure called a Becquerel to measure radiation levels. A single Becquerel measures the activity of a quantity of radioactive material in which one nucleus decays per second.
To put things into perspective, Turner explains that a single Curie is equivalent to about 37 Billion Becquerels (Bq) of radiation:
A Becquerel is a much more human sized unit of measure... it's one radioactive burst of energy per second... One Curie is 37 billion Becquerels per second.
That's 1.7 trillion Becquerels per day coming out of that natural gas well.
This is a real Fukushima class disaster and it's happening right here in the USA.
In 80 days of fumes at a pace of 1,115 tons per day coming out of that ground... could carry with it 301.2 terra-Becquerels of natural radioactivity... This converts to a resperable... a breathable emanation of 12 million Sieverts (Sv)... 2.4 million times the lethal dose by inhalation.
Full audio report via Hal Turner (begins at approximately 49:00 minutes)
In short, the leak is massive and researchers at UC Davis have indicated that they have never encountered as much methane in the air as they have over suburban Los Angeles in recent months.
While resident complaints of feeling ill, vomiting and nausea have been chalked off by officials as the result of breathing in the natural gas, it is quite possible and increasingly likely that what they are experiencing is actually radiation poisoning.
Click here to read it all
---
Fracking Creates Massive Radioactive Waste Problem
Sayer Ji, Founder GreenMedInfo, Sep. 1, 2015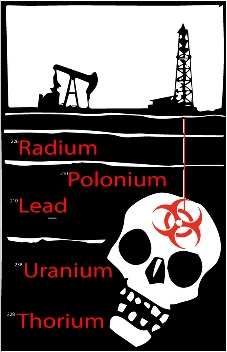 The EPA openly acknowledges that fracking fluid contains "thousands of chemicals," but nowhere is there mention of radioactivity in its risk assessments. Now, a new study reveals the "natural gas" industry may be hiding a secret as dark and deadly as the one the nuclear industry has been trying to conceal for decades.
With recent news that California's fracking industry will be "repurposing" its toxic wastewater to meet the needs of an agricultural industry driven desperate by the drought, a timely new study published in Environmental Health Perspectives reveals fracking wastewater is not just a source of dangerous petrochemicals but also a highly toxic form of radioactive waste.
Titled, "What's NORMal for Fracking? Estimating Total Radioactivity of Produced Fluids," the new study tested the hypothesis that fracking wastewater contains the same naturally occurring radioactive material (NORM) found in the shale deposits that it is produced from as a drilling byproduct. The primary radionuclides of interest include radium 226, polonium 210, and lead 210, which are decay products of uranium 238 and thorium 228, and which are normally safely locked away deep within millions of years old geological formations.
The study focused on the heavily drilled Marcellus Shale, a vast swath of marine sedimentary rock found in eastern North America, and which is known to have about 20 times higher levels of radioactivity from high uranium content compared to most other shales.1 In 2010, the uranium deposits within the Marcellus Shale were identified by University of Buffalo researchers as being susceptible to being solubilized and made mobile by fracking fluids. The researchers determined that when these fluids inevitably come back to the surface in the form of millions of gallons of wastewater they can pollute streams and the ecosystem with hazardous waste.
Click here to read it all
---
ALERT!! Popocatepetl Volcano: One of world's MOST DANGEROUS volcanoes threatens to BLOW!
Jan. 23, 2016
---
Volcano Erupts "Spectacularly" 50km From Japanese Nuclear Plant
Tyler Durden, Feb. 5, 2016

Last August, in a hilarious example of bad timing, Japan restarted its first nuclear reactor since the Chernobyl redux at Fukushima just as a nearby volcano was set to erupt.
Sakurajima, one of the country's most active volcanos, erupts almost constantly, but experts warned the next eruption could be "the big one", so to speak.
At the time, The Japan Meteorological Agency raised the warning level from 3 to 4.
4 means "prepare to evacuate."
"The possibility for a large-scale eruption has become extremely high for Sakurajima," the Agency said. As for what fate would befall someone who failed to heed an evacuation warning, well let's just say that molten stones "could rain down on areas near the mountain's base."
As we noted, the real problem is Sakurajima's location - it's just 50 kilometers from the Sendai nuclear power plant.
Click here to read it all
---
Alien Species ... A Brave New World
Katherine Carroll, GreenMEdInfo Feb. 9, 2016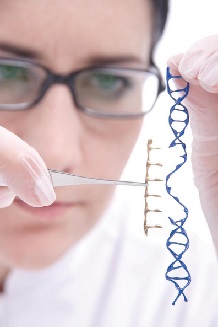 The potential of increasing humanization of animals with emergent human mental and psychological capacities is the risk no one is sure of.
A chimera is a living being composed of cells mixed together from two different organisms, either from the same or different species. Scientific research currently uses chimeras in the form of humanized mice to study inflammatory disease, cancer, infectious disease, and hematopoiesis. By adding thymus and liver cells from an aborted human fetus to a living mouse, its immune system is transformed facilitating research studies. Humans and animals have mixed throughout the Ages in various ways; so, beyond an initial repulsion, what makes a chimera, a human-animal melding, so morally controversial, so potentially threatening to life on Earth?
The mythical Greek chimera is a fire-breathing union of human and animal. Traversing millennia, it now thrives in U.S, UK, and other research labs growing tissue that may end up as liver, kidney, heart, or other transplanted organs. Despite ocular, neurodegenerative, and other applications, fiery controversy attends this mixing of human-animal stem cells or genes.
Based on stem-cell biology and gene-editing technology, scientists can alter the DNA in sheep or pig embryos to circumvent tissue development in favor of the organ they wish to grow. When human stem cells are introduced into the animal, it is hoped that the human cells will assume formation of the missing organ, thus creating a human liver, kidney, heart, etc., which would then be harvested from the animal for use in a transplant operation. Currently, however, scientists merely gather preliminary information observing cell growth and cell fate, about how great the contribution of human cells is to the animals' bodies, and then they destroy research samples in 28 days. A pig is born in 114 days by contrast.
These are potentially exciting medical advances, particularly if you are on the receiving end. Chimera researchers and scientists began inserting human cells into early sheep and pig embryos in 2014. MIT Technology Review states that 20 pregnancies of pig-human or sheep-human chimeras have been established during the last twelve months in the U.S. Another three dozen pig transfers have taken place outside the U.S. Yet, biological humanization balances tenuously against the risk of moral humanization; the great fear being creation of a novel sentient being with human qualities.
Click here to read it all
---
"And when these things begin to come to pass, then look up, and lift up your heads; for your redemption draweth nigh." (Luke 21:28)
---
If prophecy of the end of the world is of interest to you and you would like to receive this monthly newsletter containing articles of interest and relevance to prophetic events, please respond using the form below: