Study the Book of Revelation
Notes to Help
Study the Book of Revelation for it is "The Revelation of Jesus Christ ..." (Rev 1:1). It is both a revelation from Jesus and about Jesus. It tells of His central role in the salvation of His people and His vindication of the character of God and in it He tells of the events coming upon this earth in the near future as the process of salvation is brought to completion.
This series of pages will include notes from research and insights shared during a weekly, in-depth study of the book of Revelation. If your desire is to study the book of Revelation and understand its messages, you will find the information linked to here a great help. There is both simple information - think of it as Revelation for Dummies - and pages dealing with topics in considerable depth. In some cases, alternative viewpoints will be presented and I will try to not be too dogmatic on such items as whether the 144,000 of chapter 7 is referring to a literal or figurative number.
No claim is made that the information on these pages is 100% correct. We are all advancing in our understanding of Bible truth. You are urged to study for yourself and to diligently compare scripture with scripture.
Each entry below will become a link when the page is completed (and many related pages will be added) - this may take a year or more. We are just finishing our study of chapter 6 and the earlier pages need to be edited and loaded. Check back to see when there are more pages completed or subscribe to my monthly Prophecy Newsletters to be notified of new pages and prophecy updates.
There will be a page or more for each chapter and additional pages of information related to topics in Revelation. Studies may contain links to other pages with further information.
Revelation 1 - the Revelation of Jesus
Revelation 2 - messages to seven churches
Revelation 3
Revelation 4 - the throne of God
Revelation 5 - who is worthy?
Kinsman Redeemer - how this relates to the sealed book
Ruth and Boaz- an illustration of the Redeemer
Revelation 6 - seals 1-6
Revelation 7 - who will be able to stand? - the 144,000 will
Revelation 8 - trumpets 1-4
Revelation 9 - trumpets 5-6
Revelation 10 - the little book
Revelation 11 - the two witnesses
Revelation 12 - the woman, war in heaven
Revelation 13 - the mark of the beast, 666
Revelation 14 - 3 angels
Revelation 15 - 7 plagues prepared
Revelation 16 - plagues poured out
Revelation 17 - the false church
Revelation 18 - the fall of Babylon
Revelation 19 - the marriage of the Lamb
Revelation 19 10 - the testimony of Jesus
Revelation 20 - the millennium
The Lake of Fire - a 7-part series with a different understanding
Revelation 21 - the new heaven and new earth
Revelation 22:1-10 - the New Jerusalem
Revelation 22:11 - the close of probation
Revelation 22:12-21 - the end of the book
As you study the book of Revelation keep in mind the following promise:
"Blessed is he that readeth, and they that hear the words of this prophecy, and keep those things which are written therein: for the time is at hand." (Rev 1:3)
Following is a chart that you might find helpful as you study the book of Revelation: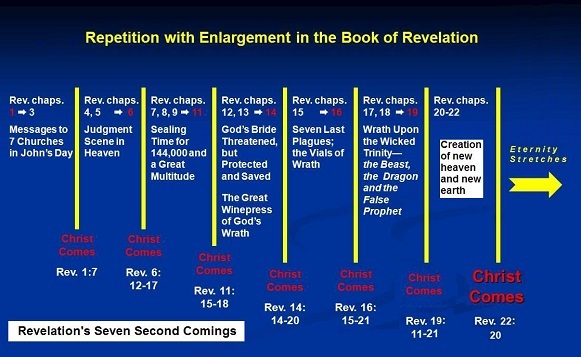 You can also download a larger version of this diagram as a PDF file: Revelation's Second Comings diagram, 207 kb instant download.
You will need Adobe Reader to download the diagram (a new window will open so you can download it without leaving this page).