Wars and Rumors of Wars
Introduction
Wars and Rumors of Wars are abounding on Planet Earth today. I added just the headlines of a few last-minute stories that bring this out:
Nuclear war 'imminent' in South Asia as troops gunned down on border Read here.
US Marine Corps General Warns "I Hope I'm Wrong, But There's A War Coming" Read here.
"The US Has Crossed The Line": Russia Warns Trump Decision To Arm Ukraine Will "Lead To Bloodshed" Read here.
Go to the stories if you wish - they are all very recent and not included below. They show that there are indeed a variety of wars and rumors of war in the world today - just more signs that the end is near. Fortunately (if we can say that), it is that type of event that will get people's attention although they will likely focus on the wrong thing.
This is issue number 100 of my newsletters sent from www.Jesus-resurrection.info. They were issued monthly from 2009 to 2016. Then, in 2017, I changed them to quarterly.
I have, of course, read and scanned many stories in putting newsletters together over the years. The earth is indeed in a sorry state. We eagerly await the return of our Messiah, the Son of God. While knowing that there will be hard times ahead before that event, we can put our trust in Him and His promises.
Please also visit my other website www.characterofGod.org
Note that I am simply sharing items of interest for your information. That does not imply that I agree with everything presented here or with other material that may be on a source's other web pages.
---
"And ye shall hear of wars and rumours of wars ... nation shall rise against nation, and kingdom against kingdom: and there shall be famines, and pestilences, and earthquakes ..." (Matt 24:6-7)
Prophecy News - 2017 Quarter 4
Wars and Rumors of Wars
---
Citing Bible, Netanyahu Reminds UN Israel Has Divine Ally Against Enemies
Eliana Rudee Sep. 20, 2017
At Tuesday's address to the 72nd United Nations General Assembly at the U.N. headquarters in New York, Israeli Prime Minister Benjamin Netanyahu cited the Bible various times as a source against "fake history" and the true reason behind Israel's flourishing in the face of its enemies.
During his speech, Netanyahu had harsh words for the United Nations, known for its anti-Israel bias. Condemning the UNESCO's July declaration of the Tomb of the Patriarchs as a Palestinian World Heritage site, he said, "That's worse than fake news, that's fake history." Citing the Bible as evidence to history, Netanyahu added, "It's true that Abraham, the father of both Ishmael and Isaac, is buried there, but so too are Isaac, Jacob, Sarah, Rebecca - Sarah is a Jewish name, by the way - and Leah, who just happen to be patriarchs and matriarchs of the Jewish people. You won't read about that in the latest UNESCO report.
"But if you want to, you can read about that in a somewhat weightier publication," he continued. "It's called the Bible. I highly recommend it. I hear it even got 4 1/2 out of 5 stars on Amazon. And it's a great read. I read it every week."
Click here to read it all
---
Ray's note: Remember, I do not necessarily agree with what is in the articles included. They are for information to help show the state of the world in relation to Bible prophecy.
---
Donald Trump's top spiritual adviser says opposing him is 'fighting against the hand of God'
Paula White says Trump has been lifted into his position by the Lord - and people should not keep criticising his presidency.
Kara O'Neill Aug. 24, 2017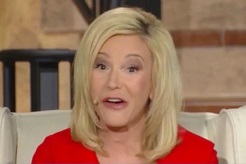 Donald Trump's top spiritual adviser has claimed that opposing his presidency is like 'fighting against the hand of God'.
Paula White was speaking on a US Christian TV channel when she made the comments to right wing pastor and Trump supporter Jim Bakker.
Ms White was talking about people who have blasted Trump over the decisions he's made during his first few months in the Oval Office.
Referring to Trump's critics, she said: "And they even say about him: 'He's not presidential'.
But Ms White, who hails from Florida, added: "Thank goodness, thank goodness!" as the audience cheered.
"And I mean that with all due respect. Because in other words, he's not a polished politician.
"In other words, he's authentically - whether people like it or not - has been raised up by God. Because God says that he raises up and places all people in places of authority.
Click here to read it all
---
Ray's note: It seems to me that issues in world affairs, politics and the environment and other areas are going to be spoken of more and more in the future in religious terms than what we have seen in the past.
---
Arab League warns Trump against recognizing Jerusalem as Israel's capital
Reuters Dec. 2, 2017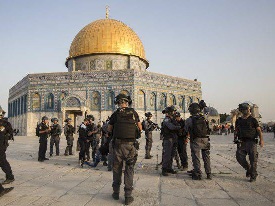 CAIRO (Reuters) - Any move by the United States to recognize Jerusalem as Israel's capital would fuel extremism and violence, Arab League Secretary-General Ahmed Aboul Gheit said on Saturday.
He spoke a day after a senior U.S. administration official said U.S. President Donald Trump was likely to make the announcement next week.
The Palestinians want Jerusalem as the capital of their future state, and the international community does not recognize Israel's claim on all of the city, home to sites holy to the Jewish, Muslim and Christian religions.
Word of Trump's planned announcement, which would deviate from previous U.S. presidents who have insisted the Jerusalem's status must be decided in negotiations, has already drawn criticism from the Palestinian Authority.
"Today we say very clearly that taking such action is not justified ... It will not serve peace or stability, but will fuel extremism and resort to violence," Aboul Gheit said in a statement published on the Arab league's website.
"It only benefits one side; the Israeli government that is hostile to peace," he added.
Click here to read it all
---
Abbas to Muslim summit: US Jerusalem decision 'greatest crime'
Reuters, Dec. 13, 2017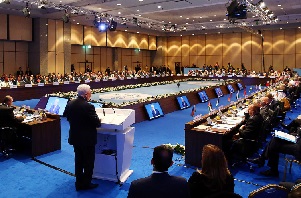 Palestinian President Mahmoud Abbas speaks during an
extraordinary meeting of the Organisation of Islamic
Cooperation (OIC) in Istanbul, Turkey, December 13,
2017. (photo credit: REUTERS/KAYHAN OZER/POOL).
ISTANBUL - Palestinian President Mahmoud Abbas said on Wednesday that the Trump administration's decision to recognize Jerusalem as the capital of Israel was the "greatest crime" and a flagrant violation of international law.
"Jerusalem is and always will be the capital of Palestine," he told an emergency meeting of Muslim leaders in Turkey. He said the United States was giving away Jerusalem as if it were an American city.
"It crosses all the red lines," he said.
Abbas said it was unacceptable for the United States to have a role in the Middle East peace process because it was biased in favor of Israel.
Muslim nations must press the world to recognize East Jerusalem as the capital of a Palestinian state, Turkey said on Wednesday as it opened the emergency summit.
Turkish President Tayyip Erdogan called on world powers to recognize Jerusalem as the capital of Palestine on Wednesday and said the United States should reverse a decision recognizing the city as Israel's capital.
Click here to read it all
---
Erdogan says Turkey aims to open embassy in east Jerusalem
Reuters, Dec. 17, 2017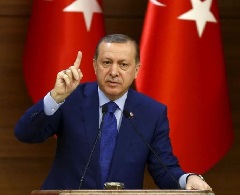 Turkish President Recep Tayyip Erdogan makes a
speech at the Presidential Palace in Ankara.
(photo credit: REUTERS)
ISTANBUL - Turkey intends to open an embassy in east Jerusalem, President Tayyip Erdogan said on Sunday, days after leading calls at a summit of Muslim leaders for the world to recognize it as the capital of Palestine.
It was not clear how he would carry out the move, as Israel controls all of Jerusalem and calls the city its indivisible capital. Palestinians want the capital of a future state they seek to be in east Jerusalem.
The Muslim nation summit was a response to US President Donald Trump's Dec. 6 decision to recognize Jerusalem as Israel's capital. His move broke with decades of US policy and international consensus that the city's status must be left to Israeli-Palestinian peace negotiations.
Erdogan said in a speech to members of his AK Party in the southern province of Karaman that Turkey's consulate general in Jerusalem was already represented by an ambassador.
"God willing, the day is close when officially, with God's permission, we will open our embassy there," Erdogan said.
Click here to read it all
---
North Korea: US Threats Have Made Outbreak Of War 'An Established Fact'
Marc Slavo, Dec. 7, 2017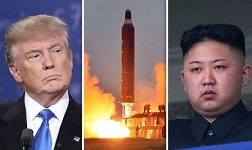 North Korea is warning the United States that their "threats" in the form of joint military drills with South Korea are making the outbreak of war "an established fact." Kim Jong-Un's regime is now saying that war is unavoidable.
China continues to urge calm between the two heated nations, as two American B-1B heavy bombers joined large-scale combat drills over South Korea on Thursday. These drills are being regarded by North Korea as acts of aggression. According to Reuters, a spokesman for the North's foreign ministry blamed the drills and "confrontational warmongering" by U.S. officials for making war inevitable.
The flights by the B-1B, one of America's largest strike aircraft, were supposed to be playing a leading role in Washington's attempts to increase pressure on North Korea to abandon its weapons program. So far, the flights are having the opposite effect on Kim's tyrannical regime. In September, B-1Bs were among a formation of U.S. military aircraft that flew further north up North Korea's coast than at any time in the past 17 years, according to the U.S. Pacific Command. That prompted North Korea's foreign minister, Ri Yong Ho, to warn that the North could shoot down the U.S. bombers even if they did not enter North Korean airspace.
"The remaining question now is: when will the war break out?" the spokesman said late on Wednesday in a statement carried by North Korea's official KCNA news agency. "We do not wish for a war but shall not hide from it."
China, North Korea's neighbor, and lone major ally, again urged calm and said war was not the answer. "We hope all relevant parties can maintain calm and restraint and take steps to alleviate tensions and not provoke each other," Chinese Foreign Ministry spokesman Geng Shuang said in a statement. "The outbreak of war is not in any side's interest. The ones that will suffer the most are ordinary people."
Tensions between the United States and North Korea skyrocketed in recent weeks after the rogue regime launched their most successful missile to date. The missile launch was conducted in defiance of United Nations Security Council resolutions and international condemnation.
Click here to read it all
---
How A North Korean Electromagnetic Pulse Attack Could Kill Millions And Turn America Into A Post-Apocalyptic Wasteland
Michael Snyder, Nov. 28, 2017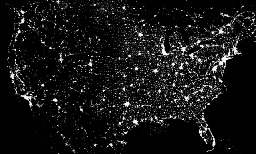 This is why North Korea's test of an intercontinental ballistic missile is so important. North Korea had test fired a total of 22 missiles so far this year, but this latest one showed that nobody on the globe is out of their reach. In fact, General Mattis is now admitting that "North Korea can basically threaten everywhere in the world", and that includes the entire continental United States. In addition to hitting individual cities with nukes, there is also the possibility that someday North Korea could try to take down the entire country with an EMP attack. If the North Koreans detonated a single nuclear warhead several hundred miles above the center of the country, it would destroy the power grid and fry electronics from coast to coast.
I would like you to think about what that would mean for a few moments. Suddenly there would be no power at home, at work or at school. Since nearly all of our vehicles rely on computerized systems, you wouldn't be able to go anywhere and nobody would be able to get to you. And you wouldn't be able to contact anyone because all phones would be dead. Basically, pretty much everything electronic would be dead. I am talking about computers, televisions, GPS devices, ATMs, heating and cooling systems, refrigerators, credit card readers, gas pumps, cash registers, hospital equipment, traffic lights, etc.
For the first couple of days life would continue somewhat normally, but then people would soon start to realize that the power isn't coming back on and panic would begin to erupt.
The intercontinental ballistic missile that North Korea just launched traveled almost 1,000 kilometers and reached a maximum altitude of 4,500 kilometers. We have been told for decades that this would never be allowed to happen, but now it has happened ...
Click here to read it all
---
North Korea Begins Tests to Load Anthrax Onto ICBMs, Report Says
Andy Sharp, Dec. 19, 2017
North Korea has begun tests to load anthrax onto intercontinental ballistic missiles, Japan's Asahi newspaper reported Tuesday, citing an unidentified person connected to South Korea's intelligence services.
The report said the testing involves ensuring the anthrax survives the immense temperatures generated during re-entry into the Earth's atmosphere. North Korea has a stockpile of between 2,500 tons to 5,000 tons of chemical weapons, and is capable of producing biological agents such as anthrax and smallpox, South Korea has previously said.
The Asahi report comes a day after the White House published its National Security Strategy, a document that said Pyongyang is "pursuing chemical and biological weapons which could also be delivered by missile."
"North Korea -- a country that starves its own people -- has spent hundreds of millions of dollars on nuclear, chemical, and biological weapons that could threaten our homeland," the report said.
North Korea claimed it had completed its nuclear force after it fired a new Hwasong-15 ICBM in late November. South Korea assessed the missile -- North Korea's largest yet -- could potentially fly 13,000 kilometers (about 8,000 miles) and reach Washington, though additional analysis was needed to determine whether it was capable of re-entry.
Click here to read it all
---
Ray's note: In reaction to the North Korean threats and dangers as mentioned above the U.S. is considering a pre-emptive strie - see the next story. Of course, such a strike might just make such threats become reality.
---
US preparing 'bloody nose' attack on North Korea
Yaron Steinbuch, Dec. 21, 2017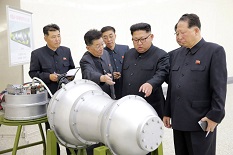 The US is preparing plans to deliver a "bloody nose" attack against North Korea to knock out its nuclear weapons program.
The White House has "dramatically" ramped up its military plans amid fears that diplomacy won't thwart North Korean despot Kim Jong Un from making good on his threats, sources told the UK's Telegraph.
One option is destroying a launch site before the rogue regime uses it for a new missile test, while another is targeting weapons stockpiles, according to the news outlet.
The Trump administration hopes that pre-emptive action would show the trigger-happy dictator that the United States is serious about stopping his bellicose pursuits and persuading him to negotiate.
The Telegraph cited three anonymous sources, one inside the administration and two former officials familiar with the White House thinking.
"The Pentagon is trying to find options that would allow them to punch the North Koreans in the nose, get their attention and show that we're serious," a former US security official briefed on policy told the Telegraph.
President Trump's decision to launch 59 cruise missiles against a Syrian airfield in response to the country's chemical weapons attack that killed more than 80 civilians is considered an indication of his resolve, the paper reported.
The current plans indicate that Trump is more willing to use a military option than previously thought.
Last week, Republican Sen. Lindsey Graham told the Atlantic he believed there was a 30 percent chance of Trump using a military option, but that if the hermit kingdom tested another nuclear weapon, that percentage would skyrocket to 70.
Click here to read it all
---
Micro Assassination Drones Fit In Your Hand
Mike Mish Shedlock, Nov. 18, 2017
Prediction
On June 9, 2014, Natural News reported Tiny, low-cost drones may one day assassinate corrupt politicians, corporate CEOs and street criminals.
From studying trends in drone development, both in terms of software and hardware, I am now predicting the development of facial-recognition "kamikaze micro drones" capable of carrying out targeted human assassination missions with remarkable precision and reliability. The four trends that will lead to this are:
1) Drone miniaturization: The development of mass-produced, affordable "micro drones" about the size of a common bird. These will likely be produced as hobby aircraft which will be easily modified to take on a more aggressive role.
2) Facial recognition systems: The miniaturization of facial recognition software / hardware systems which may be deployed on micro drones and powered by very small on-board power supplies.
3) Rapid advances in drone manufacturing efficiency, resulting in greater affordability of drone platforms by smaller and smaller groups, including corporations, smaller nations, universities, vigilantes and even activist groups.
4) Incremental improvements in the power density of on-board batteries, allowing greater flight time and more CPU-intensive on-board computations.
These four trends will ultimately result in the creation of "Kamikaze assassination micro drones" with the ability to search for, identify and terminate a specific human target. It is likely, in fact, that many governments of the world are already working on this technology.
This technology will reshape the meaning of "war" by allowing rogue nations like North Korea, for example, to simply ship tens of thousands of such drones into the USA via China, marked as "toys" on import manifests. Micro Assassination drones with facial recognition capabilities fit in your hand. The video below shows how they work.
The video at this site is scary stuff!
Click here to read it all
---
Fukushima Scientists: World's Oceans Now Completely Uninhabitable
Yournewswire.com Dec. 26, 2017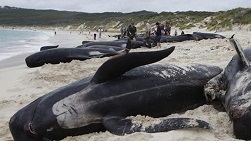 Scientists working on the cleanup operation at the Fukushima Daiichi power plant in Japan have revealed that most of the world's oceans are now completely uninhabitable.
Since the nuclear meltdown, mainstream media and government's around the world have colluded to completely downplay the impact of the disaster.
Despite reports claiming that humans may never consume fish from the ocean again due to radiation poisoning, the mainstream media has continued to lie by claiming that the cleanup operation has been a "complete success."
TEPCO is the company responsible for monitoring and conveying the vital stats from the meltdown. They've not been shy in conceding that nuclear radiation is in fact, leaking into the ocean, but they are massively downplaying its severity. Around 300 to 450 tons of nuclear-contaminated materials is leaking from Fukushima on a daily basis.
Click here to read it all
---
Scientists Shocked As Fisheries Collapse On West Coast: 'It's The Worst We've Seen"
Marc Slavo Nov. 13, 2017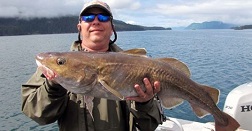 The Gulf of Alaska cod populations appears to have taken a nose-dive. Scientists are shocked at the collapse and starving fish, making this the "worst they've ever seen."
"They [Alaskan cod] get weak and die or get eaten by something else," said NOAA's Steve Barbeaux. The 2017 trawl net survey found the lowest numbers of cod on record forcing scientists to try to unravel what happened. A lot of the cod hatched in 2012 appeared to survive, but by 2017, those fish were largely gone for the surveys, which also found scant evidence of fish born in subsequent years. Many of the cod that have come on board trawlers are "long skinny fish" according to Brent Paine, executive director of United Catcher Boats.
"This is a big deal," Paine said. "We just don't see these (cod) year classes disappear from one year to the next." The decline is expected to substantially reduce the gulf cod harvests that in recent years have been worth - before processing - more than $50 million to Northwest and Alaska fishermen who catch them with nets, pot traps, and baited hooks set along the sea bottom.
Barbeaux says the warm water, which has spread to depths of more than 1,000 feet, hit the cod like a kind of a double-whammy. Higher temperatures sped up the rate at which young cod burned calories while reducing the food available for the cod to consume. And many are blaming "climate change" for the effects on the fish, although scientists aren't directly correlating the two events. "They get weak and die or get eaten by something else," said Barbeaux, who in October presented preliminary survey findings to scientists and industry officials at an Anchorage meeting of the North Pacific Fishery Management Council.
Click here to read it all
---
Ray's comment: I had to include the story above as I worked (in Canadian waters) for a number of years for the Canadian Department of Fisheries and Oceans as a Research Biologist on this very species of fish. Good old Gadus macrocephalus!
---
Summary
Wars and rumors of wars - will that be what we face in 2018 as well? We were told that would be among the signs to expect. But along with that we can expectantly look for the return of our Messiah and the ushering in of an eternity with no wars or even rumors of war. Not even any fake news.
"And when these things begin to come to pass, then look up, and lift up your heads; for your redemption draweth nigh." (Luke 21:28)
If prophecy of the end of the world is of interest to you and you would like to receive this monthly newsletter containing articles of interest and relevance to prophetic events, please respond using the form below: