The Islamic State and the Apocalypse
Introduction
The Islamic State is looking forward to the apocalypse and even fighting to hasten it. That, in some ways, makes it a formidable opponent. This month's newsletter includes items describing their attitude and their spread into new areas. There are articles regarding Israel and the Palestinians and their attitudes towards the question of statehood. Also, a number of items about environmental issues and, finally, an article about a man arresteed for feeding the poor.

Note that I am simply sharing items of interest. That does not imply that I agree with everything presented.
---
"And ye shall hear of wars and rumours of wars ... nation shall rise against nation, and kingdom against kingdom: and there shall be famines, and pestilences, and earthquakes ..." (Matt 24:6-7)
Prophecy News - November 2014
The Islamic State
---
The Islamic State Seeks the Battle of the Apocalypse
The Islamic State's latest video is directly challenging America to the battle of the apocalypse, which is to take place in Dabiq, Syria.
By Ryan Mauro, Tue, November 18, 2014
The gruesome video released by the Islamic State (ISIS or ISIL) emphasizes that the beheading of Peter Kassig took place in the town of Dabiq, Syria. The town was chosen because of its significance in Islamic end-of-time prophecies about the time when the Mahdi and (the Islamic version of) Jesus will bring victory over those who oppose sharia.
The Islamic State named its English-language magazine "Dabiq" for the same reason. The group is telling Muslims that it is fulfilling prophecy, enticing them to participate in one of the most important moments in world history.
A secondary message is that Islamic State supporters should not worry about the military superiority of their enemy or the terrorist group's setbacks because they will soon be made victorious with help from the Mahdi, Islam's messianic figure, and Jesus (when he joins Islam, which he will according to Islamic prophecy).
"Here we are, burying the first American Crusader in Dabiq, eagerly waiting for the remainder of your armies to arrive," says one Islamic State speaker.
Click here to read it all
---
Ray's note: The article above presents one explanation of the thinking behind many Jihadists. Below, from the Maclean's magazine for October 13, 2014 article "The Return of Fear" are some examples of the thinking from the other side. Daniel 8, here we come!
Citing the potential for jihadists with Western passports to enter undetected into the U.S., some Washington politicians sound downright panicked. "This is a turning point in the war on terror," South Carolina Sen. Lindsey Graham told Fox News. He called on President Barack Obama to deploy thousands of ground troops to Iraq, "before we all get killed back here at home."
"They intend to kill us. And if we don't destroy them first, we're going to pay the price," said House Speaker John Boehner this Sunday. Obama's own secretary of defense, Chuck Hagel, has called the Islamic State group "an imminent threat to every interest we have." John Allen, a retired four-star Marine Corps General who formerly led the war effort in Afghanistan, declared it "a clear and present danger."
The next two items point to the expansion of ISIS which may have some connection to the prophecy of Daniel 11:2.
---
Islamic State spreading into northern Africa, alarming U.S.
Libya, Egypt at risk of Shariah brutality
By Guy Taylor - The Washington Times - Thursday, November 27, 2014
In its war to create a caliphate across Syria and Iraq, the Islamic State is opening a front in North Africa, where affiliated militants are wreaking havoc in eastern Libya and Egypt's Sinai Peninsula — presenting a complex challenge for Washington and its allies in the region.
Through its savvy use of social media and slick production of recruitment videos, the Islamic State - also known by the acronyms ISIS and ISIL - is attracting a growing number of individual jihadis to its harsh interpretation of Islamic, or Shariah, law.
"ISIL's stated goal of expanding its caliphate and its adherence to a strict form of Shariah has definitely resonated with a collection of extremists across North Africa, who appear to be mimicking ISIL's rhetoric and brutality," said a U.S. intelligence official who spoke on the condition of anonymity in order to discuss security issues freely.
Click here to read it all
---
ISIS Preparing to Invade Saudi Arabia
On Thursday, Islamic State leader Abu Bakr al-Baghdadi allegedly gave a speech where he strongly suggested that supporters of the Islamic State attack the government of Saudi Arabia. ...
Some reports this week have indicated that ISIS soldiers are already amassing on the borders of Saudi Arabia, preparing to invade as they have in other neighboring countries. ...
Their intentions are to become the area's government, as is suggested by their name, and the alleged speech from Baghdadi. In the speech, Baghdadi was quoted as saying that the Islamic State has expanded their territory into multiple new countries.
"We announce to you the expansion of the Islamic State to new countries, to the countries of the Haramayn, Yemen, Egypt, Libya, Algeria," Baghdadi reportedly said in the speech.
As we also reported today, the Islamic State has recently announced that they will soon be minting their own currency that will be backed by precious metals. This new currency is just one of many signs that the Islamic State is taking on more roles that people traditionally associate with the government.
Click here to read it all
---
Arab League: Jordan to present Palestine resolution in days
Nov. 29, 2014
CAIRO - Jordan, an Arab member of the U.N. Security Council, will formally present "in the next few days" a draft resolution setting a time frame for the creation of a Palestinian state, Arab League chief Nabil al-Araby said.
"The Palestinian issue has been circulated in the past, but what is new today is that the Arab states and Palestine decided to go to the Security Council, through Jordan, with an Arab draft resolution," he said, after an Arab League foreign minister's meeting in Cairo.
See the story here.
---
Ray's note: Create a Palestinian state! - How well will this resolution likely go over in light of the next story?
---
Abbas: Palestinians will never recognize Israel as Jewish state
Speaking to Arab League, PA president accuses Israel of setting up apartheid state, says Palestinians can't wait any longer for statehood
The Times of Israel, November 29, 2014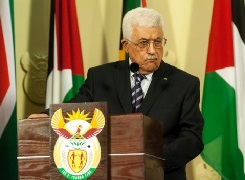 Palestinian Authority President Mahmoud Abbas said Saturday that the Palestinians would never recognize Israel as a Jewish state, and accused Israel of establishing an apartheid government.
The Palestinian leader was speaking in Cairo at an emergency session of the Arab League with foreign ministers from around the Arab world. His remarks came following a week of intense debate among Israeli politicians about a Knesset bill which would enshrine Israel's status as a Jewish state in law.
"We will never recognize the Jewishness of the state of Israel," Abbas was quoted by Channel 10 saying. The news outlet also reported that Abbas threatened to terminate all security cooperation between Israel and the Palestinian Authority in the West Bank unless peace negotiations are revived. Talks collapsed in April, and Israel will not resume them so long as Abbas is partnered with the Hamas terror group in a Palestinian unity government.
Click here to read it all
---
Syria says US-led strikes have not weakened Islamic State
Syrian Foreign Minister Walid al-Moualem: "All the indications say that (Islamic State) today, after two months of coalition air strikes, is not weaker."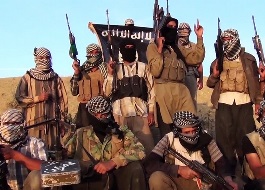 BEIRUT - Syria's foreign minister said US-led air strikes had failed to weaken Islamic State in Syria and the jihadist group would not be tackled unless Turkey was forced to tighten border controls.
A US-led alliance started attacking Islamic State targets in Syria in September as part of a wider effort to destroy the al-Qaida offshoot that has seized large areas of the country and neighboring Iraq.
"All the indications say that (Islamic State) today, after two months of coalition air strikes, is not weaker," Foreign Minister Walid al-Moualem said in an interview with the Beirut-based Al Mayadeen TV broadcast on Friday.
Click here to read it all
---
30 Years Later, America Truly Is Becoming A '1984' Society
By Michael Snyder, on November 16th, 2014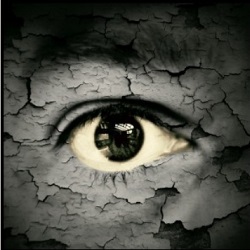 If only George Orwell could see us today. When he wrote "1984" back in 1948, he probably never imagined that the "totalitarian, bureaucratic world" that he imagined would ever actually become a reality. But that is precisely what is happening. We live at a time when the government monitors billions of our phone calls and emails and hardly anyone gets upset about it. We live at a time when corporations systematically collect our voiceprints and our televisions watch us. We live at a time when reporters that try to dig into the misdeeds of the government have their computers hacked, and when nearly one out of every three Americans has a file in the FBI's master criminal database. The control freaks that run our society are absolutely obsessed with watching, tracking, recording and monitoring virtually everything that we do. We truly are becoming a "1984" society, and if we continue on the path that we are currently on eventually our world will be transformed into something more hellish than anything that George Orwell ever imagined.
These days, virtually every type of government surveillance is taken to the extreme.
Click here to read it all
---
NASA Warns California Drought Could Threaten U.S. Food Supply: "There will be some definite changes"
Mac Slavo, November 4th, 2014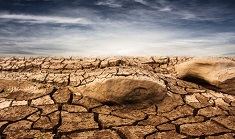 NASA's Jet Propulsion Laboratory has sounded a stark warning over California's sustained drought, publishing its latest findings where satellite surveys show a rapidly depleting groundwater supply.
And with California as the United States' most valuable agricultural state, and thus key to America's food supply (and much of the world's as well) that could mean drastic consequences for food commodity prices and potential shortages.
The Nature Climate Change journal carried the report, which Think Progress summarized:
A new Nature Climate Change piece, "The global groundwater crisis," by James Famiglietti, a leading hydrologist at the NASA Jet Propulsion Laboratory, warns that "most of the major aquifers in the world's arid and semi-arid zones, that is, in the dry parts of the world that rely most heavily on groundwater, are experiencing rapid rates of groundwater depletion."
The groundwater at some of the world's largest aquifers — in the U.S. High Plains, California's Central Valley, China, India, and elsewhere — is being pumped out "at far greater rates than it can be naturally replenished."
The most worrisome fact: "nearly all of these underlie the word's great agricultural regions and are primarily responsible for their high productivity."
Click here to read it all
---
Ray's note: I do have a separate health website and occassionally put out a health newsletter. The health-related item below was recently shared with me. It points out the dangers from toxic chemicals being used in our agricultural system. It is also another sign of the times. I am an advocate of healthly eating and, where possible, growing some of your own food.
How to Bring Minerals Back Into the Soil and Food Supply
May 25, 2014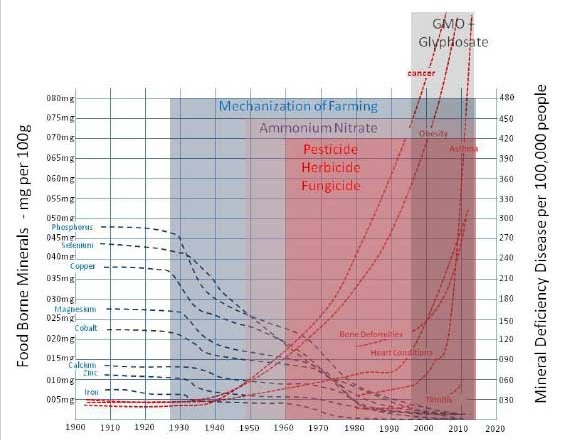 There are now many studies clearly documenting that if you eat processed foods, you're being exposed to toxic herbicides. These toxic chemicals have been found in everything from breast milk to umbilical cords and placentas.
This of course means that children are now born with a chemical burden unknown to previous generations. What are some of the relatively unknown consequences of this exposure?
In this interview, Dr. August Dunning, chief science officer and co-owner of Eco Organics, helps answer this important question. His company specializes in mineral products for hydroponics and home gardens. More specifically, Dr. Dunning's expertise is in ionic mineral extraction from ocean water for use in sustainable agriculture.
Click here to read it all
---
37 Million Bees Found Dead In Ontario, Canada After Planting Large GMO Corn Field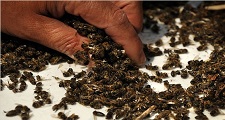 Millions of bees dropped dead after GMO corn was planted few weeks ago in Ontario, Canada. The local bee keeper, Dave Schuit who produces honey in Elmwood lost about 37 million bees which are about 600 hives.
"Once the corn started to get planted our bees died by the millions," Schuit said. While many bee keepers blame neonicotinoids, or "neonics." for colony collapse of bees and many countries in EU have banned neonicotinoid class of pesticides, the US Department of Agriculture fails to ban insecticides known as neonicotinoids, manufactured by Bayer CropScience Inc.
Two of Bayer's best-selling pesticides, Imidacloprid and Clothianidin, are known to get into pollen and nectar, and can damage beneficial insects such as bees. The marketing of these drugs also coincided with the occurrence of large-scale bee deaths in many European countries and the United States. ...
The collapse in the global honeybee population is a major threat to crops. It is estimated that a third of everything we eat depends upon honeybee pollination ...
Click here to read it all
---
8.0 Earthquake: San Andreas Fault To Release All The Energy It Has In One Year
November 6, 2014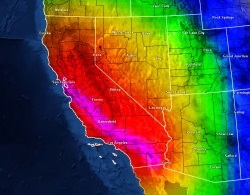 Scientists at the Geophysical Science Lab of San Jose have released a grid model of the Western United States. The model shows a prediction over the next year of the entire San Andreas Fault System. Scientists are now predicting that over four earthquakes will strike at nearly the same time along the fault.
The study's meat is measuring the amount of stress and bend from the bottom of the fault-zone to the surface and it is at critical levels.
"We're pretty sure that our numbers are correct and that areas along the San Andreas Fault will have multiple earthquakes during the same day as the entire fault gets ripped open
Click here to read it all
---
90-year-old Florida man charged for feeding homeless people
By Kevin Conlon and Catherine E. Shoichet, CNN November 5, 201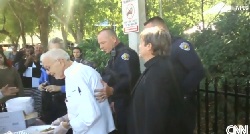 (CNN) -- Arnold Abbott handed out four plates of food to homeless people in a South Florida park. Then police stopped the 90-year-old from serving up another bite.
"An officer said, 'Drop that plate right now -- like I had a weapon,'" Abbott said.
Abbott and two pastors in Fort Lauderdale, Florida, were charged for feeding the homeless in public on Sunday, the city's first crackdowns under a new ordinance banning public food sharing, CNN affiliate WPLG reported.
Now they face possible jail time and a $500 fine, WPLG said.
Click here to read it all
---
I would greatly encourage you to watch the following 29-minute video of some of the signs of the last days that happened around the world within the last month.
And here is another video (only 14 minutes):
Summary
This is only a small sampling of events from around the world that point to fulfilling prophecy. We know that many of these things are going on but it is good to be reminded (once a month) to help us keep looking up. We know that the Middle East is a flashpoint for big trouble and it seems to be rapidly heading towards a crisis. As the Islamic State grows in area and influence and the reaction to it builds we can see that conditions are developing for a fulfillment of prophecy, especially the scenario described in Daniel chapter 8.
"And when these things begin to come to pass, then look up, and lift up your heads; for your redemption draweth nigh." (Luke 21:28)
---
If prophecy of the end of the world is of interest to you and you would like to receive this monthly newsletter containing articles of interest and relevance to prophetic events, please respond using the form below: