The Dumbing Down of Society
Introduction
Dumbing down - have you heard the term? There are so many unbelievable things happening around the world from strange weather patterns, signs in the heavens, new volcanoes, massive animal die-offs, Ebola and ISIS to even a large number of UFO sightings. Yet much of the world seems oblivious to it all and to be just going about life as unconcerned about the big picture as usual.
Popular culture, sports and the big E (entertainment) keep so many people so preoccupied that they don't realize what is going on. On top of all that, there is the dumbing down effect. Contrary to the popular thinking that mankind is evolving and getting smarter, society is going the other way. Partly, this is due to overdependence on technology but there may also be deliberate attempts through mass media, entertainment and even our education systems to reduce the critical thinking ability of the population.
Of course, from a prophetic perspective this dumbing down is all related to control issues. Governments seem to be taking on more and more of a big-brother attitude. While some people appreciate that, there is an even more sinister move behind the scenes which, according to the Bible, will pressure people to eventually accept the mark of the beast. By the time that becomes an issue, most people will have been conditioned and frightened into doing whatever the system asks.
People now need to learn what is going on, to avoid the dumbing down effect and to think about their own eternal destiny. Perhaps items featured below will help make us more aware.
Note that I am simply sharing items of interest. That does not imply that I agree with everything presented.
---
"And ye shall hear of wars and rumours of wars ... nation shall rise against nation, and kingdom against kingdom: and there shall be famines, and pestilences, and earthquakes ..." (Matt 24:6-7)
Prophecy News - September 2014
The Dumbing Down
---
Scientists Discover Proof That Humanity Is Getting Dumber, Smaller And Weaker
And to be honest, we can see the loss of mental capacity all around us.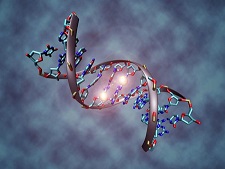 Scientists have found that our bodies and our minds have both deteriorated significantly compared to our ancestors. In fact, just this week a very prominent professor at Cambridge University said that "our most highly trained athletes pale in comparison to these ancestors of ours". The biggest reason for this, of course, is the degradation of the human genome. Groundbreaking research by Dr. John Sanford of Cornell University and others has shown that our genes contain tens of thousands of mistakes (mutations), and with each passing generation even more errors are added and passed on. So it should be no surprise that our ancestors were bigger, stronger, faster and smarter. The truth is that they had better genes.
This kind of information comes as a shock to many people. It is widely assumed by the general public that humanity is "progressing" and that we are better both physically and mentally than our predecessors were. But that is not the case at all. In fact, research conducted at Cambridge University shows that we are "weaker than we used to be" and that the most highly trained athletes of today "pale in comparison" to those that lived thousands of years ago.
Click here to read it all
---
Ray's Note: Michael T. Snyder whose articles are often featured in my newsletters is a former Washington D.C. attorney who now publishes www.thetruthwins.com with the heading "Exposing The Truth About Our World One Story At A Time"
---
You Won't Believe The Method That Common Core Is Using To Teach Our Kids Subtraction
By Michael Snyder, on April 18th, 2014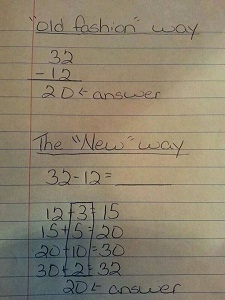 The dumbing down of America is accelerating. A massive federal takeover of education known as "Common Core" is attempting to impose nationwide academic standards on public schools throughout the entire country. Thanks to the backing of billionaire Bill Gates, endless promotion by the U.S. Department of Education, and financial bribes to state governments by the Obama administration, 45 states and Washington, D.C. have already agreed to implement the full Common Core standards in their schools. Unfortunately, these "standards" are doing to public education what Obamacare is doing to our health care system - absolutely ruining it. Just look at how basic math instruction has changed. Posted below is a comparison between the "old method" of subtraction and the "new method" of subtraction being taught in many of our schools. When I first came across this on Facebook, I thought that it was a joke ...
Click here to read it all
---
Ray's note: From math, to fashion, to popular culture, there are many ways in which "the system" is attempting to mold people into its way of doing things. Just another example of dumbing down.
---
What Will You Do When You Can No Longer Buy Or Sell Without Submitting To Biometric Identification?
By Michael Snyder, on April 17th, 2014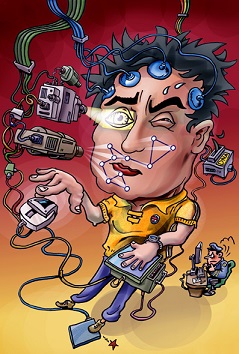 In some areas of the world, payment systems that require palm scanning or face scanning are already being tested. We have entered an era where biometric security is being hailed as the "solution" to the antiquated security methods of the past. We are being promised that the constant problems that hackers are causing with our credit cards, bank accounts, ATM machines and Internet passwords will all go away once we switch over to biometric identification. And without a doubt, we have some massive security problems that need to be addressed. But do you really want a machine to read your face or your hand before you are able to buy anything, sell anything or log on to the Internet? Do you really want "the system" to be able to know where you are, what you are buying and what you are doing at virtually all times? Biometric security systems are being promoted as "cool" and "cutting edge", but there is also potentially a very dark side to them that should not be ignored.
Click here to read it all
---
Ray's note: The dumbing down can progress a step further when we don't even have to remember all those passwords.
---
The Pure Hell At The Heart Of The Ebola Pandemic In Africa Could Soon Be Coming To America
By Michael Snyder, on September 23rd, 2014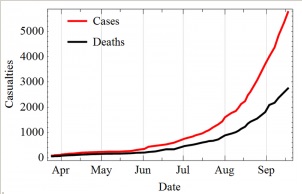 Did you know that the number of Ebola cases in Liberia and Sierra Leone is approximately doubling every 20 days? People are dropping dead in the streets, large numbers of bodies are being dumped into the rivers, and gravediggers can hardly keep up with the number of corpses that are being delivered to the cemeteries. As you read this, life is pure hell in many areas of West Africa, and now the CDC is warning that things may get far, far worse in the very near future. According to the CDC, the number of Ebola cases could potentially soar to 1.4 million by the end of January. Of course the CDC says that this is a "worst-case scenario", but for our health officials to even suggest that such a huge number is possible is quite chilling. We are now being told that the fatality rate for this Ebola outbreak has risen to 71 percent, and so most of the "cases" will eventually turn into deaths. If we do eventually see 1.4 million cases of Ebola in West Africa, it is incredibly naive to think that it will not spread to other parts of the globe as well.
The World Health Organization has been trying to document the number of cases and deaths that are happening, but at this point even the WHO admits that the official statistics "vastly underestimate the magnitude of the outbreak."
Click here to read it all
---
CDC confirms first case of Ebola in the U.S.
By Elahe Izadi, Mark Berman and J. Freedom du Lac September 30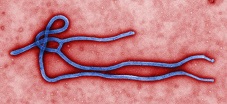 The Centers for Disease Control and Prevention confirmed on Tuesday the first case of Ebola diagnosed in the United States.
"An individual traveling from Liberia has been diagnosed with Ebola in the United States," Thomas Frieden, director of the CDC, said in a news conference Tuesday afternoon.
State and federal health officials announcing the confirmed case repeatedly stressed the difficulties of contracting Ebola, which can be spread through bodily fluids or infected animals but not through the air or by water.
This person who is infected left Liberia on Sept. 19 and arrived in the U.S. the following day to visit family in this country. The person, who was not identified, had no symptoms at the time and began showing symptoms four days after arriving in the U.S.
"The bottom line here is that I have no doubt that we will control this importation, or this case of Ebola, so that it does not spread widely in this country," he said. "It is certainly possible that someone who had contact with this individual could develop Ebola in the coming weeks. But there is no doubt in my mind that we will stop it here."
Click here to read it all
---
What is Khorasan?
By: CBS This Morning / CBS News.com / September 18, 2014.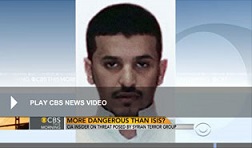 "The battlefield in Syria's civil war is carved up among several large groups ostensibly trying to oust President Bashar Assad, but spending a great deal of time instead fighting each other for territorial gains.
"That focus on their immediate surroundings has thus far, according to most U.S. officials, helped to mitigate the threat posed by groups like the Islamic State of Iraq and Syria (ISIS) to the U.S. homeland.
"There has been significant and mounting concern that Western recruits could use their passports to sneak back into the U.S. or Europe and stage attacks.
"Now, however, a previously unheard of subgroup within the complicated jihadist web that is the Syrian opposition is lending new urgency to that concern by combining the threat of Western imports with the threat of advanced bomb-making.
"Former CIA deputy director Mike Morell explained on 'CBS This Morning' that a group of militants from al Qaeda-central ... the Khorasan group is focused on trying to build bombs capable of being sneaked onto airliners, and finding the Western jihadists in Syria who could try and carry them.
"As for why al Qaeda has deployed a group to try and recreate in some fashion their Sept. 11 plot, Morell said the group sees the aviation industry 'as a symbol of the West.'"
Click here to read it all
---
Pope Francis and Shimon Peres Discuss the Establishment of a 'United Nations of Religions'
By: Michael Snyder / End of the American Dream.com / September 8, 2014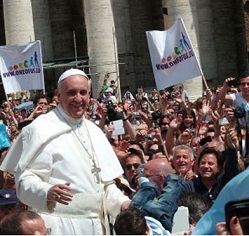 "Last Thursday, Pope Francis and former Israeli President Shimon Peres met for an extended 45 minute private conversation. The focus of this discussion was a proposal by Peres to establish a 'United Nations of Religions'. It was the third meeting between the two men in a little more than four months.
"Of course Pope Francis didn't commit to anything, and we probably will not see a 'United Nations of Religions' any time soon, but every idea has to start somewhere.
"If Pope Francis does ultimately decide to actively push for such a thing, could we eventually see a single global body that claims to represent all of the religions of the world?
"So exactly why does Peres want a 'United Nations of Religions'?"
Click here to read it all
---
Rays's note: Another dumbing down tactic? Get everyone thinking the same way and conforming to the same system.
---
California: Ground Zero for Fukushima Radiation?
By: Adrianne Hill / Guardian Liberty Voice.com / August 2, 2014.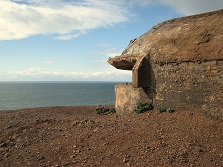 "California could be becoming ground zero for radiation from the failed Fukushima plant in Japan. Ocean currents have sent tons of radioactive water into the Pacific daily from the crippled plant on the Pacific coast. Radioactive particles are in California's air, and debris from the Fukushima plant is washing up on the Pacific coastline as well.
"A study from 2012 reports that the plume of radiation made a serious impact on Southern and Central California, with Southern California's seaweed testing at a 500 percent higher level of radiation than normal. Radioactive particles are in California's air, and debris from the Fukushima plant is washing up on the Pacific coastline as well."
Click here to read it all
---
The Volcanoes Are Coming, The Volcanoes Are Coming!
Sunday, September 28, 2014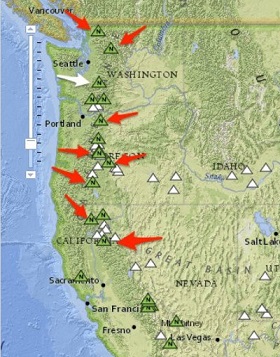 Are we naive Sheeple? Going about our day to day lives oblivious to the threats we face from a catastrophic eruption of the world's volcanoes? The headlines of 2014 have included the following major eruptions:
Bardarbunga in Iceland spews sulfur fumes 800 miles away following a 500 earthquake swarm
Mount Slamet in Indonesia undergoes multiple eruptions
Tavurvur in Papua New Guinea has major eruption endangering aircraft
Volcanic eruption off Japan's coast could trigger tsunami
Japan's Ontake volcano kills dozens
And today ... Long Valley California Caldera rattled by nearly 1000 earthquakes in major seismic swarm. Volcanic eruption imminent?
Volcanic eruptions can be phenomenal and can have catastrophic effects. Eruptions occurring close to human population centers may spill lava which can destroy lives and property. Mass evacuations may have to occur. Ash is discharged high into the stratosphere that can have negative consequences on the ozone layer. If the ground is particularly wet such as following heavy rains or snow, the ash and mud can mix forming lahars. Lahars are fast moving mud flows which can entomb everything in its path. Think Pompeii.
Click here to read it all
---
Summer 2014 was record warmest on Earth, says NOAA
By Angela Fritz September 18, 2014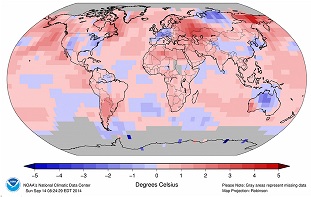 It was the warmest summer on Earth since records began in 1880, according to a monthly climate report by NOAA's National Climatic Data Center. In addition, August 2014 was the warmest August on record for the globe, according to all three major organizations that track the earth's temperature.
Over land and ocean, NOAA reports that August ended 0.75 degrees Celsius above the 20th century average, while the summer months, June through August, were 0.71 degrees warmer than normal.
NASA and the Japan Meteorological Agency agree that August was the warmest on record. NASA puts August's global temperature at 0.7 degrees Celsius above the 1951-1980 average, while the JMA, which compares temperatures to a more recent period, reports August was 0.32 degrees Celsius above the 1981-2010 average.
Click here to read it all
---
Earth has lost half of its wildlife in the past 40 years, says WWF
Species across land, rivers and seas decimated as humans kill for food in unsustainable numbers and destroy habitats
The Guardian, Tuesday 30 September 2014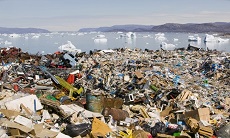 Rubbish dumped on the tundra outside llulissat
in Greenland stand in stark contrast to icebergs
behind from the Sermeq Kujullaq or llulissat Ice
fjord - a Unesco world heritage site.
Photograph: Global Warming Images/WWF-Canon
The number of wild animals on Earth has halved in the past 40 years, according to a new analysis. Creatures across land, rivers and the seas are being decimated as humans kill them for food in unsustainable numbers, while polluting or destroying their habitats, the research by scientists at WWF and the Zoological Society of London found.
"If half the animals died in London zoo next week it would be front page news," said Professor Ken Norris, ZSL's director of science. "But that is happening in the great outdoors. This damage is not inevitable but a consequence of the way we choose to live." He said nature, which provides food and clean water and air, was essential for human wellbeing.
"We have lost one half of the animal population and knowing this is driven by human consumption, this is clearly a call to arms and we must act now," said Mike Barratt, director of science and policy at WWF. He said more of the Earth must be protected from development and deforestation, while food and energy had to be produced sustainably.
The steep decline of animal, fish and bird numbers was calculated by analyzing 10,000 different populations, covering 3,000 species in total.
Click here to read it all
---
What Are You Going To Do When A Massive EMP Blast Fries The U.S. Electrical Grid?
by Mac Slave, Sep. 7, 2014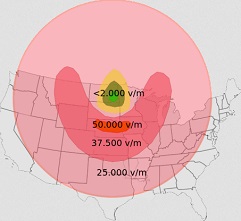 It is only a matter of time before a massive EMP burst fries the U.S. electrical grid. When that happens, how are you going to survive? In the United States today, we are completely and totally dependent on electrical power. Unless you are Amish (or are a part of a similar community), you probably have absolutely no idea how to survive in a world without electricity. Unfortunately, our electrical grid is extremely vulnerable at this point.
As you will see below, intelligence officials believe that China and Russia already have "super-EMP weapons", and a whole host of smaller nations and terrorist groups are believed to be working on developing similar weapons. But even if the U.S. is never attacked by an EMP weapon, scientists tell us that it is inevitable that a massive solar storm will fry our electrical grid someday. If an event similar to the solar storm of 1859 happened today, it would be absolutely catastrophic. Known as "the Carrington Event", that massive solar storm fried telegraph machines all over Europe and North America. At some point we will experience another such solar storm, and some scientists believe that we are already 50 years overdue for another one. In fact, the earth had a "near miss" just a few months ago.
So what will happen if we are hit by a massive EMP blast? Well, according to a government commission that investigated this issue, approximately two-thirds of the U.S. population could potentially die from starvation, disease and societal chaos within one year. It would be a disaster unlike anything that we have ever seen before in U.S. history.
Click here to read it all
---
I would greatly encourage you to watch the following 38-minute video of some of the signs of the last days that happened around the world within the month of September 2014.
Summary Please do what you can to personally avoid the dumbing-down effect. Do what you can to keep your mind sharp, to think critically, and occasionally outside the box. Try to look behind the scenes at what is really going on in the world, to see the big picture and, importantly, how all this fits in with what the Bible says is going to happen to our world very soon.
---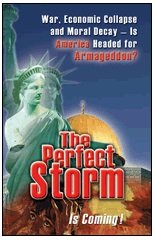 To help you really appreciate what is going on in the world and behind the scenes (and avoid the dumbing down effect) I am offering you a way to "smarten up" - download and read a copy of this e-book - The Perfect Storm. You will greatly benefit.

The Perfect Storm Is Coming

War, economic collapse and moral decay - are we headed for Armageddon?

"A storm is coming, relentless in its fury. Thinking men and women have their attention fixed upon the events taking place about us. They are watching the relations that exist among the nations. They observe the intensity taking possession of every earthly element, and recognize that something great and decisive is about to take place—that the world is on the verge of a stupendous crisis."

This 88-page booklet traces the history and progress of Christianity from the destruction of Jerusalem in A.D. 70 through the end of time and beyond, as revealed in the prophetic books of the Bible.

The Perfect Storm
E-book, 3.3 mb instant download
---
Here are a few images to help you appreciate the dumbing down effect: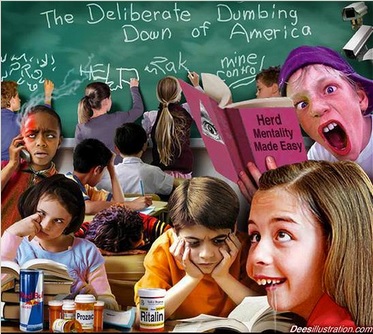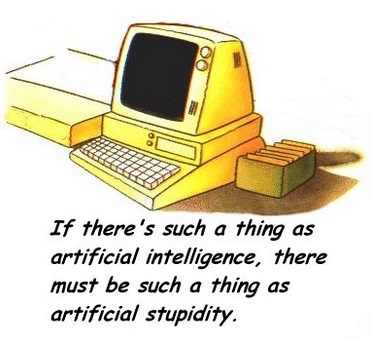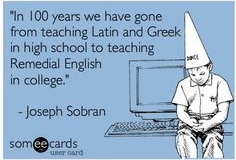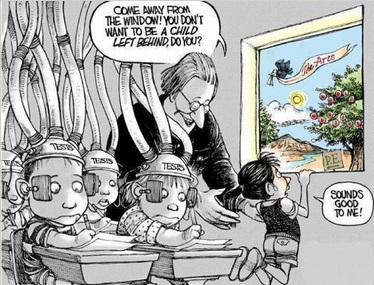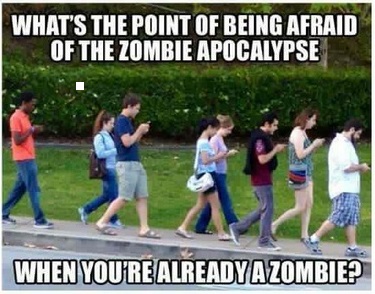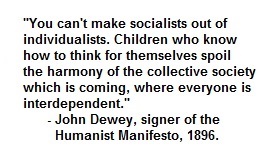 "And when these things begin to come to pass, then look up, and lift up your heads; for your redemption draweth nigh." (Luke 21:28)
---
If prophecy of the end of the world is of interest to you and you would like to receive this monthly newsletter containing articles of interest and relevance to prophetic events, please respond using the form below: