The National Debt Crisis
The national debt crisis and many other challenges are making life uncertain. We can be certain that there will be even greater challenges ahead and we can be certain of a God that cares for us and is ready to help us in every situation. A mixture of stories this month.
Note that I am simply sharing items of interest. That does not imply that I agree with everything presented.
---
"And ye shall hear of wars and rumours of wars ... nation shall rise against nation, and kingdom against kingdom: and there shall be famines, and pestilences, and earthquakes ..." (Matt 24:6-7)
Prophecy News - 2012 May
The National Debt Crisis
---
Tony Robins, Ron Paul and Ben Bernanke All Agree: The National Debt Crisis Could Destroy America
By: Martin D. Weiss Ph.D. / The Economic Collapse Blog.com / April 15, 2012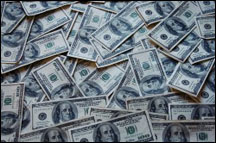 "Is there one thing that Tony Robbins, Ron Paul and Ben Bernanke can all agree on? Yes, they have all come forward with warnings that the national debt crisis could destroy America if something is not done. . . .
"The United States now has a debt to GDP ratio of over 100 percent, and another credit rating agency downgraded U.S. debt earlier this month.
"Unfortunately, we are running out of time as a nation. You know that things are late in the game when the head of the Federal Reserve starts using apocalyptic language to talk about the national debt. The following is what Federal Reserve Chairman Ben Bernanke told Congress recently . . . .
'Having a large and increasing level of government debt relative to national income runs the risk of serious economic consequences. . . .'
'. . .the prospect of unsustainable deficits has costs, including an increased possibility of a sudden fiscal crisis. As we have seen in a number of countries recently, interest rates can soar quickly if investors lose confidence in the ability of a government to manage its fiscal policy. Although historical experience and economic theory do not indicate the exact threshold at which the perceived risks associated with the U.S. public debt would increase markedly, we can be sure that, without corrective action, our fiscal trajectory will move the nation ever closer to that point.'"
Click here to read it all
---
Central Banks Favour Gold As IMF Warns of "Collapse of Euro" And "Full Blown Panic in Financial Markets"
By: Tyler Durden. / Zero Hedge.com / April 18, 2012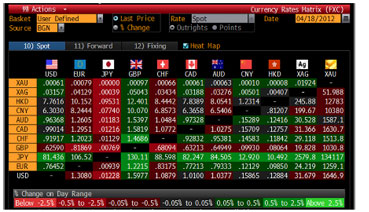 Cross Currency Table
"Gold's London AM fix this morning was USD 1,646.50, EUR 1,258.41, and GBP 1,030.80 per ounce. Friday's AM fix was USD 1,652.00, EUR 1,255.51 and GBP 1,035.54 per ounce.
"Silver is trading at $31.61/oz, €24.16/oz and £19.78/oz. Platinum is trading at $1,577.25/oz, palladium at $656.90/oz and rhodium at $1,350/oz.
"IMF: Risk of Collapse of Euro and 'Full Blown Panic in Financial Markets'
"The Eurozone could break up and trigger a 'full-blown panic in financial markets and depositor flight' and a global economic slump to rival the Great Depression, the IMF warned yesterday.
"In its World Economic Outlook report, the International Monetary Fund said the collapse of the crisis-torn single currency could not be ruled out.
"It warned that a disorderly exit of one member country would have untold knock-on effects."
Click here to read it all
---
Brits to Pay $3bln to be Spied Upon on Web, Emails, Texts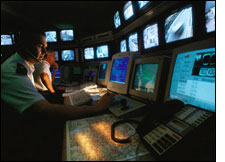 Police to gain access to who
you call, what sites you surf
and how you play video games.
"UK taxpayers will have to pay billions of dollars to have their web surfing, email exchange, text messaging, and even Skype calls, monitored. In addition to the hefty price-tag, innocent Brits risk being misidentified as terrorists.
"The shocking data comes ahead of the plan announcement in the Queen's speech, which is scheduled for May. Meanwhile, the Home Office, Britain's interior ministry, said ministers were preparing to legislate 'as soon as parliamentary time allows.'
"Moreover, the above figures are based on 2009 estimates, which means the actual price, if it were estimated now, would be higher still.
"British security agencies are pushing for a law, which would allow police to gain access to who you call, what sites you surf and how you play video games.
"The government wants details about text messages, phone calls, email, visited websites, Facebook and Twitter exchanges and even online game chats."
Click here to read it all
---
Perilous Times: Pentagon Chief Says 'We're Within an Inch of War Almost Every Day' In East Asia
April 19, 2012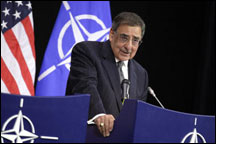 April 19, 2012 - WASHINGTON - Defense Secretary Leon Panetta offered a blunt assessment of the threats facing the United States on Wednesday, saying the potential for another war breaking out remains high in places like North Korea. "We're within an inch of war almost every day in that part of the world," Panetta said in an interview with CNN's Wolf Blitzer, in response to a question about the threats in the Korean Peninsula. "And we just have to be very careful about what we say and what we do."
Blitzer then asked Panetta, who joined with Secretary of State Hillary Clinton for an interview during the secretaries' NATO meeting in Brussels, whether the North Korean threat kept him up at night. "Unfortunately, these days there's a helluva lot that keeps me awake," Panetta responded, listing Iran, Syria, the Middle East, cyber warfare and weapons of mass destruction as other insomnia-inducing issues.
Panetta responded to charges from Republican presidential candidate Mitt Romney that "incompetence" from the Obama administration led North Korea to launch its failed long-range missile last week. "I think it's pretty clear this administration took a firm stand with regard to provocative behavior North Korea engaged in," Panetta said. "We made clear they should not do it, and we condemned the action even though it was not successful." Panetta would not say what action the Obama administration would take if North Korea now conducts its third nuclear test, as is suspected. It would be "another provocation," the defense secretary said, and would "worsen" the U.S.-North Korea relationship.
On the violence in Syria, Clinton said the regime of President Bashar al-Assad is "running out of time." - The Hill
---
Iran's Nuclear Attack Plan
By: JR Nyquist / Financial Sense.com / March 12, 2012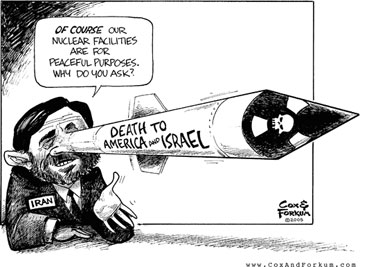 "Last Thursday I had the pleasure of speaking with Dr. Hugh Cort, author of The American Hiroshima: Iran's Plan for an Attack on the United States. Related to this interview, readers may listen to my interview with CIA agent Reza Kahlili, who agrees with Dr. Cort that a nuclear Iran cannot be deterred by the threat of Mutual Assured Destruction. According to Dr. Cort, '[D]eterrence will not work with the fanatical Islamic radicals that rule Iran. These rulers are like suicide bombers, who do not care if they die, as long as their victims get blown up as well.'
"In his analysis of Islamist motivation, Dr. Cort follows the work of Reza Kahlili, who affirms that the leaders of the Islamic Republic believe in a ruthless ideology. 'If you read [the] Koran, many verses talk about killing enemies of Allah and infidels,' Kahlili explained. 'And there is no mercy, absolutely none, unless you convert to the religion. Nobody can say otherwise. Allah is a dictator.... Many Muslims will be offended, but many do not even know what the Koran says.'
"Radical Islam is not afraid to use nuclear weapons against America, explains Dr. Cort: 'The top newspaper in Iran, Kayhan, that is supervised by Supreme Leader Khamenei, said 'If Iran is attacked, there are elements in America who will detonate nuclear bombs in American cities.' Cort adds, "This may seem suicidal, but the Supreme Leader, Khamenei, the Iranian Mullahs and President Ahmadinejad, are religious fanatics, and to them it is glorious to die as martyrs for radical Islam.... Also, their fanatical views must be understood in the context of their belief in the coming of the 'Mahdi.'"
Click here to read it all
Ray's Note: If you are not familiar with the significance of this in relation to Bible prophecy, please read this very important page about the prophet Daniel's visions.
---
Quake Expert: Earth Cracking Up
Croatiantimes.com / April 15, 2012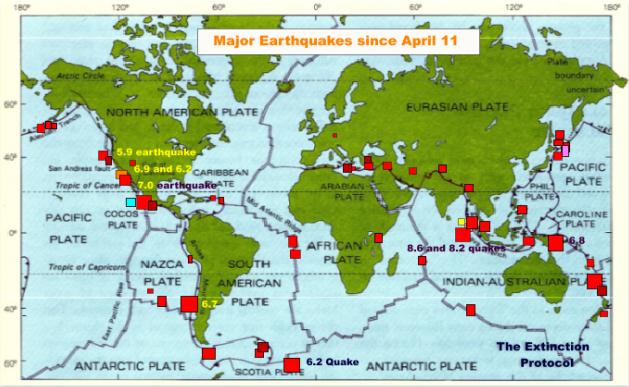 "A leading earthquake scientist has warned that the world could be cracking up after a sequence of substantial quakes in just 48 hrs.
"Expert Gheorghe Marmureanu -- from Romania's National Institute of Earth Physics -- states 39 quakes experienced strike the globe within two days.
"The series started with two substantial quakes in Indonesia measuring 8.6 and 8.2 on the Richter scale rapidly followed by three much more only slightly smaller in Mexico inside of several hours.
"'There is no doubt that something is seriously wrong. There have been too many strong earthquakes,' said Marmureanu.
"He added: 'The quakes are a surprise that can not be easily explained by current scientific knowledge. With the Indonesian quake for example, statistically, there should be one big earthquake in this part of Asia every 500 years. However, since 2004, there were already three quakes with a magnitude over 8, which is not normal.'"
Ray's Note: Expect to see more of this sort of thing and an acceleration of it. By the time of the Second Coming this earth will not be inhabitable and the Second Coming is basically a rescue mission to take the faithful to heaven - not the beginning of 1000 years of fixing up a broken earth.
---
Hailstorms Hammer San Joaquin Valley Crops
April 19, 2012
A series of freak April storms
hammered the San Joaquin Valley.
April 19, 2012 - CALIFORNIA - A series of freak April storms hammered the San Joaquin Valley last week, damaging vulnerable crops with a one-two-three punch of hail, lightning and tornados that caused millions of dollars of crop losses.
It will be several weeks before an accurate tabulation of losses can be made, but for some growers it amounted to 100 percent of this year's production. A number of crops suffered damage from the unrelenting power of hailstones measuring 1.5 inches in diameter or larger.
Nature's fury came in the form of "super-cells"-large thunderstorms that moved slowly across the valley from Kings County, through parts of Tulare County, up to Merced County and all the way eastward to Mariposa County. The most destructive storm brought torrents of hail across a six-to-eight mile-wide swath of farmland that extended some 30 miles, accompanied by thunderstorms and numerous lightning strikes. The epicenter of the more significant of two super-cells last Wednesday was in Tulare County near Traver.
Grower Ed Needham, who was caught driving near Traver when the storm struck, described it as "the sound of someone hitting my truck with a hammer." Needham said he was in his truck with two other farmers and had pulled over to watch a huge storm cell to the south when the other cell struck from the north. "It started out small and was no big deal and then all of a sudden the side-view mirrors on my truck shattered and the road started getting covered with huge hailstones. I looked at the wind and saw that it was going south, so I took off and went to the south and got out of it," he said.
Steve Johnson, a storm chaser with Atmospheric Group International, tracked the storms closely and estimated that the damage to agriculture could reach $25 million or more just from the two supercells that hit last Wednesday afternoon. "While other thunderstorms were moving at about 25 miles per hour, these two slugs were moving at about 7 or 8 miles an hour, so they just trudged along producing very large hail and a high quantity of lightning," he said. "I estimate the damage at anywhere from 80 percent to 100 percent in fields and orchards where the hail struck. The fruit and nut trees were stripped bare. The trees look like they are in midwinter and haven't even budded yet." - Ag Alert
---
"And when these things begin to come to pass, then look up, and lift up your heads; for your redemption draweth nigh." (Luke 21:28)
If prophecy of the end of the world is of interest to you and you would like to receive this monthly newsletter containing articles of interest and relevance to prophetic events, please respond using the form below:
---