Grow Your Own Food
If you grow your own food or can learn how to do it, you will be better prepared for the future. It might seem like a chore or that it takes too long but think of it as exercise and recreation. And practice - you can't suddenly have a successful garden if you have never gardened before. It takes some time to develop the skills. It will be a good skill to have as food shortages increase. The first article, while it doesn't say too much, mentions a few reasons that might get you to realize that you should learn to grow your own food. I have been doing some of that for years - enough to know how much there is to learn to be able to do it really well. It would take a lot more than what I do now to produce a major part of our food needs.
I don't have any stories about the Australian floods and storms but you have probably heard lots about it. A major food producing area has taken a big hit and world food supply will be affected. The second story warns that California (another big food -producing area) is also vulnerable.
Then there are a couple of stories about the financial situation and more about the Middle East. The developments in Egypt (and other countries) is very interesting especially in light of Daniel 11 (see verse 2) in connection with Daniel's vision of Chapter 8.
Note that I am simply sharing items of interest. That does not imply that I agree with everything presented. It is for your information.
---
Prophecy News - 2011 JANUARY
Grow Your Own Food
---
More People Growing Their Own Food
By: Mike Adams / Natural News.com / January 3, 2011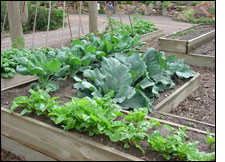 "Beginning in 2011 and continuing for many years beyond, we will see an explosion in the number of people growing their own food. People see the big trends in the food supply fast approaching: GMO contamination of crops, the loss of local food production due to FDA interference, the crackdown on small farmers, and even disruptions in the global food supply.
"As people realize the importance of having their own home-grown source of food, we will see a surge in backyard gardens, food storage and in-home production methods such as sprouting and food dehydrating."
---
Scientists Warn California Could Be Struck by Winter "Superstorm"
By: Liz Goodwin / Yahoo News.com / January 17, 2011
"A group of more than 100 scientists and experts say in a new report that California faces the risk of a massive 'superstorm' that could flood a quarter of the state's homes and cause $300 billion to $400 billion in damage. Researchers point out that the potential scale of destruction in this storm scenario is four or five times the amount of damage that could be wrought by a major earthquake.
"It sounds like the plot of an apocalyptic action movie, but scientists with the U.S. Geological Survey warned federal and state emergency officials that California's geological history shows such 'superstorms' have happened in the past, and should be added to the long list of natural disasters to worry about in the Golden State."
---
Global Currency Around the Corner?
Exclusive: Henry Lamb highlights relentlessness of those imposing planet-wide rule
By:Henry Lamb / WorldNetDaily.com / August 21, 2010
"If the International Monetary Fund gets its way, the U.S. dollar will be replaced by the 'bancor' as the world's reserve currency. According to a report published April 13, the IMF would like to adopt a plan of action that would expand the use of SDRs (Special Drawing Rights) to replace the U.S. dollar as the storehouse of value and eventually create a global currency called the 'bancor.'
"The new global currency would be issued by a new global central bank that would have the authority to levy taxes for various infractions. The bank would have to be, according to the report writers, 'accountable to member nations, but remain independent.' This statement sounds much like the defenders of the Federal Reserve, which was created by Congress and is supposed to be accountable to Congress, but refuses to allow Congress to audit its activities or even to answer congressional questions about to whom it lends U.S. dollars.
"The definitive explanation of globalists plans to merge the nations of North America, now in paperback: Jerome Corsi's 'The Late Great USA.'"
Click here to read it all
---
The End of Credit Cards Is Coming
By: Blake Ellis / CNN Money.com / January 24, 2011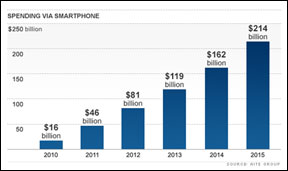 NEW YORK (CNNMoney) -- Credit cards may soon be as outdated as vinyl records. (Remember those?) And this is the year that the slow, steady march to oblivion begins.
"You can already use your iPhone, Droid or BlackBerry to buy a hotdog at the ballgame, buy your Starbucks latté, or give a friend a few bucks by Bumping phones. But by the end of the year you may not even think twice about reaching for your phone to pay at the register instead of fumbling for your credit card.
"Companies including Visa, MasterCard, Google, Bank of America, Citi and U.S. Bank are all testing contactless mobile payments, and many expect to roll out mobile wallets this year.
"Beth Robertson, a payments analyst at Javelin Research and Strategy, said that could mean developing ways for consumers to make contactless ATM withdrawals by simply waving a phone in front of an ATM as you would at the point of sale.
But because of just how much your smartphone now holds, it's quickly becoming your most dangerous device."
Click here to read it all
---
Is Iran About to Test a Nuclear Bomb In North Korea?
By: Reza Kahlili / Fox News.com / December 30, 2010
"On December 24, a research report from the South Korean Foreign Ministry Institute indicated that North Korea would carry out another nuclear bomb test after the beginning of the year. -- South Korean media reported earlier this month that the North was digging a tunnel in preparation for such a nuclear test.
"At the same time, reports from inside Iran indicate that a team of Iranian nuclear scientists have been sent to North Korea and that the two governments have agreed on a joint nuclear test in North Korea with a substantial financial reward for the Kim Jong-Il government."
---
Anti-American Cleric Returns
Time magazine / January 24, 2011
"Muqtada al-Sadr, whose Shi'ite militia led bloody uprisings against American forces in Iraq, made a triumphant return from more than three years of self-imposed exile in Iran to assume a central (if unofficial) role in the newly formed Shi'ite-led Iraqi government.
The return of the radical cleric, who was greeted by rapturous crowds, is a sign of Tehran's influence in Baghdad and further evidence that Iraq may insist on U.S. troops' departure from the country by the end of 2011. Sadr vehemently opposes the continued American military presence."
Click here to read more about al-Sadr
---
Iran Sees Rise of Islamic Hard-Liners
By WILLIAM YONG, Published: January 28, 2011
TEHRAN - Hopeful that the protests sweeping Arab lands may create an opening for hard-line Islamic forces, conservatives in Iran are taking deep satisfaction in the events in Tunisia, Egypt and Yemen, where secular leaders have faced large-scale uprisings.
While the government of President Mahmoud Ahmadinejad confronted its own popular uprising two years ago - and successfully suppressed it - conservatives in Iran said they saw little similarity between those events and the Arab revolts, and instead likened the recent upheavals to Iran's own 1979 Islamic revolution.
"In my opinion, the Islamic Republic of Iran should see these events without exception in a positive light," said Mohammad-Javad Larijani, secretary general of the Iranian High Council for Human Rights and one of the most outspoken figures among Iran's traditional conservatives.
He made it clear that he hoped that the "anti-Islamic" government of Zine el-Abidine Ben Ali, who was ousted in Tunisia, would be replaced by a "people's government," meaning one in which conservative Islamic forces would gain the upper hand, as they did when Iranian people overthrew Shah Mohammed Reza Pahlavi, establishing a quasi-theocracy.
Click here to read it all
---
Israel Shaken as Turbulence Rocks an Ally
By Ethan Bronner, Published: January 30, 2011
JERUSALEM - The street revolt in Egypt has thrown the Israeli government and military into turmoil, with top officials closeted in round-the-clock strategy sessions aimed at rethinking their most significant regional relationship.
Israel?s military planning relies on peace with Egypt; nearly half the natural gas it uses is imported from Egypt; and the principle of trading conquered land for diplomatic ties began with its 1979 peace treaty with Egypt. Prime Minister Benjamin Netanyahu has met with President Hosni Mubarak of Egypt more than with any other foreign leader, exceptPresident Obama. If Mr. Mubarak were driven from power, the effect on Israel could be profound.
Many analysts here said that even if Mr. Mubarak were forced to leave office, those who replaced him could maintain Egypt's peace treaty with Israel since it is the basis for more than $1 billion in annual aid to Cairo from Washington and much foreign investment.
But others noted that the best organized political force in Egypt is the Muslim Brotherhood, which is hostile to Israel and close to Hamas, the Palestinian rulers in Gaza whose weapons smuggling the Egyptian government works to block.
Click here to read it all
---
"And when these things begin to come to pass, then look up, and lift up your heads; for your redemption draweth nigh." (Luke 21:28)
If prophecy of the end of the world is of interest to you and you would like to receive this monthly newsletter containing articles of interest and relevance to prophetic events, please respond using the form below: