Food Riots - Are You Prepared?
Food riots aren't something we expect to see in our western society. Yet with the direction of food production, economic problems and so many factors heading downhill, food riots will be a possibility if not a certainty in the future. I always encourage people, if they can, to get growing, and get out of the cities and, of course, ultimately, we will have to depend on God to provide for our needs as He has promised He would do.
The first few articles this month show that things could get pretty ugly in the west where people expect to have all their needs provided one way or another. Then there are more articles showing our progress towards a Middle East showdown. And finally, one more article showing that there is a largely-behind-the-scenes move to bring about Sunday laws - an area that should be left for each person to work out with God.
Note that I am simply sharing items of interest. That does not imply that I agree with everything presented.
---
"And ye shall hear of wars and rumours of wars ... nation shall rise against nation, and kingdom against kingdom: and there shall be famines, and pestilences, and earthquakes ..." (Matt 24:6-7)
Prophecy News - 2011 August
Food Riots
---
Food Riot Fears Strike Japan
By: Alexander Higgins/ NJ Examinercom / August 10, 2011
"Fears of food riots strike Japan after rice trading is halted due to a 40% price spike triggered by massive hoarding of the remaining radiation free rice supply.
"It is time to start paying very close attention [to] the events unfolding in Japan as the nation teeters on the verge of food riots which may serve as an example of what other nations in a similar situation would face.
"As we approach the 5 month marker since the onset of the Fukushima nuclear disaster, Japan has repeatedly assured the public that the nation's food supply was safe from radiation. Japan has given those reassurances despite warnings from experts that the nuclear fallout has already surpassed 20 Hiroshima bombs with no end in site and experts say 'off-scale' levels of lethal radiation at Fukushima infer millions dying."
Click here to read it all
---
Ten Signs That Economic Riots and Civil Unrest Inside The United States Are Now More Likely Than Ever
TheEconomicCollapseBlog.com / August 15, 2011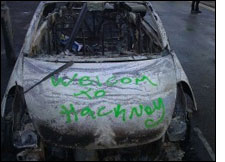 "You should let the video footage of the wild violence that just took place in London burn into your memory because the same things are going to be happening all over the United States as the economy continues to crumble.
"We have raised an entire generation of young people with an 'entitlement mentality', but now the economy is producing very few good jobs that will actually enable our young people to work for what they feel they are entitled to. If you are under 30 in America today, things look really bleak."
Click here to read it all
---
Five Reasons Why American Riots Will Be The Worst In The World
By: Silver Shield / Don't-Tread-On-Me.com / August 10, 2011
"I wrote an article called 5 Places NOT To Be When The Dollar Collapses. In it I wrote that societies that benefited the most from the dollar would be the worst places to be when it fell apart. While the dollar has not even collapsed yet, the strain in these areas is becoming more apparent. England is number 3 on the list has had [SIC] 4 days of violent riots as people start to lose it. Israel is number 1 on that list has had massive protests. There is revolution in the air all over the world except in the US.

"When the dollar collapses, all American illusions will collapse with it. Deep denial will turn into deep anger. The violence I expect in the other 3 areas on the list and all urban areas in the US, will make all other global riots pale in comparison. America is deeply infused with arrogance, denial, narcissism, drugs and violence. There is no other society that I know of that has the degree of intensity and combination of these factors.

Reason # 1:"

Click here to read it all (Exercise discretion on this site)
---
Electric-grid Threat: U.S. "Will Be Taught Mother of All Lessons" . . . (Trail of Terror - WND Exclusive)
Editorial warns of pending cyber attack on electrical grid
By: Reza Kahlili / WorldNetDaily.com / August 7, 2011
"Iran is planning to retaliate against the United States for the sabotage against its nuclear program, according to an editorial in the Kayhan newspaper, the mouthpiece of Iran's supreme leader, Ayatollah Ali Khamenei.
"The U.S. has all of its infrastructure connected to the Internet, the editorial says, and as a result, 'it is constantly worried about an unknown player, who they will never be able to identify . . . sitting in some corner of the world who would launch an attack on a sector of (the Americans') foundations. They will be taught the mother of all lessons.'
"Specifically, Iran is looking into launching a cyber attack against U.S. electrical grid systems."
Click here to read it all
---
NATO Envoy: Military Planning Against Iran and Syria Is Underway
By: Mac Slavo / SHTFPlan.com / August 8, 2011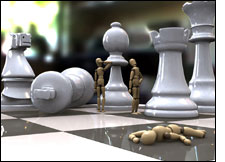 "The grand chessboard is in play.
"Last month we reported that the Pentagon has issued a warning order to 'Prepare for War'.
"According to Dmitry Rogozin, Russia's envoy to NATO, it's not just Israel and the Pentagon that are getting ready to expand the middle east theater:
"Rogozin said in an interview with Russia's Izvestia daily newspaper published on Friday that the NATO was pursuing a long-reaching goal of preparing an attack on Iran, adding that the alliance intends to change governments whose views do not coincide with those of the West.
"'The noose around Iran is tightening. Military planning against Iran is underway. And we are certainly concerned about an escalation of a large-scale war in this huge region,' Rogozin added.
"The Russian envoy further pointed out that Syria and later Yemen could be NATO's last steps on the way to launch an attack on Iran.
"This comes as there are speculations that Israel is preparing for an attack on Iran's nuclear facilities to divert attention from Palestinian efforts to join the United Nations."
Source: Press TV (August 6, 2011)
"We can ignore this as pure speculation and conjecture, or we can consider that this is how World Wars have started in the past. The chess pieces moved around on the board for over a decade before World War I became reality. The same was true for World War II.
"What we may be witnessing now is the prelude to a third war that will encompass most of the world."
Click here to read it all
---
Ahmadinejad: Iran Is Determined to Eradicate Israel
Iranian president says those who are for humanity should also be for eradicating Israel, since the 'Zionist regime is a symbol of suppression and discrimination.'
DPA / HAARETZ.com / August 25, 2011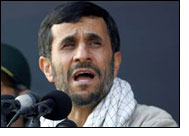 "Iranian President Mahmoud Ahmadinejad said that Iran was determined to eradicate Israel, ISNA news agency reported Thursday.
"'Iran follows this issue (the eradication of Israel) with determination and decisiveness and will never ever withdraw from this standpoint and policy,' the Iranian president added in the interview with the Al-Manar network.
'The remarks by Ahmadinejad came one day before the annual anti-Israeli rallies named Qods (Jerusalem) Day, which are held nationwide in Iran on the last Friday of the fasting month of Ramadan."
Click here to read it all
---
Iran Stirs Up New Conflict: Its Iraqi Terrorist Arm Shoots Scuds at Kuwait
DEBKAfile.com / August 26, 2011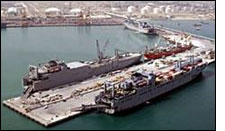 "Three Scud missiles flying from Iraq to Kuwait early Friday, Aug. 26 were launched by the Iran-backed Ketaeb Hizballah of Iraq, the first such attacks since the US invaded Iraq in 2003. It was also the first time any Middle East terrorist group had used Scud missiles. They exploded on open ground, but DEBKAfile's sources report that this round was meant as a warning for Kuwait to halt construction of the Grand Mubarak Port opposite the Iraqi shore -- or else it would be followed by a massive volley.
"DEBKA-Net- Weekly's military and intelligence sources reported on Aug. 12: A threat from the Iraqi Shiite radical Ketaeb Hizballah, an arm of the Iranian Revolutionary Guards Al-Qods Brigades, trained by the Lebanese Hizballah, to strike the new port with Scud missiles, a threat they started carrying out this Friday.
"This followed Tehran's discovery that Mubarak Port was also projected to house a large naval base to serve the fleets of Kuwait, the US and Saudi Arabia in the Persian Gulf, a project Iran is determined to put paid to by any means."
---
U.S. General Warns Iran-backed Forces Planning "Beirut-like Moment" In Iraq
World Tribune.com / July 28, 2011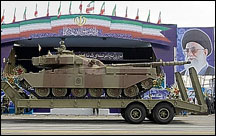 WASHINGTON -- The U.S. military has assessed that Iraq could be torn by an insurgency offensive in 2011.
"Officials said both Shi'ite and Sunni militias were equipping and training for a major campaign against the government of Prime Minister Nouri Al Maliki.
"They said the offensive, supported by Iran, could include sustained attacks in both Baghdad as well as Shi'ite provinces in southern Iraq.
"'All indications are that the militias are preparing for something big.'"
---
Cleric Vows Attacks if US Troops Stay in Iraq
By: Rebecca Santana / YahooNews.com / August 7, 2011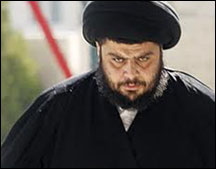 BAGHDAD (AP) -- A powerful anti-American Shiite cleric in Iraq with thousands of loyal followers threatened on Sunday that U.S. forces who stay past the Dec. 31 withdrawal deadline are fair game to attack.
"While the security situation in Iraq has improved over the past few years, attacks are still commonplace. In June alone, 15 U.S. soldiers were killed, making it the bloodiest month for the U.S. military in Iraq in two years. Nearly all of them were killed in attacks by Shiite militias bent on forcing out American troops on schedule."
"Muqtada al-Sadr's comments suggested that even a limited training mandate would not be acceptable to his Shiite militia, which has stepped up rocket and bomb attacks against American forces as the December deadline approaches.
"Al-Sadr has forged his reputation with thousands of poor Shiite followers in Baghdad and southern Iraq as a fierce opponent of foreign troops in Iraq.
"But al-Sadr, under heavy Iranian pressure, backed al-Maliki last fall when the prime minister was in a tough re-election contest against a Sunni-supported rival."
---
Brace for Another U.S.-Mideast War
By: Aaron Klein / WorldNetDaily.com / August 15, 2011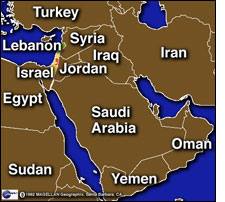 JERUSALEM -- Turkey secretly passed a message to Damascus last week that if it does not implement major democratic reforms, NATO may attack Syrian President Bashar Assad's regime, according to Egyptian security officials speaking to WND.
"Last week it was widely reported Turkey gave the Syrian government a two-week ultimatum to come up with a set of reforms and asked Assad's regime to withdraw its security forces from protest cities.
"While it is not clear what form any NATO military action would take against Assad's regime, the Egyptian security officials told WND they would expect such action to mimic the international coalition that has been targeting Libyan leader Muammar Gadhafi.
"The Libya bombings have been widely regarded as a test of a military doctrine called Responsibility to Protect.
"In his address to the nation in April explaining the NATO campaign in Libya, Obama cited the doctrine as the main justification for U.S. and international airstrikes against Libya.
"Responsibility to Protect, or Responsibility to Act, as cited by Obama, is a set of principles, now backed by the United Nations, based on the idea that sovereignty is not a privilege but a responsibility that can be revoked if a country is accused of 'war crimes,' 'genocide,' 'crimes against humanity' or 'ethnic cleansing.'
"The term 'war crimes' has at times been indiscriminately used by various U.N.-backed international bodies, including the International Criminal Court, or ICC, which applied it to Israeli anti-terror operations in the Gaza Strip. There has been fear the ICC could be used to prosecute U.S. troops."
Click here to read it all
---
North Dakota Catholic Conference Says 'Sunday law' Benefits all People
EWTN News.com / July 15, 2011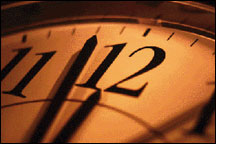 "The North Dakota Catholic Conference has responded to criticism of a law restricting Sunday hours for businesses, saying the regulation benefits the whole of society.
"'The purpose of North Dakota's Sunday closing law is not to impose times of worship. Nor is it to demand adherence to religious doctrine. The purpose of the law is to preserve the common good by ensuring that society is not overtaken by work and profit,' wrote Christopher Dodson, executive director of the North Dakota Catholic Conference, in a July 12 article.
"A July 5 editorial in the Fargo-Moorhead Forum criticized 'all those North Dakotans who cling to the myth that partial Sunday opening somehow honors a Sabbath day.'
"'Let's get honest: Merchants should be able to open their doors whenever they choose. North Dakotans who don't want to shop on Sunday -- morning or any other time on that day -- can stay home or in church,' the editorial said. 'Others will want to shop. It should be their choice, not the state's.'"
Click here to read it all
---
"And when these things begin to come to pass, then look up, and lift up your heads; for your redemption draweth nigh." (Luke 21:28)
---
If prophecy of the end of the world is of interest to you and you would like to receive this monthly newsletter containing articles of interest and relevance to prophetic events, please respond using the form below:
---