Will 2022 Be Any Better Than 2021?
"And ye shall hear of wars and rumours of wars ... nation shall rise against nation, and kingdom against kingdom: and there shall be famines, and pestilences, and earthquakes ..." (Matt 24:6-7)
Prophecy News - October - December 2021

Will 2022 Be Any Better Than 2021

In my introduction to this newsletter a year ago I asked the same question about 2021. With the pandemic continuing with no end in sight and now looming and growing supply chain issues it looks like dark days ahead. However, we know these are just signs of the soon-coming end and a glorious future. So keep trusting in God's leading. It won't be long before we will start to see spiritual issues become much more prominent. The first story below points towards that. The remaining stories point to continued fulfillment of prophecy.

Michael Flynn Demands 'One Religion Under God' At Far-Right Rally

Trump's former national security adviser called for the nation to have a single religion
Mary Papenfuss, Nov. 14,2021
In his latest journey to the edge of extreme, Donald Trump's former national security adviser and felon Michael Flynn called for a single religion in America.
"If we are going to have one nation under God - which we must - we have to have one religion," Flynn said in San Antonio at a stop for the far-right "ReAwaken America" tour. "One nation under God, and one religion under God."
Such a vision is completely contrary to the Constitution's guarantee of freedom of religion, and the separation of church and state.
More about Flynn and One Religion
---
Ray's comment: the way governments would get one religion is to suppress the others. Doesn't sound like freedom of religion to me.
---
Huge Number Of Food Shortages Predicted For 2022 By A Variety Of Experts - Democrats Told Us It Would Get Better By 2022, But These Experts Warn It's Not And Is Going to Get Much Worse
Susan Duclos - All News PipeLine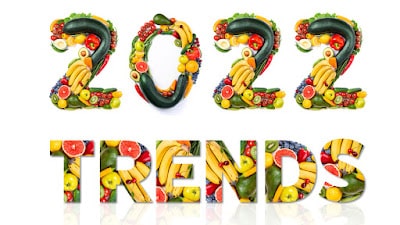 In 2020 and 2021 we saw a number of shortages, from foods to computer chips, stemming from different reasons. First and foremost which kicked off the extremely depleted store shelves that our readers sent exclusive images of, all across the country, while certain specific areas saw less, and others more shortages, were the lockdowns.
Those lockdowns forced school and restaurant closures, which in turn blindsided the farming industry because the demand dried up, so much of their "supply" had to be destroyed. Tens of millions of gallons of milk dumped, crops plowed through because the farmers couldn't offload it, and ranchers forced to euthanize their own livestock because they couldn't get it all processed.
With the schools, restaurants, and other business closures that state leaders deemed "non-essential," we saw unemployment explode, which led to shortages at food banks and free food giveaways.
The point here is the lockdowns caused a trickle down and up effect which inevitably brought about massive food shortages, with empty shelves, limited options, and the rearranging of products by grocery stores to make their shelving "appear" fuller than they were, including front-facing products with nothing behind the front row.
Jump forward to the end of 2021, and we are seeing a number of experts predict what items will continue to see shortages, and the list continues to grow.
PREDICTED SHORTAGES FOR 2022 IN 2022, while issues still stem from the original economy-killing lockdowns of 2020, other factors are adding to the breakdown of the food supply chain;
A lack of truck drivers, labor shortages where companies do not have the manpower to produce, package, and deliver goods, and let us not forget, the labor shortage is also being worsened by the Biden's regime encouragement of employers to terminate or suspend workers refusing the COVID vaccine, where because it is still experimental, or religious reasons.
The testimonials and dire warnings are confirmed as our own grocers are telling us that they are receiving less than half of what they order from their suppliers, an issue which was addressed in October 2021, by Albertson's CEO, Vivek Sankaran, who is quoted as stating "I never imagined that we'd be here in October 2021 talking about supply-chain problems, but it's a reality. Any given day, you're going to have something missing in our stores, and it's across categories."
Click here to read it all
---
More hospital nurses blow whistle on "overwhelming" number of heart attacks, blood clots occurring in the fully vaccinated
Ethan Huff, Dec. 29, 2021
(Natural News) There is a wave of vaccine-induced illnesses sweeping Southern California hospitals, and a few brave nurses have come forward to talk about it.
In Ventura County, located to the north of Los Angeles, cases of "unexplained" heart problems, strokes and blood clotting are skyrocketing at area hospitals. And many local doctors are refusing to link these events to Wuhan coronavirus (Covid-19) injections.
A critical care nurse at a Ventura County ICU came forward to tell the Conejo Guardian that he is "tired of all the B.S. that's going on" as the medical establishment refuses to acknowledge the elephant in the room.
"It's crazy how nobody questions anything anymore," this person, named Sam, is quoted as saying.
Sam says that there has been a noticeable surge in young people experiencing these types of severe health problems after they get needled with the injections from Operation Warp Speed.
"We've been having a lot of younger people come in," Sam added. "We're seeing a lot of strokes, a lot of heart attacks."
"We've been having a lot of younger people come in," Sam added. "We're seeing a lot of strokes, a lot of heart attacks."
In one case, a 38-year-old woman came to the emergency room with occlusions, or blockages of blood flow, in her brain.
"They [doctors] were searching for everything under the sun and documenting this in the chart, but nowhere do you see if she was vaccinated or not," Sam added.
"One thing the vaccine causes is thrombosis, clotting. Here you have a 38-year-old woman who was double-vaccinated and she's having strokes they can't explain. None of the doctors relates it to the vaccine. It's garbage. It's absolute garbage."
Click here to read it all
---
Whilst you were distracted by a Christmas Party the UK Gov. released a report confirming the Fully Vaccinated account for 4 in every 5 Covid-19 Deaths in England since August
The Expose Dec. 11, 2021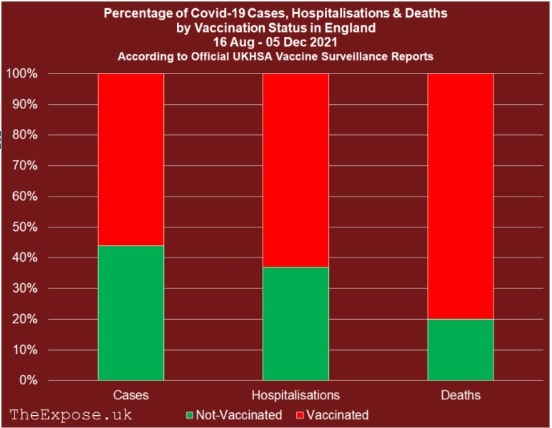 Serious questions need to be answered as to why Boris Johnson's Government have decided to restrict the freedoms of the unvaccinated population through the introduction of Vaccine Passports, when the latest official data shows that the vaccinated population have accounted for 3 in every 5 Covid-19 cases, 3 in every 5 Covid-19 hospitalisations, and 4 in every 5 Covid-19 deaths, in England since August 16th 2021.
Click here to read it all
---
Former WHO Official Warns On Vaccines: The Vaccinated Should Quarantine, Or Risk Serious Illness
Marc Slavo, Dec. 17, 2021
World Health Organization European Advisory Group of Experts in Immunization former Vice President Professor Christian Perronne said that all vaccinated people must quarantine over the winter months or risk serious illness. Perronne was the Chairman of the Specialized Committee on Communicable Diseases of the High Council of Public Health.
Confirming the rapidly deteriorating situation in Israel and the United Kingdom, the infectious disease expert stated: "Vaccinated people should be put in quarantine, and should be isolated from the society." He said the vaccinated need to isolate to prevent severe illness over the winter months.
Israeli doctor Kobi Haviv told Channel 13 News: "95% of seriously ill patients are vaccinated. Fully vaccinated people account for 85-90% of hospitalizations. We are opening more and more COVID branches. The effectiveness of vaccines is declining or disappearing." Are The Unvaccinated Really Filling Up Hospitals?
He went on to say: "Unvaccinated people are not dangerous; vaccinated people are dangerous for others. It's proven in Israel now - I'm in contact with many physicians in Israel - they're having big problems, severe cases in the hospitals are among vaccinated people, and in UK also, you have the larger vaccination program and also there are problems."
Click here to read it all
---
America Will See Consequences Of Its Self-Inflicted Wound In 2022
Michael Snyder, Nov. 2, 2021
Are we about to witness one of the greatest self-inflicted economic wounds in history? Vaccine mandate deadlines are starting to arrive, and large numbers of very qualified people are losing their jobs as a result. Of course this comes at a very bad time, because we are already in the midst of the most epic worker shortage in U.S. history.
Despite the biggest hiring push that I have ever seen in my entire lifetime, businesses all over America are still desperate for workers. The funny thing is that lots of available workers should theoretically be out there somewhere. The number of Americans that are currently working is still about five million less than the peak that was hit just before the pandemic arrived.
So where did all of those missing workers go? That is a question that we desperately need an answer for, because millions of workers seem to have evaporated from the system. Now the vaccine mandates are going to make things far worse, because millions of Americans that are actually good at their jobs are going to be ruthlessly terminated, and finding replacements for them is going to be exceedingly difficult.
For instance, you can't just pull guys off the street and have them fly planes. Very soon, large numbers of pilots will be sent packing on a permanent basis, and pilots for American Airlines gave us a taste of what is coming by engaging in a "sick out" over the weekend ...
American Airlines canceled another 634 flights on Sunday, more than 12% of its total operations for the day, the company said Sunday.
The airline has now canceled more than 1,500 flights since Friday, as it deals with weather issues and staffing shortages that started last week.
Of course American Airlines is trying to blame "the weather" for these canceled flights, but everyone knows what is really going on.
If these airlines don't reverse their mandates, pretty soon we will have widespread air travel headaches on a permanent basis in this nation.
In New York City, Friday was the deadline for municipal workers to get vaccinated, and more than 26,000 of them have refused to comply...
Click here to read it all
---
"Massive Tragedy" - Brazilian Dams Break, Ten More At Risk Of Collapse Amid Heavy Rain
Tyler Durden, Dec. 27, 2021
Update (Monday 1310ET): Two dams collapsed in the northeastern Brazilian state of Bahia over the weekend after weeks of heavy rain.
On Saturday night, the Igua dam on the Verruga river near Vitoria da Conquista in southern Bahia collapsed. The second dam broke about 62 miles to the north on Sunday morning.
The floods have affected 40 cities throughout Bahia, Gov. Rui Costa said. He said at least 35,000 people had been displaced from their homes.
"This is a massive tragedy. I can't remember seeing anything like this in Bahia's recent history, given the amount of cities and houses involved. It's truly terrifying, there are so many houses and streets that are completely underwater," Costa said.
As of Sunday, authorities declared a state of emergency in 72 cities, with floodwaters in certain parts of the state reaching as high as 30 feet.
Local newspaper O Globo reported that state officials closely monitor ten more dams at risk for collapse.
Click here to read it all
---
Flurry of active volcanoes will cause global COOLING and crop failures ... global financial and political systems on the verge of catastrophe
Natural news, Dec. 15, 2021
Very few people are tracking this, but the number of active volcanoes that are right now spewing particulate matter into the upper atmosphere is extraordinary. This page on VolcanoDiscovery.com lists volcanoes that are active right now across the globe, and it numbers in the dozens.
The La Palma volcano (Cumbre Vieja) has been so large that the size of the island on which it sits has expanded by 43 hectares since it began erupting. During this, the volcano has ejected large quantities of particulate matter into the atmosphere.
According to this Smithsonian / USGS weekly volcanic activity report, four new volcanoes just began erupting from Dec 1 to Dec 7 of this year, with over a dozen active volcanoes listed across nearly every continent. The Ring of Fire is heating up…
Click here to read it all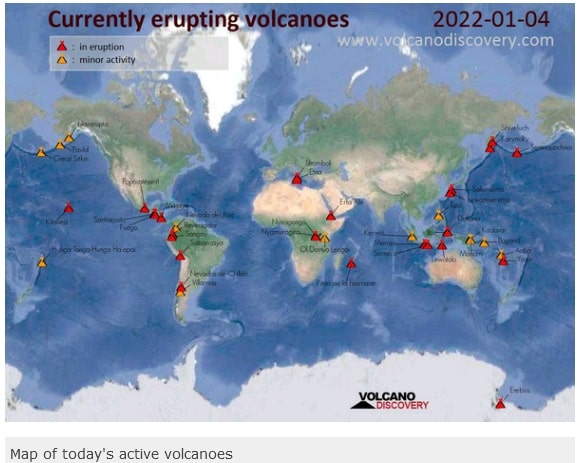 Original map here
---
Dozens Dead After 'Most Severe Tornado Event In Kentucky's History
NPR, Dec. 11, 2021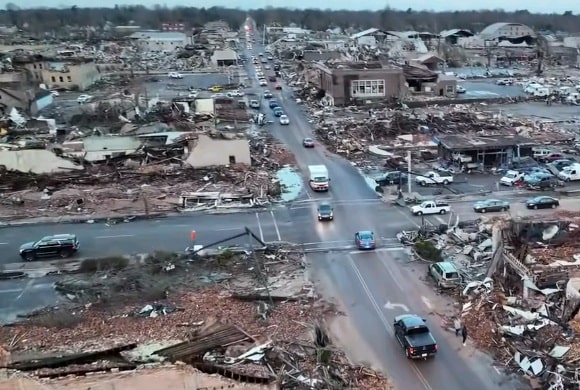 Dozens of people in the Midwest are believed to be dead after severe weather that caused multiple tornadoes struck late Friday night and early Saturday morning, tearing through several states including Kentucky, Illinois and Arkansas.
As of Saturday morning, at least 70 people have died in Kentucky alone, Kentucky Governor Andy Beshear said, and the death toll is expected to rise. President Biden called the destruction "devastating."
In Mayfield, Ky., a candle factory was hit, leading to multiple fatalities, Beshar said at a news conference earlier Saturday morning.
The devastation in the Mayfield area goes beyond the factory, and several surrounding counties are are pitching in with EMS help, as the main emergency services hub in the town itself was in the direct line of the storm, local officials said Saturday. The water tower was hit too, leaving the town without water.
Kentucky Emergency Management Director Michael Dossett said Friday night's tornado event may surpass the 1974 Super Outbreak as the deadliest in the state's history.
Click here to read it all
---
Why Is So Much Seismic Activity Suddenly Rocking Our Planet?
credits, date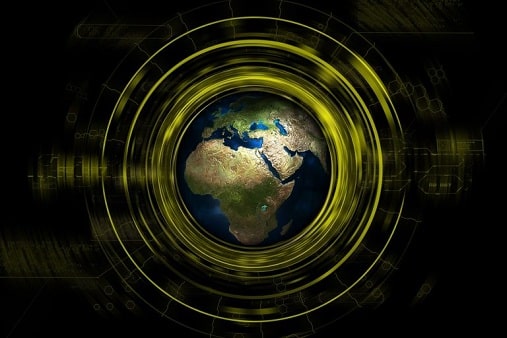 Should we be alarmed by all of the seismic activity that is suddenly happening all over the globe? I don't know if you have noticed, but major earthquakes and earthquake swarms have been shaking key areas of our planet in recent weeks. On Monday, it was Japan's turn. It was being reported that a magnitude 6.5 earthquake had been detected southeast of Honshu, Japan and that immediately got my attention. Whenever a significant earthquake hits Japan, I am always reminded of the looming threat of Mt. Fuji. One of these days, Mt. Fuji is going to come roaring back to life and Tokyo will be absolutely devastated. Let us hope that such a cataclysm can be put off for as long as possible.
Prior to the earthquake near Honshu, a magnitude 7.5 quake rattled northern Peru on Sunday...
A magnitude 7.5 earthquake rocked northern Peru on Sunday, collapsing a 16th-century Catholic church tower although no deaths or serious injuries were immediately reported.
The good news is that the quake happened in a sparsely populated region, but it came right after a magnitude 5.1 earthquake had struck the outskirts of Lima...
The quake struck hours after a magnitude 5.1 temblor with the epicenter in the outskirts of Lima rattled the region. Hernando Tavera, head of the Geophysical Institute of Peru, said at least four aftershocks took place after the latter quake, and he warned residents to prepare for more aftershocks.
The coast of Peru sits directly along the Ring of Fire just like the west coast of the United States does, and earlier this month a very alarming earthquake swarm in northern California received quite a bit of attention...
A swarm of earthquakes rumbled under the San Ramon-Danville area Wednesday, measuring as high as 3.9 in magnitude, giving local residents a subtle reminder of the seismic activity deep under the region.
Could it be possible that the Ring of Fire is moving into a period of increased activity?
Click here to read it all
---
A Spirit Of Lawlessness Has Spread Across The Country
Michael Snyder, Oct. 22, 2021
From the very top to the very bottom, we are rapidly becoming a completely lawless nation. Just look at Joe Biden. He was just caught on video blatantly breaking D.C.'s very strict mask mandate. When White House Press Secretary Jen Psaki was asked about this, she told the press to "not overly focus on moments in time".
What does that even mean? Apparently we aren't supposed to care when Biden breaks the law, and for the record that has happened on numerous occasions in recent months. But I suppose that it is appropriate that we have a lawless president, because our entire nation is now descending into lawlessness.
Just consider what we just witnessed in Portland. Dozens of anarchists roamed through the streets of Portland destroying everything in sight, and the police just stood by and watched them do it...
At least 100 self-proclaimed anarchists tore through Portland, setting dumpsters aflame, smashing windows and causing $500,000 in damage, but police stood idle because of a new state law that restricts how law enforcement can respond to riots.
It is at moments like this that I really do feel like I am living in Crazytown.
A new law that was recently passed prohibits police in Portland from using normal crowd control techniques, and so they must stand down and allow rioters to do whatever they want...
Now police say a recently passed law ties their hands even further as it prohibits police from using crowd control techniques like pepper spray or tear gas. Instead, law enforcement agencies are told to rely on follow-up investigations to hold rioters accountable.
Are you kidding me?
Click here to read it all
---
The Next Financial Crisis Could Accelerate Prophetic Events
Britt Gillette, Oct. 1, 2021
On August 15, 1971, Richard Nixon announced he was "closing the gold window," thus ending the U.S. dollar's convertibility to gold. This ended the post-World War II Bretton Woods monetary system where the world operated on a gold-backed U.S. dollar with other world currencies pegged to the dollar. It also began the new era of fiat currency and sowed the seeds of the next great financial crisis.
Fiat currency is not backed by commodities such as gold or silver. Its only value comes from the public's willingness to accept it as a means of payment. Since Nixon's announcement, all the major governments of the world have used nothing but fiat currencies. Prior to 1971, this had never occurred in human history.
The Danger of Fiat Currency
Why was Nixon's announcement such a significant event? Fiat currencies are dangerous. They eliminate government financial discipline and accountability. When nothing backs a currency, the government can print unlimited currency units. The more currency units that exist, the less valuable they all become.
If you earn and save in fiat currency, you lose purchasing power over time. The government is essentially stealing from you via inflation. This means government spending is no longer restrained by collected tax revenue or fiscal responsibility.
For example, during World War II, the United States launched a massive war bond campaign to raise the money necessary for funding the war. They did so because U.S. currency was backed by gold and silver. They couldn't simply "print" the dollars needed to fund the war.
But that's no longer true. Since 1971, the U.S. has funded the world's largest standing military, fought two wars in Iraq, a war in Afghanistan, and countless other conflicts. In doing so, they never once launched a war bond campaign. They simply printed the dollars they needed.
Since 1971, the U.S. government has been on a spending binge. In 1971, the U.S. national debt was $398 billion. Today, it's $27.8 trillion. That's an almost 70-fold increase in debt in the past 50 years. To fund this massive rise in debt, they've run the printing press.
Click here to read it all
---
Ray's note: That debt is more than $83,000 per person in the US! And that is only the Federal debt.
Note that I am simply sharing items of interest for your information. That does not imply that I agree with everything presented here or with other material that may be on a source's other web pages.
---
"And when these things begin to come to pass, then look up, and lift up your heads; for your redemption draweth nigh." (Luke 21:28)
---
If prophecy of the end of the world is of interest to you and you would like to receive this quarterly newsletter containing articles of interest and relevance to prophetic events, please respond using the form below: