This newsletter shows examples from a number of sources that nature seems to be rebelling.
I have written about this before, but this story just got a whole lot stranger. In previous years, most Americans haven't been too concerned when giant swarms of insects have devoured crops on the other side of the globe, but now this is actually happening right here in the good old United States of America on a massive scale. The hot, dry conditions in the western half of the nation have created ideal conditions for grasshoppers to flourish, and millions upon millions of them are now wreaking havoc wherever they go. In fact, the National Weather Service says that some of the grasshopper swarms are so large that they are showing up on radar ...
The National Weather Service (NWS) Glasgow says the radar is lighting up, but not with rain. Instead, the radar is picking up "countless" grasshoppers in the area according to a post from the NWS.
A massive population of grasshoppers is proliferating in the sweltering American west, where a deep drought has made for ideal conditions for grasshopper eggs to hatch and survive into adulthood.
Agricultural production in the western half of the country was already going to be below expectations because of the endless megadrought, and now these grasshoppers are "steadily devouring" fields that farmers have meticulously cultivated.
Not only that, grasshoppers are also eating much of what our cattle herds were supposed to be eating as well ...
Grasshoppers, which thrive in hot, dry weather, have been defoliating trees and competing with cattle for food - and the bugs are winning. Ranchers are selling cattle "due to poor forage conditions and a lack of feed," according to the latest US drought monitor.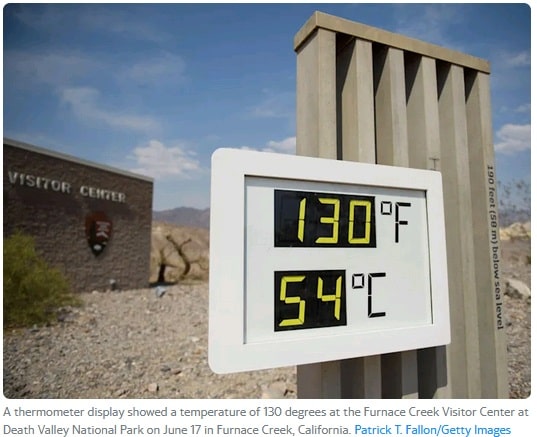 California is bone-dry after a heat wave hit the state, with water levels dipping to all-time lows. Experts said this may become the worst drought the US has seen in 1,200 years. In the meantime, the West and Southwest continue to sizzle, and summer has yet to hit its peak.
Residents on the West Coast are in for a miserable, sizzling summer filled with prolonged drought and record-breaking temperatures, experts said.
A scientist The Guardian spoke with even warned that the US could experience one of the worst droughts in its modern history.
"This current drought is potentially on track to become the worst that we've seen in at least 1,200 years. And the reason is linked directly to human-caused climate change," Kathleen Johnson, an associate professor of Earth system science at the University of California, Irvine, told the Guardian.
The projection came as California's rivers and reservoirs dried up and the state recorded historically low water levels.
In particular, if water levels in Lake Oroville, California's second-largest reservoir, continue to dwindle, it could have devastating effects on the state's power supply. This is because the lake generates energy by flowing through the Edward Hyatt Power Plant. Low water levels may force this power plant to close. A closure would leave about 800,000 homes without energy when wildfire season swings around, CNN reported.
The heat wave hitting California prompted Gov. Gavin Newsom to declare a statewide emergency last week. Newsom called on the state's residents to conserve energy, saying that the heat "has and will continue to put significant demand and strain on California's energy grid."
Energy troubles amid the heat wave are also hitting Texas. The Electric Reliability Council of Texas said many power plants in the state went offline last week, months after a major outage left Texans without heat during in the middle of winter.
Click here to read it all
---
Why Are Large Numbers Of Birds Suddenly Dropping Dead In Multiple U.S. States?
June 22, 2021 by Michael Snyder
As if we didn't have enough weird things going on, now birds are suddenly dropping dead in large numbers all across the eastern half of the country. Before they die, a lot of these birds are exhibiting very strange symptoms. Experts are telling us that in many cases birds are developing "crusty or puffy eyes", and often they appear to go completely blind. In addition, quite a few of these dying birds lose their ability to stay balanced, and we are being told that some even seem to be having "seizures". If scientists understood what was causing this to happen, that would be one thing. But at this point they have no idea why this is taking place, and that is quite alarming.
So far, confirmed incidents of this strange phenomenon have been documented in Washington D.C., Virginia, West Virginia, Maryland, Kentucky, Ohio and Indiana.
Could it be possible that we are dealing with a "mystery disease" that started in one state and that has now spread to other surrounding states?
Or is something else going on here?
We are being told that "blue jays, common grackles and European starlings" are the most common birds that are being affected.
But whatever is happening is not just limited to one species of birds, and I think that should be a red flag.
If our best experts even had a decent working theory about why so many birds are dying, I probably would not have written this article. But at this point they are openly admitting that they have absolutely no idea why so many birds are suddenly dropping dead ...
Click here to read it all
---
14 Astonishing Facts About The Blistering Heatwave That Is Absolutely Frying The Northwest Right Now
June 28, 2021 by Michael Snyder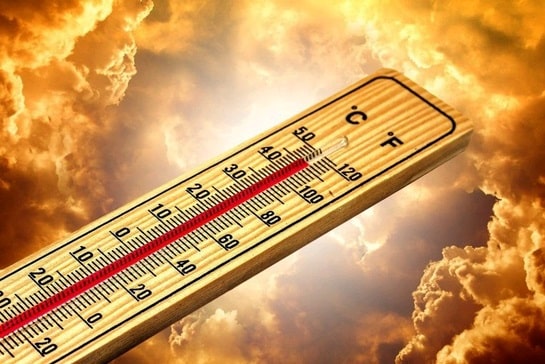 What we are witnessing right now is not even close to "normal". I know that I have been making a lot of statements like that lately, but it is undeniable that some very strange things are happening. For example, over the past couple of years I have been consistently warning that global weather patterns were starting to go completely nuts, and at first there were some people that didn't believe me. But now nobody can deny that global weather patterns have become really, really weird.
At this moment, the Northwest is being slammed by a "heat dome" that is absolutely unprecedented. In the past, there have been times when the weather has gotten really hot and a city or two may set a new high temperature record for a particular date, but this week we are seeing city after city shatter their all-time records for hottest temperature ever recorded on any date. We have never seen anything like this before, and hopefully this does not become "the new normal".
The following are 14 astonishing facts about the blistering heatwave that is absolutely frying the Northwest right now ...
On Sunday, Lytton, British Columbia, recorded the highest temperature ever in Canada's history as the thermometer soared to 116 F (46.6 C). The previous record for all of Canada was 113 F (45 C), set on July 5, 1937, in Midale and Yellowgrass, Saskatchewan.
Ray's note: The article goes on to share some facts about this record-setting heat wave. I had to include it, especially the paragraph above, as I am in British Columbia and have been through Lytton a number of times. A few days after the date of this article a forest fire levelled the town of Lytton destroying 90% of its structures in a very short time.
Click here to read it all
---
5 Bizarre New Plagues That Hav/e Made Headlines In The United States Within The Last 30 Days
June 28, 2021 by Michael Snyder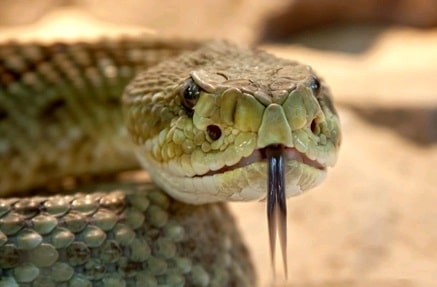 Everywhere you look, things are getting weird, and I don't mean that in a good way. Throughout all of our ups and downs over the decades, one thing that our society could always count on for a certain degree of consistency was nature. But now nature is going haywire at the same time that the very fabric of our society seems to be unraveling all around us. In this article, I am going to share with you a number of items that have been brought to my attention over the past month. On their own, each one of these items is "unusual", but the fact that so many really strange things are all happening simultaneously is definitely cause for alarm.
In this article, I am not even going to bring in stories from the rest of the globe. For example, right now a horrific plague of mice is causing massive problems in Australia. Perhaps I will talk about this in a future article, but in this one I am just going to focus on this country.
The following are 5 bizarre new plagues that have made headlines in the United States within the last 30 days ...
#1 A Plague Of Rattlesnakes
The endless megadrought in our western states is having a lot of unexpected consequences, and this includes a plague of rattlesnakes. According to the Daily Mail, rattlesnakes have been moving into urban areas in California in large numbers because of the exceedingly dry conditions...
Much of the US west is currently undergoing a record heatwave and its worst drought in at least 20 years, with temperatures soaring into the triple digits this weekend, and wildlife experts are saying the extreme weather is creating the perfect conditions for increased interactions between humans and animals.
Rattlesnakes, in particular, have been seen moving into urban areas in larger numbers, and are being found on porches, yards, nearby pools and under children's play equipment.
Ray's note: The article goes on to describe other plagues most of which are also mentioned in other articles in this newsletter
Click here to read it all
---
Ranchers Sell Off Cattle And Farmers Idle Hundreds Of Thousands Of Acres As America's Drought Emergency Escalates
June 9, 2021 by Michael Snyder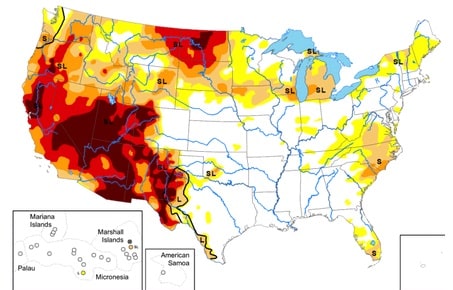 In my entire lifetime, this is the worst that drought conditions have ever been in the western half of the country. During the past 20 years, the amount of territory in the West considered to be suffering from exceptional drought has never gone higher than 11 percent until now. Today, that number is sitting at 27 percent. The term "mega-drought" is being thrown around a lot these days to describe what is happening, but this isn't just a drought. This is a true national emergency, and it is really starting to affect our food supply.
Just look at what is happening up in North Dakota. The vast majority of the state is either in the worst level of drought or the second worst level of drought, and ranchers are auctioning off their cattle by the thousands...
"Normally this time of the year, we're probably looking at 400-600 head and a lot of times would be every other week," said former auctioneer Ron Torgerson.
On Sunday and Monday, more than 4,200 head of cattle were sold at Rugby Livestock and Auction.
Needless to say, ranchers in North Dakota don't want to get rid of their cattle, but the drought has pushed prices for hay and corn so high that many of them simply have no choice.
...
So what are we going to do if this mega-drought persists several more years and agricultural production in California is dramatically reduced for an extended period of time?
I am sure that some wise guy will post a comment after this article about importing more fruits and vegetables from South America, but South America is experiencing a historic drought too.
In fact, at this moment Brazil is experiencing the "worst drought in nearly a century", and scientists are anticipating that it will not end any time soon.
Needless to say, the droughts that we are witnessing are setting the stage for many of the things that I have been warning about, and the future of agricultural production in the western hemisphere is looking quite bleak for the foreseeable future.
In the short-term, this crisis is going to result in substantially higher prices at the grocery store. I know that grocery prices have already risen to painful levels, but the truth is that food prices will never be as low as they are right now.
So I am encouraging everyone to stock up while they still can.
As I have said so many times, we really struggle to feed everyone in the world during the best of years, and 2021 is definitely not one of the best of years.
Global food supplies are getting tighter and tighter, and this definitely has enormous implications for our future.
Click here to read it all
---
Ivermectin Could Have Saved 'Millions' of Lives - But Doctors Were Told Not To Use It
Children's Health Defense, Dr. Joseph Mercola, June 17, 2021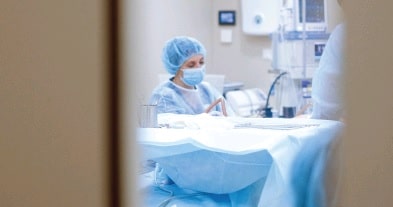 In an interview with Bret Weinstein Ph.D., Dr. Pierre Kory, president and chief medical officer of the Frontline COVID-19 Critical Care Alliance discussed the importance of early treatment of COVID-19 and the shameful censoring of information about ivermectin.
Data clearly show ivermectin can prevent COVID-19 and when used early can keep patients from progressing to the hyper-inflammatory phase of the disease. It can even help critically ill patients recover.
Ivermectin has a long history of use as an antiparasitic, but its antiviral properties have been under investigation since 2012.
Studies have shown ivermectin inhibits replication of SARS-CoV-2 and seasonal influenza viruses, inhibits inflammation through several pathways, lowers viral load, protects against organ damage, prevents transmission of SARS-CoV-2 when taken before or after exposure, speeds recovery and lowers risk of hospitalization and death in COVID-19 patients.
Doctors have been told not to use ivermectin as large controlled trials are still lacking. However, once you can see from clinical evidence that something is working, then conducting controlled trials becomes unethical, as you know you're condemning the control group to poor outcomes or death. In fact, this is the exact argument vaccine makers now use to justify the elimination of control groups and giving everyone the vaccine.
The Frontline COVID-19 Critical Care Alliance recommends widespread use of ivermectin for all stages of COVID-19, including prevention.
Click here to read it all
---
Government admits that half of new Covid-19 cases in last month were fully vaccinated. Despite data, government is launching expanded campaign to vaccinate everyone over 12.
Y. Rabinovitz, June 24, 2021
Israel's campaign to promote the coronavirus vaccine - now focusing on young teens - is going full steam ahead, in spite of statistics presented by government officials showing that half of those recently infected with Covid-19 were fully vaccinated, Behadrey Haredim reports.
Head of Public Health Services, Dr. Sharon Alray-Price, revealed the disturbing facts at a media presentation on Wednesday. According to her data, of the 891 cases of coronavirus confirmed in the last month alone, half had received both doses of Pfizer's mRNA vaccine.
According to a report on Channel 12, in the months since the vaccines were rolled out, 6,765 people who received both shots have contracted coronavirus, and epidemiological tracing has revealed that an additional 3,133 people contracted Covid-19 from those vaccinated individuals. The 6,765 represent a little more than one percent of the total number of those vaccinated, which now stands at over 5,100,000.
It is clear that officials were already aware that the vaccine does not provide sufficient protection, as quarantine regulations for those returning from abroad have recently been changed, requiring even those fully vaccinated to self-isolate upon return from certain countries.
In addition, military intelligence has been warning of such a scenario at least since January, when a report was published that suggested a mass vaccination campaign would lead to vaccine-resistant strains of Covid-19 emerging.
Click here to read it all
---
Why Isn't the US Preparing for EMP War Like the Rest of the World?
Jeff Thompson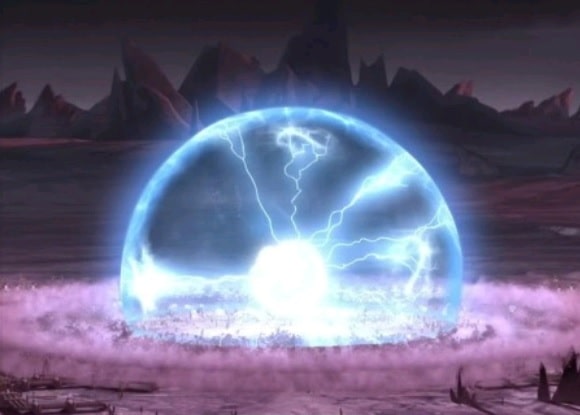 You're likely already familiar with the 2009 EMP Commission Report. It was this report that raised the issue of EMP-preparedness for the American public. It's notorious stating that just one year after an EMP attack, 90% of the American population would be dead, caused alarm throughout multiple sectors of society.
Books began to be written on the subject. Sales of Tedd Koppel's Lights Out, Forstchen's One Second After, and Crawford's Lights Out quickly reached blockbuster levels. And while I believe that these books (and that report) brought the issue of an electromagnetic pulse to light for Americans, I don't believe it showed Americans just how real of a threat it is.
To truly understand just how very real of a risk this is, I believe all we have to do is look at the battle plans of some of the nations that hate America most.
Let's start with Russia
**Non-Contact Warfare was the name of Russian General Vladimir Slipchenko's military textbook. Within this text, he explains how EMPs are the greatest revolution in military affairs in history. According to Slipchenko, the possession of an EMP renders an enemy's armies, navies, and air forces completely obsolete, and it's hard to argue with him there.
If you can't get your missile defense systems online, if your tanks won't run, if your planes have all just fallen out of the sky, you're kind of screwed, aren't you?
China ...
Iran ...
North Korea
What did you expect? Of course, they would make this list!
On April 9, 2013, North Korea's KMS-3 satellite orbited the US at the perfect trajectory to evade US early warning radars and National Missile Defenses. And all while at the ideal altitude and location to launch an EMP field over the continental US.
On April 16, 2013, they did it again - this time orbiting the satellite over the DC-NYC corridor. If an EMP had been activated, we would have lost the entire Eastern Grid, where 75% of US electricity comes from. On that very same day, unknown parties used AK-47s to attack the Metcalf transformer substation that services Silicon Valley as well.
Coincidence?
In July of 2013, a North Korean freighter was found in the Panama Canal after passing through the Gulf of Mexico with SA-2 missiles mounted on their launchers hidden under bags of sugar. While the missiles weren't armed at the time, they were of the type that could very easily have been used to execute an anonymous EMP attack via offshore freighter.
Click here to read it all
---
Note that I am simply sharing items of interest for your information. That does not imply that I agree with everything presented here or with other material that may be on a source's other web pages.
---
"And when these things begin to come to pass, then look up, and lift up your heads; for your redemption draweth nigh." (Luke 21:28)
---
If prophecy of the end of the world is of interest to you and you would like to receive this quarterly newsletter containing articles of interest and relevance to prophetic events, please respond using the form below: