North Korea Latest News
Introduction
In this newsletter, I have a selection of items worthy of your attention in terms of the signs of the times. Prominent and important is the situation with North Korea and Iran. In Matthew 24, when Jesus gives a list of things to watch for, after first warning against deception, He warns about "wars and rumours of wars." War can certainly contribute to the other signs mentioned - famines pestilences and - certainly with nuclear weapons - earthquakes.
Note that I am simply sharing items of interest for your information. That does not imply that I agree with everything presented here or with other material that may be on a source's other web pages.
---
"And ye shall hear of wars and rumours of wars ... nation shall rise against nation, and kingdom against kingdom: and there shall be famines, and pestilences, and earthquakes ..." (Matt 24:6-7)
Prophecy News - Quarter 3, 2017
North Korea Latest News
---
North Korea PLAGUE plot: How Kim will send BLACK DEATH across globe using HUMAN SACRIFICES
NORTH Korea is plotting a sick biological attack against the USA and other Western powers, using human sacrifices to spread plague across the globe.
Joey Millar, Oct. 14, 2017
North Korea is developing biological weapons capable of introducing deadly diseases into Kim Jong-un's Western rivals - including the black death.
The hermit state is also manipulating 12 other biological agents in their demented weaponry: anthrax, botulism, cholera, Korean hemorrhagic fever, smallpox, typhoid fever, yellow fever, dysentery, brucellosis, staph, typhus fever and alimentary toxic aleukia.
A terrifying new report, issued by the intelligence company AMPLYFI and Harvard University, said Kim could even use North Korean civilians to spread the diseases across the globe.
The report speculated "human agents" could be used to launch deadly pandemics - before dying of the disease themselves or being arrested by foreign security forces.
The chilling report said: "North Korea's choice of delivery vehicle is unknown and will likely be tailored to the strategic and tactical objectives for each weapon.
"Human agents have been discussed consistently as plausible biological warfare delivery means."
The report said diseases could also be dropped over enemy countries using airplanes, missiles, "sprayers" or even drones.
But it warned Kim thought so little of his people he would not hesitate to sacrifice them by infecting them with diseases and sending them into enemy states.
Click here to read it all
---
North Korea's nuclear missiles can now reach New York City, Boston and Los Angeles, analysts conclude ...are you awake yet?
Natural News, July 30, 2017 by Mike Adams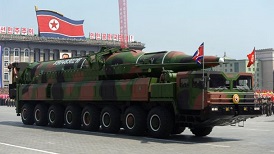 According to David Wright, physicist and co-director of the UCS Global Security Program, North Korea's latest ICBM - tested just days ago - has the capability to strike almost half of the largest U.S. cities, including Chicago, Denver and possibly even New York City.
As reported by Zero Hedge, North Korea now states:
...we have demonstrated our ability to fire our intercontinental ballistic rocket at any time and place and that the entire U.S. territory is within our shooting range.
...Melissa Hanham, a researcher at the James Martin Center for Nonproliferation Studies in California, confirmed the findings saying that the test showed North Korea is now capable of hitting U.S. cities such as Denver or Chicago.
Essentially, Kim Jong-Un just declared, "All your base are belong to us."
Washington D.C. appears to be just out of range for the moment, as the missiles fly over the North Pole and enter the atmosphere over the Northwest portion of the United States. This means Miami is the farthest away from North Korea's reach. Houston, New Orleans and other Southern cities are also on the extreme edge of potential range.
Tensions are escalating, and North Korea could launch an actual attack at any time
In a show of force, the United States Air Force is currently running supersonic bomber drills over North Korea, and President Trump is warning that world that the United States can "no longer allow" North Korea to continue threatening the world with nuclear missile launches that might set off World War III.
Click here to read it all
---
North Korea says rockets to U.S. 'inevitable' as U.S. bombers fly off North Korean coast
World News, Sep. 23, 2017, Michelle Nichols, Yara Bayoumy, Phil Stewart
UNITED NATIONS/WASHINGTON (Reuters) - North Korea said on Saturday targeting the U.S. mainland with its rockets was inevitable after "Mr. Evil President" Donald Trump called Pyongyang's leader "rocket man", further escalating rhetoric over the North's nuclear weapons and missile programs.
North Korean Foreign Minister Ri Yong Ho's remarks to the United Nations General Assembly came hours after U.S. Air Force B-1B Lancer bombers escorted by fighters flew in international airspace over waters east of North Korea in a show of force the Pentagon said showed the range of military options available to Trump.
Ri's speech capped a week of rising tensions between Washington and Pyongyang, with Trump and North Korean leader Kim Jong Un trading insults. Trump called Kim a "madman" on Friday, a day after Kim dubbed him a "mentally deranged U.S. dotard."
On Saturday, the mudslinging continued with Ri calling Trump "a mentally deranged person full of megalomania and complacency" who is trying to turn the United Nations into a "gangsters' nest". Ri said Trump himself was on a "suicide mission" after the U.S. president had said Kim was on such a mission.
Click here to read it all
---
US Flies Stealth Fighters, Bombers Over Korean Peninsula In Show Of Force
Four F-35B stealth fighters and two B-1B bombers flew over the peninsula to "demonstrate the deterrence capability of the US-South Korea alliance against North Korea's nuclear and missile threats", the ministry said in a statement.
Sep. 18, 2017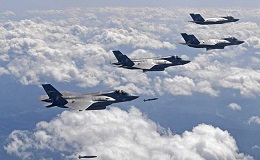 The US flew four stealth fighter jets and two bombers over the Korean peninsula on Monday in a show of force after North Korea's latest nuclear and missile tests, South Korea's defence ministry said.
Four F-35B stealth fighters and two B-1B bombers flew over the peninsula to "demonstrate the deterrence capability of the US-South Korea alliance against North Korea's nuclear and missile threats", the ministry said in a statement.
They were the first flights since the North conducted its sixth and most powerful nuclear test on September 3 and staged an intermediate-range missile test over Japan last Friday, sending regional tensions soaring.
The US jets few alongside four South Korean F-15K jet fighters as part of "routine" training, the statement said, adding that the allies would continue such exercises to "improve their joint operation capabilities against contingencies".
The previous such flights were on August 31.
Click here to read it all
---
The Invisible Christians Of North Korea: Surviving By God's Grace Alone
Eric Metaxas, breakpoint.org Sep. 18, 2017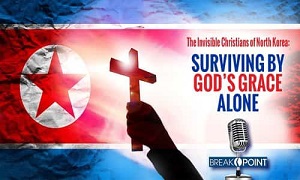 If you think North Korea's dictators are bad for the world, just imagine what it's like to be a Christian there.
Anyone who knows anything about world missions and the global church knows about the Christians of South Korea.
According to the Operation World prayer guide, "From the first Protestant church planted in 1884, South Korea now has possibly 50,000 Protestant congregations," and 15 million Christians of all kinds.
It's also a missionary powerhouse, currently sending more than 21,000 missionaries to about 175 countries. Amazing!
But the Christians of North Korea? They're virtually invisible--though of course not in the eyes of the Lord Jesus! Operation World says that although no one really knows their true number, there could be as many as 350,000 underground Christians living in the slave state of 24 million people.
When you consider that the government there--whether run by the Japanese occupiers during World War II, or the current cult-like, totalitarian leadership--has been trying to stamp out all vestiges of Christianity for about 70 years, that's also amazing.
Tragically, and infuriatingly, up to 100,000 of these brothers and sisters in Christ are locked up in harsh prisons or work camps.
Where did they all come from, and how do they survive? Well, in answer to the first part, it's a fascinating story. Did you know that from the late 19th century until 1942, Pyongyang, North Korea's Orwellian capital city today, was known as the "Jerusalem of the East"?
Click here to read it all
---
Defying US warnings, Iran tests new missile capable of reaching Israel
Tehran hails successful test launch of Khoramshahr, with a 1,250-mile range and ability to carry multiple warheads
CREDITS / DATE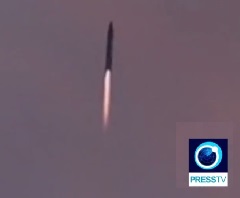 Iran showed footage on Saturday, September 23, 2017, of a missile test (Screenshot/PressTV)
Iran said on Saturday that it had successfully tested a new medium-range missile, in defiance of warnings from Washington that it is ready to ditch a landmark nuclear deal over the issue.
State television carried footage of the launch of the Khoramshahr missile, which was first displayed at a high-profile military parade in Tehran on Friday. It also carried in-flight video from the nose cone.
Click here to read it all
---
Iranian President Threatens to Revitalize Nuclear Program
Associated Press, Aug. 15, 2017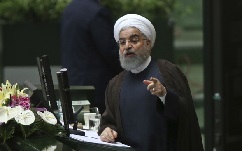 Iran's president warned Tuesday that it could ramp up its nuclear program and quickly achieve a more advanced level if the U.S. continues "threats and sanctions" against his country, which signed a landmark nuclear accord with world powers in 2015.
Hassan Rouhani's remarks to lawmakers were his most direct warning that the deal could fall apart and risked ratcheting up tensions with the United States. President Donald Trump has repeatedly said he wants to scuttle the accord, which limited Iran's ability to produce a nuclear weapon while ending most sanctions against it.
Nikki Haley, the U.S. ambassador to the United Nations, said late Tuesday: "The nuclear deal must not become 'too big to fail.'"
"Iran, under no circumstances, can ever be allowed to have nuclear weapons," she said in a statement. "At the same time, however, we must also continue to hold Iran responsible for its missile launches, support for terrorism, disregard for human rights and violations of U.N. Security Council resolutions."
Click here to read it all
---
Calling Trump 'rogue newcomer,' Rouhani vows tough response if nuke deal ditched
TOI Staff and AFP, Sep. 20, 2017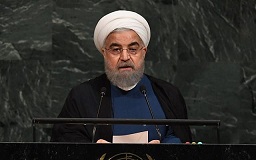 NEW YORK - Iran's President Hassan Rouhani on Wednesday derided US President Donald Trump as a "rogue newcomer" and Prime Minister Benjamin Netanyahu as the leader of a "rogue and racist regime," and vowed that Tehran would respond "decisively and resolutely" if the Iran nuclear deal is remade or canceled.
In an address to the UN General Assembly, Rouhani also castigated "the ignorant, absurd and hateful rhetoric" delivered before the Assembly on Tuesday - when Trump and Netanyahu spoke - saying the speeches were "filled with ridiculously baseless allegations."
Rouhani declared that the Iranian nuclear deal, since it was backed by the international community and endorsed by the UN, could not be legitimately scrapped or amended, as Netanyahu demanded Tuesday and as Trump has indicated he is considering.
"I declare before you that the Islamic Republic of Iran will not be the first country to violate the agreement, but it will respond decisively and resolutely to its violation by any parter," he pledged.
Turning to Trump, he said, "It would be a great pity if this agreement were to be destroyed by rogue newcomers to the world of politics ... The world will have lost a great opportunity."
Click here to read it all
---
Iran army chief vows to raze Israeli cities if it makes 'wrong move'
General Abdolrahim Mousavi says warning that the 'Zionist regime' will not survive next 25 years does not mean it will actually last that long
Tamar Pileggi, sep. 18, 2017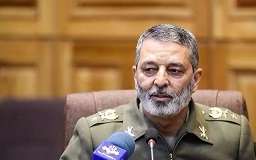 Iran's newly-appointed army chief on Monday warned the Islamic Republic would raze the Israeli cities of Tel Aviv and Haifa if the "Zionist regime" makes "any wrong move."
In remarks delivered at an event in the holy city of Qom, General Abdolrahim Mousavi said previous warnings that Israel will not exist in 25 years did not mean it would necessarily last that long.
"That we say that the Zionist regime will not see 25 years later doesn't mean that it will certainly survive for 25 years," he said according to the semi-official Fars News Agency. "There is a prerequisite for this famous sentence, that is if the Zionist regime makes any wrong move, Haifa and Tel Aviv will be razed down to the ground."
Mousavi, who issued a nearly identical threat last month, was appointed in August as the commander of the Iranian army, an entity separate from the country's Revolutionary Guards Corps.
His comments echo a prediction made by Iran's Supreme Leader Ayatollah Ali Khamenei in 2015.
Click here to read it all
---
STROKE OF GENIUS: President Trump Authorizes Opening of First-Ever American Military Base In Israel
Geoffrey Grider, sep. 18, 2017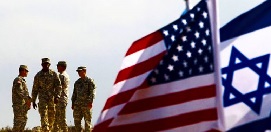 Israel and the U.S. inaugurated the first American military base on Israeli soil on Monday, which will serve dozens of soldiers operating a missile defense system. The move comes at a time of growing Israeli concerns about archenemy Iran's development of long-range missiles. Together with the U.S., Israel has developed a multilayered system of defenses against everything from long-range guided missile attacks from Iran to crude rockets fired from Lebanon and the Gaza Strip.
The move comes at a time of growing Israeli concerns about archenemy Iran's development of long-range missiles. Together with the U.S., Israel has developed a multilayered system of defenses against everything from long-range guided missile attacks from Iran to crude rockets fired from Lebanon and the Gaza Strip.
The base's opening is largely symbolic and isn't expected to bring operational changes. But the Israeli military says that along with other measures, it sends a message of readiness to Israel's enemies.
"It's a message that says Israel is better prepared. It's a message that says Israel is improving the response to threats," said Brig. Gen. Zvika Haimovich, the commander of Israel's aerial defense.
The base is located within an existing Israeli air force base and will operate under Israeli military directives.
Israeli and U.S. military officials cut a ribbon at the base Monday, where the American and Israeli flags flew side by side and soldiers from both countries commingled.
Israel's multi-tier missile defense system includes the Arrow, designed to intercept long-range ballistic missiles in the stratosphere with an eye on Iran, and Iron Dome, which defends against short-range rockets from the Gaza Strip. David's Sling is meant to counter the type of medium-range missiles possessed by Iranian-backed Hezbollah militants.
Israel considers Iran to be its greatest threat, citing the country's nuclear ambitions, its development of long-term missiles, hostile anti-Israel rhetoric and support for anti-Israel militant groups. Israel has grown increasingly concerned about Iran's involvement in the civil war in neighboring Syria, where its troops are supporting President Bashar Assad.
Israel is worried that Iran and its proxy Hezbollah will establish a long-term presence in Syria near the Israeli border.
Click here to read it all
---
7 YEAR TREATY? Abbas Says Peace With Israel Possible This Year, Will Be Trump's 'Deal Of The Century'
Geoffrey Grider, Sep. 20, 2017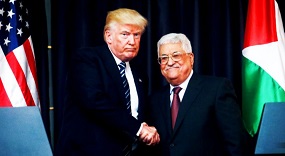 Abbas met Trump on the sidelines of the U.N. General Assembly gathering of world leaders in New York and thanked him for his support.
"If this is any proof to anything … it attests to the seriousness of your Excellency, Mr. President, to achieve the deal of the century in the Middle East during this year or in the coming months, God willing," Abbas said through an interpreter.
Trump said his team of advisers was working very hard on the issue, as were Israel, Saudi Arabia and other nations.
"I think we have a very, very good chance, and I certainly will devote everything within my heart and within my soul to get that deal made," Trump said. "We're at a very important juncture, there's a small period of time, and we're going to see what we can do. There can be no promises, obviously," he said.
Abbas noted that the Palestinians had met with Trump's team more than 20 times since the U.S. president entered office in January, and he said the fact that Jews and Muslims were celebrating a new year was a positive sign.
"This is a very sweet coincidence that we can celebrate the new year together within a 24-hour period, and if this is an indication to anything, it means that we can coexist peacefully together," Abbas said.
Later at the U.N. gathering, Abbas urged the 193-nation body to end the "Israeli occupation of the state of Palestine" within a set timetable.
Click here to read it all
---
3 Large Earthquakes And A Major Volcanic Eruption In Mexico Spark Fears That The Big One Could Hit California Soon
Michael Snyder, Sep. 24, 2017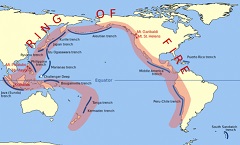 The portion of "the Ring of Fire" that runs along the west coast of North America is starting to shake like a leaf. As most of you already know, the outer perimeter of the Pacific Ocean is known for high levels of seismic activity, and the experts tell us that more than 80 percent of all earthquakes and more than 70 percent of all volcanic eruptions take place within the Ring of Fire. The North American section of the Ring of Fire has been relatively quiet for an extended period of time, but now all of the shaking down in Mexico is causing a tremendous amount of concern. In fact, some now fear that all of the shaking down there may be a harbinger of things to come for California.
Within the last 30 days, there have been three major earthquakes in Mexico. This latest one was a magnitude 6.2 earthquake, and it was accompanied by an eruption of Mt. Popocatepel ...
A magnitude 6.2 earthquake that shook Mexico on Saturday was blamed for five deaths, spreading fear among a population reeling from multiple natural disasters and interrupting the search for survivors from a bigger tremor earlier this week.
South of Mexico City, the Popocatepetl volcano sent a column of ash into the sky, capping a period of seismic activity including two powerful tremors this month that have killed more than 400 people and caused damages of up to $8 billion.
Mexico's capital was shattered by Tuesday's magnitude 7.1 quake that flattened dozens of buildings and killed at least 307 people.
Of course the magnitude 8.1 earthquake that hit Mexico back on September 7th was the largest earthquake that we have seen down there in ages.
The earthquakes are getting most of the attention from the media, and without a doubt they have caused extensive damage, but Mt. Popocatepetl may be of even greater concern. It has "registered 181 low-intensity exhalations" in recent days, and on Saturday it erupted explosively three times.
A catastrophic eruption of Mt. Popocatepetl would be a nightmare beyond anything that we have witnessed in the modern history of Mexico. The volcano sits only about 50 miles away from Mexico City, and there are close to 25 million people living in the Mexico City metropolitan area. In recent years, smoke and ash from minor eruptions of Mt. Popocatepetl have reached the city, but most people living there have absolutely no idea how immensely powerful the volcano truly is.
Click here to read it all
---
Apocalyptic September? Here Is a List of 27 Major Disasters that Have Already Happened So Far this Month
Michael Snyder, Sep. 10, 2017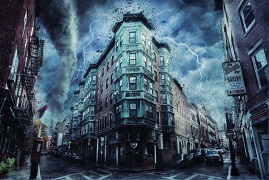 Two major hurricanes, unprecedented earthquake swarms and wildfires roaring out of control all over the northwest United States – what else will go wrong next? When I originally pointed to the month of September as a critical time, I had no idea that we would see so many catastrophic natural disasters during this time frame as well. Hurricane Harvey just broke the all-time record for rainfall in the continental United States, Hurricane Irma is so immensely powerful that it has been called "a lawnmower from the sky", vast stretches of our country out west are literally being consumed by fire, and the magnitude-8.2 earthquake that just hit Mexico was completely unexpected. As I have stated so many times before, our planet is becoming increasingly unstable, but most people simply do not understand what is happening.
Click here to read the list
---
'No-go zones' brewing in U.S., author warns
Outsiders greeted with cold stares as mosques preach hatred of West
Leo Hohmann, Aug. 27, 2017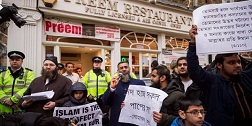 Driving into parts of inner-city Detroit, Chicago or Miami at certain times of day can be pretty scary, but when the drug culture meets Shariah law it becomes a whole new level of frightening.
Yet, that's what some U.S. neighborhoods have to look forward to if things don't change in Washington, says the author of a new book on Europe's "no-go zones." In fact, the early warning signs are already becoming visible in some U.S. communities, says Raheem Kassam, who visited more than a dozen Muslim-dominated enclaves on the continent.
The jolting message contained in "No Go Zones: How Sharia Law Is Coming to a Neighborhood Near You," is one of warning for America, which is in the process of building up its own no-go zones by making the same immigration mistakes now on full display in Germany, France, Belgium, Italy, Spain, Sweden and the United Kingdom. Almost daily reports of attacks, often with knives or vehicles, have been reported in these countries, while these type attacks are almost never seen in Poland, Hungary and the Czech Republic, countries that have barred their doors to Muslim migration.
But Kassam is worried about the United States.
Click here to read it all
---
Facial Recognition ID Begins to Spread from Planes to Trains
Nicholas West, July 31, 2017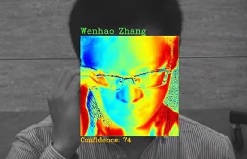 The march continues to accelerate toward a future of biometric ID for all travel.
Regular readers might know that over the past several months I've been covering some disturbing developments at airports in the U.S. and internationally that seem to show an acceleration of the plan to use biometric identification in a variety of ways.
On May 19th I reported on a new program initiated by Delta Airlines at Minneapolis-St. Paul airport to have automated baggage kiosks for "priority customers" that will first scan a traveler's passport, then their face in order to match identity to checked luggage. It was promoted as a "pilot program" that Delta launched to seek customer feedback in the hope that it could be rolled out more widely in the future. That program has now entered phase 2 at Reagan National Airport with biometric boarding passes for rewards members.
JetBlue stated they will "test facial- and fingerprint-recognition technology at two U.S. airports to replace boarding passes, building on industry efforts to increase security and ease passage through airports."
...
OK, so no worries - airline travel sucks these days anyway, right? And most people probably can't even afford it. Well, like every method of incremental control, it doesn't stop where it begins; it just keeps gaining speed as it heads down the proverbial slippery slope.
So here we go – the BBC is reporting on "How facial recognition could replace train tickets."
Click here to read it all
---
The Uninhabitable Earth
Famine, economic collapse, a sun that cooks us: What climate change could wreak - sooner than you think.
David Wallace-Wells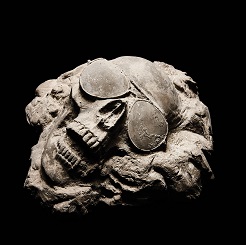 It is, I promise, worse than you think. If your anxiety about global warming is dominated by fears of sea-level rise, you are barely scratching the surface of what terrors are possible, even within the lifetime of a teenager today. And yet the swelling seas - and the cities they will drown - have so dominated the picture of global warming, and so overwhelmed our capacity for climate panic, that they have occluded our perception of other threats, many much closer at hand. Rising oceans are bad, in fact very bad; but fleeing the coastline will not be enough.
Indeed, absent a significant adjustment to how billions of humans conduct their lives, parts of the Earth will likely become close to uninhabitable, and other parts horrifically inhospitable, as soon as the end of this century.
Humans, like all mammals, are heat engines; surviving means having to continually cool off, like panting dogs. For that, the temperature needs to be low enough for the air to act as a kind of refrigerant, drawing heat off the skin so the engine can keep pumping. At seven degrees of warming, that would become impossible for large portions of the planet's equatorial band, and especially the tropics, where humidity adds to the problem; in the jungles of Costa Rica, for instance, where humidity routinely tops 90 percent, simply moving around outside when it's over 105 degrees Fahrenheit would be lethal. And the effect would be fast: Within a few hours, a human body would be cooked to death from both inside and out.
Climate-change skeptics point out that the planet has warmed and cooled many times before, but the climate window that has allowed for human life is very narrow, even by the standards of planetary history. At 11 or 12 degrees of warming, more than half the world's population, as distributed today, would die of direct heat. Things almost certainly won't get that hot this century, though models of unabated emissions do bring us that far eventually. This century, and especially in the tropics, the pain points will pinch much more quickly even than an increase of seven degrees.
Click here to read it all
---
Bible Studies in the White House
Israel National News reported on August 2:
"... senior cabinet members are holding weekly sessions dedicated solely to Bible (both Old and New Testament) study. Ralph Drollinger, a retired NBA player, who has taught weekly Bible lessons in the Senate and the House of Representatives and initiated religious studies in the US House of Representatives of about 40 American states, recently began a weekly class of about 12 members of the Cabinet.
"The lessons include Education Secretary Betsy DeVos, Attorney General Jeff Sessions, and Health and Human Services Secretary Tom Price, and is chaired by Vice President Mike Pence. The meetings are headed by Vice President Mike Pence, whose passion for Bible study is well known ..."
"US President Donald Trump is not known to be particularity devout, having once called the Bible only his second favorite book, after the bestseller which he penned, 'The Art of the Deal.' He did win large amounts of evangelical support however, carrying 80% of the vote, the most since George W. Bush took 78% in 2004."
---
Ray's note: Bible study is certainly a good thing, Unfortunately, there is so much misunderstanding of scripture including on the status of the nation of Israel. Remember that warning in Matthew 24 about deception.
---
I would encourage you to watch the following 16-minute video of some of the signs of the last days that happened around the world recently.
Something Strange is Happening to the Weather! Sep. 16, 2017
"And when these things begin to come to pass, then look up, and lift up your heads; for your redemption draweth nigh." (Luke 21:28)
---
If prophecy of the end of the world is of interest to you and you would like to receive this monthly newsletter containing articles of interest and relevance to prophetic events, please respond using the form below: