Special Resurrection
A special resurrection has happened in several cases. These do not fit into the general resurrections covered in previous pages of this five-part study on Birth, Death and Resurrection (go back to part 3).
In this, part 4, each resurrection is briefly described as we work through this diagram: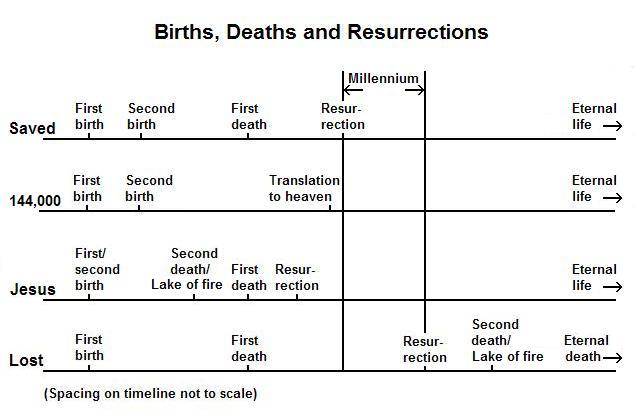 Here are the special resurrections we are considering:

Enoch
"And Enoch walked with God: and he was not; for God took him." (Gen 5:24)
The reason Enoch was resurrected is given in the chapter in Hebrews about heroes of faith:
"By faith Enoch was translated that he should not see death; and was not found, because God had translated him: for before his translation he had this testimony, that he pleased God." (Heb 11:5)
Moses
Moses died and was buried by the Lord:
"So Moses the servant of the LORD died there in the land of Moab, according to the word of the LORD. And he buried him in a valley in the land of Moab, over against Bethpeor: but no man knoweth of his sepulchre unto this day." (Deut 34:5-6)
In the gospels, the account is given of Moses and Elijah appearing with Jesus in the transfiguration:
"And, behold, there appeared unto them Moses and Elias (Elijah) talking with him." (Matt 17:3, also Mark 9:4 and Luke 9:30))
Moses could appear with Jesus centuries after his death because he had been raised to life by Jesus (Michael the Archangel). That event is mentioned in Jude:
"Yet Michael the archangel, when contending with the devil he disputed about the body of Moses, durst not bring against him a railing accusation, but said, The Lord rebuke thee." (Jude 1:9)
Elijah
There is an account of how Elijah was taken to heaven:
"And it came to pass, as they still went on, and talked, that, behold, there appeared a chariot of fire, and horses of fire, and parted them both asunder; and Elijah went up by a whirlwind into heaven." (2 Kings 2:11)
He did not die but was taken directly from the earth to heaven. Some have said that Moses represents those who will die and be raised at the Second Coming and Elijah represents those who will be taken to heaven without experiencing death.
Moses' special resurrection points forward to and he represents those who have or will yet die and be raised at the Second Coming. Elijah's special resurrection points forward to and he represents those who will be translated to heaven without seeing death at the Second Coming.
Paul talked as though he would be part of that group:
"For this we say unto you by the word of the Lord, that we which are alive and remain unto the coming of the Lord shall not prevent them which are asleep. For the Lord himself shall descend from heaven with a shout, with the voice of the archangel, and with the trump of God: and the dead in Christ shall rise first: Then we which are alive and remain shall be caught up together with them in the clouds, to meet the Lord in the air: and so shall we ever be with the Lord." (1 Thess 4:15-17)
It can be shown that the New Testament writers in general believed the Second Coming would occur in their lifetimes.
Those Raised by Jesus During His ministry.
Jesus raised several people to life. These people would have continued their earthly life and died again. Really, they died the first death twice. Also, they experienced two resurrections from death. The first in the same body but relieved of its illness and condition which caused death. The second will be into a glorified, immortal body at the second coming.
Those Raised With Jesus After His Resurrection
Immediately after His own resurrection, Jesus raised an unspecified number of people to life. These were the people whose graves had been opened by the earthquake at Jesus' death.
"Jesus, when he had cried again with a loud voice, yielded up the ghost. And, behold, the veil of the temple was rent in twain from the top to the bottom; and the earth did quake, and the rocks rent; And the graves were opened; and many bodies of the saints which slept arose, And came out of the graves after his resurrection, and went into the holy city, and appeared unto many." (Matt 27:50-53)
After their resurrection they appeared to people in Jerusalem declaring that Jesus had indeed risen from the dead. Then they were taken to heaven later the same morning that Jesus first appeared and they were presented as the first fruits on that feast day.
"Wherefore he saith, When he ascended up on high, he led captivity captive, and gave gifts unto men." (Eph 4:8)
Those that had been captives of death were freed and given the gift of eternal life. This was a very special resurrection in that it was associated with Jesus' own resurrection and the people resurrected were the First Fruits of all the redeemed that will be resurrected at the Second Coming.
Those Raised by the Apostles in Acts
"And there sat in a window a certain young man named Eutychus, being fallen into a deep sleep: and as Paul was long preaching, he sunk down with sleep, and fell down from the third loft, and was taken up dead." (Acts 20:9)
The experience of Eutychus would be the same as that of those restored to life on earth by Jesus during His ministry.

There is one more group of people to consider in regards to birth, death and resurrection. That is the 144,000 (part 5).