Deal of the Century?
Introduction
It looks like the angels are holding back the winds of strife:
"And after these things I saw four angels standing on the four corners of the earth, holding the four winds of the earth, that the wind should not blow on the earth, nor on the sea, nor on any tree. 2 And I saw another angel ascending from the east, having the seal of the living God: and he cried with a loud voice to the four angels, to whom it was given to hurt the earth and the sea, 3 Saying, Hurt not the earth, neither the sea, nor the trees, till we have sealed the servants of our God in their foreheads." (Rev 7:1-3)
Knowing that God does things according to His calendar, each spring and fall in recent years I have wondered if this would be the time (spring or fall Biblical feasts) when we really enter the end times and those four winds begin to blow with hurricane force. This verse may or may not be connected:
"For when they shall say, Peace and safety; then sudden destruction cometh upon them, as travail upon a woman with child; and they shall not escape." (1 Thess 5:3)
The first article speaks of the need for another election in Israel as Benjamin Netanyahu was not able to form a government. The much-anticipated peace plan masterminded by Jared Kushner, President Trump's advisor (also his son-in-law and a Jew) was set to be presented after the Israeli election but has now been postponed until after the new election set for this fall.
The second article mentions that the Palestinians have already rejected the deal and so uncertainly continues in the Middle East. And that uncertainty is only increased by the rising tensions between the U.S. and Iran. While the confrontation prophesied in Daniel chapter 8 did not happen this spring it may not be very far away.
Please read the articles and watch the video at the end. It is readily apparent that the world is not headed in a good direction - expect for those who look forward to the soon return of the world's Redeemer.
Note that I am simply sharing items of interest for your information. That does not imply that I agree with everything presented here or with other material that may be on a source's other web pages.
---
"And ye shall hear of wars and rumours of wars ... nation shall rise against nation, and kingdom against kingdom: and there shall be famines, and pestilences, and earthquakes ..." (Matt 24:6-7)
Prophecy News - April-June 2019
Deal of the Century?
---
New Vote in Israel Puts Trump's Deal of the Century on Ice
Parliament votes to dissolves itself after Netanyahu failed to form a majority coalition.
Joshua Mitnick | May 30, 2019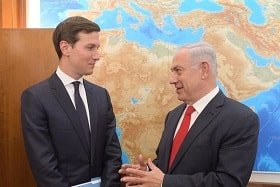 Israeli Prime Minister Benjamin Netanyahu meets with
Jared Kushner in Jerusalem on June 21, 2017. Amos Ben
Gershom/GPO via Getty Images
TEL AVIV, Israel- Israel's decision to hold another parliamentary election this year, just months after voters went to the polls in April, is likely to bury U.S. President Donald Trump's Middle East peace initiative for the foreseeable future, if not for good, according to analysts.
Israeli Prime Minister Benjamin Netanyahu, who won the April vote, failed during weeks of haggling to cobble together a majority coalition. Minutes after his deadline passed on midnight Wednesday, Israel's newly inaugurated parliament voted 74-45 to disband itself without ever confirming a government-an unprecedented development even for the country's infamously volatile political system.
The lawmakers set Sept. 17 as the date for the new election. In the interim, Netanyahu will want to distance himself from any hint of potential concessions to the Palestinians while he courts his hard-right base-in what amounts to a significant setback for Trump's peace team.
"I think that they have to put the plan on ice for the foreseeable future. Nobody in the region was really enthusiastic about receiving this plan," said Daniel Shapiro, who served as the U.S. ambassador to Israel under President Barack Obama.
The administration has been working on a peace initiative since assuming office in 2017 but delayed the rollout after Netanyahu first called the April election and through the weeks of coalition negotiations in order to avoid political difficulty for the prime minister. (This week, Trump even tried in a tweet to prod the coalition negotiations to success.)
"There's no real scope to present a plan during an Israeli election campaign. So now, you basically have to start the clock over again. And the earliest you have a government in place here is November. By then you're getting into Trump's election-year politics, and that becomes a factor. So there's at least a chance that they're never going to release this plan," Shapiro said.
Click here to read it all
---
US postpones announcement of 'deal of the century'
Jun. 3, 2019 Middle East Monitor
Palestinian officials have said that the US and EU are stressing that Donald Trump's "deal of the century" will not be revealed before 2020 due to the ongoing political instability in Israel, Maariv reported on Sunday. The new General Election in Israel scheduled for September is said to be the "main reason" why the announcement of the deal is being postponed.
The fact that the Palestinians have already rejected the proposal, as well as weak support from the Arab world for the deal, are also cited as reasons why it is being postponed. According to the Israeli newspaper, the Palestinians are worried that the delay of the deal "will not stop Israel from reaping its fruits, such as the annexation of the [occupied] West Bank."
Maariv also quoted observers as saying that if the deal is not unveiled now, it will not happen at all, given that 2020 is an election year in the US. Presidential candidates, they argue, will not risk taking any measures that might undermine their chances of victory. The so-called "concessions" to be made by Israel under the terms of the deal will be taken off the table if Trump is not re-elected, the newspaper added.
Click here to read it all
---
On The Brink Of An Apocalyptic War With Iran, And Most Americans Don't Seem To Care
Michael Snyder, May 7, 2019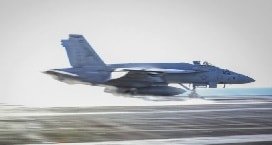 This is the closest that the U.S. has been to a war with Iran in decades, and yet most Americans are either clueless or they don't seem to believe that it could actually happen. And I certainly don't think that President Trump wants a war, but he is surrounded by war hawks that have been pushing an extremely aggressive "get tough" policy with Iran. The Trump administration just canceled the waivers that were allowing other nations to continue purchasing Iranian oil, and the goal of that move is to reduce Iranian exports to zero. But oil exports are 40 percent of the Iranian economy, and the Iranians understand that this move could absolutely cripple their economy. The Iranians have threatened to close the straight of Hormuz in retaliation, and that would almost certainly provoke a U.S. military response. In addition, it is being reported that on Wednesday the Iranians will announce that they are taking steps to restart their nuclear program ...
On Wednesday, Iranian President Hassan Rouhani is expected to announce small steps to resume his country's nuclear program. According to the New York Times, that will include conducting research on centrifuges that can make nuclear fuel, and curbing nuclear inspections from observers.
Of course the truth is that the Iranians never fully abandoned their nuclear program in the first place, but that is supposed to be a big secret.
In any event, tensions between the U.S. and Iran have now reached frightening levels.
Click here to read it all
---
Ray's note: For more on how the coming war involving Iran and likely other Middle-east powers against a western coalition fits with Bible prophecy see an explanation starting at this page.
---
Iran is 'six months away from an atomic bomb'
Former IAEA official says Israel, Gulf states, 'need to be worried' about Iran's emerging nuclear abilities.
Yoni Kempinski May 6, 2019 Israel Nation News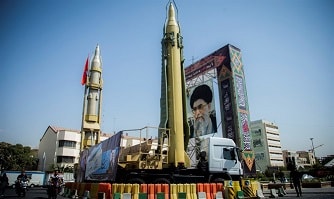 Olli Heinonen, who headed the International Atomic Energy Agency's (IAEA) security team and served as the organizations' deputy director general, on Wednesday morning told Army Radio that Israelis on the whole are not aware of the severity of the Iranian threat.
"Israelis need to be worried, and the Gulf states also have reason for concern," Heinonen said. "How will you be able to ensure your security if Iran achieves nuclear abilities?"
In the full interview, which will be aired Thursday morning, Heinonen said that despite IAEA's claims, Iran can develop nuclear weapons in up to six to eight months.
Slamming IAEA's handling of the threat, Heinonen said the agency ignores Tehran's race to achieve nuclear weapons. In his opinion, even the Trump administration's decision to leave the Joint Comprehensive Plan of Action (JCPOA) or "Iran deal" serves Iran's purposes.
"The Ayatollahs can handle the new sanctions, and in the meantime they're making new centrifuges," he explained.
Click here to read it all
---
Provoking Iran Could Start a War and Crash the Entire World Economy
Fererico Pieraccini, June 23, 2019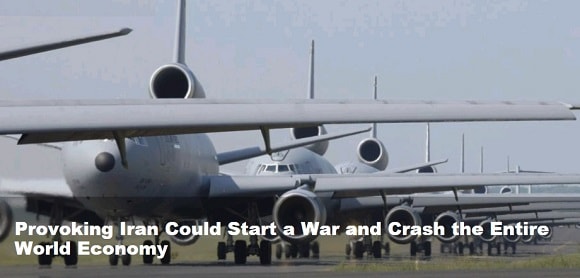 Tensions in the Persian Gulf are reaching a point of no return. In recent weeks, six oil tankers have been subjected to Israeli sabotage disguised to look like Iranian attacks to induce the United States to take military action against the Islamic Republic. Some days ago Iran rightfully shot out of the sky a US Drone. In Yemen, the Houthis have finally started responding with cruise and ballistic missiles to the Saudis' indiscriminate attacks, causing damage to the Saudi international airport of Abha, as well as blocking, through explosive drones, Saudi oil transportation from east to west through one of the largest pipelines in the world.
As if the political and military situation at this time were not tense and complex enough, the two most important power groups in the United States, the Fed and the military-industrial complex, both face problems that threaten to diminish Washington's status as a world superpower.
The Fed could find itself defending the role of the US dollar as the world reserve currency during any conflict in the Persian Gulf that would see the cost of oil rise to $300 a barrel, threatening trillions of dollars in derivatives and toppling the global economy.
The military-industrial complex would in turn be involved in a war that it would struggle to contain and even win, destroying the United States' image of invincibility and inflicting a mortal blow on its ability to project power to the four corners of the world.
Just look at how surprised US officials were about Iran's capabilities to shot down an advanced US Drone:
"Iran's ability to target and destroy the high-altitude American drone, which was developed to evade the very surface-to-air missiles used to bring it down, surprised some Defense Department officials, who interpreted it as a show of how difficult Tehran can make things for the United States as it deploys more troops and steps up surveillance in the region."
Click here to read it all
---
If The U.S. And Iran Go To War, Tens Of Thousands Of Missiles Will Rain Down On Israel
Michael Snyder, June 20, 2019
We could be on the verge of the most cataclysmic war that the Middle East has ever seen. As you will see below, we are being told that there will be a "measured" U.S. response to the downing of a U.S. Navy drone by Iranian forces. In other words, we should expect some sort of U.S. military action against Iran to happen soon. If the Iranians choose not to respond to that attack, that will hopefully be the end of it for a while. But if the Iranians respond by firing their highly advanced anti-ship missiles at U.S. warships in the Persian Gulf, the Trump administration would feel forced to use overwhelming force in return, and that would likely spark an all-out war in the region.
And in the event of an all-out war, Iran would almost certainly hit Israel with a massive barrage of missiles. In fact, last month the Iranian Parliament's vice-speaker Ali Motahhari specifically threatened this sort of an attack ...
Click here to read it all
---
Why A War Against Iran May Bring Bloody Terror All Across America: Iranian Sleeper Cells Are Already Here, Some Embedded For Decades, Poised To Launch Large-Scale Terror Attacks
Experts Warned Iran May Also Use Latin American Countries As 'Launching Pad' To Attack America
Stefan Stanford, Mary 12, 2019


With tensions between the US and Iran now heating up big time as the Pentagon sends an assault ship and Patriot missiles to the Middle East following reports of a potential Iranian threat to US or partner ships in the region, we must take a look back to this April of 2018 story by Adam Credo over at the Washington Free Beacon within which he reported Iranian-backed sleeper cells have long been operating all across America, and mostly unfettered.

As they had reported back then, "experts agreed these 'sleeper cells' are poised to launch a large-scale attack on the American homeland" according to testimony given to Congress. And as we had reported on ANP back in July of 2018, some of those 'sleeper agents' may have been in America for up to 20 years or more, simply blending into society.

As the website Al Arabiya had reported back in August of 2018, the experts who briefed Congress had warned that Iran could launch terrorist attacks targeting American interests at any moment, either through its cells or through its arm, Lebanon's Hezbollah, which is active in Latin American countries.

Click here to read it all
---
Nyandarua governor bans traders from selling on Sunday, asks them to go to church
Erick Kombo Ndubi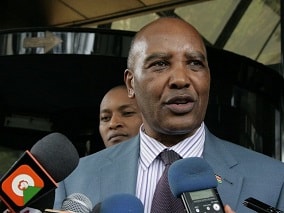 Nyandarua Governor Francis Kimemia
has asked traders to stop selling on
weekends and go to church. Source: UGC
Nyandarua Governor Francis Kimemia has banned Sunday market days insisting traders should go to church instead of selling goods. The county boss said it was ungodly to do business on Sundays, adding that perhaps it was one of the reasons the devolved unit was lagging behind in terms of development.
"Sundays should be dedicated to serving God. Personally, I see it as ungodly for some people to take advantage of the day not to go to church but to the market. My administration will not encourage this," said Kimemia as quoted by the Daily Nation.
He further said God was unhappy with the current way of doing things in the county and insisted it was high time for the residents to turn to Him.
"Maybe God is unhappy with us for not dedicating this day to him. From now henceforth, we want to put God first and it starts with dedicating Sundays as the day to attend church" he added.
Click here to read it all
---
China's new 'social credit system' is a dystopian nightmare
Steven W. Mosher may 18, 2019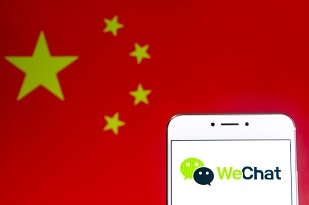 Imagine calling a friend. Only instead of hearing a ring tone you hear a police siren, and then a voice intoning, "Be careful in your dealings with this person."
Would that put a damper on your relationship? It's supposed to.
Welcome to life in China's "Social Credit System," where a low score can ruin your life in more ways than one.
Say you arrive at the Beijing airport, intending to catch a flight to Canton 1,200 miles south. The clerk at the ticket counter turns you away because - you guessed it - your social credit score is too low.
Not only are you publicly humiliated in the ticket line, you are then forced to travel by slow train. What should have been a three-hour flight becomes a 30-hour, stop-and-go nightmare.
All because the government has declared you untrustworthy. Perhaps you defaulted on a loan, made the mistake of criticizing some government policy online or just spent too much time playing video games on the internet. All of these actions, and many more, can cause your score to plummet, forcing citizens onto the most dreaded rung on China's deadbeat caste system, the laolai.
And the punishments are shocking. The government algorithm will go as far as to install an "embarrassing" ring tone on the phones of laolai, shaming them every time they get a call in public.
But an embarrassing ring tone, flight bans and slow trains are just the beginning of the dystopian nightmare that is now daily life in China for tens of millions of people.
A low social credit score will exclude you from well-paid jobs, make it impossible for you to get a house or a car loan or even book a hotel room. The government will slow down your internet connection, ban your children from attending private schools and even post your profile on a public blacklist for all to see.
Click here to read it all
---
Shocking Before And After Photos Reveal The Truth About The Widespread Crop Failures The U.S. Is Facing In 2019
Michael Snyder, June 23, 2019
Torrential rains have been hammering the heartland of America for months, and at this point vast stretches of farmland in the middle of the country are nothing but mud. As a result of the endless rain and unprecedented flooding that we have witnessed, millions of acres of farmland will have nothing planted on them at all in 2019, and that is a major national crisis. But most farmers were able to get seeds planted in the deplorable conditions, and now they are desperately hoping that something will actually grow. Unfortunately, on farm after farm what is coming out of the ground looks absolutely terrible. Even if we get ideal weather conditions for the rest of the summer, there is no way that many of these fields will be ready before the first hard frost arrives. As you will see below, the truth is that we are potentially facing the most widespread crop failures in all of U.S. history.
This is the biggest news story in America so far this year, and the mainstream media is finally starting to understand the gravity of what we are facing. Just consider the following quote from a recent Quartz article ...
The stories across the Midwest are wrenching. Scrolling through the #NoPlant19 hashtag turns up dozens of posts about farmers staring out at soggy fields or farm equipment foundering in deep mud. It's likely many will see their harvests devastated this year, and global grain prices could spike.
But of course a picture is worth a thousand words, and so let me share a before and after photo that a farming couple in Indiana named Kyle and Tori Kline recently shared on Facebook ...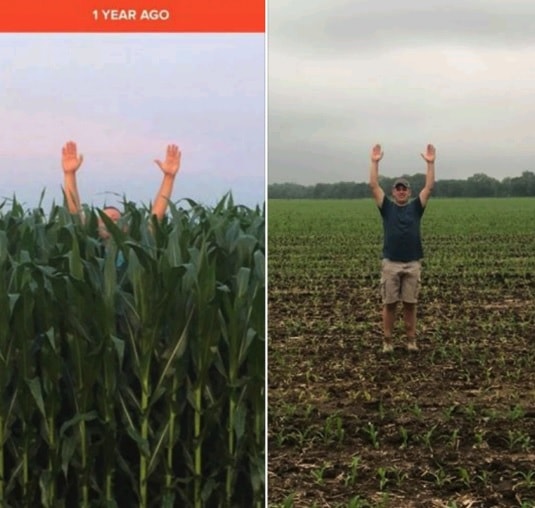 According to Tori, the corn was almost above Kyle's head at this time last year, but today it is barely out of the ground ...
Click here to read it all
---
Ray's note: A more recent article (June 26) shows that the problem, if anything, is getting worse:
---
1,000 Earthquakes In 3 Weeks? Oh Yeah, Those Living Near The San Andreas Fault Definitely Have Reason To Be Concerned
Michael Snyder, June 19, 2019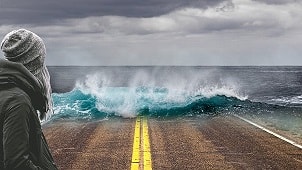 In a key seismic zone approximately 40 miles east of downtown Los Angeles, there have been more than 1,000 earthquakes since May 25th. Needless to say, it would be quite alarming for the entire state of California to experience more than 1,000 significant earthquakes in just 3 weeks, but in this case we are talking about an area that is "less than a square mile" in size. And what makes this even more concerning is that all of these earthquakes are happening in a location that is very close to the San Andreas Fault. Could it be possible that the San Andreas Fault is about to wake up in a major way? I don't know about you, but if I was living in southern California right now I would find this sort of news to be extremely unsettling ...
Click here to read it all
---
More than 500 arrested after protests and clashes as India water crisis worsens
Jessie Yeung and Swati Gupta, June 21, 2019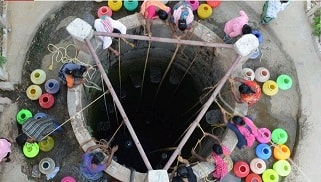 New Delhi (CNN) Millions of people are running out of usable water in the southern Indian city of Chennai, which is experiencing major droughts and a rapidly worsening water crisis.
At least 550 people were arrested Wednesday in the city of Coimbatore for protesting with empty water containers in front of the municipal government's headquarters, accusing officials of negligence and mismanagement. Meanwhile, four reservoirs that supply Chennai, the state capital and India's sixth largest city, have run nearly dry.
With low groundwater levels and insufficient rainwater collection systems, the state government has resorted to trucking water directly into Chennai neighborhoods, where hundreds of thousands of residents wait in line for their meager allocation.
The situation in Chennai reflects an ongoing nationwide crisis as a fatal heat wave sweeps across the country, and cities from Mumbai to Delhi face dwindling water supplies. People have begun fighting over water, with minor clashes across Chennai. Trucks bringing water into cities have even been hijacked and drivers attacked, said Jyoti Sharma, founder and president of FORCE, an Indian NGO working on water conservation.
Click here to read it all
---
An Estimated 150-200 Million Pigs" Have Been Hit By A Global Plague Of Biblical Proportions
April 29, 2019, Michael Snyder
African Swine Fever is the greatest threat to global food production that we have seen since World War II ended. As you will see below, the disease has now spread "to every province in mainland China", and it has now infected "an estimated 150-200 million pigs". To put that number in perspective, that is more pigs than the entire U.S. pork industry produces in an entire year. In other words, the equivalent of the entire U.S. pork industry has just been wiped out. On top of that, African Swine Fever has also spread to Cambodia, Tibet, Romania, South Africa and Vietnam. The losses are staggering, and this crisis continues to get worse with each passing week.
Earlier today I came across a Canadian news article entitled "Why bacon could get a lot more expensive", and in that article a Canadian expert claimed that there are "tens of millions of pigs who have disappeared" in China ...
"The meat of choice in China is pig and disease has been devastating for them," Friendship said. "They have lost a lot of pigs and they will be doing lots of culling."
He noted that although official figures from China suggest the outbreak's effect have been minimal, experts estimate that "we're dealing with tens of millions of pigs who have disappeared."
Friendship estimated the decrease in pigs is roughly the equivalent of what Canada and the U.S. produce combined. And this lack has created a vacuum.
That claim is consistent with the information that I put into an article about this crisis a few weeks ago, but I decided to go hunting for some even newer numbers.
So eventually I ended up over at PorkBusiness.com, and according to them African Swine Fever "is now affecting an estimated 150-200 million pigs" in China ...
Click here to read it all
---
Wild Bee Population Collapses By 90% In New England, Study Warns
Tyler Durden, April 19, 2019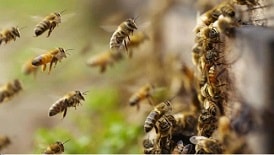 Researchers from the University of New Hampshire conducted a study to document declines in about 100 wild bee species critical to pollinating crops throughout New England. What they discovered, according to the study, was a collapse in the wild bee population across the state, reported AP.
Researchers analyzed 119 species in the state from a museum collection at the college dating back more than a century. Sandra Rehan and Minna Mathiasson published the study in the peer-reviewed journal called Insect and Conservation Diversity this month. They concluded 14 species found across New England were on the decline by as much as 90%. Several of the species include leafcutter and mining bees.
"We know that wild bees are greatly at risk and not doing well worldwide," Rehan, assistant professor of biological sciences and the senior author on the study, said in a prepared statement. "This status assessment of wild bees shines a light on the exact species in decline, besides the well-documented bumblebees. Because these species are major players in crop pollination, it raises concerns about compromising the production of key crops and the food supply in general."
The AP noted that wild bee populations across the world are in decline, and scientists have blamed a wide range of factors including industrialization, insecticides, herbicides, parasites, disease, and climate change. Bees are crucial for pollination, and about one-third of the human diet derives from plants that are directly pollinated by bees.
Click here to read it all
---
Humans are driving one million species to extinction
Landmark United Nations-backed report finds that agriculture is one of the biggest threats to Earth's ecosystems.
Jeff Tollefson May 6, 2019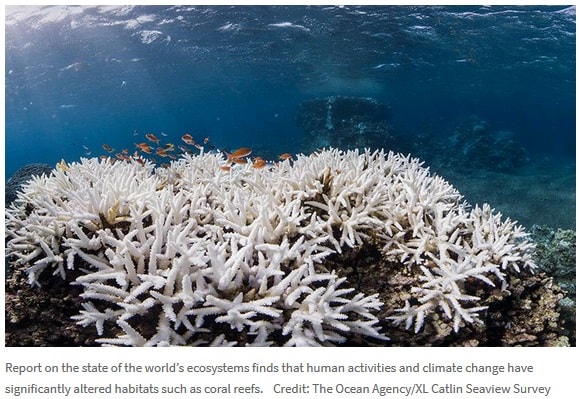 Up to one million plant and animal species face extinction, many within decades, because of human activities, says the most comprehensive report yet on the state of global ecosystems.
Without drastic action to conserve habitats, the rate of species extinction — already tens to hundreds of times higher than the average across the past ten million years — will only increase, says the analysis. The findings come from a United Nations-backed panel called the Intergovernmental Science-Policy Platform on Biodiversity and Ecosystem Services (IPBES).
According to the report, agricultural activities have had the largest impact on ecosystems that people depend on for food, clean water and a stable climate. The loss of species and habitats poses as much a danger to life on Earth as climate change does, says a summary of the work, released on 6 May.
The analysis distils findings from nearly 15,000 studies and government reports, integrating information from the natural and social sciences, Indigenous peoples and traditional agricultural communities. It is the first major international appraisal of biodiversity since 2005. Representatives of 132 governments met last week in Paris to finalize and approve the analysis.
Biodiversity should be at the top of the global agenda alongside climate, said Anne Larigauderie, IPBES executive secretary, at a 6 May press conference in Paris, France. "We can no longer say that we did not know," she said.
"We have never had a single unified statement from the world's governments that unambiguously makes clear the crisis we are facing for life on Earth," says Thomas Brooks, chief scientist at the International Union for Conservation of Nature in Gland, Switzerland, who helped to edit the biodiversity analysis. "That is really the absolutely key novelty that we see here."
Click here to read it all
---
You Must See - 5G APOCALYPSE - THE EXTINCTION EVENT
April 5, 2019
A full length documentary by Sacha Stone exposing the 5G existential threat to humanity in a way we never imagined possible! Please SHARE this as widely as you feel drawn...use it to target your local bureaucrats, technocrats, health practitioners, local and federal government agencies and more than anything else...your family and friends. Featuring in this film: weapons development experts, biologists, molecular & cellular biologists, blood microscopists, activists, as well as good leaders out there on the frontline. We know what this technology is - we know how it was conceived and we know where it is intended to take people and planet. We are drawing the line here....and we are doing so with the full fire of consciousness. Arise Homo sapiens!
---
Summary
The deal of the century may well bring on much more trouble rather than solve the world's toughest problems. We shall have to wait and see. The fact that by later this fall the U.S. will be within one year of the next presidential election may further complicate matters.
In my understanding, the delay or timing of the end times has much more to do with an event mentioned later in the passage quoted at the start of the introduction - the sealing of the servants of God in their foreheads. This may have to do with God's people understanding and accepting ("in their foreheads") God's true character and reflecting it in their lives as they give the last warning messages to the world.
I would invite readers to take a look at my other website www.characterofGod.org which focuses more on that - God's character. I will have another issue of a newsletter that goes with that site very soon as well.
Note that I cannot guarantee the veracity of the information in the stories included in this newsletter. Indeed, it is going to become more and more difficult to be sure the information we receive is not fake. Watch this short video as a warning. Be diligent and know that you can depend on the Word of God.
"And when these things begin to come to pass, then look up, and lift up your heads; for your redemption draweth nigh." (Luke 21:28)
---
If prophecy of the end of the world is of interest to you and you would like to receive this quarterly newsletter containing articles of interest and relevance to prophetic events, please respond using the form below: