Donald Trump on Immigration
Introduction
The first story is about Donald Trump and the immigration of Middle Eastern refugees and what he has to say about it. Will it result in more terrorism within the US? It could be a distinct possibility as some more news stories suggest. The patriot movement in the US is also picking up. One headline refers to Americans preparing for war with their own government - I think that is called Civil War.
The story about China rating of their citizens is interesting. If it can be done in a country with the population of China it could be done anywhere - and quite possibly will be.
The environment is continuing to give us signs of the end with more earthquake and volcanic activity. After record heat in my area in the last couple of months, we had frosts in June - the first I have seen living here for over 20 years. Then there are "Biblical" pestilences and superbugs. Plans are still going ahead in connection with a third Jerusalem temple. With only three minutes to go till Earth's Midnight (on the official Doomsday Clock) there is a report of a huge glacier rapidly crumbling into the Atlantic Ocean. It contains enough ice to (once melted) raise the world's sea level by 18 inches - a huge increase.
Things are getting pretty crazy in this old world. I included only one video at the end of the newsletter that documents some very strange, even disturbing developments. There were several other videos I could have included but some of those were even more disturbing and graphic. The level of violence in society is markedly increasing. I believe we are getting very close to a major crisis.
Note that I am simply sharing items of interest. That does not imply that I agree with everything presented or with other material that may be on a source's other web pages.
---
"And ye shall hear of wars and rumours of wars ... nation shall rise against nation, and kingdom against kingdom: and there shall be famines, and pestilences, and earthquakes ..." (Matt 24:6-7)
Prophecy News - June 2016
Donald Trump on Immigration
---
Trump Warns of Immigration 'Trojan horse,' Clinton Rejects Criticism on 'Name-calling'
FoxNews.com, June 13, 2016
Donald Trump renewed warnings about Middle Eastern refugees and other immigrants coming to America on the heels of Sunday's terror massacre in Orlando, while claiming thousands already are in the country who - like the shooter - are "sick with hate."
Though the gunman, Omar Mateen, was a U.S. citizen, Trump told Fox News on Monday that the U.S. is allowing others into the country who are "no different than this maniac."
"This could be the all-time great Trojan horse," Trump said, of those being admitted from Syria and other nations.
The presumptive Republican presidential nominee has only amplified his warnings about immigration and the terror threat since Sunday's massacre left 49 dead and even more wounded. At the same time, he's aggressively criticized both President Obama and likely general election rival Hillary Clinton for not initially using the term "radical Islam" in describing the shooter's religious background.
Click here to read it all
---
Ben Carson Explains Trump's Muslim Ban Proposal
June 14,2016
Click here to read it all
Ray's note: as I mentioned in the last newsletter, keep an eye on Dr. Ben Carson as this presidential campaign develops. There may be much more than meets the eye to this presidential run by Donald Trump and to Ben Carson's involvement.
---
FBI: 1,000 ISIS Recruits on US Soil
The Horn News, Jun. 8, 2016
Is President Barack Obama more concerned about being politically correct than he is about keeping Americans safe?
According to some critics, yes. And the director of the FBI has a warning - up to a thousand possible ISIS recruits are currently on American soil.
And more may be coming.
So why isn't the president rounding them up?
The director of the FBI said Tuesday that the Islamic State group is currently the main threat facing the United States, both in its efforts to recruit fighters to join its members overseas and to have others carry out violence in America.
Director James Comey said the ISIS group poses a third potential threat: a "terrorist diaspora" that he said will eventually flow out of Syria and Iraq and end up in Western Europe, where members will have easy access to the U.S.
In fact, the FBI is already investigating 1,000 people in the U.S. who may be ISIS recruits or sympathizers.
Click here to read it all
---
[Terror alert] ISIS Planning Major U.S. Attack
The Horn News, May 23, 2016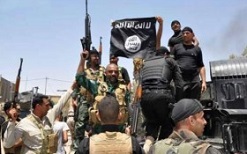 Next week kicks off the unofficial start to summer - but Islamic terrorists are hoping to launch something else entirely, and it has security experts concerned.
ISIS commanders are ordering followers to launch a major attack on Americans on U.S. soil in "celebration" of the Muslim holiday of Ramadan, which begins June 5.
Their objective is simple - kill as many innocent Americans as possible.
"Ramadan, the month of conquest and jihad," declared Abu Mohammed al-Adnani, the madman considered the "official" spokesman for the Islamic State, according to Reuters. "Get prepared, be ready ... to make it a month of calamity everywhere for the non-believers ... especially for the fighters and supporters of the caliphate in Europe and America."
He didn't just call on attacks against American soldiers locked in battle with ISIS in Iraq. He called on terrorist operatives and sleeper cells to launch a wave of terror right here in the United States.
He even urged supporters not to fly to the Middle East to join ISIS's twisted effort, but to stay home and kill on American soil instead.
"The smallest action you do in their heartland is better and more enduring to us than what you would if you were with us," he ranted. "If one of you hoped to reach the Islamic State, we wish we were in your place to punish the Crusaders day and night."
Despite the threat, President Barack Obama has so far failed to respond. The terror threat level remains unchanged, and there are no indications of a beefed-up law enforcement effort.
Click here to read it all
---
Chart: Obama Admin. On Pace to Issue One Million Green Cards to Migrants from Majority-Muslim Countries
Caroline May, June 17,2016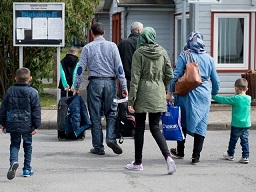 The Obama Administration is on pace to issue more than a million green cards to migrants from majority-Muslim countries, according to an analysis of Department of Homeland Security data.
A chart released by the Senate Subcommittee on Immigration and the National Interest Friday details the surge in immigration to the U.S. from majority-Muslim countries since President Barack Obama took office in 2009.
Specifically, in the first six fiscal years of Obama's presidency (FY2009 - FY2014), his administration issued 832,014 green cards to migrants majority-Muslim countries, the most of which were issued to migrants from Pakistan (102,000), Iraq (102,000), Bangladesh (90,000), Iran (85,000), Egypt (56,000), and Somalia (37,000).
The total 832,014 new permanent residents do not include migrants on temporary, nonimmigrant visas - which allow foreign nationals to come to the U.S. temporarily for work, study, tourism and the like. As the subcommittee notes, the number also does not include those migrants who overstayed the terms of their visas.
Click here to read it all
---
On Eve of Tel Aviv Terror Attack, Hamas Called Ramadan 'Month of Jihad'
Article by group's military wing says that during religious holiday, a fighter 'dedicates himself to Islam by day, defends Palestine by night'
Times of Israel Staff, June 12, 2016
Israeli security forces at the scene of a deadly shooting
attack at the Sarona Market shopping center in Tel Aviv,
June 8, 2016. (Gili Yaari/Flash90)
The military wing of Palestinian terror group Hamas called the Muslim holy month of Ramadan the "month of jihad," in an article published on Tuesday - a day before two West Bank terrorists killed four people in an attack in Tel Aviv.
According to the watchdog organization MEMRI, which monitors the Arabic-language media, the Izz ad-Din al-Qassam Brigades's article claims that during the fast month, "the jihad fighter dedicates himself to the study of Islam by day he sets forth to defend his homeland, Palestine, by night."
The article - entitled "Ramadan - The Month of Jihad, Fighting and Victory over the Enemies" - praises "jihad for the sake of Allah [as] the pinnacle of Islam," calling it "one of the best and most noble deeds."
Click here to read it all
---
These Americans Are Preparing For War With Their Own Government
Tyler Durden, May 22, 2016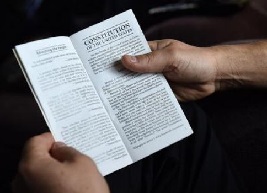 During the Oregon standoff, where a group of US citizens calling themselves the Citizens for Constitutional Freedom, seized control of a federal wildlife refuge in protest of harsh sentences being given to members of a ranching family for allegedly allowing fires set on their property to spread on to federal land, Ron Paul posed a question: Is the event isolated, or a sign of things to come?
It is becoming increasingly apparent that the Oregon standoff was the latter.
As the Washington Post writes, there is a significant movement among US citizens that are demanding that the federal government adhere to the Constitution, and stop what they see as systematic abuse of land rights, gun rights, freedom of speech and other liberties.
One example of this movement is a group in Oregon that calls itself the Central Oregon Constitutional Guard. The group refers to themselves as patriots, and is made up of people from all walks of life. The organization describes itself as a "defensive unit against all enemies foreign and domestic", mainly because they believe the government is capable of unprovoked aggression against its own people.
Deep in the heart of a vast U.S. military training ground, surrounded by spent shotgun shells and juniper trees blasted to shreds, the Central Oregon Constitutional Guard was conducting its weekly firearms training.
"The intent is to be able to work together and defend ourselves if we need to," said Soper, 40, a building contractor who is an emerging leader in a growing national movement rooted in distrust of the federal government, one that increasingly finds itself in armed conflicts with authorities.
Those in the movement call themselves patriots, demanding that the federal government adhere to the Constitution and stop what they see as systematic abuse of land rights, gun rights, freedom of speech and other liberties.
Law enforcement officials call them dangerous, delusional and sometimes violent, and say that their numbers are growing amid a wave of anger at the government that has been gaining strength since 2008, a surge that coincided with the election of the first black U.S. president and a crippling economic recession.
Click here to read it all
---
Key Supreme Court Justice Planning to Retire?
The Horn News, June 20, 2016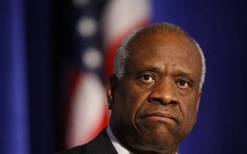 Supreme Court Justice Clarence Thomas has been a fierce defender of conservative principals for the decades he's served on the Supreme Court.
Since being nominated by George H.W. Bush in 1991, Thomas has been a key conservative vote on the nation's highest court.
And, according to at least one report, he could be ready to retire.
Newsmax reported today that, "Supreme Court Justice Clarence Thomas is reportedly considering retirement from the nation's high court after this year's presidential election."
The court is currently split 4-4, and the next president would be expected to immediately replace the seat opened by the death of conservative Justice Antonin Scalia, providing a one-vote edge in the court.
If Thomas were to also leave, and presumptive Democratic presidential candidate Hillary Clinton were to win, ...
Click here to read it all
---
Migrant Crime Wave Slams Germany
June 8, 2016
Republican presidential candidate Donald Trump has warned time and again that allowing unvetted refugees into the West would be a huge mistake, and crime would follow in their wake.
According to a shocking new report, Trump was right - and Germany is paying the price for not listening.
"Migrants in Germany committed or tried to commit some 69,000 crimes in the first quarter of 2016, according to a police report that could raise unease, especially among anti-immigrant groups, about Chancellor Angela Merkel's liberal migrant policy," Reuters reported, including over 750 sex crimes.
Germany was the top destination for asylum-seekers entering Europe last year, and an estimated million migrants swarmed into the country in 2015.
With the refugees mass arrival has come an upswell of crimes, most notably sexual assaults against women.
On New Year's Eve in Cologne, hundreds of women filed police reports that ...
Click here to read it all
---
The Largest Behavioral Conditioning Experiment in History Has Begun
Kade Hawkins, Oct. 22, 2015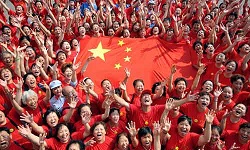 The largest behavioral conditioning experiment in the history of mankind has just begun in China and, for those who value their freedoms in the West, one can only pray it never makes it here.
A citizen score system has been developed which will rate each citizen on the basis of their political views, their expression on social media, the kinds of purchases they make, and their credit scores.
These scores, ranging between 350-950, will be taken into account when handing out loans, approving travel visas, and other grants from the government.
Such scores could also be used to determine who will have access to certain types of jobs. Essentially, your life opportunities will be determined by this score.
Where this system gets even more manipulating is that the scores of one's family and friends can also affect your score, thereby ensuring a social pressure to behave in the approved manner lest it affect those you know and care about.
Click here to read it all
---
World in Chaos, Israel Gets Singular Focus at UN Rights Body
Associated Press, Jun 13, 2016
GENEVA - Wars in Iraq, Syria and Yemen have killed hundreds of thousands of people. Enforced disappearances, torture and extremist attacks infringe on human rights worldwide. Tyrannical, autocratic leaders and their allies from Belarus to Burundi repel dissent with an iron fist.
But while human rights abuses are legion in these troubled times, only one country has its record inspected at every single session of the United Nations Human Rights Council: Israel, over its policies in the occupied Palestinian territories.
Israel, which trumpets its bona fides as a democracy in a difficult neighborhood full of enemies, is crying foul. And it is not entirely alone: Other critics, notably the United States, also decry what they see as an entrenched bias in United Nations institutions and an obsession with the Palestinian issue at the expense of other crises around the globe.
As the council convenes Monday in Geneva for its second, weeks-long session this year, "Item 7" considers the human rights implications of Israel's occupation of Palestinian territory. The standing item at the 10-year-old council has come to exemplify the spotlight on Israel in a number of U.N. bodies.
"I don't know whether it's fair or unfair, but it's obvious that the majority of members want to continue to focus on the situation of Israel and Palestine," council president Choi Kyong-lim told The Associated Press.
Click here to read it all
---
Major Eruption Imminent? Earthquake Swarms Reported At Mt. Hood, Mt. Rainier And Mt. St. Helens
Michael Snyder, on May 17th, 2016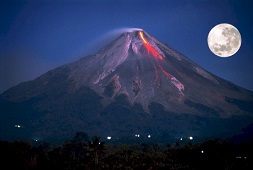 Is an eruption of one or more of the major volcanoes in the northwest United States imminent? In recent days, very large earthquake swarms have been reported at Mt. Hood, Mt. Rainier and Mt. St. Helens. It is certainly not unusual for each of these volcanoes to experience earthquake swarms from time to time, but right now we are seeing this happen at all three volcanoes simultaneously, and this comes at a time when seismic activity along the Ring of Fire is on the rise all over the planet. If you have followed my work for a while, then you probably already know that I have been consistently warning that an eruption of Mt. Rainier is coming, and of course Mt. Hood and Mt. St. Helens are exceedingly dangerous volcanoes as well. If any one of the three were to erupt on a massive scale, it would instantly become the biggest news story of the year.
Mt. St. Helens
Many of my older readers remember the devastating eruption of Mt. St. Helens back in 1980 very well. This volcano is probably not as dangerous as Mt. Hood, and it is definitely not as dangerous as Mt. Rainier, but a full-blown eruption could still do an immense amount of damage to nearby communities.
Over the past couple of months, there has been a very disturbing series of earthquakes at Mt. St. Helens, and just within the last 30 days there has been a total of 103 quakes.
Click here to read it all
---
Ray's Note: Read the rest of the article at the link above about other, more-dangerous volcanoes. I remember standing in my backyard and hearing the far-away explosion when Mt. St. Helens blew. We got a light dusting of ash but the other two volcanoes are even closer.
---
Meanwhile, California Fault Lines And The Area Around Yellowstone Are Shaking Like Crazy
Michael Snyder, June 14th, 2016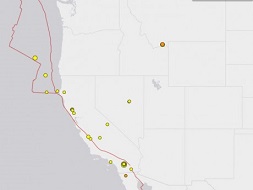 Latest Earthquakes - USGSOver the past few days the mainstream media has been fixated on the largest mass shooting in U.S. history, but meanwhile there has been highly unusual seismic activity along major fault lines in California and near the Yellowstone supervolcano. Let's talk about Yellowstone first. In recent months, the big geysers have been behaving very strangely and this is something that my wife and I covered on our television show. And now, just over the past week there have been three very significant earthquakes in the region. On June 9th, there was a magnitude 3.7 earthquake, on June 13th there was a magnitude 4.3 earthquake and earlier today there was a magnitude 4.0 earthquake. Yes, the area around Yellowstone is hit by earthquakes all the time, but most of them are extremely small. For earthquakes of this size to be striking right around Yellowstone is highly unusual and more than just a little bit alarming.
Click here to read it all
---
'Biblical' Moth Influx Threatens to Devastate Crops
By Pallab Ghosh Science correspondent, BBC News June 14, 2016
Scientists have learned that cabbage and cauliflower crops could potentially be "devastated" by a species of moth arriving from continental Europe.
BBC News understands that tens of millions of diamondback moths are thought to have come to the UK in the past week.
This is 100 times the number that arrive in the entire year.
Researchers describe the species as a "super pest" because it is thought to be resistant to several insecticides.
An alert has been issued by researchers at the Rothamsted Research in Harpenden in Hertfordshire.
The Twitter feed @migrantmothUK reported a two mile cloud of moths on Saturday night near Leominster. One subscriber to the feed reported that it was like "driving through rain".
Steve Nash, who administers the feed, said much worse was yet to come.
"Once the progeny of this influx arrives in mid-July, numbers could be biblical," he said.
Click here to read it all
---
The Superbug that Doctors have Been Dreading Just Reached the U.S.
Lena H. Sun and Brady Dennis, May 27, 2016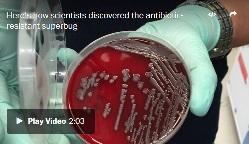 For the first time, researchers have found a person in the United States carrying bacteria resistant to antibiotics of last resort, an alarming development that the top U.S. public health official says could mean "the end of the road" for antibiotics.
The antibiotic-resistant strain was found last month in the urine of a 49-year-old Pennsylvania woman. Defense Department researchers determined that she carried a strain of E. coli resistant to the antibiotic colistin, according to a study published Thursday in Antimicrobial Agents and Chemotherapy, a publication of the American Society for Microbiology. The authors wrote that the discovery "heralds the emergence of a truly pan-drug resistant bacteria."
Click here to read it all
---
Priests Re-learn How to Bring Ancient Harvest Bread Offering to Temple
y Adam Eliyahu Berkowitz June 14, 2016
Jewish priests bring the Omer offering in preparation for
the Third Temple. (Adam Propp)
On Monday, a reenactment of a special Temple service was held in Jerusalem on the Armon Hanatziv Promenade. To a casual observer, it resembled a country fair. Families gathered for a pleasant afternoon, children gawked at displays of goats and produce, while the main event, a bake-off, featured two very unusual looking loaves of bread. It became clear this was not your normal gathering of farmers when bearded men in flowing white robes began to blow on long silver trumpets.
This full-dress reenactment of the Omer offering was an essential part of preparing for the rebuilding of the Jewish Temple, bringing it closer in the most practical ways.
On the first night after Passover, Jews begin counting the Omer, marking off seven complete weeks and culminating in the holiday of Shavuot (Festival of Weeks), which this year took place on June 12. Most people associate the holiday with celebrating the day on which Jewish tradition holds God gave the Torah to Israel at Mount Sinai, but the festival looked very different in the days of the Temple.
Click here to read it all
---
Noam Chomsky: The Doomsday Clock Is Nearing Midnight
Noam Chomsky, TomDispatch June 13, 2016
[This essay is excerpted from Noam Chomsky's new book, Who Rules the World?]
In January 2015, the Bulletin of the Atomic Scientists advanced its famous Doomsday Clock to three minutes before midnight, a threat level that had not been reached for 30 years. The bulletin's statement explaining this advance toward catastrophe invoked the two major threats to survival: nuclear weapons and "unchecked climate change." The call condemned world leaders, who "have failed to act with the speed or on the scale required to protect citizens from potential catastrophe," endangering "every person on Earth [by] failing to perform their most important duty - ensuring and preserving the health and vitality of human civilization."
As 2015 ended, world leaders met in Paris to address the severe problem of "unchecked climate change." Hardly a day passes without new evidence of how severe the crisis is. To pick almost at random, shortly before the opening of the Paris conference, NASA's Jet Propulsion Lab released a study that both surprised and alarmed scientists who have been studying Arctic ice. The study showed that a huge Greenland glacier, Zachariae Isstrom, "broke loose from a glaciologically stable position in 2012 and entered a phase of accelerated retreat," an unexpected and ominous development. The glacier "holds enough water to raise global sea level by more than 18 inches (46 centimeters) if it were to melt completely. And now it's on a crash diet, losing 5 billion tons of mass every year. All that ice is crumbling into the North Atlantic Ocean."
Click here to read it all
---
Watch the following video: (15 min) Strange "Demonic" Attacks Happening Worldwide!
This starts with some video of the opening ceremoines of a 15-km long railway tunnel through the Swiss Alps. It is strange - really, really strange, even demonically strange.
"And when these things begin to come to pass, then look up, and lift up your heads; for your redemption draweth nigh." (Luke 21:28)
---
If prophecy of the end of the world is of interest to you and you would like to receive this monthly newsletter containing articles of interest and relevance to prophetic events, please respond using the form below: