Food Crisis , Where has Justice Gone? and Imminent Catastrophe
A looming food crisis makes even non-Christians worry. A lack of justice (remember the Judge Roy Moore story?) shows that the system is broken and needs replacing. An imminent catastrophe may soon change everything. Just some cherry things I have to share with you this month. But cheer up, these are all more signs that the end it near.
Note that I am simply sharing items of interest. That does not imply that I agree with everything presented.
Prophecy News - 2009 March
Food Crisis, Where has Justice Gone? and Imminent Catastrophe?

John Kinsman: Nation's Food System Nearly Broke
By: John Kinsman / The Capitol Times, Madison.com / February 26, 2009
"As our government enacts a stimulus package and President Barack Obama announces bold initiatives to stem home mortgage foreclosures, disaster threatens family farmers and their communities.
"The government's response to plummeting commodity prices and tightening credit markets leads to the basic question: Who will produce our food? This is a worldwide crisis.
"Many U.S. farmers are going out of business because they receive prices equal to about one half their cost to produce our food. How long could any enterprise receiving half the amount of its input costs stay in business?
"'Free trade' and other regressive agricultural policies have decimated farms. We are now a food deficit nation dependent on food imports, often of questionable quality.
"Our food system is nearly broke, which is almost as serious as our country's financial meltdown.
"As more farmers face bankruptcy, we all face a food emergency. European farmers speak from thousands of years of experience on the importance of family farms when they warn us, 'Any time a country neglects its family farm base and allows it to become financially bankrupt, the entire economy of that country will soon collapse. It may take generations to rebuild the farm economy and that of the country.'
"Despite the magnitude of this food emergency, the 'farm crisis' does not appear in headlines.
John Kinsman, a dairy farmer from La Valle, is president of Family Farm Defenders, based in Madison.
Ray's comment: I have long thought that God's people should be learning how to produce some or much of our food. I have started a new blog www.greens-for-health.blogspot.com There is not much there yet but I will be adding to it. Sign up to follow me on this blog if you wish.
---
Record Dry Start to 2009 Worries Farmers, Firefighters
By: Oren Dorell / CNN.com / March 11, 2009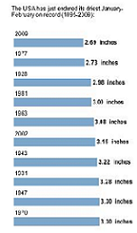 "The first two months of 2009 are the driest start of any year since the USA began keeping records over a century ago, leading to severe drought in Texas, dipping reservoir levels in Florida and a surge in wildfires across the nation.

Farmers, cattlemen, firefighters and others worry that the dry start may be a harbinger of a bleak summer that could lead to increasing risk of fire and poor crop conditions.
Cattle rancher Jim Selman of Gonzales, Texas, has sold all but 30 of his 300 to 400 breeding cows because his pasture is too dry to feed them. "It might take me 10 years or more to get back where I was," he says. "It's so dry."
Richard Heim, a meteorologist at the National Oceanic and Atmospheric Administration's National Climatic Data Center, said the 2.69-inch average rainfall across the U.S. in January and February is the least amount of moisture in those months since NOAA began keeping records in 1895.
So far this year, the National Interagency Fire Center in Boise has logged 11,814 wildfires, the most for any two-month period in a decade and almost 3,700 more than the average.
---
What Happened to Judge Roy Moore from Alabama?
Alabama Chief Justice Roy Moore was suspended for refusing to remove a 5,000-pound monument emblazoned with the Ten Commandments which he installed in the state's Supreme Court building.
The poem below, part of which is attributed to Judge Roy Moore, sums up many people's feelings quite well:

America the beautiful,
or so you used to be.
Land of the Pilgrims' pride;
I'm glad they'll never see.
Babies piled in dumpsters,
Abortion on demand,
Oh, sweet land of liberty;
your house is on the sand.
Our children wander aimlessly
poisoned by cocaine,
choosing to indulge their lusts,
when God has said abstain.
From sea to shining sea,
our Nation turns away
From the teaching of God's love
and a need to always pray.
We've kept God in our temples,
how callous we have grown.
When earth is but His footstool,
and Heaven is His throne.
We've voted in a government
that's rotting at the core,
Appointing Godless Judges;
who throw reason out the door,
Too soft to place a killer
in a well deserved tomb,
But brave enough to kill a baby
before he leaves the womb.
You think that God's not angry,
that our land's a moral slum?
How much longer will He wait
before His judgment comes?
How are we to face our God,
from Whom we cannot hide?
What then, is left for us to do,
but stem this evil tide?
If we who are His children,
will humbly turn and pray;
Seek His holy face
and mend our evil way:
Then God will hear from Heaven;
and forgive us of our sins,
He'll heal our sickly land
and those who live within.
But, America the Beautiful,
If you don't -- then you will see,
A sad but Holy God
withdraw His hand from Thee.
Ray's Comment: I'm not much into poetry but I liked this poem because of the last two lines. I am coming to realize more and more that what we see as God's judgments are actually Him withdrawing His hand or His protection when He is not welcome. See my offer of a free book about God's character that explains this very well.
---

Famed Pastor Predicts Imminent Catastrophe
Best-selling author, Teen Challenge founder, sees 'earth-shattering calamity about to happen' By: Dick Morris and Eileen McGann / WorldNetDaily.com / March 8, 2009
"A respected pastor, best-selling author and founder of a major ministry to teens predicts an imminent 'earth-shattering calamity' centered in New York City that will spread to major urban areas across the country and around the world -- part of what he sees as a judgment from God.
David Wilkerson, author of 'The Cross and the Switchblade,' a book about his ministry to troubled New York street kids that was later made into a movie starring Pat Boone, tells readers of his blog this weekend that he is 'compelled by the Holy Spirit to send out an urgent message' about his prediction.
"'An earth-shattering calamity is about to happen,' he writes. 'It is going to be so frightening, we are all going to tremble -- even the godliest among us.'
"Wilkerson's vision is of fires raging through New York City."
"It will engulf the whole megaplex, including areas of New Jersey and Connecticut. Major cities all across America will experience riots and blazing fires - such as we saw in Watts, Los Angeles, years ago," he explains. "There will be riots and fires in cities worldwide. There will be looting - including Times Square, New York City. What we are experiencing now is not a recession, not even a depression. We are under God?s wrath. In Psalm 11 it is written, "If the foundations are destroyed, what can the righteous do?"
Ray's comment: Does this sound somewhat familiar?
"On one occasion, when in New York City, I was in the night season called upon to behold buildings rising story after story toward heaven. These buildings were warranted to be fireproof, and they were erected to glorify their owners and builders. Higher and still higher these buildings rose, and in them the most costly material was used."
"As these lofty buildings went up, the owners rejoiced with ambitious pride that they had money to use in gratifying self and provoking the envy of their neighbors."
"The scene that next passed before me was an alarm of fire. Men looked as the lofty and supposedly fireproof buildings and said: "They are perfectly safe." But these buildings were consumed as if made of pitch. The fire engines could do nothing to stay the destruction. The firemen were unable to operate the engines."
Someone else predicted this over 100 years ago - E. G. White, Testimonies 9, 12-13
---
If news of a food crisis or other physical or social problems in the world that might relate to end time events is of interest to you and you would like to receive this newsletter (approximately) monthly respond using the form below.
Return from Food Crisis to Prophecy News Index
Return from Food Crisis to Jesus' Resurrection Home Page