Revelation 7:1 Four Winds Still Delayed
Introduction
Revelation 7:1 speaks of angels holding back winds (events) that would cause destruction. It is done for the purpose of allowing the servants of God to be sealed in their foreheads (verse 3) with the Father's name (Rev 14:1) or character.
"And after these things I saw four angels standing on the four corners of the earth, holding the four winds of the earth, that the wind should not blow on the earth, nor on the sea, nor on any tree. And I saw another angel ascending from the east, having the seal of the living God: and he cried with a loud voice to the four angels, to whom it was given to hurt the earth and the sea, Saying, Hurt not the earth, neither the sea, nor the trees, till we have sealed the servants of our God in their foreheads." (Rev 7:1-3)
Satan is going about causing destruction. He is well-described by these verses:
"The thief cometh not, but for to steal, and to kill, and to destroy: I am come that they might have life, and that they might have it more abundantly." (John 10:10)
"Be sober, be vigilant; because your adversary the devil, as a roaring lion, walketh about, seeking whom he may devour:" (1 Peter 5:8)
More than anything, it has been Satan's object to misrepresent the character of God Who is love. He would certainly be interested in preventing the manifestation of that character in God's people which is why he would look to cause all the distraction he could by making life on Earth hard. God is holding him back and part of that may be the delayed Israeli election process. The connection being that end-time events do have a strong connection to events in Israel. Since the spring election was a deadlock, we have just had a fall election and it looks like the same situation may lead to a third election a few months from now. The U.S.-backed Middle East peace plan is being delayed as a result. Meanwhile, tension is continuing to rise between Iran and the U.S. and its allies especially Saudi Arabia.
Note that I am simply sharing items of interest for your information. That does not imply that I agree with everything presented here or with other material that may be on a source's other web pages.
---
"And ye shall hear of wars and rumours of wars ... nation shall rise against nation, and kingdom against kingdom: and there shall be famines, and pestilences, and earthquakes ..." (Matt 24:6-7)
Prophecy News - July - September 2019
Revelation 7:1 The Four Winds
---
We're a Lot Closer to War in the Middle East Than You've Been Told
An attack on Saudi oil facilities threatens the global economy and practically dares the U.S. to retaliate. If that weren't dangerous enough, Trump is president.
Christopher Dickey, World News Editor, Sep. 18, 2019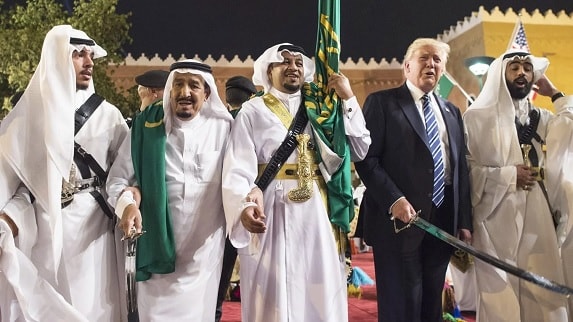 Ever since Donald Trump became America's commander in chief and started creating diplomatic crises around the world, the question has loomed: how will he react if he faces a violent challenge that appears to demand a military response?
Well, that's happening right now. The attacks on Saudi Arabia early Saturday morning, cutting its oil production in half, have us on the brink of a huge new Middle East conflict, a massive surge in oil prices, and a global recession.
The administration is blaming Iran, and may well be right about that. It's highly unlikely that Houthi rebels in Yemen, who claimed responsibility for lighting up the sky with Saudi Arabia's most important petroleum processing plant, had the means on their own to carry out such an operation.
Trump should worry. Very grim scenarios are on the near horizon even if much of the American public is not yet aware at a moment when most of the media focus obsessively on domestic political issues, and market analysts try to suppress a growing sense of panic. ...
Click here to read it all
---
Exclusive: Zarif threatens 'all-out war' in case of military strike on Iran
Nick Paton Walsh, CNN, Sep. 20, 2019
Tehran, Iran (CNN) Iran's foreign minister has warned of "all-out war" in the event of US or Saudi military strikes against his country, and questioned whether Saudi Arabia was prepared to fight "to the last American soldier."
Javad Zarif told CNN that Iran hoped to avoid conflict, adding that the country was willing to talk to its regional rivals Saudi Arabia and the United Arab Emirates. But Iran would not hold talks with the US unless Washington provided full relief from sanctions as promised under the 2015 nuclear deal, Tehran's top diplomat said.
He again denied that Iran was involved in weekend attacks on Saudi Arabia's oil facilities, which dramatically ratcheted up tensions in the region. Zarif said Yemen's Iranian-backed Houthi rebels, who claimed responsibility for the attack, have stepped up their military capabilities and were capable of conducting a sophisticated operation such as the one that knocked out half of the kingdom's energy production.
Probed further, however, Zarif was unable to provide proof that Houthis launched the drones and missiles. "I cannot have any confidence that they did it because we just heard their statement," said Zarif. "I know that we didn't do it. I know that the Houthis made a statement that they did it."
US and Saudi officials have repeatedly dismissed Houthi claims of responsibility in the weekend attacks. Instead, they have pointed the finger at Iran. ...
Click here to read it all
---
Iran will be a full nuclear power by the end of 2020
By Elijah J. Magnier, Sep. 9, 2019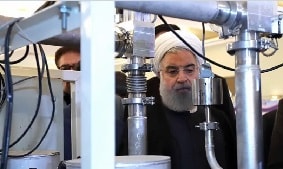 French President Emmanuel Macron failed to promote successfully his Iranian initiative with the US administration despite the initial blessing of his US counterpart. This failure led Iran to make a third gradual withdrawal from its JCPOA nuclear deal commitment, raising two main issues. Iran has become a regional power to be reckoned with, so we can now scrap from reactions to its policies the words "submit," or "bow to the international community". Moreover, since Europe is apparently no longer in a position to fulfil its commitments, Iran will now be headed towards a total pull-out following further gradual withdrawal steps. Just before the US elections due in November 2020, Iran is expected to become a nuclear country with the full capability of producing uranium enriched to more than 20% uranium-235, weapons-usable and therefore in a position to manufacture dozens of nuclear bombs (for which uranium must be enriched to about 90%). However, this does not necessarily mean that this is Iran's ultimate objective.
Iran is becoming stronger and much more difficult to tame than in the past. It is imposing itself as a regional power and a challenge to the west. It has advanced nuclear technology and capabilities, a self-sufficient armament programme and it is strengthening its allies in the Middle East.
It is difficult to foresee any negotiation between Iran and the West before November 2020, the date of the US elections. Iran is no longer willing to accept in 2019 what it signed in 2015; Trump is responsible for the new scenario. Destroying the nuclear deal now redounds to the benefit of Iran. There will be a time when the US administration, due to the realisation of its ignorance in Iranian affairs, will feel regret, and will ask to return to the negotiating table- perhaps after Trump? But conditions will definitely no longer be the same and it may very well come too late to see Iran accepting what it signed for in 2015.
Click here to read it all
---
'Nothing will be left of Israel' if it attacks us, Iranian commander threatens
IRGC's deputy head of operations says 'bits and pieces of Tel Aviv' will have to be collected from Mediterranean if Israel makes 'strategic mistake'
Times of Israel Staff and Agencies, Sep. 28, 2019
If Israel attacks Iran, it will have to collect "bits and pieces" of Tel Aviv from the Mediterranean Sea, an Iranian commander threatened on Saturday.
"Iran has encircled Israel from all four sides. Nothing will be left of Israel," said Abbas Nilforoushan, the deputy commander of operations of the Iranian Revolutionary Guard Corps (IRGC), in an interview with the Iranian news agency Tasnim. "Israel is not in a position to threaten Iran," he said according to a translation published by Radio Farda, the Iranian branch of the US government-funded Radio Free Europe/Radio Liberty.
Iran has been on edge, fearing an attack on the country over a drone-and-missile strike on Saudi Arabia's oil industry earlier this month attributed to Tehran. Yemen's Iranian-backed Houthi rebels have claimed the attack, but the US alleges Iran carried out the assault.
Click here to read it all
---
Ray's note. The major players in the following item:
Benjamin Netanyahu - current Israeli Prime Minister, Likud Party
Benny Gantz - top challenger, Blue and White Party
Reuven Rivlin - President of Israel
Knesset - Israeli parliament
---
Netanyahu to 'Return Mandate' Next Week, Israeli Media Report
Sep. 28, 2019
The Prime Minister was given 28 days with a possible 14-day extension to form a government, but Israeli media suggest he won't wait that long. There are still options to overcome the political deadlock, but party leaders have expressed little interest in pursuing them.
Israeli Prime Minister Benjamin Netanyahu will most likely announce as soon as next week that he is unable to form a government, which will bring Israel closer to a third national election. Both Channel 12 and Channel 13 have reported that, despite having 28 days to try to muster a Knesset majority (and 14 more days if an extension is needed), Netanyahu will return his mandate to President Reuven Rivlin as soon as the festival of Rosh Hashanah (Jewish New Year) is over, according to The Times of Israel.
After that, Rivlin will grant the mandate to Netanyahu's rival, Benny Gantz, to try to do the same, but the Times speculates that it is unlikely that the Prime Minister's Likud party lawmakers will switch sides; therefore, Gantz will also come to Rivlin empty-handed. This situation will mean that Israel will begin preparing for a third election, after two elections - this April and September – failed to give a definitive victory to either the Likud or the Blue and White party.
Currently, Netanyahu's Likud leads a 55-seat bloc of ultra-orthodox and right-wing parties, while the Blue and White leads a 54-seat coalition of centrist, left-wing and Arab politicians. The strictly secular Yisrael Beiteinu party could make a difference by throwing in their support to either but so far has refused to do so.
Following negotiations this week, Likud accepted Rivlin's proposal to form a unity government, with rotational premiership, but Blue and White refused to work with Likud as long as Netanyahu, who faces indictment in three criminal cases of corruption, leads the party.
In an attempt to break the deadlock, Rivlin suggested that Netanyahu take a temporary leave of absence until his legal troubles are resolved. While he is away, Gantz could step in as an 'interim Prime Minister' with full ministerial powers, even though Netanyahu and his family would remain in the Prime Minister's residence.
While Likud expressed their interest in the arrangement, it is unclear if Netanyahu would actually take a leave of absence. A legal precedent in Israel indicates that a Prime Minister can remain in power even after a conviction, until all appeal options are exhausted.
His hearing with the attorney general is scheduled for next Wednesday, according to The Times. Netanyahu denies all the charges, claiming that he is a victim of a "political witch hunt", involving media, opposition, police and state prosecutors, the report says.
Click here to read it all
---
'The Family': The Evangelicals Trying to Turn America Into a Theocracy
Netflix's new five-part series "The Family," now streaming, explores an elite coalition of Christians with enormous influence in American politics.
Nick Schager Aug. 14, 2019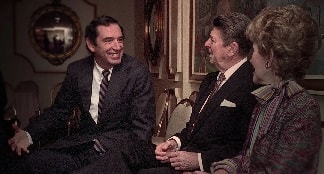 According to The Family, Netflix's unnerving new five-part documentary series, the most powerful club in America is a consortium of religious true believers bound by their fanatical love of Jesus. It has no official membership and requires no dues. It works overtime to avoid publicity. Its ranks are comprised of both Republicans and Democrats.
And it seeks the eradication of the separation of church and state in its quest for its most coveted asset: power.
Available now on the streaming service, Jesse Moss'sminiseries is an adaptation-cum-expansion of The Family (2008) and C Street (2010), two nonfiction books penned by Jeff Sharlet, whose experiences with "the Family" - often also referred to as "the Fellowship"- provide a window onto an invisible world, and movement, hiding in plain sight.
As Sharlet himself explains at length, the Family is a coalition of elite evangelical Christian men who hold positions of governmental authority both here and abroad. They organize the annual National Prayer Breakfast that's hosted every American president since Eisenhower, and they establish and run Bible-study groups around the country. Driven by the belief that they're God's "chosen," hand-selected by Him to lead, they spread the gospel far and wide—and, in doing so, shore up political and social influence right beneath the population's nose.
Their unabashed goal is a global Christian theocracy - no morality, or democracy, required.
Click here to read it all
---
Magnitude 6.3 Quake Off The Oregon Coast Raises Concerns That The Cascadia Subduction Zone Could Soon Rupture
Michael Snyder, Aug. 29, 2019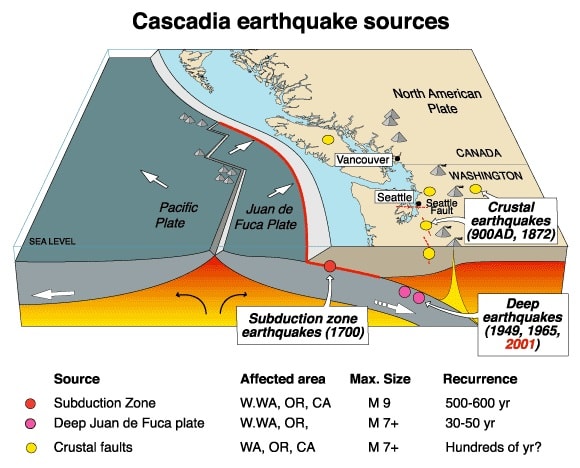 We haven't seen this sort of seismic activity on the west coast in a very long time. Last month, two monster earthquakes in southern California were followed by thousands upon thousands of aftershocks, and the shaking still hasn't stopped. Scientists tell us that the San Andreas fault is "locked and loaded" and that it could potentially "unzip all at once" without any warning at all. But meanwhile, another ominous threat is looming farther north. As you will see below, more than 4,500 earthquakes have rattled the Cascadia Subduction Zone over the last two weeks, and that includes a magnitude 6.3 quake that struck off the coast of Oregon on Thursday.
The Pacific Northwest Seismic Network has detected more than 4,500 tremors over the past two weeks deep beneath the Olympic Peninsula and southern Vancouver Island and from another swarm stretching from Eugene to the Siskiyou Mountains.
...
The key question for seismic network director Harold Tobin at the University of Washington (UW) is whether the current slow slip has implications for the feared Big One, a large Cascadia earthquake. "There could be a heightened chance that that would be adding stress to the part of the plate we actually worry about, which is the 'locked zone' or the seismogenic zone, for the big earthquake," Tobin told public radio on Tuesday. "But the fact is the jury is very much out on that. That is a hypothesis, but we don't know."
...
If the entire zone gives way at once, an event that seismologists call a full-margin rupture, the magnitude will be somewhere between 8.7 and 9.2. That's the very big one.
... By the time the shaking has ceased and the tsunami has receded, the region will be unrecognizable. Kenneth Murphy, who directs FEMA's Region X, the division responsible for Oregon, Washington, Idaho, and Alaska, says, "Our operating assumption is that everything west of Interstate 5 will be toast."
Click here to read it all
---
Indonesia To Erect New Capital City In Borneo As Jakarta Sinks Into Java Sea
Tyler Durden, Aug. 29, 2019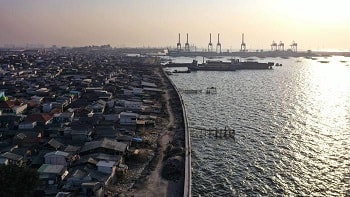 Jakarta has long been slowly sinking. AFP
A jungle-covered area on the ast of Borneo island has been named as site of Indonesia's next capital city.
With Jakarta suffering from a combination of an exploding population, dramatically lowered standards of sanitation, and overcrowding leading to a near-constant state of traffic gridlock, government leaders were forced to look elsewhere to establish a new political and economic hub for the country.
But crucially, apart from all of the above ills afflicting the country's current capital, it remains that Jakarta's buildings are slowly sinking into the marshlands upon which they were built.
Already among the world's most overpopulated urban regions (over 10 million in the city limits with an estimated 30 million people in the greater metropolitan area), it's long been known as among the fastest-sinking cities on Earth - given scientists recently estimated that at the current rate 95% of North Jakarta will be underwater by 2050, displacing nearly 2 million people, as the city sinks into a bog.
Click here to read it all
---
Temperatures In The Pacific Ocean Have Shot Up To Dangerous Levels, And Scientists Are Blaming A "Strange Anomaly"
Michael Snyder, Sep. 8, 2019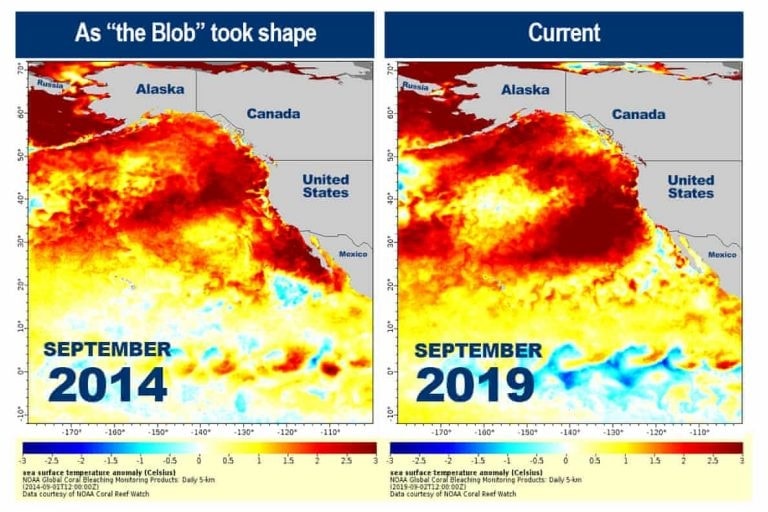 It is being called "the Pacific marine heatwave of 2019", and officials are warning that it could have very frightening implications if it does not dissipate soon. Right now, there is a vast expanse of water stretching from northern Alaska all the way to southern California where the water temperatures have rapidly risen to very dangerous levels. In fact, in some spots the water temperature is already "as much as 6 degrees Fahrenheit above normal", and there is a tremendous amount of concern about what will happen if the water continues to become even warmer. At this point things are already so bad that we are being warned that this strange anomaly could "ravage marine life and decimate commercial fishing" all along the west coast. The following comes from NPR ...
A huge new marine heat wave has gripped the waters off the U.S. West Coast, threatening to ravage marine life and decimate commercial fishing over an expanse of the Pacific Ocean.
Click here to read it all
---
Experts Brace For An Apocalyptic Future As Earth's Forests Burn To The Ground
Michael Snyder, Aug. 27, 2019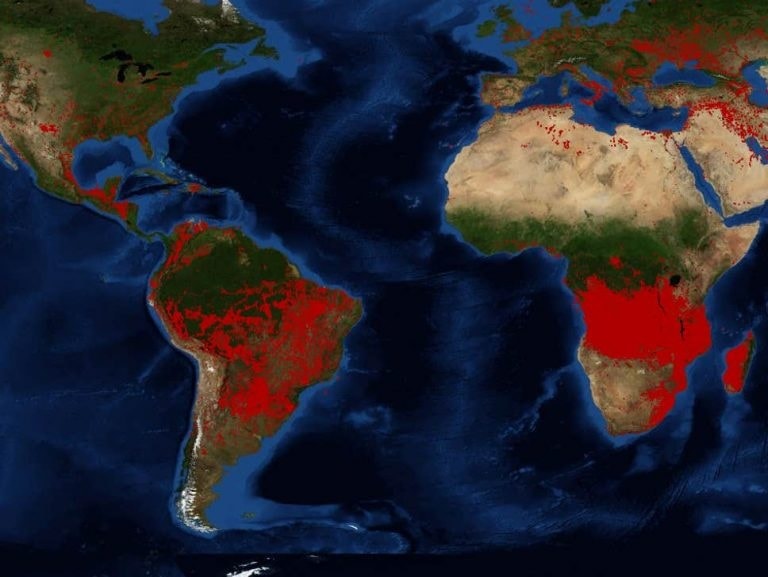 A world without forests would be an apocalyptic wasteland, and right now we are losing our forests at an astounding rate. As you read this article, more than 10,000 wildfires are ripping through forested areas of South America and Africa, and global leaders seem powerless to do anything about it. Most of the media attention has been on the horrific wildfires in the Amazon rainforest, and we are being told that the number of fires in Brazil is up 85 percent compared to last year. But the number of fires is actually much higher in Africa. In fact, it is being reported that there are "approximately five times as many wildfires burning in Africa than in the Amazon" at this point. Our planet is literally being destroyed right in front of our eyes, and a lot of people don't seem to care.
The Amazon rainforest has been described as "the lungs of the Earth" because it produces so much of our oxygen, but many people don't realize that the second largest tropical rainforest in the world is actually in the Congo Basin, and there are even more fires happening there right now.
In fact, according to official data released by NASA, the number of fires in central Africa is more than five times higher than the number of fires currently raging in Brazil ...
Click here to read it all
---
Plants are going extinct up to 350 times faster than the historical norm
Aug. 22, 2019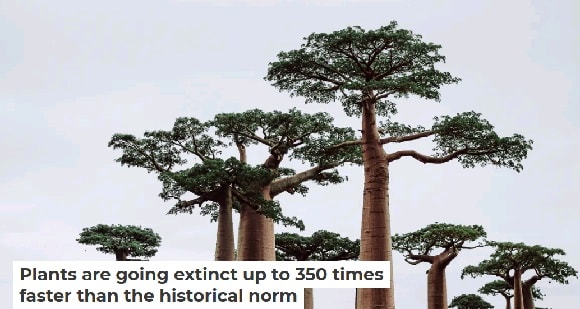 Plant extinctions have skyrocketed, driven in large part by land clearing and climate change
Earth is seeing an unprecedented loss of species, which some ecologists are calling a sixth mass extinction. In May, a United Nations report warned that 1 million species are threatened by extinction. More recently, 571 plant species were declared extinct.
But extinctions have occurred for as long as life has existed on Earth. The important question is, has the rate of extinction increased? Our research, published today in Current Biology, found some plants have been going extinct up to 350 times faster than the historical average - with devastating consequences for unique species.
Click here to read it all
---
North America's Bird Population Is Collapsing – Nearly 3 Billion Birds Have Been Wiped Out Since 1970
Michael Snyder, Sep. 19, 2019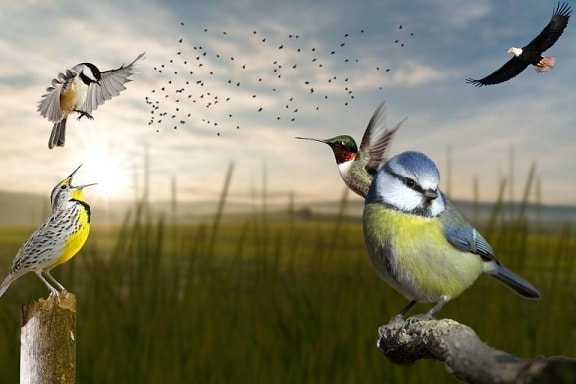 All around us, our world is literally in a state of collapse, but most people don't seem to care. I spend much of my time writing about the inevitable collapse of our economic and financial systems, but they are only one part of the story. These days, millions upon millions of us are spending countless hours in this "virtual world" that we have created, and that is preventing many of us from understanding what is really going on in "the real world". Where I live, I can literally keep the doors wide open for hours without worrying about bugs coming in, because insect populations are disappearing at a pace that is frightening. They are calling it "the insect apocalypse", and some scientists are warning that they could all be gone in 100 years. And this dramatic decline in the insect population is one of the main reasons why North America's bird population is collapsing. In the old days, I remember the singing of birds often greeting me in the morning, but these days I am never awakened by birds. That might make sense if I lived right in the middle of a major city, but I don't. I live in a very rural location, and I do see birds out here, but not nearly as many as I would expect.
Sadly, the scientific evidence is confirming what many of us had feared. According to a scientific study that was just released, North America's bird population has fallen by "nearly 3 billion birds since 1970" ...
If you've noticed fewer birds in your backyard than you used to, you're not mistaken.
North America has lost nearly 3 billion birds since 1970, a study said Thursday, which also found significant population declines among hundreds of bird species, including those once considered plentiful.
On second thought, I don't know if the term "collapse" is strong enough to describe what we are facing.
In 1970, there were about 10 billion birds in North America.
Now, there are about 7 billion.
When are we finally going to admit that we have a major crisis on our hands?
Hopefully it will be before the count gets to zero.
Overall, we are talking about a total decline of approximately 30 percent…
"We saw this tremendous net loss across the entire bird community," says Ken Rosenberg, an applied conservation scientist at the Cornell Lab of Ornithology in Ithaca, N.Y. "By our estimates, it's a 30% loss in the total number of breeding birds."
Could humanity survive without birds?
Probably, but this is yet another sign that the planetary food chain is in the process of totally breaking down. Despite all of our advanced technology, we are not going to survive without an environment that supports life, and at this moment that environment is being destroyed at a staggering pace.
Click here to read it all
---
Zombie Deer Disease Rears Its Ugly Head: Canadian Government Issues Stark Warning About ALWAYS FATAL Infection
Dagny Taggart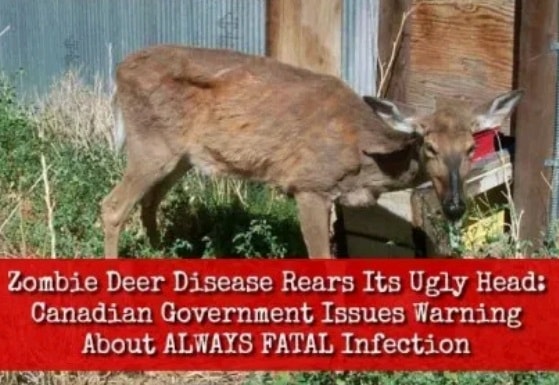 Earlier this year, an infectious disease expert warned that a deadly disease found in deer could infect humans in the near future.
Often referred to as "zombie deer" disease because of the symptoms, Chronic Wasting Disease (CWD) has been reported in at least 26 states in the continental United States and in four provinces in Canada. In addition, CWD has been reported in reindeer and/or moose in Norway, Finland, and Sweden, and a small number of imported cases have been reported in South Korea. The disease has also been found in farmed deer and elk.
To view a map that shows the distribution of CWD in North America, Click here
CWD was recently detected in a herd of deer in Canada.
On July 26, the Canadian Food Inspection Agency (CFIA) confirmed a case of CWD in a herd of white-tailed deer, reports Global News:
An Alberta deer farm recorded Canada's third case of a so-called "zombie deer disease" last month.
While the chronic wasting disease (CWD) outbreak was contained - and no infected meat entered the Canadian food supply - experts say more needs to be done to stop the infectious disease from spreading.
The herd was "humanely destroyed on site and did not enter the food chain," the agency told Global News in a statement. "[The farm] remains under quarantine and disease response activities have been initiated."
This is the third case of CWD in Canada for 2019. The two other infections were also identified in Alberta - on Feb. 28 in elk and on June 21 in white-tailed deer.
Can CWD be transmitted to humans?
While there is no direct scientific evidence to suggest that CWD can be transmitted to humans, the CFIA says the consumption of meat from contaminated animals should be avoided.
However, some experts say CWD is a concern because the disease is adapting and may become a serious threat:
Click here to read it all
---
Plastic Apocalypse: Alarming Levels Of Plastic Found In Children
Tyler Durden, Sep/ 19, 2019
New studies are being published that detail high levels of dangerous microplastics had been detected in some of the most remote regions of the world. Another study warned microplastics are turning up in human stool. Now there are new reports that show high levels of microplastics have been found in blood and urine samples of children.
The study, conducted by the German Environment Ministry and the Robert Koch Institute, found an alarming 97% of blood and urine samples from 2,500 children tested between 2014 and 2017 had traces of microplastics.
Der Spiegel, the German weekly magazine, published the findings over the weekend, which were part of a national study focused on "human biomonitoring" of 3 to 17-year-olds, found traces of 11 out of 15 plastic ingredients in the collected samples.
"Our study clearly shows that plastic ingredients, which are rising in production, are also showing up more and more in the body. It is really worrying that the youngest children are most affected as the most sensitive group," Marike Kolossa-Gehring, one of the study's authors, told the magazine.
Researchers found perfluorooctanoic acid (PFOA), also used in cleaning products, waterproof clothing, food packaging, and cooking utensils, was present in the blood and urine samples.
PFOA has been described as a dangerous chemical that is toxic to the liver. The EU will outlaw the substance next year.
Click here to read it all
---
Summary

Revelation 7:1 suggests a process of holding back the winds, symbolic of strife (Dan 7:2; Hosea 8:7). God is preparing His faithful witnesses - those who will witness for Him in the last days by speaking for Him and by their characters reflecting His faultless character. The winds of strife are now being held back to allow this. However, it seems like the angels may be loosening their grip and we are seeing more and more problems in the world. The long-anticipated and seemingly slow-moving (in terms of prophecy being fulfilled) events in the Middle East may be a reflection of this. The time will come though when final events will unfold and will come upon the unprepared world as a thief in the night.
"And when these things begin to come to pass, then look up, and lift up your heads; for your redemption draweth nigh." (Luke 21:28)
---
If prophecy of the end of the world is of interest to you and you would like to receive this quarterly newsletter containing articles of interest and relevance to prophetic events, please respond using the form below: