Donald Trump and Politics and Religion
Introduction
Donald Trump - his politics may be quite different from what we have seen before. What about his moves with regard to religion?
Many sense that the politics of a Trump presidency will bring change on this side of the pond. The recent Brexit vote in the UK has already sent a similar signal on the other side. This may soon develop into a closer connection between the US and the UK (which is already quite close). We will soon see the lion with eagle's wings prophesied by Daniel take the stage on earth:
"The first was like a lion, and had eagle's wings: I beheld till the wings thereof were plucked, and it was lifted up from the earth, and made stand upon the feet as a man, and a man's heart was given to it." (Dan 7:4)
I have mentioned this symbolism in the past in newsletters. I would like to refer you, if you are interested in how modern nations connect with end-time events, to a YouTube video from Tom Stapleton, a good friend of mine, which explains this in considerable detail.
Of course, end time events are very much related to spiritual issues and modern political powers and social trends will play a role in this. The religious right played a role in the election of Donald Trump and will be hoping for a payback; for presidential decisions that will further their agendas.
That Trump will soon impact the religious world is evidenced by his stated intent to move the US embassy to Jerusalem. Hillary Clinton would have pushed for a two-state solution whereas Donald Trump will be pushing for the building of the third Jewish temple in Jerusalem - possibly with support from Russian President Vladimir Putin.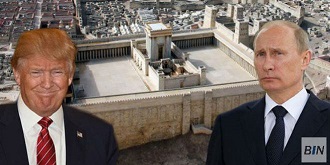 Here are three short videos showing that Putin has very strong religious belliefs of his own - probably much more so than Donald Trump.
Putin Knelt & Prayed in Jerusalem 2012 (7 min) www.youtube.com/watch?v=X3WM_x6ZDpM
Putin talks about Wailing Wall in Jerusalem (2 min) www.youtube.com/watch?v=wJnIsbo5uMs
Vladimir Putin's Christian Faith - in his own words and the place where he was baptized (14 min) www.youtube.com/watch?v=u3d_yxJhmjk
Note that I am simply sharing items of interest for your information. That does not imply that I agree with everything presented here or with other material that may be on a source's other web pages.
---
"And ye shall hear of wars and rumours of wars ... nation shall rise against nation, and kingdom against kingdom: and there shall be famines, and pestilences, and earthquakes ..." (Matt 24:6-7)
Prophecy News - November 2016
Donald Trump Politics and Religion
---
'Brexit' Proved to Be Sign of Things to Come in U.S.
Steven Erlanger, Nov. 9, 2016
LONDON - It was a revolt against elite complacency, an almost palpable shock to conventional wisdom and conventional politics. Opponents could barely comprehend the poll-confounding news. This was June in Britain, not November in America, and the upset was the British decision to leave the European Union.
The election of Donald J. Trump as America's 45th president has strong parallels to the British decision, known as "Brexit," but the impact will be much bigger, in Europe and the world.
Mr. Trump's victory was hailed by European far-right leaders, including the Hungarian prime minister, Viktor Orban. And there were immediate concerns about how the anti-elitist surge will affect other European votes, and how a Trump presidency might respond to a post-Brexit Britain.
One main reason for the surprise at the polls was the participation of people who in the past had rarely voted. That is a lesson that could echo all over Europe, where the Italians will hold a constitutional referendum next month, the Austrians will vote for president and the French are about to hold a presidential primary among center-right candidates - and as France and Germany gear up for national elections next year.
There is a sense that Mr. Trump's victory may make Marine Le Pen, the leader of the far-right National Front, a more credible candidate for the French presidency. Dominique de Villepin, the former French prime minister, said Wednesday that "now Marine Le Pen can win in 2017."
Click here to read it all
---
Ray's note: There is even more evidence that Donald Trump and his politics - his particular and seemingly-unique style - may have an effect in other coming elections - the Trump effect.
---
Britain Passes the Snooper Charter Ending ALL Privacy
Martin Armstrong, Nov. 19, 2016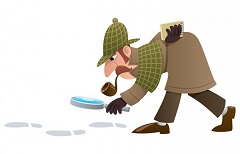 Britain has passed what everyone calls the "snooper's charter" otherwise known as the Investigatory Powers Bill. This new legislation establishes the legal framework authorizing the government to hack into devices, networks and services in bulk and to create vast databases of personal information on all UK citizens. This is a preliminary step for a movement to impose worldwide taxation on Brits. This is really to hunt money, not terrorism.
The "snooper's charter" requires internet, phone and communication app companies to store records for 12 months and allow authorities to access them whenever they demand. That data will include anything you look at or search on the internet as well as all your telephone calls and text messages. Meanwhile, security agencies will be able to force companies to decrypt data avoiding the Apple confrontation in the USA. They are also imposing limitations on the use of end-to-end encryption. They want EVERYTHING you do. This has ABSOLUTELY nothing to do with terrorism. This is the hunt for taxes coming to a head in 2017.
Click here to read it all
---
Iran exceeds nuclear heavy water limit, top diplomat says it will be shipped out
RT, Nov. 9, 2016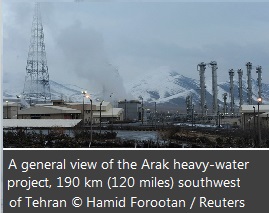 Iran has exceeded the sensitive heavy water limit set under the 2015 nuclear deal with major world powers. A senior Iranian diplomat close to the situation said the excess will be quickly transferred out of the country.
The quantity of Iranian heavy water, limited to 130 tonnes, went up to to 130.1 on Tuesday, the International Atomic Energy Agency (IAEA) said in a classified report on Wednesday seen by Reuters.
"On 2 November 2016, the director general expressed concerns related to Iran's stock of heavy water to the vice president of Iran and president of the Atomic Energy Organization of Iran, ... Ali Akbar Salehi," the International Atomic Energy Agency (IAEA) report said.
This is not the first time Tehran has exceeded the threshold for heavy water, which is a form of water that contains a larger than normal amount of the hydrogen isotope deuterium and is used as a moderator in nuclear reactors like that which is unfinished at Arak.
Last time the problem was quickly fixed and passed without significant criticism from the other countries that helped put the deal in place.
However, Donald Trump's victory in the US presidential election has raised the question of whether the deal would hold this time since Trump has more than once called it "disaster" and "the worst deal ever negotiated" that may lead to a "nuclear holocaust."
Click here to read it all
---
Turkey Has Declared War On Syria - Does This Mean That World War 3 Is About To Erupt In The Middle East?
Michael Snyder, Nov. 29, 2016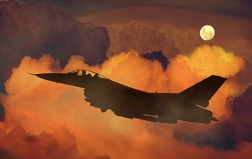 Turkish President Recep Tayyip Erdogan has just announced that the only reason Turkish military forces have entered northern Syria is to "end the rule of the tyrant al-Assad". By publicly proclaiming that Turkey intends to use military force to overthrow the regime of Syrian President Bashar al-Assad, Erdogan has essentially declared war on the Syrian government. Of course this puts a member of NATO in direct military conflict with Russia, since Russia is working very hard to prop up the Assad regime. If all-out war breaks out between Turkey and Russia, could that be the spark that causes World War 3 to erupt in the Middle East? And once Turkey and Russia start fighting, would the United States and the rest of NATO be dragged into the conflict?
The big mainstream news networks in the western world are almost completely ignoring what Erdogan said on Tuesday, but without a doubt this is major news.
Click here to read it all
---
Pakistani air force chief warns India against full-scale war
Nov. 24, 2016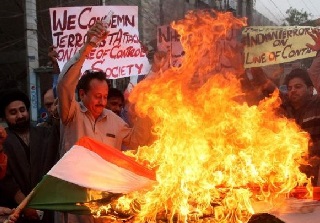 ISLAMABAD - Pakistan's air force chief on Thursday warned archrival India against escalating the dispute over Kashmir into full-scale war, urging New Delhi to exercise restraint.
Marshal Sohail Aman's warning came as tensions are soaring between Islamabad and New Delhi over the contested Himalayan territory where Pakistan said Indian fire on Wednesday killed 12 civilians and three soldiers -- the deadliest incident in weeks of border clashes.
Aman said that if Indian forces escalate the crisis, Pakistani troops "know full well how to deal with them."
On a visit to Islamabad, British Foreign Secretary Boris Johnson held talks with his Pakistani counterpart, Sartaj Aziz.
Afterward, Johnson expressed concern over the Kashmir escalation and appealed to the two South Asian countries "to maintain a positive dialogue" to resolve the dispute of the territory, which is split between Pakistan and India and claimed by both in its entirety.
The two neighboring countries have fought two of their three wars over Kashmir, which remains one of the world's most intractable conflicts.
Click here to read it all
---
German Streets Descend into Lawlessness
"We are losing control of the streets."
Soeren Kern, Oct. 31, 2016
During the first six months of 2016, migrants committed 142,500 crimes, according to the Federal Criminal Police Office. This is equivalent to 780 crimes committed by migrants every day, an increase of nearly 40% over 2015. The data includes only those crimes in which a suspect has been caught.
Thousands of migrants who entered the country as "asylum seekers" or "refugees" have gone missing. They are, presumably, economic migrants who entered Germany on false pretenses. Many are thought to be engaging in robbery and criminal violence.
Local police in many parts of the country admit that they are stretched to the limit and are unable to maintain law and order.
"Drug trafficking takes place right before our eyes. If we intervene, we are threatened, spat on, insulted. Sometimes someone whips out a knife. They are always the same people. They are ruthless, fearless and have no problems with robbing even the elderly." - Private security guard.
According to Freddi Lohse of the German Police Union in Hamburg, many migrant offenders view the leniency of the German justice system as a green light to continue delinquent behavior. "They are used to tougher consequences in their home countries," he said. "They have no respect for us."
"It cannot be that offenders continue to fill the police files, hurt us physically, insult us, whatever, and there are no consequences. Many cases are closed or offenders are released on probation or whatever. Yes, what is happening in the courts today is a joke." - Tania Kambouri, German police officer.
Violent crime - including rapes, sexual and physical assaults, stabbings, home invasions, robberies, burglaries and drug trafficking - has skyrocketed in Germany since Chancellor Angela Merkel welcomed into the country more than one million mostly male migrants from Africa, Asia and the Middle East. Few, if any, of the migrants were vetted before being allowed to enter Germany.
Click here to read it all
---
Hungry Venezuelans Flee in Boats to Escape Economic Collapse
Nicholas Casey, Nov. 25, 2016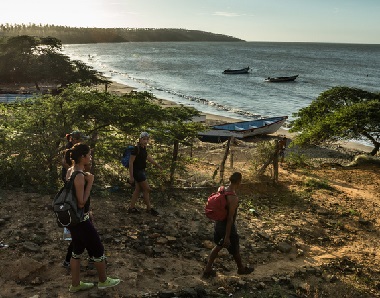 WILLEMSTAD, Curaçao - The dark outlines of land had just come into view when the smuggler forced everyone into the sea.
Roymar Bello screamed. She was one of 17 passengers who had climbed onto the overloaded fishing boat with aging motors in July, hoping to escape Venezuela's economic disaster for a new life on the Caribbean island of Curaçao.
Afraid of the authorities, the smuggler refused to land. Ms. Bello said he gruffly ordered her and the others into the water, pointing toward the distant shore. In the panic, she was tossed overboard, tumbling into the predawn blackness.
But Ms. Bello could not swim.
As she began to sink under the waves, a fellow migrant grabbed her by the hair and towed her toward the island. They washed up on a rocky cliff battered by waves. Bruised and bleeding, they climbed, praying for a lifeline: jobs, money, something to eat.
"It was worth the risk," said Ms. Bello, 30, adding that Venezuelans like her "are going after one thing: food.
Well over 150,000 Venezuelans have fled the country in the last year alone, the highest in more than a decade, according to scholars studying the exodus.
Click here to read it all
---
More Than Half Of New Yorkers Are One Paycheck Away From Homelessness, Says Study
Gaby Del valle, Nov. 26, 2016
More than half of all New Yorkers don't have enough money saved to cover them in the event of a lost job, medical emergency, or other disaster, according to a new report by the Association for Neighborhood & Housing Development.
Nearly 60 percent of New Yorkers lack the emergency savings necessary to cover at least three months' worth of household expenses including food, housing, and rent, but that statistic isn't spread evenly across the five boroughs.
Without these savings, families who face emergencies could be at risk of eviction, foreclosure, damaged credit, and even homelessness.
Click here to read it all
---
Out of control wildfire DESTROYS South
The Horn News, Nov. 17, 2016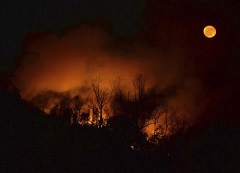 Wildfires across Tennessee, Georgia, North Carolina, South Carolina, Kentucky and Virginia are ravaging the land and quickly approaching communities and endangering lives.
Thick smoke has settled over a wide area of the southern Appalachians, where dozens of uncontrolled wildfires are burning through decades of leaf litter and people breathe in tiny bits of the forest with every gulp of air.
It's a constant reminder of the threat to many small mountain communities, where relentless drought and now persistent fires and smoke have people under duress.
"A lot of the ladies just went to tears and said this happens in other places, it doesn't happen here," pastor Scott Cates said as townspeople donated water, cough drops and other supplies for the firefighters at the Liberty Baptist Church in Tiger, Georgia.
Here, these fires don't sleep. They burn through the night, through the now-desiccated tinder of deciduous forests accustomed to wet, humid summers and autumns.
"It doesn't die down after dark," said fire Capt. Ron Thalacker, who came from Carlsbad, New Mexico, with a fire engine that now draws water from streams and ponds to spray on hotspots in Georgia's Rabun County, near the epicenter of the southern fires.
In a Tuesday, Nov. 15, 2016 photo, firefighters Valarie Lopez is followed by Mark Tabaez as they climb down a hill after cooling hot spots from a wildfire that burned a hillside in Clayton, Ga. There were more than 30 uncontained large fires burning across the southeast, federal officials said in a Wednesday update. Fires across the region have burned a total of 128,000 acres, or about nine times the size of Manhattan.
Click here to read it all
---
Calif. responders prep for quake possibly more damaging than Hurricane Katrina
CBS News, Nov. 18, 2016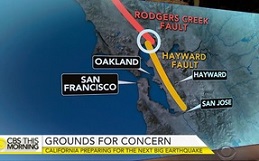 Scientists are warning of a new earthquake danger in Northern California. They've discovered that two fault lines link together north of San Francisco, creating a new risk for the nearly seven million people living in the Bay Area.
Some 1,200 emergency responders took part in an earthquake drill Thursday, and hundreds of scientists, engineers and politicians gather Friday in Los Angeles to discuss the next big quake, reports CBS News correspondent Mireya Villarreal.
Here's what happens in the drill: A magnitude 7.8 earthquake hits California and the clock is ticking. National guardsman are working to pull a trapped man from an elevator shaft, while a specially trained dog searches for stranded survivors.
This is meant to help emergency responders prepare for the real thing.
"We want to be the best prepared, the best trained and the most efficient as possible," said Major Richard Chappell.
But these extreme scenarios could easily become reality. USGS scientists recently discovered that two of the country's most dangerous faults -- once thought to be at least two miles apart -- are actually connected, creating one massive 118-mile long fault. Using an acoustic device, they confirmed that the Hayward fault meets the Rogers Creek fault in the shallow waters of the San Pablo Bay near San Francisco.
"The longer a fault, the larger an earthquake it can produce, and if the Hayward and Rogers Creek faults went together along their entire length, it would up to a magnitude 7.4," said USGS geophysicist Janet Watt.
"What kind of damage are we talking about here?" Villarreal asked.
"More damage than Hurricane Katrina in terms of loss," Watt said.
Click here to read it all
---
Breaking: "Fukushima Cooling System FAILS" After Tsunami, 7.4 Earthquake Hits Japan
Mac Slavo, Nov. 21, 2016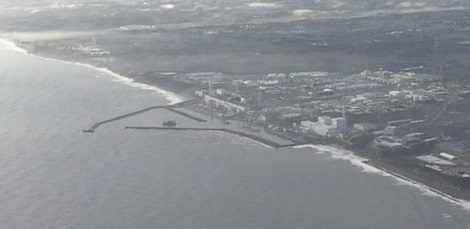 One of the worst case scenarios is happening again.
According to reports, Fukushima is being struck again by a tsunami after a large 7.4 earthquake - just updated from reports of a 7.3 earthquake - struck off the main island directly in front of the Fukushima Prefecture where the beleaguered TEPCO nuclear plant is situated.
via CNN: A tsunami warning is in effect for Japan's Fukushima Prefecture after a 7.3-magnitude earthquake struck off Honshu at 5:59 a.m. Tuesday (3:59 p.m. Monday ET), according to the Japan Meteorological Agency. A tsunami wave of 1-3 meters (3-10 feet) is possible, according to the agency.
Numerous aftershocks, somewhere in the range of 5.0 to 5.4 are being widely reported as well.
According to RT, that tsunami has advanced and has now affected the cooling system at Fukushima. Seriously - this is reportedly happening!
Click here to read it all
---
Here is a video showing that the influx of Middle East refugees has resulted in Paris at war! What the media won't show you (5 min).
---
"And when these things begin to come to pass, then look up, and lift up your heads; for your redemption draweth nigh." (Luke 21:28)
---
Summary

Donald Trump and his politics will prove very interesting, I am sure, over the coming months and years. I have already heard him compared to Cyrus, the ancient Persian monarch that allowed the Jews to return to their homeland after the Bablylonian exile. There have also been comparisons to King Nebuchadnezzar as described in the book of Daniel chapter 4. At least it doesn't seem like it will be business as usual.

If prophecy of the end of the world is of interest to you and you would like to receive this monthly newsletter containing articles of interest and relevance to prophetic events, please respond using the form below: