A US Iran War?
A US Iran war - could it happen? There seems to more talk of not just war between Israel and Iran but between the US and Iran . War such as that would be extremely disruptive, not only because of oil-supply issues, to the whole world. Could it happen soon?
Note that I am simply sharing items of interest. That does not imply that I agree with everything presented.
---
"And ye shall hear of wars and rumours of wars ... nation shall rise against nation, and kingdom against kingdom: and there shall be famines, and pestilences, and earthquakes ..." (Matt 24:6-7)
Prophecy News - 2012 March
US Iran War
---
A US Iran War?
America Will Be at War with Iran Within One Year
By: Donald Pennington / Yahoo News.com / January 30, 2012
COMMENTARY -- I hate to be the bearer of bad news, but it's my bet we Americans will be at war with Iran within one year. Of all the things I've ever stated publicly, this is one I wish I were wrong about.
"As reported on '60 Minutes' on Sunday, Defense Secretary Leon Panetta expressed concerns over Iran developing a nuclear weapon within the next year and stated the U.S. 'will take whatever steps are necessary to stop it,' and that there are 'no options off of the table.'"
---
A US Iran War?
Breaking: West May Strike Iran By Summer: Russian Military Chief
Political crises and war -- could spin rapidly out of control . . .
By: Robert Bridge / Global Research.com / February 14, 2012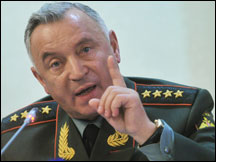 "If Makarov is correct in his estimations, the situation in the region -- overwhelmed as it is with political crises and war -- could spin rapidly out of control. Indeed, some are warning that an attack on Iran could trigger a dangerous game of dominoes across the Middle East, possibly even culminating in another world war.
"Russia's top military boss says an attack against Iran, which the west suspects of developing nuclear weapons, could begin as early as summer."
Click here to read it all
---
A US Iran War?
Exclusive: Israel Warns US Jews: Iran Could Strike Here
By: Richard Esposito / ABC News.com / February 3, 2012
Iran's elite Revolutionary Guard
special forces participate in military
maneuvers at an undisclosed
location near the Gulf.
"Israeli facilities in North America -- and around the world --are on high alert, according to an internal security document obtained by ABC News that predicted the threat from Iran against Jewish targets will increase.
"'We predict that the threat on our sites around the world will increase . . . on both our guarded sites and 'soft' sites," stated a letter circulated by the head of security for the Consul General for the Mid-Atlantic States.
"Local and regional law enforcement and intelligence officials in U.S. and Canadian cities, including New York, Los Angeles, Philadelphia, and Toronto have been monitoring the situation closely for several weeks, and have stepped up patrols at Israeli government locations and Jewish cultural and religious institutions. They have issued awareness bulletins reminding officers to stay vigilant."
Click here to read it all
---
Russia Is Ready to Use Military Power to Defend Iran and Syria
Middle East Media Research Institute / February 6, 2012
"Former Member of Russian Joint Chiefs of Staff Col.-Gen. Leonid Ivashov: Russia Is Ready to Use Military Power to Defend Iran and Syria; Attack on Syria or Iran Is Indirect Attack on Russia; U.S. in Libya Like Hitler in Poland.
"Following are excerpts from an interview with Colonel-General [ret.] Leonid Ivashov, former member of the Russian Joint Chiefs of Staff, which aired on Russia Today TV on February 1, 2012:
"Interviewer: 'Dr. Leonid, do you think that these preparations and very large maneuvers, which will soon be conducted by Russia, are meant as preparation for war, or rather, a military strike against Iran?' [...]
"Leonid Ivashov: 'These maneuvers and training will demonstrate Russia's readiness to use military power to defend its national interests and to bolster its political position. The maneuvers will show that Russia does not want any military operations to be waged against Iran or Syria. I assume that the people in the West and in Israel who design the schemes for a large geopolitical operation in the greater Middle East region draw a direct connection between the situation in Syria and in Iran. Indeed, these two countries are allies, and both are considered guaranteed partners of Russia. The only question, therefore, is who they will try to destroy first as a stable country: Syria or Iran. [...]
"'A strike against Syria or Iran is an indirect strike against Russia and its interests. Russia would lose important positions and allies in the Arab world. Therefore, by defending Syria, Russia is defending its own interests.'"
---
Iran's Grand Ayatollahs: Earth Belongs to Muslims, End Is Near
By: Reza Kahlili / The Daily Caller Opinion.com / February 23, 2012
"Iran's economy is struggling because of crippling new restrictions on the country's financial system, but no amount of sanctions will keep the mullahs from their headlong pursuit of nuclear weapons, which they hope will help usher in Islamic dominance of the world.
The religious leaders believe it is their responsibility, as foreshadowed by the Quran, to bring about nuclear war to facilitate the coming of the last Islamic Messiah.
"Two Iranian grand ayatollahs are now saying that the Earth will soon be under the feet of Muslims, as promised by the Quran.
"The clerical establishment in Iran has long believed that the Islamic Revolution of 1979 was a sign by Allah that the end of times is near and that the duty and responsibility of the believers is to become ready for such an event."
Click here to read it all
---
Says 'Evil Hegemony' Soon Will Be Defeated By Power of Allah
By: Reza Kahlili / World Net Daily.com / February 2, 2012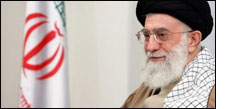 Human history is on the verge
of a great event and that soon the
world will realize the power of Allah.
"Amid crippling sanctions over its nuclear weapons program, Iran is continuing to prepare itself for war against the West, and now is warning of a coming great event.
"'In light of the realization of the divine promise by almighty God, the Zionists and the Great Satan (America) will soon be defeated,' Ayatollah Khamenei, the Iranian supreme leader, is warning."
Reza Kahlili is a pseudonym for a former CIA operative in Iran's Revolutionary Guards and the author of the award winning book, "A Time to Betray." He is a senior Fellow with EMPact America and teaches at the U.S. Department of Defense's Joint Counterintelligence Training Academy (JCITA).
Click here to read it all
---
Report: Saudi Arabia to Buy Nukes if Iran Test A-bomb
MSNBC.com Staff / MSNBC.MSN.com / February 10, 2012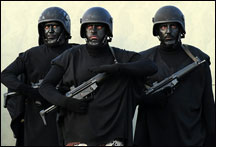 Saudi special forces take part in a
military parade In the holy city of
Mecca on November 10, 2010.
"Saudia Arabia would move quickly to acquire nuclear weapons if Iran successfully tests an atomic bomb, according to a report."
"Citing an unidentified Saudi Arabian source, the Times newspaper in the U.K. (which operates behind a paywall) said that the kingdom would seek to buy ready-made warheads and also begin its own program to enrich weapons-grade uranium.
"The paper suggested that Pakistan was the country most likely to supply Saudi Arabia with weapons, saying Western officials were convinced there was an understanding between the countries to do so if the security situation in the Persian Gulf gets worse. Pakistan and Saudi Arabia have denied such an arrangement exists."
---
AYATOLLAH: KILL ALL JEWS, ANNIHILATE ISRAEL
Iran lays out legal case for genocide attack against 'cancerous tumor'
By: Reza Kahlili / World Net Daily.com / January 22, 2012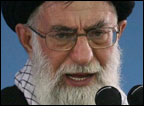 Iran will support any
nation or group that
attacks the "cancerous
tumor" of Israel.
"The Iranian government, through a website proxy, has laid out the legal and religious justification for the destruction of Israel and the slaughter of its people."
"The doctrine includes wiping out Israeli assets and Jewish people worldwide.
"Calling Israel a danger to Islam, the conservative website Alef, with ties to Iran's supreme leader, Ayatollah Ali Khamenei, said the opportunity must not be lost to remove 'this corrupting material. It is a "jurisprudential justification" to kill all the Jews and annihilate Israel, and in that, the Islamic government of Iran must take the helm.'
"Because Israel is going to attack Iran's nuclear facilities, Iran is justified in launching a pre-emptive, cataclysmic attack against the Jewish state, the doctrine argues."
Reza Kahlili is a pseudonym for a former CIA operative in Iran's Revolutionary Guard and author of the award-winning book, 'A Time to Betray.' He is a senior fellow with EMPact America and teaches at the U.S. Department of Defense's Joint Counterintelligence Training Academy.
Click here to read it all
---

A US Iran War?
Here is a different perspective - interesting.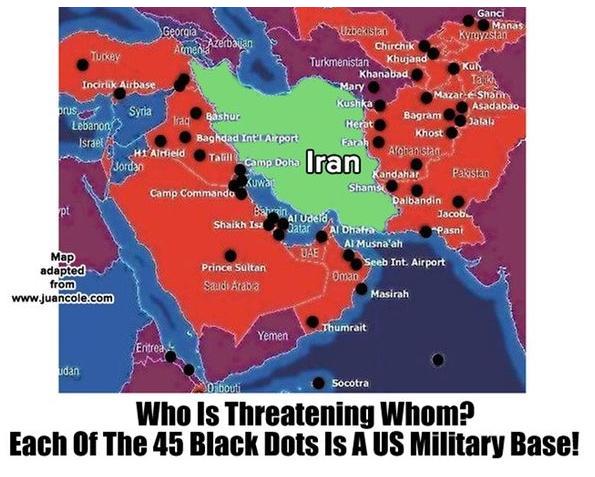 ---
Battlefield USA 2012: Gerald Celente Predicts
Russia Today.com / February 16, 2012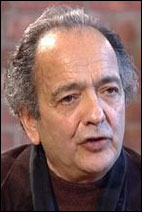 "In 2012 America will become a battlefield of the will of the people against the will of the government, proclaims Gerald Celente, the founder of the Trends Research Institute and publisher of the Trends Journal.
"Now that President Obama has signed the National Defense Authorization Act, those Americans who speak out against the elected officials might get prison time. There is no need to be a terrorist suspect any more, being belligerent -- as written in the Act -- is more than enough to be taken away.
"'You have no judge, you have no jury, you have no trial, you don't have charges filed against you, the military can come in and take someone "belligerent" away to lock up in detention,' Celente slams.
"'No lawyer, no habeas corpus -- it is the "bill of no rights" signed by President Obama,' the forecaster boils, explaining that now the military is allowed to take somebody they 'like the Gestapo' choose to be an anti-American or working with terrorists.
"Gerald Celente says the entire financial world system is melting down. The collapse of the EU is inevitable as 'there is no way of bailing them out'."
Click here to read it all
---
"Is Now the Time to Move Away from Major U.S. Cities?
By: Michael / INFAS.net / January 26, 2012
"As the U.S. economy falls apart and as the world becomes increasingly unstable, more Americans than ever are becoming 'preppers'. It is estimated that there are at least two million preppers in the United States today, but nobody really knows.
"The truth is that it is hard to take a poll because a lot of preppers simply do not talk about their preparations.Your neighbor could be storing up food in the garage or in an extra bedroom and you might never even know it. An increasing number of Americans are convinced that we are on the verge of some really bad things happening. But will just storing up some extra food and supplies be enough? What is going to happen if we see widespread rioting in major U.S. cities like George Soros is predicting? What is going to happen if the economy totally falls to pieces and our city centers descend into anarchy like we saw in New Orleans during the aftermath of Hurricane Katrina? In some major U.S. cities such as Detroit, looting is already rampant."
---
"Monsignors' Mutiny" Revealed by Vatican Leaks
By: Philip Pullella / Reuters.com / February 13, 2012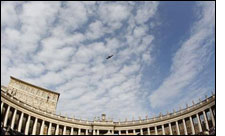 The diplomatic wing feels they are
the rightful owners of the Vatican.
Vatican City (Reuters) -- Call it Conspiracy City. Call it Scandal City. Call it Leak City. These days the holy city has been in the news for anything but holy reasons.
"'It is a total mess,' said one high-ranking Vatican official who spoke, like all others, on the condition of anonymity.
"The Machiavellian maneuvering and machinations that have come to light in the Vatican recently are worthy of a novel about a sinister power struggle at a mediaeval court.
"Some of those sources said the outcome of a power struggle inside the Holy See may even have a longer-term effect, on the choice of the man to succeed Benedict when he dies.
"From leaked letters by an archbishop who was transferred after he blew the whistle on what he saw as a web of corruption and cronyism, to a leaked poison pen memo which puts a number of cardinals in a bad light, to new suspicions about its bank, Vatican spokesmen have had their work cut out responding.
"The flurry of leaks has come at an embarrassing time -- just before a usually joyful ceremony this week known as a consistory, when Benedict will admit more prelates into the College of Cardinals, the exclusive men's club that will one day pick the next Roman Catholic leader from among their own ranks."
Click here to read it all
---
Weird Weather?
A friend from Ontario told me the other day that the temperature there on March 21 was 27 C. The previous record was 13 C (from 1946). That is HOT weather - a warm summer day and for only the very start of spring! Doesn't it seem like strange things are happening with the environment?
---
"And when these things begin to come to pass, then look up, and lift up your heads; for your redemption draweth nigh." (Luke 21:28)
If prophecy of the end of the world is of interest to you and you would like to receive this monthly newsletter containing articles of interest and relevance to prophetic events, please respond using the form below:
---