Facial Recognition System Technology
Introduction - A facial recognition system may sound like a great thing for retailers interested in customizing their advertising (as Google already does online) to an individual shopper. However, could such advanced technology eventually be used for more sinister purposes? Our study group is presently going through Revelation chapter 13 and we recognize that there will have to be means in place to enforce this Mark of the Beast. I have included a couple of articles this month about the facial recognition system and other surveillance technology.
Note: I am simply sharing items of interest. That does not imply that I agree with everything presented.
---
"And ye shall hear of wars and rumours of wars ... nation shall rise against nation, and kingdom against kingdom: and there shall be famines, and pestilences, and earthquakes ..." (Matt 24:6-7)
Prophecy News - 2012 November
Facial Recognition System Coming
---
NEC Unveils Facial Recognition System to Identify Shoppers
By Adario Strange November 15, 2012 10:27am EST
The famous scene from Minority Report depicting a consumer walking into a Gap store and being instantly recognized, prompting the system to suggest new purchases based on that customer's purchase history, may have once seemed like an interesting movie fantasy, but it has now become reality. NEC has unveiled a new system in Japan that will allow stores to identify new and returning customers using a facial recognition system.
NEC's service, called NeoFace, was previewed recently at the C&C User Forum & iEXPO 2012 in Japan. NeoFace allows a retailer to use the system to analyze a shopper's face to determine approximate age, gender, and whether or not that shopper has been to the store before. Using a technique called Adaptive Region Mixed Matching, NeoFace can even identify shoppers regardless of random factors such as changing facial expressions, facial hair, or eyeglasses.
The system is so accurate that it passed a test conducted by the National Institute of Standards and Technology (NIST), earning it the highest marks for high-volume identification matching. Although NeoFace is not yet a common tool for major retailers, the company says the system has already been deployed at Universal Studios Japan, assisting the company in its efforts to manage the arrivals and departures of the thousands of customers that visit the site on a daily basis.
---
Note: Do you really think this facial recognition system will only be used to identify shoppers?
California Gets Face Scanners to Spy on Everyone at Once
RussiaToday.com / November 19, 2012
Facial recognition system technology
is expected to soon be the norm among
law enforcement.
"In a single second, law enforcement agents can match a suspect against millions upon millions of profiles in vast detailed databases stored on the cloud. It's all done using a facial recognition system, and in Southern California it's already occurring.
"Imagine the police taking a picture: any picture of a person, anywhere, and matching it on the spot in less than a second to a personalized profile, scanning millions upon millions of entries from within vast, intricate databases stored on the cloud.
"San Diego is currently using software developed by FaceFirst, a division of nearby Camarillo, California's Airborne Biometrics Group. It can positively identify anyone, as long as physical data about a person's facial features is stored somewhere the police can access."
---
Note: If the facial recognition system can't id you because you are in your car, they could just id and track your car.
License Plate Scanners Let Police Patrol Anyone, Anytime
Russia Today.com / October 30, 2012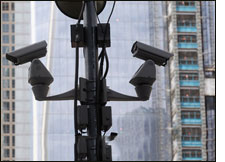 The location and photo information is
uploaded to a central database, then
retained for years ...
"Are you made uneasy by the soaring number of surveillance cameras being installed in big cities across the US? If so, don't take solace in your sedan: cops are using cameras to collect intelligence on cars, even when no crimes are being committed.
"A recent post published on the PrivacySOS.org blog directs viewers to a YouTube video produced by PIPS Technology, the self-described world leader in automated license plate recognition, or ALPR, technology. PIPS' devices are deployed in police cruisers across the US, and in Little Rock, Arkansas, for example, cops say the equipment is well worth the $18,000-per-unit price tag. But while PIPS may be touting their product as something of a must-have for police agencies, the manufacturer is staying silent when it comes to discussing the blatant privacy violations it commits every second it's in use.
"'(It) can scan the mall parking lot in a matter of minutes,' Sergeant Brian Dedrick, of the North Little Rock Police Department tells Arkansas Matters of his ALPR scanner. 'We couldn't even do that three years go.'
"Sgt. Dedrick is right -- ALPRs allow law enforcement to do something that was unheard of only a few years ago.
"Lt. Morgon explains in the advert that patrol cars pick up intelligence on every automobile within sight and logs their location and information without ever needing reasonable cause to suspect the driver has committed a crime.
"Rita Sklar, the director of the local American Civil Liberties Union chapter, tells Arkansas Matters, 'I don't think I have a problem' with the scanner themselves. It's the sharing of information and how easily it can be connected to individuals, not just automobiles that raise concerns."
---
Note: Of course, there could be good uses for a facial recognition system. How about identification of accident victims?
Black boxes in cars raise privacy concerns
By Associated Press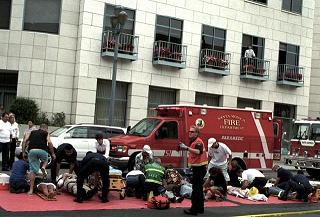 The National Highway Traffic Safety Administration has been
pushing for recorders in all passenger vehicles since a 2003
accident in which an elderly driver plowed through an open-air
market in Santa Monica - 10 were killed and 63 injured. The
driver refused to be interviewed. (AP Photo/Nate Rawner, File)
Many motorists don't know it, but it's likely that every time they get behind the wheel, there's a snitch along for the ride.
In the next few days, the National Highway Traffic Safety Administration is expected to propose long-delayed regulations requiring auto manufacturers to include event data recorders - better known as "black boxes" - in all new cars and light trucks. But the agency is behind the curve. Automakers have been quietly tucking the devices, which automatically record the actions of drivers and the responses of their vehicles in a continuous information loop, into most new cars for years.
---
New 'Super-Earth' Found in Six-planet System
By: Virginia Gewin / cbc.ca / November 8, 2012
An artist's impression shows the very
large super-Earth, left, with its host star
and two other planets in the system, to
its right. Called HD40307g, it takes 200
days to circle its host star.
"An international team of astronomers has discovered what they are calling a new 'super-Earth,' which is seven times the size of Earth and has the right conditions to support life.
"Called HD40307g, the new planet exists in a zone of a nearby star and is part of a six-planet system.
"Scientists had already known about the star and its other three uninhabitable planets but after using an instrument that was more sensitive to wavelengths, they were able to discover another three, including the super-Earth."
Click here to read it all
---
Pole Dancing: Earth's Polar Shifts Explained
By: Lucy Bradley / CosmosMagazine.com / November 8, 2012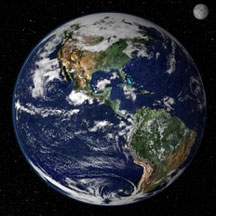 Two mechanisms have been proposed
to explain dramatic shifts in the Earth's
surface, called true polar wander, which
can move Antarctica to the equator and
back again.
SYDNEY: Processes that have, in the Earth's distant past, enabled Antarctica to 'slip' to the equator and back again have been explained by new research.
"Scientists have long known that the Earth's surface is constantly moving, independent of its daily rotation. The mechanisms for this gradual movement are understood, but the reason that the Earth's crust returns to where it began -- called 'true polar wander' -- was, until now, a mystery.
---
Renminbi Relentlessly Replacing Dollar As Reserve Currency
By: Jeff Nielson / TheStreet.com / November 5, 2012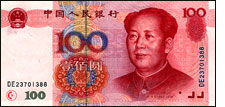 Anytime we see some talking head
refer to a currency as "rising in value" it
is an implicit admission that the person
has no understanding of the global
economy.
VANCOUVER (Bullions Bull Canada) -- It is no secret that China is replacing the U.S. dollar with its own currency in more and more of its bilateral trading. It's apparent to all that the renminbi will soon have (at least) a co-equal status with the dollar as the global 'reserve currency'.
"The collapse in value of our paper currencies is accomplished through our morally/intellectually bankrupt central banks flooding the world with this (un-backed) paper. In other words, the entire global economy is already drowning in an ocean of these paper currencies. It is thus little surprise that these same central banks are now swapping their own paper for gold at the fastest rate on record.
"It is in this context that we see a shift taking place where the U.S. dollar as (current) reserve currency is being steadily replaced by the renminbi. Some numbers here are in order. A recent article in China Daily noted that for much of Asia the renminbi is already the reserve currency.
"A 'renminbi bloc' has been formed in East Asia, as nations in the region abandon the U.S. dollar and peg their currency to the Chinese yuan . . .
"And now seven out of 10 economies in the region -- including South Korea, Indonesia, Malaysia, Singapore and Thailand -- track the renminbi more closely than they do the U.S. dollar . . . ."
Click here to read it all
---
Pope: Christ Was Not a Prophet!
By: Ron Fraser / TheTrumpet.com / November 19, 2012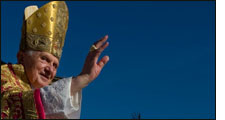 "In a startling statement made during his Monday Angelus to the faithful, Pope Benedict declares Jesus Christ was no prophet.
"'At midday today the holy father appeared at the window of his study to recite the Angelus with faithful gathered in St. Peter's Square. He commented on this Sunday's gospel, focusing on Jesus's words about the end of time.'
"Pope Benedict declared that 'Jesus does not describe the end of the world, and when He uses apocalyptic images, He does not act as a "seer." On the contrary, He wishes to ensure that His disciples in every age remain unmoved by dates and predictions.'"
---
Note: Jesus spoke of Himself as a prophet - see Matt 13:57
His disciples considered Him to be and spoke of Him as a prophet:
"And he said unto them, What things? And they said unto him, Concerning Jesus of Nazareth, which was a prophet mighty in deed and word before God and all the people:" (Luke 24:19)
---
US Warships Head for Israel for Possible Evacuation of Americans
DEBKAfile.com / November 20, 2012
USS Iwo Jima.
"Three amphibious warships with 2,500 Marines aboard back to the eastern Mediterranean to remain on standby off Israel's shore in case they are needed to evacuate American citizens.
"The United States have never before evacuated American citizens from Israel."
---
Note: Here is a very recent story I added last minute. I don't know if it will happen but the situation continues to develop and the Bible tells us where all this is headed.
Paris: NATO-Arab Syria intervention imminent
DEBKAfile Special Report December 7, 2012
Sources close to the French Defense Ministry reported Friday, Dec. 7, that a Western-Arab military intervention against the Assad regime is due to begin shortly with the participation of the US, France, Britain, Turkey, Jordan and other anti-Assad Arab nations. debkafile: The reference is to Saudi Arabia, the UAE and Qatar's special forces.
Our military sources add that the French aircraft carrier Charles De Gaulle carrying a complement of marines is deployed in the Mediterranean, having joined the USS Eisenhower Carrier Strike Group and at least five British warships which are also carrying a large marine force.
In the second and third weeks of November, British and French naval forces, plus 2,600 special ops combatants from both nations, performed landing-and-capture exercises against fortified locations on the coast and mountains of Albania as practice for potential operations against similar terrain in Syria, where the Alawite Mountains loom over the coastal towns of Latakia and Tartus.
The troops landing there would head for the Alawite Mts. to prevent Assad and his loyal units from retreating to his mountain stronghold and fighting on from there - as he plans to do if he is forced to flee Damascus.
French sources told Le Point magazine that the NATO mission for Syria, including the UK and the US, would be modeled on the Western intervention in Libya in 2011. It would combine an aerial blitz with ground action by special forces for destroying Assad's chemical weapons stocks, his air force and his air defense systems.
---
Summary: The world is rapidly changing and this will likely even accelerate in the years just ahead. Facial recognition systems? - just keep a smile on your face - your redemption is drawing nigh!
"And when these things begin to come to pass, then look up, and lift up your heads; for your redemption draweth nigh." (Luke 21:28)
---
If prophecy of the end of the world is of interest to you and you would like to receive this monthly newsletter containing articles of interest and relevance to prophetic events, please respond using the form below: