War Famine Pestilence
"And ye shall hear of wars and rumours of wars ... nation shall rise against nation, and kingdom against kingdom: and there shall be famines, and pestilences, and earthquakes ..." (Matt 24:6-7)
Prophecy News - October - December 2022
War Famine Pestilence
Note that I am simply sharing items of interest for your information. That does not imply that I agree with everything presented here or with other material that may be on a source's other web pages.
"Something Big Is On the Way"
Mike Whitney, Dec. 30, 2022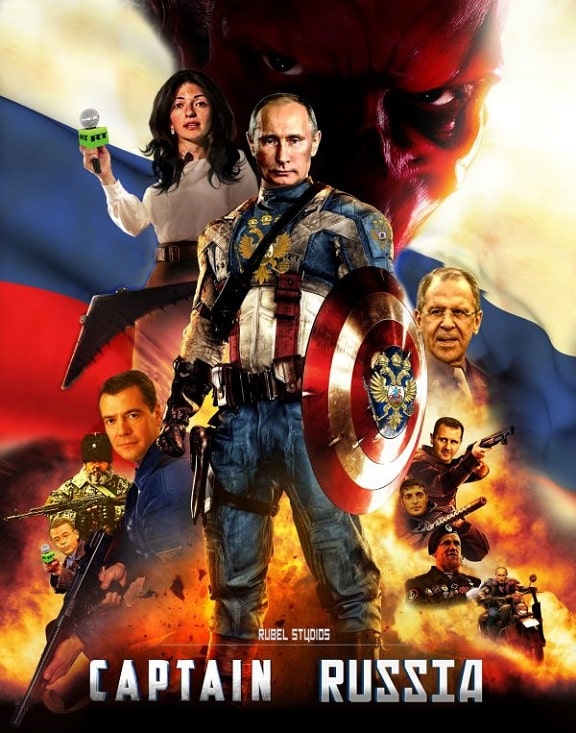 "The Russians have decided there is no way to negotiate an end to this. No one will negotiate in good faith; therefore we must crush the enemy. And that's what's coming." Colonel Douglas MacGregor
"Strictly speaking, we haven't started anything yet." Vladimir Putin
The war in Ukraine is not going to end in a negotiated settlement. The Russians have already made it clear that they don't trust the United States, so they're not going to waste their time in a pointless gabfest. What the Russians are going to do is pursue the only option that is available to them: They are going to obliterate the Ukrainian Army, reduce a large part of the country to rubble, and force the political leadership to comply with their security demands. It's a bloody and wasteful course of action, but there's really no other option. Putin is not going to allow NATO to place its hostile army and missile sites on Russia's border. He's going to defend his country as best as he can by proactively eliminating emerging threats in Ukraine. This is why Putin has called up an additional 300,000 reservists to serve in Ukraine; because the Russians are committed to defeating the Ukrainian army and bringing the war to a swift end. Here's a brief recap from Colonel Douglas MacGregor:
Washington's proxy war with Russia is the result of a carefully constructed plan to embroil Russia in conflict with its Ukrainian neighbor. From the moment that President Putin indicated that his government would not tolerate a NATO military presence on Russia's doorstep in Ukraine, Washington sought to expedite Ukraine's development into a regional military power hostile to Russia. The Maidan coup allowed Washington's agents in Kiev to install a government that would cooperate with this project. PM Merkel's recent admission that she and her European colleagues sought to exploit the Minsk Accords to buy time for the military building in Ukraine confirms the tragic truth of this matter." ("US Colonel explains America's role in provoking Russia-Ukraine conflict," Lifesite)
Click here to read it all
---
Report Warns Risk of Nuclear War At Its Highest Since US Nuked Japan
President Biden has recognized the risk of nuclear war but continues to escalate against Moscow
Dave DeCamp, Dec. 27, 2022
A Swedish group that assesses catastrophic risks warned in its annual report this year that the risk of nuclear weapons use is higher today than at any point since the US dropped nuclear weapons on Japan in 1945, AFP reported on Tuesday.
Kennette Benedict, an advisor to the Bulletin of Atomic Scientists who led the report for the Global Challenges Foundation, said the risk of nuclear war was greater than during the 1962 Cuban Missile Crisis.
The report warned that an all-out nuclear exchange would send enough dust in the air to block sunlight resulting in "a period of chaos and violence, during which most of the surviving world population would die from hunger."
President Biden acknowledged the risk back in October when he said the chances of nuclear "armageddon" are higher today than at any point since the Cuban Missile Crisis. Despite his recognition of the danger of his policy of supporting Ukraine against Russia, Biden continues to escalate US involvement in the war, and there is no end in sight to the fighting.
Ukraine's war effort is entirely reliant on Western support, and the US is not just sending weapons but also providing training, intelligence, and other kinds of targeting support. According to recent media reports, the Pentagon now tacitly backs Ukrainian strikes on Russian territory, and the CIA is directing sabotage operations inside Russia.
Russian officials have made clear that they believe they are not just fighting Ukrainian forces in the war but also the US and NATO. This means Russia has the pretext to launch strikes on the US and NATO, although there's no sign that such a decision has been made.
If Russia eventually chooses to retaliate by using conventional weapons against NATO, the conflict could quickly spiral into nuclear war. If Moscow decides to use a tactical nuclear weapon in Ukraine, most experts believe it would lead to a nuclear exchange between the US and Russia.
Click here to read it all
---
Netanyahu Appoints Iran Hawk to Lead Israel's National Security Council
Dave DeCamp, Dec. 27, 2022
Incoming Israeli Prime Minister Benjamin Netanyahu on Tuesday appointed a major Iran hawk to lead Israel's National Security Council under the new government.
Tzachi Hanegbi is a veteran Likud lawmaker and a longtime ally of Netanyahu who has repeatedly threatened in recent years that Israel would attack Iran if the US returns to the Iran nuclear deal, known as the JCPOA.
In his most recent threat, Hanegbi said that Netanyahu would order an attack on Iran if the US doesn't secure a new nuclear deal or doesn't take military action itself. He told Israel's Channel 12 in November that in that situation, Netanyahu "will act, in my assessment, to destroy the nuclear facilities in Iran."
Back in 2020, Hanegbi, who was settlement minister at the time, warned that if President Biden won the election and returned to the JCPOA, it could lead to a war between Israel and Iran. He made a similar threat following Biden's election.
Netanyahu's new government will be taking over soon as tensions between the US and Iran are soaring. Since JCPOA negotiations fell apart in September, the US has escalated its sanctions campaign against Iran.
The Pentagon's recently admitted in its new Nuclear Posture Review that Iran is not trying to build a nuclear weapon, but US and Israeli officials continue to hype up the threat anyway. The US and Iran recently held joint military exercises over the Mediterranean Sea in November that simulated attacks on Iran.
Click here to read it all
---
US, Israel Hold Joint Aerial Drills Simulating Attacks on Iran
Dave DeCamp Nov. 30, 2022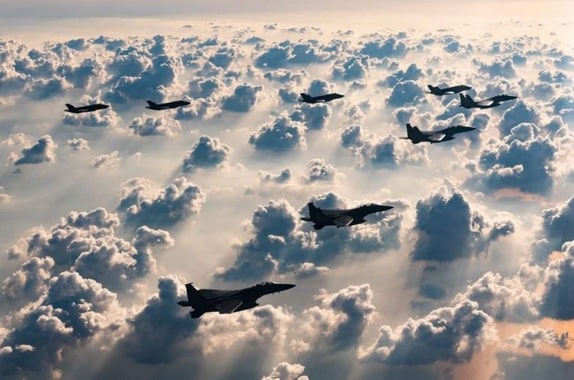 The Israeli military on Wednesday published pictures of joint aerial exercises with the US that were held this week and simulated attacks on Iran.
The drills were held over Israel and the Mediterranean Sea. According to the Times of Israel, the Israeli Defense Forces (IDF) said the exercises involved four Israeli F-35 fighter jets that joined four US F-15s and a US KC-135 tanker aircraft that refueled two Israeli F-16s.
While Israel often threatens to bomb Iranian nuclear facilities, it's not clear if they have the capabilities to pull off the operation on its own. Israel currently relies on aging tankers for mid-air refueling, which aren't expected to be capable of supporting the strikes on Iran.
The drills came after the head of the IDF, Aviv Kohavi, was in Washington and urged US officials to step up planning for joint attacks on Iran. Upon his return to Israel, Kohavi said that the US and Israel agreed to "significantly expand" joint military activity.
The IDF said that during this week's drills, Israel's Intelligence Directorate "conducted an extensive simulation that replicated a campaign against distant countries," referencing Iran.
"These exercises are a key component of the two militaries' increasing strategic cooperation in response to shared concerns in the Middle East, particularly those posed by Iran," the IDF said.
Israeli officials have been hyping up the threat of Iran's nuclear program, but the US recently acknowledged in its Nuclear Posture Review that Tehran is not making a nuclear weapon. That conclusion hasn't stopped the threats from Israel or the US as Robert Malley, President Biden's special envoy for Iran, warned in October the US would use a "military option" against Iran as a "last resort" to prevent it from acquiring a nuclear bomb.
Click here to read it all
---
Iran & Russia Have Entered "Full-Fledged Defense Partnership," US Warns
Tyler Durden Dec. 20, 2022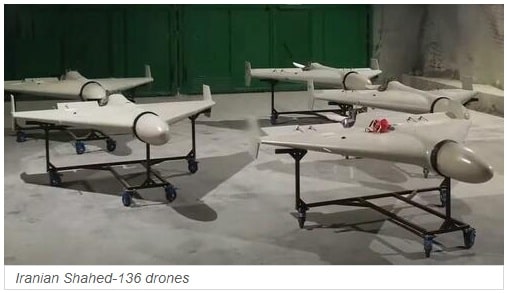 The US has alleged that relations between Iran and Russia have reached a "full fledged defense partnership" - based on the words of the US State Department's Ned Price.
Price explained that Iran has continued its shipments of drones to the Russian military, at a moment drones have continued to pound Ukrainian cities, particularly targeting energy infrastructure - plunging at least half the country into darkness, and resulting in rolling emergency blackouts.
Price went on the explain that the constant supply of drones and other munitions has in return resulted in Moscow giving back "unprecedented level of military and technical support to Iran... that should concern Iran's neighbors."
The US and UK have recently ramped up sanctions efforts to isolate and punish the Islamic Republic's defense sector, and to thwart the drone transfers, but now see the closer relationship with Moscow as a 'life-line' keeping these manufacturers operating and thriving.
An estimated hundreds of drones, and possibly thousands throughout the course of the over 10-month long conflict, are alleged to have been transferred from Iran to the Russian military. Throughout the opening half of the war, both Russian and the Iranian government denied the drone transfers; however, more recently Tehran officials belatedly admitted to sales which they say took place before the Feb. 24 invasion.
The Ukrainian government and intelligence has countered that hundreds more are on the way:
A Ukrainian senior intelligence official says Russia has received a new shipment of Iranian-made Shahed-136 kamikaze drones from the Islamic Republic of Iran.
According to Ukraine's defense intelligence (GUR) spokesman Andriy Yusov, the new shipment is smaller than the previous one sometime in the summer that is estimated to have included at least 400 UAVs.
Yusov said in a Sunday statement, "This is a new batch [of Shahed drones], we do not comment on its size, but we see that Shaheds were not used during yesterday's massive terrorist missile strikes."
Click here to read it all
---
Food Wars

The 10 biggest THREATS to your food security in 2023 … HINT: Prepare for a "grocery police state" with guards, rationing and riots

Mike Adams, Jan. 4, 2023



Today's analysis covers threats to food security in 2023 and beyond, beginning with the now-obvious fact that food inflation continues to worsen almost everywhere. This readily observable fact is now so self-evident that no one needs to be convinced of the reality of rising food prices. Yet few people have honestly considered where it leads in terms of global famine, civil unrest, revolutions and more.

In 2023 and for years to come, we are about to see some of the disturbing signs of food scarcity and panic among populations as well as food retailers:

• Armed guards at food retailers, defending against sharp increases in organized retail theft of meat products. • Access restrictions (and biometric ID requirements) on who is allowed to enter grocery stores and purchase food items. • Food rationing limits, enforced by digital currency controls, that closely monitor your food purchases and cut you off when you've reached your government-enforced limit. • Food riots across many cities and countries as fear and famine take hold. • More food destruction due to sabotage of food facilities and transportation infrastructure. • Ramped up geoengineering efforts to destroy crops through man-made droughts, floods and storms.

In 2023, the United States will experience significant food inflation as well as intermittent scarcity, but shelves won't go bare on a large scale. Europe, however, will see food scarcity on a far worse scale, and consumers there should expect to see many bare shelves, reduced selection, reduced inventory depth at retailers and frequent purchase limits put in place by retailers.

For Americans, the grocery shopping experience in 2023 will increasingly resemble a police state with restricted entry, guarded entry and exit points at some stores, increased surveillance and special in-store guards near meat sections of many stores.

Click here to read it all
---
Netherlands reportedly set to forcibly close 3,000 farms to comply with EU mandate"
Some Dutch farmers have said their industry is being unfairly targeted while other sectors like aviation are not
Louis Casiano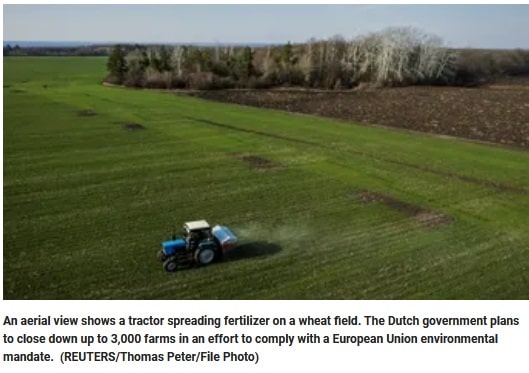 The Dutch government is planning to purchase and then close down up to 3,000 farms in an effort to comply with a European Union environmental mandate to slash emissions, according to reports.
Farmers in the Netherlands will be offered "well over" the worth of their farm in an effort to take up the offer voluntarily, The Telegraph reported. The country is attempting to reduce its nitrogen pollution and will make the purchases if not enough farmers accept buyouts.
"There is no better offer coming," Christianne van der Wal, nitrogen minister, told the Dutch parliament on Friday. The farms targeted for compulsory purchase are located near environmentally sensitive areas, according to reports.
Van der Wal said purchases would be made with "pain in the heart", if necessary. Fox News Digital has reached out to the Dutch embassy in Washington D.C., but has not heard back.
The Netherlands is trying to reduce its emissions to comply with EU conservation rules and agriculture is responsible for nearly half of the nitrogen emitted in the nation, the report said.
In 2019, the Dutch Council of State ruled that every new activity that emits nitrogen, including farming and building, is required to obtain a permit. That has prevented the expansion of dairy, pig and poultry farms, which are major sources of nitrogen, the Telegraph report said.
The Netherlands is the world's second-largest farm exporter according to Investopedia. Top Dutch farm-based exports include flowers, dairy produces, eggs, meat, and vegetables.
Click here to read it all
---
The IRS routinely lets right-wing churches break tax law & endorse political candidates
The wall that separated church and state is crumbling at a time when Christian nationalism is on the rise in the GOP.
John Gallagher Thu. Dec 1, 2022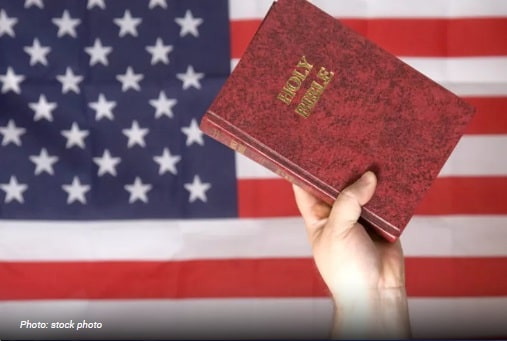 The religious right has long argued that the separation of church and state is a false premise and has focused their hatred on the Johnson Amendment, a 1954 law that threatens 501(c)(3) organizations, such as churches, charities, and universities, with loss of their tax-exempt status if they endorse political candidates. When he was president, Donald Trump promised to "totally destroy the Johnson amendment and allow our representatives of faith to speak freely and without fear of retribution."
Trump never got around to gutting the Johnson amendment, but as it turns out, it doesn't matter. A new investigation by ProPublica and the Texas Tribune finds that right-wing churches routinely flout the law without fear of retribution from the IRS.
At this point, thanks to Trump, "some politically-minded evangelical leaders [have] a sense that the Johnson Amendment just isn't really an issue anymore, and that they can go ahead and campaign for or against candidates or positions from the pulpit," David Brockman, a scholar in religion and public policy at the Baker Institute for Public Policy at Rice University, told the joint investigation.
Click here to read it all
---
Multifaith Events at the COP 27 UN Climate Conference in Egypt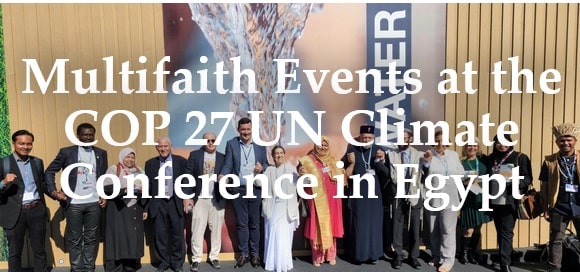 Between November 6th and 18th, 2022, the UN climate conference COP 27 took place place on the Sinai Peninsula, in Sharm El Sheikh, Egypt. Religious communities and religious leaders have a key role to play in addressing climate change and climate justice, which requires deep transformation within society. The knowledge of what changes are critically needed to diminish long-term harm to the planet is readily available. However, bringing about change in action demands deeper changes in attitude, a change of heart. This has been the domain of religions for millennia. Religions are sources of inspiration for the transformation of heart and the ensuing changes of attitude.
To support, challenge and inspire discussions during COP 27 at Sharm El Sheikh, ten interfaith climate events took place in Sharm El Sheik, Jerusalem, London, Rishikesh (India) and elsewhere that were heart-stirring, transformative and a moment of inspiration for religious communities and for humanity. Religious leaders called for a reexamination of deep-seated attitudes and for identifying ways to transform these attitudes for the wellbeing of Earth, our common home.
Mount Sinai is a mountain whose memory and meaning loom large as a place of revelation in the collective consciousness of Christianity, Judaism, Islam and others. As an ancient sacred space, it was the site of prophetic experience, and receiving God's message, for the prophets Moses and Elijah in all three Abrahamic traditions, and the prophet Muhammed in the Muslim tradition. COP 27 taking place in Sinai reminded humanity of our sacred responsibility to care for God's creation.
We come to Sinai in a movement of repentance and quest. We seek a new vision for humanity and its endangered existence, and we seek to receive and amplify a message of life-sustaining living and habits that humanity needs to hear today. In this spirit, the project partners brought together premier religious leaders from the world's major religions to put forth a prophetic interreligious call to action: "Ten Universal Principles for Climate Justice."
We are not seeking to create one religion, but rather to bring religious institutions from many different faiths together in joint action for protecting God's creation.
Click here to read it all
---
Can geoengineering fix the climate? Hundreds of scientists say not so fast
The Biden administration is developing a controversial solar geoengineering research plan to the dismay of many experts
credits, date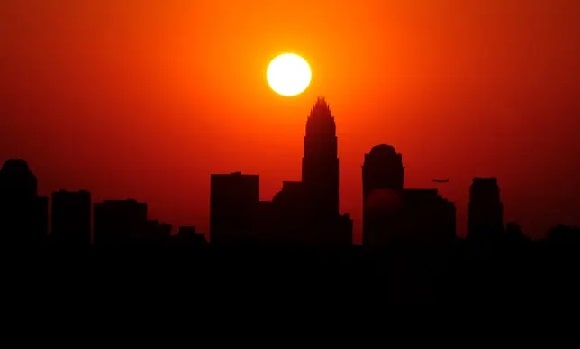 As global heating escalates, the US government has set out a plan to further study the controversial and seemingly sci-fi notion of deflecting the sun's rays before they hit Earth. But a growing group of scientists denounces any steps towards what is known as solar geoengineering.
The White House has set into motion a five-year outline for research into "climate interventions". Those include methods such as sending a phalanx of planes to spray reflective particles into the upper reaches of the atmosphere, in order to block incoming sunlight from adding to rising temperatures.
The work is required by Congress. It is "not new research, but a report that highlights some of the key knowledge gaps and recommendations of priority topics for relevant research", said a spokesperson for the White House's office of science and technology policy, adding Joe Biden's administration wants "effective and responsible CO2 removal" as well as deep cuts to greenhouse gas emissions.
Several American researchers, somewhat reluctantly, want to explore options to tinker with the climate system to help restrain runaway global heating, even as they acknowledge many of the knock-on risks aren't fully known. "Until recently, I thought it was too risky, but slow progress on cutting emissions has increased motivation to understand techniques at the margins like solar geoengineering," said Chris Field, who chaired a National Academies of Sciences report last year that recommended at least $100m being spent researching the issue.
"I don't think we should deploy it yet and there are still a ton of concerns, but we need to better understand it," Field said. "Climate change is causing widespread impacts, it's costing lives and wrecking economies. We are in a tough position; we are running out of time, so it's important we know more."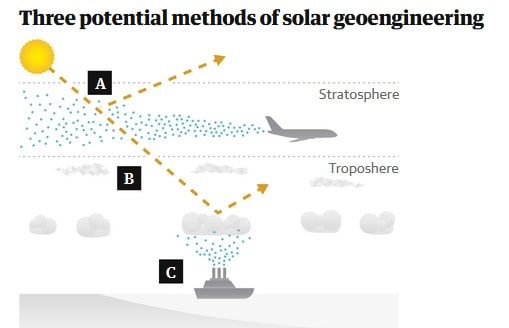 A Stratospheric aerosol injection Airplanes release tiny aerosol particles that reflect light back into space.
B Cirrus cloud thinning The least understood method, seeding thin cirrus clouds in the upper troposphere with ice nuclei could reduce their lifespan and increase cooling.
C Marine cloud brightening Boats release aerosol particles that increase the reflectivity of low clouds.
Click here to read it all
---
Can a vaccine for cows slash methane emissions?
It's early stages, but several startups are working on vaccines that would target the microbes in cows' digestive systems that generate methane.
Adele Peters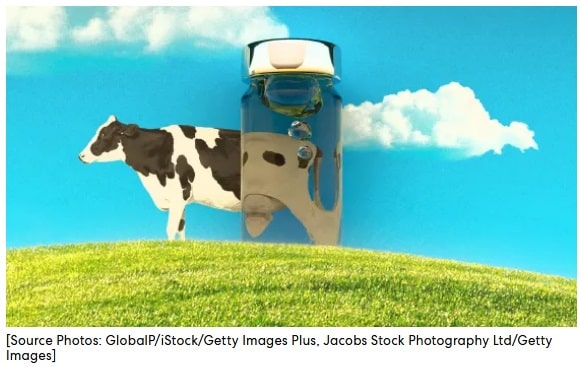 Cow burps are a huge source of emissions: Each year, the world's billion-plus cattle have roughly the same climate impact as all the passenger vehicles on the planet. But new vaccines for cows are being developed that could potentially help shrink their production of methane, a potent greenhouse gas.
ArkeaBio, one startup working on a vaccine that could be administered to cattle, sheep, and goats, just raised a seed round of $12 million led by Breakthrough Energy Ventures, the climate-focused fund started by Bill Gates.
Cows and other ruminant animals have microbes living in their digestive system that generate methane. ArkeaBio and other researchers are working on vaccines that trigger cows to generate antibodies to those microbes.
Because methane has more than 80 times the warming power of CO2 over the short term, reducing it can make a major difference. "It represents a real opportunity to get to short-term decreases in the impact of climate change while we're working through some other approaches which may take longer-term execution," says Colin South, CEO of ArkeaBio.
Previous studies have shown that it's possible, though it hasn't yet been proven at a commercial scale. "The proof of concept is out there," South says, noting that ArkeaBio is using new tools in immunology that have come out over the past handful of years to help speed up the work. The company is currently testing different antigens both in the lab and in cattle.
While other groups are working on ways to reduce methane in cows—including adding seaweed to cattle feed and developing products like Kowbucha, a version of kombucha for cows—those solutions don't work well on farms or ranches where animals graze in fields rather than relying on feed.
In New Zealand, farming is such a major part of the economy that it's responsible for roughly half of the country's emissions; the government wants to begin taxing farmers for those emissions starting in 2025. There, another research group is racing to create a similar vaccine.
Click here to read it all
---
The Baby-Growing Lab: It's Not Sci-Fi
BABY-GROW Inside the creepy, first 'artificial womb' facility which lets parents choose baby's eye color, height & intelligence
Jona Jaupi, Dec. 13, 2022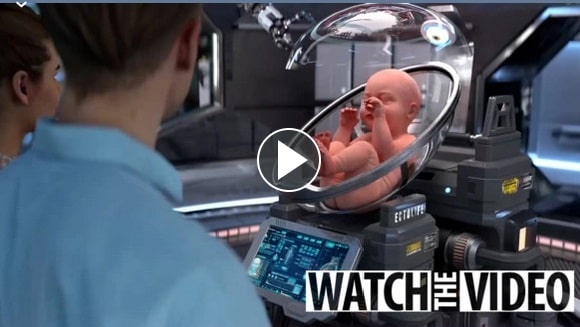 The facility, which can grow 30,000 babies a year, would allow infertile couples to conceive a baby.
And a so-called "Elite Package" would allow you to genetically engineer the embryo before implanting it into the artificial womb.
Everything from eye and hair color to strength, height and intelligence can be chosen, and inherited genetic diseases can be avoided.
Hashem explains: "Introducing EctoLife, the world's first artificial womb facility, which is powered entirely by renewable energy.
"According to the World Health Organization, around 300,000 women die from pregnancy complications.
"EctoLife artificial womb is designed to alleviate human suffering and reduce the chances of C-sections."
"With EctoLife, premature births and C-sections will be a thing of the past."
Hashem notes it also offers a solution for women who had their uterus surgically removed due to cancer or other complications.
How does it work?
Every pod is designed to replicate the exact conditions that exist inside the mother's uterus. A single building can incubate up to 30,000 lab-grown babies per year.
The pods are equipped with a screen that displays real-time data on the developmental progress of the baby. The data can also be viewed via a phone app.
Hashem said: "EctoLife allows your baby to develop in an infection-free environment. The pods are made of materials that prevent germs from sticking to their surfaces.
"Every growth pod features sensors that can monitor your baby's vital signs, including heartbeat, temperature, blood pressure, breathing rate, and oxygen saturation.
Click here to read it all
---
"Come now, and let us reason together, saith the LORD ..." (Isa 1:18)